October, 20, 2014
Oct 20
10:30
PM ET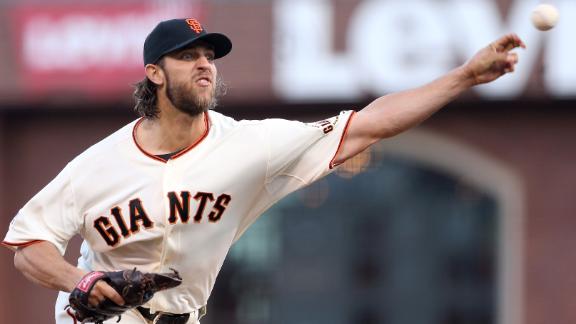 KANSAS CITY -- I know what some of you are thinking: "Hey, aren't you the idiot who just called this the worst World Series ever? So what's up with this piece, pal?" Well, yes, the headline was admittedly a little provocative and it certainly stirred up a reaction. Obviously, a lot of the people offering their feedback didn't actually read the column, but one type of comment did bother me a little: Those who suggested I must not love baseball to write such a piece.
That, of course, is the furthest thing from the truth. I easily watch a couple hundred games a season and parts of countless others. I blog more hours a week than I should. I'll take my dog out for a walk and have a game on my phone. I'm pretty sure I've watched every World Series game since 1976 -- maybe I missed one or two in the mid-'90s covering a high school football game -- and I've been lucky enough to cover five World Series in person, and now six.
And for you
San Francisco Giants
and
Kansas City Royals
fans out there: I had Willie Mays and George Brett posters hanging in my room as a kid.
Believe me, I love this game -- the best game we have.
Every World Series is interesting and full of subplots, but this one is particularly ripe with great stories. So here are 10 reasons to love this World Series.
1. The Giants go for their third title in five years.
Only five times has a team other than the
Yankees
won three titles in five years: the
Red Sox
did it twice early in the 20th century, the last time from 1915 to 1918; the
Oakland A's
from 1972 to 1974; the
St. Louis Cardinals
from 1942 to 1946 and the Philadelphia A's from 1910 to 1913. So that's impressive company.
Is it fair to call the Giants a dynasty if they do win it all again? I kind of agree with Giants outfielder
Hunter Pence
on this. "Being called a dynasty is kind of a perspective thing," he said Monday. "It's an opinion. It can never really be true. What can be true is this team could win it this year. We made it this far, so just focus hard on that. I don't think we're playing now for an opinion on dynasties. We're playing now for the guys and the work and everything that's put into this year that's completely unique and separate from years past."
Indeed, that's kind of what makes the Giants so unique and wonderful. They're different from those other dynasty-like teams in that this 2014 team is much different from the 2010 team. That squad was led by starters
Tim Lincecum
and
Matt Cain
, neither of whom are in the playoff rotation this year. The only position-player regulars still around from 2010 are
Buster Posey
and
Pablo Sandoval
. It's a testament to the organization that the team has remained so competitive while replacing various parts in each playoff run.
Still, three in five would be pretty awesome.
2. The Royals go for the perfect postseason and first title in 29 years.
Only one team in the divisional era -- since 1969 -- hasn't lost in the postseason. The 1976 Big Red Machine of Joe Morgan, Pete Rose, Johnny Bench, Tony Perez and George Foster went 7-0 to cement their legacy as one of baseball's all-time great teams. The Royals might not have a roster full of future Hall of Famers, but they've already surpassed the
Reds
with an 8-0 start in the playoffs. It's really been a streak of beauty, a combination of speed, defense, starting pitching and dominant bullpen, with some surprising power and, of course, the timeliest of hits.
Can the Royals keep this up? Here's one way to look at it. Let's say the Royals had a 50 percent chance of winning each of those eight games. You can argue about the actual odds, but let's keep this simple: What are the odds of tossing a coin eight times and having it come up heads each time? One in 256, or less than one-half of one percent. How can you not love that?
The Royals are unlikely to go 12-0, but that would be one of the greatest stories ever told if it does happen.
3. Madison Bumgarner's claim on history.
Joe Sheehan had a great newsletter on Monday, touching on a similar theme I did in that "Worst World Series" post. Anyway, Joe makes a good point here about the wild-card system making the regular season less important: "It's been two decades of wild cards, two decades of new baseball fans having no real idea that there was once a different system, two decades of new baseball fans used to the idea that the postseason, not the regular season, is where legends are born. Two decades of the message that October is infinitely more important than September."
Bumgarner has had a great postseason so far, going 2-1 with a 1.42 ERA in four starts, including two scoreless outings. He won the wild-card game, he started the clinching Game 5 of the NLCS and now, he'll start Game 1 of the World Series. He's made two previous World Series starts in his career and has allowed just five hits and no runs in 15 innings. If Bumgarner has a couple outings similar to those, well, as Joe wrote, that's how legends are born.
[+] Enlarge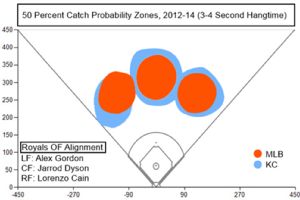 ESPN Stats & Information The value of the Royals' outfield defense
4. That Kansas City outfield defense.
I always like to say that if you go to a minor league game you can see pitchers throwing 95 mph and you can see a few players who can hit the ball a country mile; the biggest difference between the majors and minors is the caliber of defense played in the majors. It reminds of a column written years ago by the great baseball writer Thomas Boswell of The Washington Post. He described watching a baseball game with a British friend of his who had never seen baseball in person before. The British chap wasn't so much impressed with the pitchers or the hitters as he was with the defenders. That's how I feel watching
Alex Gordon
,
Lorenzo Cain
and, when he comes in the game,
Jarrod Dyson
. Those three are something to watch out there and could very well play a huge factor, as they did against the
Angels
and
Orioles
.
5. Bruce Bochy and the Hall of Fame.
Maybe Bochy is already a Hall of Fame lock with his two World Series titles and long, 20-year tenure in the majors. He's one of 12 managers to manage 20 seasons with an overall winning record and at least two World Series titles, and 10 of the other 11 are in the Hall of Fame -- Ralph Houk being the exception. However, not all managers with two World Series titles are in the Hall of Fame: Besides Houk, there is Cito Gaston, Tom Kelly, Danny Murtaugh and Bill Carrigan, plus Bochy and Terry Francona. So if Bochy is a borderline guy now, you have to think a third title will cement his case.
On the field, the Bochy-Ned Yost matchup should be intriguing, especially when the series shifts to San Francisco and Yost has to get out of his American League comfort zone. Bochy always seemed one step ahead of Mike Matheny in the NLCS, but Yost's bullpen weapons are much more imposing than what Matheny had. Since Yost's bullpen machine sort of operates itself, at least while leading from the seventh inning on, and since the Royals don't really pinch hit for their starters (which will allow Bochy to get the matchups he wants), it could be the most important decisions each manager makes during the series will be when to pull the starting pitchers.
6. Gregor Blanco.
I remember talking to Blanco after the Giants won the World Series in 2012, the joy on his face as he told his story of not playing in the majors in 2011 and playing winter ball that year, hoping to catch the eye of the right team. He signed with the Giants and was thrust into the spotlight in the postseason when he became the starting left fielder after
Melky Cabrera
was suspended. This year, he's the starting center fielder in October, replacing the injured
Angel Pagan
.
On Monday, he told me how he ended up signing with the Giants that winter. He also had offers from the Reds and
Marlins
. "My friend told me, 'If you ever become a free agent, sign with a good team because they'll give you more chances.'" If you think about, it makes sense. Bad teams tend to have more roster turnover, always looking for a quick fix, and the guys at the bottom of the roster can get churned through in rapid fashion. Sign with a good team and you might have a more defined role or a management that is smart enough to believe in your abilities. Blanco is a great fourth outfielder who is good enough to start when needed.
"Growing up in Venezuela, my dream wasn't just to play in a World Series but to play center field in a World Series, and now I get to do that," Blanco said. "I just feel blessed to be part of this team and part of the Giants family."
Giants hitting coach Hensley Meulens said one of the things that makes Blanco special is "he's always upbeat, even when he's struggling." It's one of the great things about baseball: Gregor Blanco gets just as many plate appearances as Buster Posey or Hunter Pence, and thus the same opportunity to influence the game. We focus on the biggest names, but the overlooked guys often decide the World Series.
7. Kelvin Herrera, Wade Davis and Greg Holland.
I wrote
about the Royals' bullpen trio
the other day. When I asked Blanco about those three guys, he smiled. When I asked Meulens about those three guys, he smiled. "You have to sit on the fastball and adjust to the off-speed stuff," Meulens said, while acknowledging it's not exactly so easy to do that. The late-game drama of those three facing the heart of the Giants order should present some of the most exciting, tense matchups of the series.
8. Tim Hudson.
The 39-year-old right-hander, in his 16th season in the big leagues, is finally in the World Series after pitching in six previous postseasons with the A's and
Braves
. He's the active leader in wins with 214. He's been on the wrong end of many playoff heartbreaks in his career. He's a good story to root for.
9. One-run drama.
While the series in the first rounds were short -- none went the distance -- they didn't lack for excitement. So far, 14 of the 25 playoff games have been decided by one run; at 56 percent, that total easily trumps the 39 percent mark of 1995 as the highest percentage of one-run games. Eleven of the 25 games have been decided in a team's final at-bat (not necessarily a walk-off, but the winning the run scoring in a team's final at-bat), which ties 1995 and 2004 for most in a single postseason. Considering this should be a tight, low-scoring series, I expect more one-run and late-game drama.
10. Because you never know.
Maybe the heroes will be Madison Bumgarner and Buster Posey or
James Shields
and the Royals bullpen. But maybe the heroes will be
Travis Ishikawa
or Lorenzo Cain or even Kansas City pinch runner
Terrance Gore
stealing the base of a lifetime. Baseball, more than other sports, is unpredictable. That's what makes every World Series so fun but this one particularly so: The Las Vegas sportsbooks have this one split right down the middle. This is truly the most unpredictable of World Series. I can't wait to see what happens.