July, 23, 2014
Jul 23
2:14
PM ET
NASHVILLE, Tenn. -- The food at LP Field has been an issue with fans for the life of the stadium, which opened in 1999.
The
Tennessee Titans
heard the complaints but had to wait until their contract with Centerplate expired. Now the concessionaire is Aramark, and the menu will have more of a Nashville feel.
They invited media to sample many of the new offerings at a press event Wednesday.
I tasted the Nashburger, which has pimento cheese, applewood smoked bacon and pickled green tomatoes. I agreed with a friend that the toppings were excellent, but the burger wasn't as good. That, the Big Daddy Burger and Portobello Mushroom Burger will cost $10. Those three new burgers will compete for a permanent spot on the menu.
The Music City Meatloaf sandwich was very good, as were two samplings from the club level: a carved turkey BLT and cola-braised short rib sandwich.
Logan's Roadhouse remains and will offer a Nashville hot chicken sandwich, and Bojangles' will have a presence.
Another new entry that could prove popular is Petro's Chili and Chips, which is big in Knoxville. They serve a bowl with chips, chili, grated cheeses, tomatoes and sour cream, and you can add black olives and jalapenos. I thought it was tasty, but it needed more chili.
Overall, I think people will be pleased. What I sampled rated as good for stadium food, and superior to what was offered previously.
July, 23, 2014
Jul 23
10:00
AM ET
By
ESPN.com staff
| ESPN.com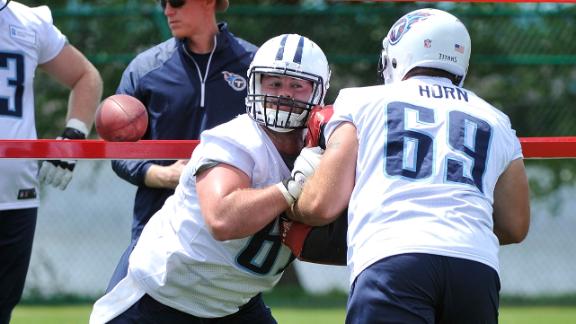 Tennessee Titans
reporter Paul Kuharsky discusses the national perception of just how good the team will be this season, the additions, subtractions and the schedule.
July, 23, 2014
Jul 23
9:21
AM ET
Reading the coverage of the Tennessee Titans...
Leon Washington is heading into his ninth season but goes into each
considering himself a rookie
, says Jim Wyatt of The Tennessean.
Training camp previews of the
linebackers
and the
specialists
from John Glennon of The Tennessean.
"If (Jake) Locker plays 14 or more games, the Titans have a chance to make a playoff run in a division that looks like it could be one of the league's worst," says David Boclair of the Nashville Post. "Yet it is impossible to imagine he will do so
until he actually does it
.
The Titans are
ranked No. 26
in the preseason power rankings from Pete Prisco of CBS Sports.
There are quite a few
surprising statistical nuggets
in this great piece by Mike Tanier of Sports on Earth, which examines the way the NFL is moving. Example: "A team will only use its most common 'starting lineup' on offense for an average of 8 percent of plays in a year. It will only use its most common 'starting defense' an average of 5.5 percent of plays for the year."
July, 22, 2014
Jul 22
3:37
PM ET
Continuing our series on the best games members of the Titans have ever played ...
Shawn Jefferson, receivers coach
Sept. 3, 2000
Falcons 36, 49ers 28
Georgia Dome
Jefferson: 7 catches, 148 yards including a 48-yard touchdown
"I would say my first game when I was in Atlanta, I think it was in 2000. I caught like four or five passes for 150 yards. The reason why that game was best was because it encapsulated everything. We were down and needed to make a play. I caught a deep ball with two guys over me. I threw a key block. That's one of the key things I harp on with my receivers. The first drill that we do everyday is we hit the sled. Because as a coach I've got to tell these receivers what is important to me. And everyday I come out and we hit that drill work, every day I am telling them no matter what, what's important to me is blocking. No block, no rock. That's important to me, because if a guy will block I know damn well when we call his number on that pass route he will go full speed. I'm interested in the non-talent issues: The hustle, the blocking, the mental attitude, competing. It doesn't take talent to compete. If you do those thing I know you've got a little bit of pride in you. There comes a day when the football gods shine on you and they give you everything, and we won that one, by one or two points. We ended up getting them, It was an overall good game. I'm sure it was Jamal Anderson I sprung."
Review all the
Best Game Ever
posts.
July, 22, 2014
Jul 22
11:19
AM ET
As we await players reporting to
Tennessee Titans
' training camp on Friday and the start of practice on Saturday, let's consider the additions and subtractions this offseason.
Free agent additions:
RB
Dexter McCluster
DL
Al Woods
QB
Charlie Whitehurst
LB
Wesley Woodyard
T
Michael Oher
LB
Shaun Phillips
G/C
Eric Olsen
Key draft picks:
OT
Taylor Lewan
RB
Bishop Sankey
DL
DaQuan Jones
LB
Avery Williamson
Free agent departures:
CB
Alterraun Verner
WR
Kenny Britt
WR
Damian Williams
Players released:
T David Stewart
QB
Ryan Fitzpatrick
K Rob Bironas
RB
Chris Johnson
I've said for some time the biggest addition the team made was Ken Whisenhunt and his staff. I don't know that he/it will be great. I feel confident it will be better than Mike Munchak and his assistants. Munchak was miscast as a head coach and several of his assistants were not good.
Some of the departures were longtime contributors (Stewart, Bironas), some were high draft picks (Britt) and some were both (Johnson).
Fitzpatrick has a lot of shortcomings, but I think he's a better quarterback than Whitehurst.
Those things, along with the lack of any real marquee additions, are why the popular perception is that the Titans got worse.
But Woods should be a player on the rise. Woodyard should add leadership at a key position (which is great so long as he adds production as well). Phillips was a value addition who's not a long-term solution but should boost the pass rush. Lewan was well-regarded by a lot of NFL personnel men. (His selection at No. 11, on the heels of the Oher signing, however, turned a lot of heads and raised a lot of planning questions.)
Is
Maikon Bonani
or Travis Coons going to make people forget Bironas immediately? I suspect not. Is second-round draft pick Bishop Sankey going to open more eyes to just how much was lacking in Chris Johnson's vision in recent years? I believe he will. Alterraun Verner will do very well in Tampa, but he'll be playing primarily zone, while the Titans will play predominantly man.
I don't believe the Titans are significantly better personnel wise than last season's 7-9 team, but I don't believe they are significantly worse either.
July, 22, 2014
Jul 22
8:21
AM ET
Reading the coverage of the Tennessee Titans…

The five best
fantasy football prospects
on the Titans from Jim Wyatt of the Tennessean, complete with his projections of their stats.
Mike Martin and Karl Klug could be
battling for one spot
on the defensive line, says John Glennon of The Tennessean in his assessment of the defensive line.
Expect Bishop Sankey to
lead the Titans
in rushing, but not to make people forget about Chris Johnson, at least not yet, says David Boclair of the Nashville Post.
Al Woods primarily
played base downs
and was a straightforward pass rusher with his limited chances in Pittsburgh, says Tom Gower of Total Titans.
To which I say:
Woods need to be a guy the Titans accurately projected, who can blossom given more opportunity and is ready to be a bigger contributor in a different situation.
At long last, LP Field will have
Wi-Fi
available for fans on game day, according to the team's website.
To which I say:
I still wish they used my idea of making goalposts and pylons as antennae.
July, 21, 2014
Jul 21
7:43
PM ET
The signing schedule for open Titans' training camp practices is subject to change. A practice can be rained out and moved inside, where there is not room for it to be open to fans. And there is no guarantee just because a player is signing he will be able to meet demand.
With that out of the way, here's the autograph schedule for the first four open practices:
Saturday, July 26 -- 9:20 a.m. practice
Delanie Walker
,
Michael Roos
,
George Wilson
,
Collin Mooney
,
Michael Preston
,
Zaviar Gooden
,
Avery Williamson
,
Chigbo Anunoby
,
Rico Richardson
,
Julian Horton
,
Ri'Shard Anderson
Sunday, July 27 -- 2:50 p.m. practice
Bernard Pollard
,
Bishop Sankey
,
Akeem Ayers
,
Kamerion Wimbley
,
Antonio Johnson
,
Charlie Whitehurst
,
Byron Stingily
,
Dorin Dickerson
,
Jeff Adams
,
Adam Schiltz
,
Winston Wright
,
Waymon James
Monday, July 28 -- 9:20 a.m. practice
Kendall Wright
,
Derrick Morgan
,
Ropati Pitoitua
,
Leon Washington
,
DaQuan Jones
,
Brett Kern
,
Lavar Edwards
,
Tyler Wilson
,
Isaiah Williams
,
Will Poehls
Friday, Aug. 1 -- 2:50 p.m. practice
Jurrell Casey
,
Justin Hunter
,
Brian Schwenke
,
Al Woods
,
Derek Hagan
,
Moise Fokou
,
Tommie Campbell
,
Beau Brinkley
,
David Hinds
,
Tyler Horn
,
Jaz Reynolds
July, 21, 2014
Jul 21
5:01
PM ET
Continuing our series on the best games members of the
Tennessee Titans
have ever played …
Levitre
Andy Levitre, left guard
Sept. 25, 2011
Bills 34, Patriots 31
Ralph Wilson Stadium
Buffalo offense: 79 yards rushing, no sacks allowed
"When I played against New England two years ago or was it three years ago, we beat New England when I was in Buffalo. Just played really well. We played well as a team, and that was the first time we beat them in like 10 years. I know that was a big game for us. It was the opening game of the season. I think it was 2011. We did a good job all around. We went up on them. They tried to come back at the end of the game, but we held them off. I was against
Vince Wilfork
a lot. Yeah, I thought when I was in Buffalo I played well against him most of the time I was there. He's a pretty laid-back guy. I just felt like I had a solid day that day as much as I can remember from it. I've been told that if you beat New England that makes Buffalo's whole season no matter if you make the playoffs or not. It was cool though to do it early in the season. We ended up going on a run. It was like [3-0 and 5-2] we started out the season. It was an exciting start to a season."
See all the posts in the "
best game ever
" series.
July, 21, 2014
Jul 21
4:29
PM ET
ESPN.com news services
Tennessee Titans rookie quarterback Zach Mettenberger was sucker-punched over the weekend at a Nashville bar, the owner of the establishment told The Tennessean.
Mettenberger was punched in the face by another bar patron but did not need medical attention, according to Steve Ford, owner of Losers Most Wanted Bar & Grill.
"Here's the truth: The guy said something about 'Roll Tide!' to Zach, and Zach turned around and said, 'Good luck with that,'" Ford told The Tennessean on Monday. "And the guy's buddy then sucker-punched Zach.
"I promise you that Mettenberger did not throw a punch. He didn't do anything. The guy sucker-punched him in the eye, that's the bottom line, and the guy that punched him started running out the door. My door guys had to chase him down."
The Titans selected Mettenberger out of LSU in the sixth round of the 2014 NFL draft. In Mettenberger's three seasons with the Tigers, LSU went 1-3 against Alabama, including a loss in the 2012 BCS National Championship.
The Titans have declined comment on the situation.
July, 21, 2014
Jul 21
3:40
PM ET
I'm not big on big credit for doing what you're supposed to.
But when I hear a bar owner talking of
Tennessee Titans
rookie quarterback
Zach Mettenberger
getting sucker punched over the weekend, I'm compelled to applaud Mettenberger. And I'm sympathetic to him.
Here is
the story
from Jim Wyatt of The Tennessean.
Mettenberger is allowed to go out for drinks with friends. And it stinks for him that despite seemingly doing nothing wrong, according to the accounts we have, his name gets attached to the concept of a bar fight.
Plenty of people won't bother with the details and will jump to conclusions.
He doesn't have the greatest track record. He groped a woman at a bar while he was at Georgia, pleaded guilty to two counts of sexual battery in 2010 and was sentenced to two years of probation.
That's a bad thing to have on your record for sure.
But if an
Alabama Crimson Tide
fan said "Roll Tide" to a quarterback who finished his career at LSU and the quarterback responded with "Good luck with that," he doesn't deserve a punch in the eye.
He deserves some credit for walking away rather than responding. You or I or anyone who's not some degree of celebrity has the right to retaliate in such situations. Mettenberger didn't.
Nashville has a great reputation for taking care of celebrities. Big-name musicians can be out and about without being constantly approached.
People here should take pride in similar behavior with athletes who are doing nothing wrong. No matter how drunk or dumb you are, instigating something and trying to get a reaction out of someone with a high-profile isn't a good route to travel.
The Bama fan ran. Tough guy. Impressive act.
July, 21, 2014
Jul 21
12:21
PM ET
So I botched the initial version of last week's
Tennessee Titans
roster forecast, listing
DaQuan Jones
twice. What can I say, I really like the rookie defensive lineman.
Let's go back and
look at the spots
that look to be the toughest calls.
Receiver
Only three are locks --
Kendall Wright
,
Justin Hunter
and
Nate Washington
.
Michael Preston
is fourth to me now, with
Marc Mariani
fifth and providing an option for a second good returner. But the Titans could seek to upgrade at No. 4, or at least No. 5, with a guy cut elsewhere at the end of the preseason.
Defensive line
I kept eight. That's too many for a 3-4.
Mike Martin
,
Karl Klug
and
Lavar Edwards
could be competing for one spot. Martin's going to make it. And Klug will be a tough guy to cut. Maybe the Titans feel like they have enough nose tackle options with
Sammie Hill
and
Al Woods
then maybe
Antonio Johnson
is in trouble.
Linebacker
Tough calls here, too. The outside four are clear. It's the inside where things are complicated.
Colin McCarthy
,
Zaviar Gooden
and
Moise Fokou
are not locks at this point, and the interior should make for a good battle.
July, 21, 2014
Jul 21
9:06
AM ET
Reading the coverage of the Tennessee Titans...
Catching up on some of what was written over the last week while I was back in my homeland (New Jersey).
Running down
the running back battle
and
the status of the quarterbacks
heading into Titans training camp, with Jim Wyatt of The Tennessean.
Michael Preston will battle for a back-end receiver spot on the Titans. He has a close-up perspective on Justin Hunter and thinks he will be
the next Randy Moss
, says John Glennon of The Tennessean.
To which I say:
Hunter is trailing in a big way, as his rookie season didn't compare to Moss'.
Mike Martin joined in on giving Ndamukong Suh a hard time during an episode of "
American Muscle
," says Glennon.
Sorting through the Titans' search for the guy who will replace Alterraun Verner as
a starting cornerback
, with David Boclair of the Nashville Post.
Considering Zach Mettenberger's
potential
with Tom Gower of Total Titans.
Enough with the pessimism
about the 2014 Titans, says Will Lomas of Music City Miracles.
July, 18, 2014
Jul 18
12:00
PM ET
Continuing our series on the best games members of the
Tennessee Titans
have ever played ...
McCourty
Jason McCourty, cornerback
Nov. 15, 2008
Rutgers 49, South Florida 16
Tampa, Florida
McCourty: Five tackles, two interceptions and a 30-yard touchdown return
"Probably my sophomore (season at Rutgers) I had two interceptions and a touchdown against South Florida. It was extremely hot, blazing out there. It was just a fun day. To be able to get two interceptions on one day, return one for a touchdown, also have some decent kick returns and you're able to win a game -- and we won big -- it's just a lot of fun in a conference game. It's just a good memory to enjoy. I guess I don't look at it as a standard -- it's just knowing your capabilities, knowing the type of plays you can make. There are games you go out and it seems like everything is clicking, and there are games you go out where you have to work your way out of a slump and it's just not going your way. It definitely adds to your confidence knowing what you can achieve."
Review all the
Best Game Ever
posts.
July, 18, 2014
Jul 18
11:00
AM ET
Examining the
Tennessee Titans
' roster.
QUARTERBACKS (3)
If all are healthy, Locker starts and Whitehurst is the game-day backup with Mettenberger not dressed, at least at the beginning.
RUNNING BACKS (5)
Battle beats
Collin Mooney
because he can carry the ball and is a good special-teamer. Washington could get some touches, but is on the team to return.
WIDE RECEIVERS (5)
Mariani and Preston both making it seems like a long shot to me, but it could happen. I think a receiver who is cut elsewhere at the end of the preseason is signed and on the roster when the season starts.
TIGHT ENDS (3)
Walker has said he expects to play on the line more and Stevens is a blocker. Thompson is at a make-or-break point and could easily lose out to someone emerging or an outsider.
OFFENSIVE LINE (8)
A starting caliber tackle is on the bench (Oher or Lewan) and that means
Byron Stingily
is less needed than backups for the interior such as Spencer and Olsen.
DEFENSIVE LINE (8)
A big fight here is pending with
Lavar Edwards
having value and Klug being a question to start in the 3-4. But the Titans are going to have to make tough cuts on the line. Eight defensive linemen on a 3-4 team is too much and won't happen.
LINEBACKERS (9)
McCarthy, Gooden and
Moise Fokou
could be battling for one spot between them. McCarthy is the best football player if he can stay healthy. Year 2 would be early to give up on a third-rounder in Gooden.
CORNERBACK (5)
The fifth spot could be up for debate, though Campbell is over a shoulder problem he's had for some time and will be removed from the pressure put on him by former coordinator Jerry Gray, who over-touted him.
SAFETY (4)
Khalid Wooten
, a corner who got summer work at safety and could be a versatile guy, might beat Stafford. I was tempted to give fourth safety to a player not on the roster as I did with fifth receiver.
PUNTER (1)
A solid guy who had a bit of an off year in 2013.
KICKER (1)
He has a huge leg but is completely unproven and comes with a risk. The favorite in a competition with undrafted rookie
Travis Coons
.
LONG SNAPPER (1)
There has not been much chatter about a position player snapping, but it still surprises me a team would dedicate 1/53rd of the roster to the position.