December, 9, 2013
Dec 9
8:00
AM ET
LANDOVER, Md. -- A review of four hot topics following the
Washington Redskins
'
45-10 loss
to the
Kansas City Chiefs
:
Shanahan's status:
As Monday began, Redskins coach Mike Shanahan remained employed. He looked exhausted or perhaps resigned to his fate Sunday night when he left FedEx Field nearly 90 minutes after an embarrassing 45-10 loss to the Chiefs. There have been too many recent stories detailing relationships -- Shanahan and
Robert Griffin III
; Shanahan and Griffin/Dan Snyder and Kyle Shanahan and Griffin -- and too many losses on the field to think this situation can be salvaged. Four years into the regime, the roster still needs a lot of work. The salary-cap penalty didn't help, but free agency has been mixed for Redskins anyway, so to think it would have solved everything is incorrect. There are reasons to change regimes other than failed relationships. Aside from Griffin, the team leaders have publicly endorsed Shanahan's return, and privately, players support him as well. But with a 24-37 record, they haven't backed their support up with the sort of success the organization wanted.
Garcon
Morris
Griffin's status:
On any other Sunday, the fact that Shanahan did not commit to Griffin to start the following week would make huge news. But it got lost in the drama of Shanahan's job and the dynamics of various relationships. Shanahan would only say they'll "talk about it later." If there was no doubt, Shanahan would say so. It could be a moot point, as Shanahan might not even be the one making that decision. And it's becoming clear he won't be the one making these decisions in 2014. Still, for now, Shanahan isn't sure whether he wants Griffin or
Kirk Cousins
to start against Atlanta. Shanahan is a strong believer in Cousins, and Griffin has been inconsistent at best. It also makes you wonder whether owner Dan Snyder would stand for something like this, knowing the future implications. Playing Cousins to "see what you have" doesn't make much sense because Griffin remains the future. Just like it doesn't make sense to bench Griffin just to keep him healthy. If he is the future, he needs to play and play a lot. If you're not sold on that, then that's a reason to play Cousins, or maybe also if you want to send a parting shot to the current starter. Regardless, it's just more drama in Washington -- because there wasn't enough already.
Special-teams mishaps:
Niles Paul
was as upset as anyone after Sunday's game because of the special teams' performance. He blamed it in part on players' mindsets, saying that some guys project themselves as future starters, so they don't prepare right for special teams. The thing is, on punt and kickoff coverage, there aren't a lot of young players who are even guaranteed of a roster spot next season, let alone a starting job. On kick return Sunday, there were four players who are in their first or second years --
Bacarri Rambo
,
Jose Gumbs
,
Josh Bellamy
and
Trenton Robinson
. Rambo already is starting (he was knocked for his special-teams play earlier this season). On punt coverage, 10 of the 11 players have been in the NFL for at least three years. The exception: Robinson. No, it's not about young guys who don't get it. Rather, it's about veterans who don't do it well. This unit was put together poorly.
Milestone marker:
In a bad season, two Redskins offensive players have been consistent producers -- receiver
Pierre Garcon
and running back
Alfred Morris
. Both surpassed the 1,000-yard mark Sunday; Morris has now rushed for 1,027 yards, while Garcon has a career-best 1,017 yards receiving. Morris' overall yardage total won't match his 2012 number of 1,613 yards, but that's not his fault. Morris is averaging 4.7 yards per carry and has run the ball only 37 times combined in the past three games, two of which were blowouts. He's also averaged 3.7 yards or fewer in those games as teams focused hard on stopping the Redskins' run game. Still, Morris has had a strong year running the ball in an offense with so much inconsistency. Garcon has posted big numbers, though he doesn't have many big plays and has caught just three touchdown passes among his 89 catches. His longest catch is 44 yards, a function of a passing game that is either inaccurate downfield or doesn't get enough time to throw certain passes. Garcon is averaging 11.4 yards per catch, his lowest figure in his five seasons as a full-time starter. But he's done a good job being able to catch and run, especially on screens, and is the lone receiver who worries a defense.
December, 9, 2013
Dec 9
2:36
AM ET
By
ESPN Stats & Info
| ESPN.com
The Ravens and Vikings combined to score 5 touchdowns in the final 2 minutes, 1 second of their game. All 5 touchdowns caused the lead to change hands. The score went from a defensive-looking 12-7 to 29-26 in a blink.
Here is a win probability breakdown after each touchdown in the final 2:05:
" 2:01: 1-yd Pass TD Flacco-Pitta - 26.9% win probability change, to
Ravens 74.3%
" 1:27: 41-yd Rush TD Gerhart - 40.8% win probability change, to
Vikings 88.8%
" 1:16: 77-yd KO ret TD Jones - 69.1% win probability change, to
Ravens 84.0%
" 0:45: 79-yd Pass TD Cassel-Patterson - 75.4% win probability change, to
Vikings 96.4%
" 0:04: 9-yd Pass TD Flacco-Brown - 59.4% win probability change, to
Ravens 98.4%
According to Elias, the five touchdowns in 2:01 were the fastest that five touchdowns have been scored in the last 50 seasons -- by more than 3½ minutes.
Patriots Defying Probability
In the past 3 weeks, the Patriots have rallied after facing deficits of 24 points (against the Broncos), 10 points (Texans) and 16 points (Browns). In all 3 games, the Patriots' win probability reached below 15%.
The small likelihood of victory seems to have inspired
Tom Brady
. In the second halves and overtime of those games, Brady has completed 75% of his passes (67-of-89) for 6 touchdowns and no interceptions.
After
Jason Campbell
's touchdown pass to
Jordan Cameron
gave the Browns a 26-14 lead with 2:39 left, the Patriots' win probability dropped to 2.0%. After Brady's touchdown pass to
Julian Edelman
, it was only 2.5%, but it really swung after the onside kick recovery, increasing the Patriots' likelihood of winning by 21%.
According to Elias, the Patriots are the first team to win 3 consecutive games (all in one season) in which it trailed by double digits in the second half since the 1993 Eagles (weeks 2-5), who had
Randall Cunningham
at QB.
Pats Offense Below Average Before Gronk
Based on expected points added -- which takes into account everything an offense does to move the ball and score points -- the Patriots' offense contributed -1.9 expected points per game to the team's net scoring margin in 6 games without
Rob Gronkowski
(19th in the NFL). In 7 games since Gronkowski's return, the Patriots' offensive EPA is +8.7 per game, 4th in the NFL.
In the past seven games, the Patriots' red zone touchdown percentage improved to 68.8% from 40.9% in the first six games. And Brady's Total QBR is 68.1 in the past seven games, compared with 52.7 without Gronkowski (50 is average).
RG III, Redskins in Tailspin
Robert Griffin
's 6.7 Total QBR against the Chiefs was the worst of his career. His Total QBR this season is 40.1, down from 73.2 last season (fifth in NFL). That is a decrease of 33.1 points, the worst differential of any qualified QB in the NFL this season.
The Redskins allowed two special teams touchdowns to the Chiefs and have allowed an NFL-high five special teams touchdowns this season (one kickoff return, three punt returns and one blocked punt return). They are allowing the most yards per punt return this season (18.0), all reasons they have the worst special teams EPA in the NFL.
Their special teams expected points is -47.0, nearly a point a game worse than the Falcons' -35.1.
On the flip side, the Chiefs have an NFL-high five special teams touchdowns this season, and they lead the NFL with 41.3 expected points added on special teams (next closest team: Patriots – 31.7).
December, 8, 2013
Dec 8
9:48
PM ET
I just don't see how Mike Shanahan survives, nor do I think he should. This situation has eroded that much and it's not even a matter of which side is right or wrong. I thought for a while it could be salvaged, but after this weekend it can't. It's not just about the playoff loss to Seattle last season and the distrust that developed over the play calling in that game. It's a general distrust on both sides over the source of all these leaks. It's not workable.

[+] Enlarge

AP Photo/Evan VucciMike Shanahan's days in Washington may be numbered.

Will Dan Snyder fire Shanahan this week? That's tough to say. But at this point, why not make your move? It's clearly going to happen after the season at the very least. If it continues the atmosphere will be bad for the final three weeks. It's hard to imagine after Sunday that Snyder doesn't know what he wants to do. This isn't about trying not to live up to his impatient image anymore; nobody would blame Snyder for making a move. That doesn't mean it's all one person's fault and the coach still has strong support in most corners of the locker room. That's been evident all season. But after three double-digit loss seasons out of four and with the issues between coach and quarterback, there really isn't a decision to be made. Move on.

All the leaks and stories that have come out lately were supposed to stop under this regime. This is what happened in the Jim Zorn era, only that time there was clear player dissatisfaction. Some of the stories emanated with them. Some from the coaches. Some from the front office. It was ugly. It's ugly again. It's back to what it's been too many times in the Snyder era, an atmosphere that is not conducive to winning. The locker room is terrific and has been. This is not a divided team.

I know players will be disappointed. But they're just as responsible for what's happened as the coaches. "I'm a guy that's backing [Shanahan] 100 percent," Redskins linebacker Brian Orakpo said. But is he worried about moves being made? "Who knows man? It's the NFL. Having been through it already who knows. I just have to keep playing." A couple of months ago I thought we'd be talking about a team ready to go on a playoff run. Instead, it's a coaching search. I was far from alone in my assessment.

The problem with starting over is not just bringing in a new staff, it's new offensive and defensive systems. Not many coaches run the stretch zone scheme the way Shanahan does. That means the bulk of the line will be gone because they fit something rather specific. And if a new coach comes in and wants to return to a 4-3 front? I hear the cheering now, but you need to know this has never been about the scheme they play. It's about the talent they've accrued to fit that scheme. If they switched to a 4-3 tomorrow they'd need to make major changes. If they stay in a 3-4 they'll need to make changes. Heck, it's probably a good time to undergo this transition defensively because of the need to make multiple moves regardless.

I've heard Art Briles name floated. Maybe Snyder pursues him and hires him. That doesn't mean it would be a good move. I don't think the quarterback needs that sort of attention, with the thought being that he got one coach fired to hire another. Briles has never coached in the NFL and would not be prepared for what he would be about to face. Forget defenses, which will be much more complex, it's about dealing with issues he never had to in college. You would need a strong organization to make it work with a college coach. That's not Washington. Chip Kelly is not the rule. Heck, Steve Spurrier had pro experience before he arrived in Washington. Snyder will need to do better than Briles.

The Redskins played a game Sunday and were embarrassed. Logan Paulsen: "Stunned, embarrassed. Those are all good words. We just got taken out behind the woodshed and got the belt taken to us. It's awful. No one expected this." Santana Moss: "They beat our [butts] man and it was embarrassing."

[+] Enlarge

Geoff Burke/USA TODAY SportsDexter McCluster, lower left, returned seven punts for 177 yards and a touchdown.

Embarrassing would describe the special teams, too. Do I need to go into detail here? They allowed 300 return yards! Yes, I used an exclamation point because that's an astonishing number. That goes on top of the 347 yards they gained as a team. They returned a punt 74 yards for a touchdown and a kickoff 95 yards. Punt returner Dexter McCluster returned seven punts for 177 yards. That's ridiculous. Field conditions played a part and McCluster's running style did as well. He is not a dancer; he's a glider who cuts and goes. That made it easy for him to weave through tremendous gaps.

But Niles Paul was sickened by what he saw once again on special teams. It's not about special-teams coach Keith Burns and whatever he's teaching them. At some point effort and intensity must enter into play. They haven't, not as a group. I don't know how you can say you have the right players if you don't have guys buying into what they're asked to do on special teams. Here's Paul: "Hopefully they get it and understand this is your role this year, whether you become a starter next year is neither here nor there. This year your role is special teams and you should give the effort you're being paid to give. ... Reed [Doughty] has held meetings talking about effort. We haven't called anybody out. That's not the type of team we want to be. It almost comes down to us having to do that. It feels like everyone's not on the same page and it's frustrating. ... Coaching has never been an issue. The issue we've had is the effort from players. You can't have four or five guys out there giving effort and no one else is giving the same. You get what we had today, an embarrassment." There's that word again.

What else to really say about this game? It's one of the ugliest losses that I've seen because of the timing of certain stories and future implications. Jamaal Charles was terrific, though he had big gaps to cut through. Charles worked well on a slick field. Defenders had a tough time cutting; he did not. Meanwhile, the Redskins' offense was bad. The quarterback didn't play well. The line didn't create openings. It was 45-10.
December, 8, 2013
Dec 8
8:40
PM ET
LANDOVER, Md. --
Washington Redskins
coach Mike Shanahan pulled
Robert Griffin
III from Sunday's game at the start of the fourth quarter. That was understandable. What Shanahan wouldn't say is whether Griffin will return to the starting lineup for Sunday's game at Atlanta.
It's not as if either quarterback played a good game. Griffin completed 12 of 26 passes for 164 yards, one touchdown and an interception. Backup
Kirk Cousins
completed 7 of 16 passes for 59 yards.
"We'll talk about that later," Shanahan said. "That's with anybody in any position. We'll look at injuries, we'll look at where we are and what direction we're going."
Griffin said he had no doubts he'd start next week.
"That's not an issue," he said.
Griffin said he understood why he was removed from the game. The Redskins trailed 45-10 when Cousins entered with 13 minutes, 31 seconds remaining in the game.
"There was no way we could win it, so he was going to pull me out," Griffin said. "At that point I just didn't want to risk injury in the latter part of that game."
Of course, every decision that involves Shanahan and Griffin is viewed through the prism of their relationship. And what it could mean for the future. Before Sunday it appeared there was a chance Shanahan could return. That notion died Sunday.
Would owner Dan Snyder then allow a coach who doesn't figure in the future to bench a quarterback who does? It's hard to imagine.
December, 8, 2013
Dec 8
7:30
PM ET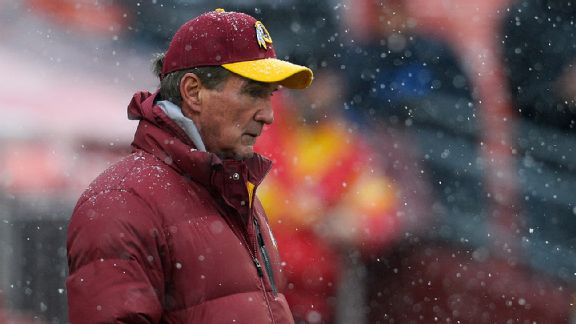 Patrick McDermott/Getty ImagesWith rumors swirling around the franchise, Redskins coach Mike Shanahan's days as coach could be numbered.
LANDOVER, Md. -- The game didn't matter at all, just like too many December games in Washington in the past dozen or so years. It's down to this: trying to figure out whose version of the truth is the correct one.
Both sides -- the Mike Shanahan camp and the Robert Griffin III camps -- come across the same way. They look and sound exhausted by what has transpired. One side leaks out how the relationship between Dan Snyder and Griffin displeases the head coach and is damaging. They're too close. The other side says that's just not the case. They rarely talk during the season; they're not
that
close.
But this is the state of the
Washington Redskins
. Trying to parse meaning from every sentence, from the way someone answers a question. Did they look angry? Defeated? Teary-eyed? Other cities talk about playoff races; in Washington it returns to politics and body language. Oh, and job security: Will Snyder fire Shanahan? If so, is it imminent? Will Snyder let him twist a little?
Shanahan had the opportunity to deny
an ESPN.com report about the events of last season
, when it was reported that he planned to quit because of Griffin's relationship with Snyder. Shanahan obviously didn't quit -- nor did he shoot down the story. If a guy wants to get fired, one good way is to have a story like this come out (and then not say who your starting quarterback is for next week, as Shanahan did as well).
It was the first topic he discussed after the
Redskins' 45-10 loss
to the
Kansas City Chiefs
in front of a record-low 56,247 fans at home.
"It's not the right time or place to talk about my relationship with Dan Snyder," Shanahan said, "or it's not the right time and place to talk about something that happened a year ago. I will get a chance to talk to Dan at the end of the season and I will give him some viewpoints from me and I'm sure he will give me his thoughts. I'm not sure what direction we will go, but we will communicate that at the right time."
Shanahan wouldn't answer any questions about anything other than what happens on the field. His focus, he kept repeating, is on next week's opponent Atlanta.
"I'd like to talk about the job at hand," he said, giving the impression he was already resigned to his fate. "And not speculation or my relationship."
That will be tough to do as long as he remains employed by the Redskins. As Shanahan exited Fed Ex Field at 5:20 p.m. ET, he still was the coach. And as long as he's the coach all aspects will be picked apart because they all play into any decision Snyder will make.
The players harp on the old lines of not focusing on what they can't control. But it takes a toll, not just the losing but the endless speculation.
"It's extremely difficult," tight end
Logan Paulsen
said. "It's like going to work every day and someone is standing outside your window telling you how much you sucked. It's a distraction and it's very difficult to navigate that. I think that's the biggest thing. It's noise constantly. People talking about your coach getting fired. People talking about cutting players. People talking about everything under the sun. That's always really difficult.
"I do worry about [what might happen]. Shanahan is a guy I have a ton of respect for. I want to play at a level that is going to keep him here. Every time we have a game like this, I feel I'm not helping him keep his job."
It's clear that Griffin is perturbed as well. He's a 23-year-old quarterback who was the talk of the NFL a year ago. He still is, for different reasons. It's one thing for him to hear his game picked apart; it's another to have other aspects of his life probed. There's always noise that accompanies terrible seasons in Washington, especially when there are questions about whether or not the head coach will return.
Now Griffin is caught up in it. Safe to say he understands how it looks for him. Safe to say he's frustrated about how his relationship with Snyder is portrayed, that they rarely talk during the season and not about football. Snyder was pilloried in the past for his chummy relationship with players, something that was not an issue the past several years.
"I'm not going to talk about that stuff guys," Griffin said. "It's not relevant to the game or relevant to my life. That is my answer to that. This is ridiculous."
But he did go longer when asked why his relationship with the coach or owner is always being questioned.
"I don't know," Griffin said. "I'm getting frustrated now, too, and trying to hold everything back. Some things are allowed to happen and we can cut a lot of this stuff out and it is not being cut out. I don't know what else I can do about that. It is very unfortunate."
This is no longer a healthy relationship, this one between Shanahan and Griffin. When these stories come out, it makes you wonder why.
"Is it calculated?" Griffin said. "I don't know what it is."
Here's what many would call it: the end.
December, 8, 2013
Dec 8
6:21
PM ET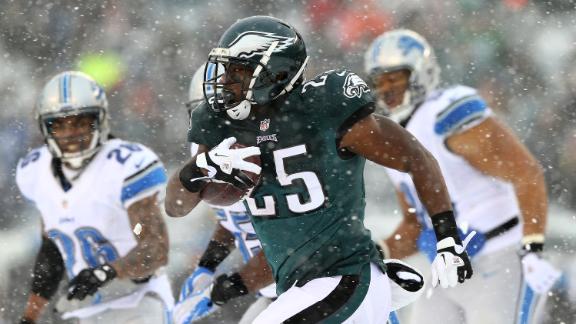 PHILADELPHIA -- Heavy snow fell until early in the fourth quarter of Sunday's Philadelphia-Detroit game, covering the playing surface at Lincoln Financial Field and greatly affecting the strategy in a game won by the Eagles, 34-20.
Eight inches of snow began falling about 90 minutes before kickoff and continued steadily throughout most of the game. The grounds crew used blowers and shovels to clear the yard lines, goal lines and sidelines during stoppages of play.
Under NFL rules, the grounds crew could have plowed the field at halftime but opted not to because there was too much snow on the field, not enough time to clear it and nowhere to put it, the Eagles said.
Snow was a factor in four other NFL games Sunday, including the Miami Dolphins' 34-28 victory over the Steelers in Pittsburgh.
"Today we had a lot of snow, so it was pretty thick," Dolphins wide receiver Mike Wallace said. "Just being able to stop, that's the toughest thing. But both sides have to go through it."
Wallace also commented on the possibility of snow being a factor in the Super Bowl, which will be played in February at MetLife Stadium in New Jersey.
"If you get two teams that's not used to playing in the snow, (the Super Bowl) could be crazy for a little while," Wallace said. "So it will be different. But I think teams that play in it all the time might have a little bit of an advantage."
Wallace had little sympathy for fans who could potentially be in attendance at a Super Bowl played in a snowstorm.
December, 8, 2013
Dec 8
4:06
PM ET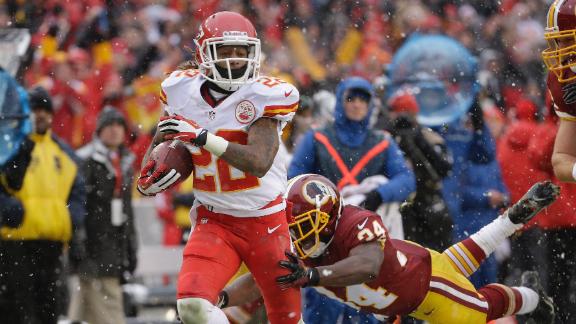 LANDOVER, Md. -- Thoughts and observations after the
Washington Redskins
'
45-10 loss
to the
Kansas City Chiefs
:

What it means:
The end of the Mike Shanahan regime. With stories now detailing the nature of numerous relationships at Redskins Park -- Shanahan and
Robert Griffin III
's; Griffin and Dan Snyder's; and Kyle Shanahan and Griffin's -- it'll be tough for Shanahan to survive, especially after a disastrous and embarrassing 45-10 loss to Kansas City on Sunday. If Snyder fires Shanahan, it can be justified based on the record over the first three-plus years (24-37) and the fact that they have not improved this season. They'll have salary cap room, but the direction they're headed in is the wrong one. Shanahan has complained about how much noise accompanies coaching the Redskins. It certainly has annoyed him during his tenure and it probably makes coaching more difficult. Nothing is ever as bad as it seems, but it's hard to paint this season in any sort of positive light. For a while bringing Shanahan back was a legitimate option. Players have maintained support, both privately and publicly. But there just seems to be too much ongoing "noise" for Shanahan to survive for a fifth season.
Stock watch:
Down: special teams coach
Keith Burns
. The Chiefs returned a punt for a touchdown and then later a kickoff for a touchdown. Burns' first season in Washington has been a disaster, whether it's all his doing or not. The fact is, the special teams have been dreadful. They were not a great unit before he arrived; they've been terrible all year. Really, we could put an entire list of Redskins players -- and coaches -- on the "down" portion of the stock report.
QB watch:
Griffin had a miserable day in the sloppy weather, completing 12 of 26 passes for 164 yards. He eyeballed a receiver leading to an easy read and interception by linebacker
Derrick Johnson
. Griffin was replaced by fellow second-year QB
Kirk Cousins
, who didn't fare much better. He completed 7 of 16 passes for 59 yards. Both quarterbacks were put in obvious pass situations quite a bit. There are a lot of reasons the passing game didn't work, but neither one provided much of a spark. In truth, the Redskins' offense was never in this game. Nor was their defense. Nor their special teams.
Up next:
The Redskins play at Atlanta in a game that, before the season, looked like one that would have playoff implications. That notion died a long time ago.
December, 8, 2013
Dec 8
12:20
PM ET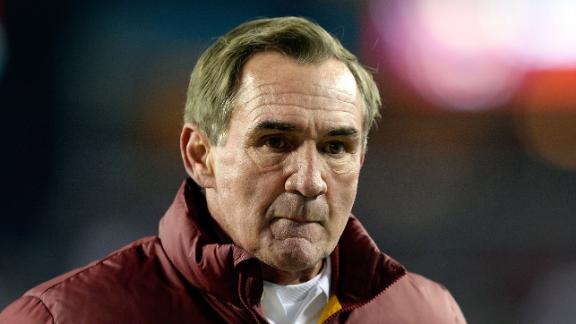 One thing I've learned covering the
Washington Redskins
: It's always interesting. Even at 3-9, the Redskins remain a team that gets a lot of attention, as much because of the circus atmosphere than results as anything. So
it is with this story
by Dan Graziano from Sunday morning.
Anyway, here's what I know and don't know:
I haven't heard that owner Dan Snyder and coach Mike Shanahan don't get along. I haven't heard that they have a chummy relationship, either. I think it's usually better for the coach here if they are a little tighter. But they're not. Thing is, I don't know that it's an unworkable relationship, and I think that having Bruce Allen as an intermediary helps.
I have a real hard time seeing Shanahan being here for his fifth season after reading the story. Certain dynamics won't change. Safe to say Shanahan knows that as well. And if I'm Snyder, I'm not happy that this news came out. He can justify a move because the Shanahan regime has not produced the way he hoped.
The timing of the leak makes me wonder. From what I understand, there was no connection drawn by the person who provided the tip and this, but it's curious that Shanahan's name is being mentioned as a possibility for Houston's opening. If Shanahan indeed has reached the point that he wants to leave, it makes sense to have a story like this come out. If he thinks he's going to get fired anyway, why not now? It would give him a head start on other candidates. Houston is an attractive job and the organization is run much differently.
Again, I wasn't told that all these dots were not connected. Just my own thoughts, but it makes sense. My guess also is that the Shanahans have grown tired of being portrayed in a certain light. Kyle Shanahan clearly wanted to discuss certain play calls at the end of last season and in the playoffs during his news conference Thursday. Reputations are at stake here.

Griffin III

If the Redskins change coaches, they still will be able to find someone else. Some coaches will stay away, but the combination of money, free-agent spending and a young potential franchise quarterback will always convince a coach he can win here. Snyder did build a bubble and moved training camp for Shanahan, and he will spend. I don't know that Snyder was really working against Shanahan.
I had heard earlier this year that Shanahan was not thrilled with the Robert Griffin III-Snyder dynamic. But what coach would be? That doesn't mean Snyder can't have a relationship with a player who is arguably the most important one he's ever acquired. But it does mean it leads to issues. And it can make any young player feel more entitled. And it can make any coach annoyed when that happens. By the way, others in the organization say the relationship between Snyder and Griffin is not as close as portrayed.
I remember Norv Turner telling people years ago that he was willing to quit, a charge he denied, early in Snyder's tenure. But he didn't. And I don't know many people who are willing to walk away from $14 million. That doesn't mean there wasn't real dissatisfaction or an urge to make a move. A Redskin spokesman has strongly denied the report. They always do; sometimes it's legit and other times it's not.
It would be good for Snyder to talk; there are a lot of issues building and it would be good to hear from the guy in charge. Of course, if he has no idea what he wants to say in terms of Shanahan's job and the future, then should he really say anything? That's the thinking. But there are a lot of leaks and stories, which often occur in 3-9 seasons. At some point, the owner -- or Allen -- will have to address them.
Why all this talk about last season now? Because it matters to the future. The way Kyle Shanahan and Griffin perceive what happened at the end of last season, and during the playoff loss, matters regarding what might happen going forward (or how their relationship is). It's a factor in any decision and can't be ignored.
Griffin isn't a bad guy. Is he perfect? Far from it, just like everyone else. I wonder if it's always tough for 23-year-olds to realize this when you've received the adulation he has over the past couple of years and when the owner treats you differently. It's probably a natural reaction. That doesn't mean it's healthy. Griffin hasn't made any strong endorsements of either Shanahan. It's telling.
Again, Snyder is allowed to have a relationship with the most important player he's ever acquired. But I know in the past when this has happened, other players in the locker room notice.
There will be pressure on Griffin going forward if this regime blows up. Fair or not, there will be a perception that he had something to do with it because of his relationship with the owner or because of what he thought of the Shanahans. I know a lot of players like this offense and like playing for Mike Shanahan. Griffin's image hasn't been shattered, but it's not nearly what it was a year ago. Winning repairs any image; just ask Kobe Bryant or LeBron James (who took a tumble for different reasons).
December, 8, 2013
Dec 8
10:25
AM ET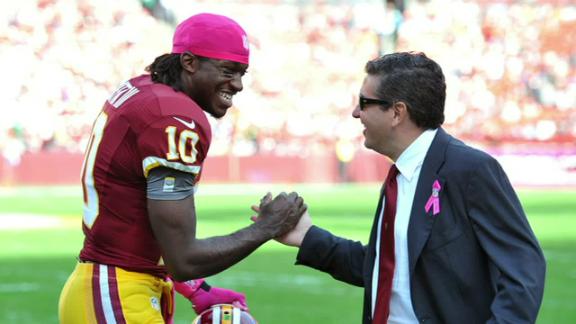 As speculation mounts about Mike Shanahan's future in Washington, details have emerged about the coach's dissatisfaction with the relationship between owner Dan Snyder and quarterback Robert Griffin III.
Disillusioned with the way Snyder was running the organization, Shanahan cleaned out his office in advance of last January's wild-card playoff game against the Seattle Seahawks and expected to leave the team whenever the season ended, according to a source who spoke on the condition of anonymity.
The source said Shanahan had grown tired of the way Snyder empowered Griffin and openly esteemed him above all other players. Shanahan didn't blame Griffin but did blame Snyder for creating an atmosphere that Shanahan did not believe was conducive to winning. Shanahan privately told people close to him that he felt Snyder's behavior with regard to Griffin was a "complete farce."
In spite of that, Shanahan believed he would be leaving the team on a very positive note, as the Redskins had won the NFC East in his third year as their coach and were preparing for a playoff run. He believed the team had come together and shown strong character during the seven-game winning streak on which it ended the regular season.
But when Griffin injured his knee in that playoff loss, a source said, Shanahan changed his plans. He believed leaving at that point was no longer an option. He didn't want the general public, or possibly even his players, to think he left because of Griffin's injury.
Contacted this weekend about this information, Shanahan declined to comment.
Shanahan also declined to discuss the reported rift with Snyder after the Redskins' 45-10 loss at home to the Kansas City Chiefs on Sunday.
December, 8, 2013
Dec 8
10:00
AM ET
By
ESPN.com staff
| ESPN.com
Join our ESPN.com NFL experts as they break down the Kansas City Chiefs' visit to the Washington Redskins. Contribute your thoughts and questions beginning at 1 p.m. ET. And, be sure to visit our
NFL Nation Blitz page
for commentary from every game, as well as fan photos and the latest buzz from Twitter. See you there.
December, 8, 2013
Dec 8
9:00
AM ET
1. I don't know what this means, but it's certainly an observation: The Redskins seemed as loose last week as they've been all season, whether when we could watch practice or during the open locker room sessions (especially Friday, a typically lively day). I don't know if that's good or bad -- though the answer will be revealed Sunday. I do know when they were 3-6 a year ago they also were rather loose and it probably helped.
2.
Pierre Garcon
has had an impressive season and his 84 receptions are the most in franchise history after 12 games. Next highest: Art Monk with 71 catches and Gary Clark with 66. Garcon has done a terrific job, but the problem here is the total yards. Despite having 13 and 18 more catches, respectively, than the Monk and Clark, Garcon does not have more receiving yards than at the same point. He has 980 yards compared to Monk (1,007) and Clark (1,126).
3. Garcon's yards after the catch (491) rank fourth in the NFL, but that stems in part from how many screen passes and smoke routes he's run -- plays designed for yards after the catch. He has not been a big threat downfield. It's why he's averaging just 11.7 yards per catch, tying his career low (for the five seasons in which he's been a regular).
[+] Enlarge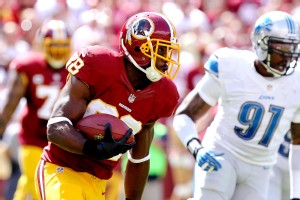 Geoff Burke/USA TODAY SportsWide receiver Pierre Garcon has been a bright spot for Washington's offense this season.
4. That's not to say he's not having a good season; he clearly is -- he's consistent and productive. But it does illustrate some of what's been wrong in the passing game -- the inability to get the ball downfield. Of the top 10 receivers in the NFL in terms of catches, the only two who average less per reception are slot receivers
Julian Edelman
(10.2) and
Wes Welker
(10.5).
5. In fact, no Redskin with at least 10 catches is averaging more than 12.5 yards per catch, which is a major problem. Every other team in the NFL has at least one player averaging more yards per catch than 12.5. Last season, the Redskin had four players who finished with at least 20 catches who averaged at least 13.5 yards per reception. This also speaks to the lack of explosiveness at this position.
Aldrick Robinson
has speed, but I wouldn't consider him explosive (though on his six catches he averages 25.3 yards. The problem? Six catches. He's just not that good).
Leonard Hankerson
(obviously now hurt) runs good routes, but after the catch doesn't make anyone miss. All of this is a function of how teams are defending the Redskins, the line not giving quarterback
Robert Griffin III
enough time to always throw deep, Griffin's accuracy being off and receivers who don't get open. That about sums it up.
6. This is the time of the year when the media starts voting on its Good Guy award winner, the player who helps the media best do its job. Despite a 3-9 record, the Redskins have players who routinely do this. It's not easy getting asked all the time about bad performances or about whether or not a coach should be fired (it's a bit rare when players publicly say yes) or about what might happen to them. They all know if there's a regime change it puts them on notice, too. One player who has been largely absent during the week? Second-year back
Alfred Morris
. Not quite sure why; the press he gets is almost always good. But he does talk after games. He was terrific to talk to last season and even early in the year. He still seems jovial when seen around the facility.
7. Oh, yeah, the game. The Redskins' defense will be challenged by Kansas City running back
Jamaal Charles
. He's averaging 4.6 yards per carry and has scored nine touchdowns. Charles is a big-time threat in the pass game, too, with a team-best 55 receptions. Charles hits holes fast, but he's not going to lower his shoulder and drive through defenders. It's not his running style.
8. Another thing: He and fellow back
Dexter McCluster
are used on a lot of screens. The Chiefs will use both players on the field at the same time and will get them the ball on a variety of routes. They'll even have them run crossing routes underneath, trying to get them the ball in space in one-on-one situations. McCluster has 42 receptions.
9. The Chiefs haven't applied a lot of pressure in recent games, but consider that two of their last three games have come against Denver and that's a bit understandable. Few if any quarterbacks get rid of the ball faster than Denver's
Peyton Manning
. With leading sacker
Justin Houston
(11 sacks) out Sunday, the Chiefs' rush will take a hit. Outside linebacker
Tamba Hali
has nine sacks. While he's fast, it's his always-active hands that create issues. But they will try to manufacture pressure with a variety of looks. They had one blitz, for example, against New York earlier this season in which they stunted the end and the tackle on the nose on the left side with the inside linebackers executing the same move right behind them. Yes, it led to major pressure. That also came with a blitz. "They have a ton of stuff like that," Redskins tight end
Logan Paulsen
said. "Usually we have a meeting on Thursday and go over the blitz and what they like to do and it's a short meeting. But this one was like 15 minutes because they do a lot of stuff we're not used to."
10. The key? Running the ball well, especially on early downs. Kansas City allows a hefty 4.6 yards per rush and any pass rush is negated by a team able to put itself in third-and-shorts. But going inside the numbers, I'm not sure the Chiefs are that bad. Some backs have had strong games (Buffalo's
C.J. Spiller
, Philadelphia's
LeSean McCoy
, Denver's
Montee Ball
). But, for the most part, they've done well against a team's top back. One reason: nose tackle
Dontari Poe
, who is strong and quick and occupies double teams. He'll be a handful Sunday.