Commentary
Bruschi on Tap: Six observations
Belichick and the Patriots' way again rise to the top of the NFL
Updated:
November 2, 2010, 9:52 AM ET
By
Tedy Bruschi
| ESPNBoston.com
Six observations from the New England Patriots' 28-18 victory over the Minnesota Vikings on Sunday:
1. Patriots atop the NFL heap. I can't say that I am really surprised that the Patriots have the best record in the NFL. At this point, this is what the NFL is -- a lot of good teams that have a lot of talented players. A lot of these games are going to be close and come down to execution in key moments at the end of the game.
Players execute well at the end of a game when they receive quality coaching and you can always bet that the Patriots, under Bill Belichick, are going to deliver in those situations. He is teaching and coaching situational football on a daily basis and he gives players confidence that no matter what the situation is, they are prepared because the team has already gone over this scenario and knows what to do.
Patriots Blog

Mike Reiss (pictured) and Field Yates have you covered with news and analysis. Blog.
• Send mailbag question
• ESPNBoston.com
Sometimes you will hear quarterback Tom Brady reference Foxborough High School, and that reflects what Coach Belichick is telling the team: He is stressing the importance of the most basic things in football, like the quarterback/center exchange. Belichick will say something like, "If we can't execute that, we can't win football games, whether it's against Foxborough High School or the Minnesota Vikings." The simplest aspects of the game still have to be coached on a weekly basis and players have to be reminded that those little things are still very important.
2. Vikings screwed up by cutting Moss. I don't understand why the Vikings apparently cut ties with Randy Moss on Monday. Were they disappointed in how he was playing? Or was it his postgame news conference after the loss to the Patriots on Sunday? He gave a lot of love to New England in that news conference and let me tell you why.
Moss spent three-plus years with Belichick as his coach, then he spent three-plus weeks with Brad Childress. He sees the difference. He saw the difference between Belichick and the Patriot way of doing things and Childress and the Viking way of doing things. That's what he did not like.
The way that it's being done right now is what I'm upset about. You don't do this to Randy Moss. This is one of the best receivers ever to play football. You don't just release him on a whim like this after some postgame news conference and one bad performance. Look at the way New England "released" him: They traded him and got a third-round pick. I was a third-round pick.
It just shows how inept Childress is as a head coach and how inept the Vikings are as an organization. When the trade happened, Belichick called an unscheduled news conference, which is something he never does, to praise Randy Moss, called him a Hall of Fame player and thanked him for all of the service that he gave to the Patriots. If Childress is using this to make a statement to his team about the right way of doing things, he lost his opportunity. If he's trying to send a message, this is the wrong way to do it.
3. Ron Brace, Brandon Tate, Myron Pryor -- more young players rising up. One of the things I said throughout the offseason and at the beginning of the year is that the development of young players is going to be key for the Patriots to have success. That has happened. You knew that the team had a lot of youth, but could they execute the way Belichick coaches them to execute? They proved that they can.
More names are starting to pop up. Last week against the Chargers, you saw rookie inside linebacker Dane Fletcher make a big play to force a fumble. This week, it was Ron Brace. On fourth-and-goal from the 1 at the end of the second quarter, Brace made the biggest play of his NFL career, getting under offensive tackle Phil Loadholt -- who is listed at 6-foot-8, 348 pounds -- and pressing him back into the hole, driving him back from the line of scrimmage, with Adrian Peterson running up Loadholt's back, stopping his momentum. Since Brace was drafted in the second round last year, this has been his challenge: Can he take on blocks, press out and two-gap a bigger, stronger offensive tackle and make a play for this team in a short-yardage situation?
[+] Enlarge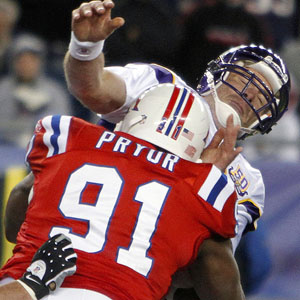 AP Photo/Michael DwyerMyron Pryor's knockout of Brett Favre was another example of a young Patriots player stepping up.
Then there was Brandon Tate. You see the chemistry now starting to show with Tom Brady. It's not just special teams for Tate, as he's now contributing on offense. On the scramble play that produced a 65-yard touchdown in the third quarter, Tate knew what to do, to go deep and get in a position where Brady could see him. He followed the rules he had to when he saw it was a scramble play -- noticing the leverage the defender was playing, seeing the room in the deep part of the field and making himself a target as Brady bought himself more time.
And finally, there was Myron Pryor. Last year, he started to show up as a sub rusher. This week, he might have won the game for the Patriots by knocking Brett Favre out in the fourth quarter with a nice hit on a pass-rush move on Steve Hutchinson, who is considered one of the best guards in the game. That's "Big Hutch"; he's no slappy. But Pryor beat him quickly off the line of scrimmage and hit Favre legally, knocking him out.
4. Run defense struggles early. One of the strategies the Vikings used early was to displace one of the Patriots' outside linebackers to create separation in the 3-4 defense. When you have a slot receiver like Percy Harvin or you displace a tight end, it means that either Rob Ninkovich or Jermaine Cunningham has to line up on that player in the base 3-4 defense. The Vikings were running to that side, knowing the outside linebacker still had to set the edge, only they were doing it from a position farther away from the line of scrimmage.
The Vikings had early success with that, but as they did it over and over again, Ninkovich and Cunningham started to get better reads, attack more aggressively with a downhill run and blow things up in the backfield. I'm not sure if that was a sideline adjustment, but overall, it was a great adjustment that the Patriots made -- recognizing formations and how they were being attacked. When the outside linebacker is displaced like that, and they are thinking about their zone drops, it can create a conflict when the offense runs at you -- all of a sudden the offensive tackle is blocking you and you're on your heels. The Patriots made a good adjustment on that and recognized pre-snap keys better as the game went on.
5. Running game makes a statement to the NFL. The way the Patriots ran the ball in the second half told the rest of the NFL that New England can win football games in any way. It's easy to think of the Patriots as a spread offense that throws short passes, dink and dunk, but when it comes down to it, they showed they can also be physical and run the ball consistently against a solid front seven.
The Minnesota front seven has been solid for years, but the Patriots sent a strong message by running the ball to finish the game. It shows they are not one-dimensional and that they have what it takes to be tough and physical, that when push comes to shove, they can do some pushing.
6. An example of top-notch coaching. Before the third-down touchdown run by BenJarvus Green-Ellis that made it 28-18 at the two-minute warning, the Patriots ran two quarterback sneaks. Those sneaks weren't designed to do anything but manage the clock, and it is an example of good coaching, how confident the New England coaches are in the team and how Bill Belichick is always thinking two steps ahead.
The Patriots were leading 21-18 as they marched down the field and made the Vikings use all of their timeouts. The ball is on the 1 with 3:18 remaining in the game and it's first down, so what do you do? You call those sneaks to work the clock down, and it gets to third down at the two-minute warning. Even if you didn't make a first down, the Vikings were out of timeouts, you could have kicked a field goal and then you're giving Tarvaris Jackson -- not Brett Favre -- less time to respond.
We worked on those situations on offense and defense in the past, talking about possibly letting the opposing offense score so we could get the ball back, or anticipating offensively how the opponent might let us score. In that situation Sunday, the Patriots took as much time as they could off the clock while still getting guaranteed points. That was good situational football.
Tedy Bruschi played 13 seasons for the New England Patriots and is a member of the franchise's 50th anniversary team. Mike Reiss covers the Patriots for ESPNBoston.com. Follow him on Twitter.
Columnist, ESPN.com
Tedy Bruschi spent his entire 13-year career with the New England Patriots after being drafted in the third round out of Arizona. He played in five Super Bowls, winning three. He retired prior to the 2009 season.
PATRIOTS 28, VIKINGS 18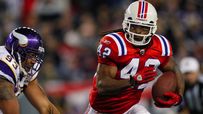 Follow Mike Reiss' coverage

of the New England Patriots on Twitter
PATRIOTS CENTER
Check out ESPN Boston's complete coverage of the Patriots' victory over the Vikings, including analysis, commentary, videos, report cards, photos and more.
Patriots Center »
MORE PATRIOTS COVERAGE
NFL BLOG NETWORK
EDITORS' PICKS
The Pats surprised some by placing the franchise tag on Stephen Gostkowski instead of Devin McCourty.