Commentary
Bruins are in Stanley Cup finals denial
VANCOUVER, British Columbia -- If the goal of the Boston Bruins is to stay close, their two games to start the Stanley Cup finals were a roaring success.
If, however, they were actually planning on winning a game, to say nothing of the four games it will take to carry home the Stanley Cup for the first time since 1972, the Bruins head home having accomplished nothing beyond digging themselves a man-sized hole from which they must crawl out of in the coming days.
It took less time for all of the Bruins to exit the ice after Game 2 than it did for Alex Burrows, the Sideshow Bob of the two off days following Game 1, to swoop around a sprawling Tim Thomas and tuck the puck into an open net just 11 seconds into overtime to give Vancouver a 3-2 victory and 2-0 series lead.
The Canucks were mobbing Burrows along the far boards, and there wasn't a Bruins player in sight. They fairly raced to their dressing room in anticipation of fleeing the Canadian city in which Stanley Cup finals fever rivals the Olympic fervor of last year.
[+] Enlarge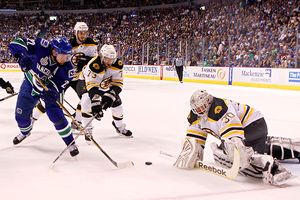 Bruce Bennett/Getty ImagesTim Thomas made 30 saves for the Bruins, but Boston still trails Vancouver 2-0 in the series.
It didn't matter how fast they exited Rogers Arena, though, the specter of losing Game 1 to a Raffi Torres goal with 18.5 seconds left in regulation coupled with Saturday's overtime shocker will accompany the Bruins on their cross-continent journey home.
"In the last two games here, we've lost by one goal and still I don't think we've played the way we can," Boston coach Claude Julien said. "We're a better team than we've shown. We've got to go back home and start showing that and get ourselves back in this series. We didn't come here just to roll over. We're definitely going to go back home and regroup and bounce back."
It's not that the Bruins have played all that poorly. They were much more disciplined than in Game 1, in which they gave up six power plays, although they did give up a power-play goal in the first period of Game 2 to Burrows. But for the second game in a row, the Bruins had no answer for a Canucks team that upped the ante in the third period.
Maybe they can't get to that level. No shame in that. But for a time in Game 2, this was the Bruins' game.
After trailing 1-0 at the end of the first period, the Bruins dominated puck-possession time and outchanced the Canucks through most of the second period. They actually scored on the power play -- just their second road power-play goal of the playoffs -- when Mark Recchi somehow got a stick on a Zdeno Chara point shot and deflected it past Roberto Luongo to give the Bruins their first lead of the series.
David Krejci, a shadow in Game 1, rebounded with a strong effort and was crucial to setting up Milan Lucic less than three minutes in advance of the Recchi goal. It was the first goal of the series for the Bruins. But instead of seizing the moment, it was the Canucks that seized the series and the inside track to their first Stanley Cup.
Thomas made a couple of sensational saves late in the second to preserve the lead, but midway through the third period, Daniel Sedin tied the score to set the stage for Burrows' overtime winner.
The Bruins? Again some of their best players seemed to wilt under the pressure.
Nathan Horton, playing with Lucic and Krejci, has been a non-factor through the first two games. Julien has so little confidence in defenseman Tomas Kaberle that it has upset the ice-time allotment for his other five defensemen. Kaberle played just 12:25, more than a third of that time on the power play. That may partly explain the ghastly night Chara suffered through in Game 2.
Perhaps he's tired. The Bruins captain was in the penalty box when the Canucks scored their first goal but on the ice for the next two. The big man seemed paralyzed whenever he had the puck on his stick, routinely turning the puck over, especially in the Bruins' zone.
Julien refused to consider criticism of his captain, who once again led all players in ice time (28:12).
"Well, I guess all of a sudden you lose a game and now we're going to start wondering about certain players. I think it's really about our whole team," Julien said. "It's not about Zdeno. Zdeno didn't lose the game for us tonight. Our whole team did. I don't think we played very well, to what our standards are all about. I think the decision-making, the puck management, it's what's costing us games."
Asked to assess his game, Chara said it didn't matter how he played.
"Doesn't matter. What matters is wins and losses," he said.
As for explaining the team's inability to sustain the top level of play shown in the second period, Chara echoed what many Bruins said -- that it was a close game -- as though that is somehow an acceptable answer for going home down two games.
"I think we played a pretty good game," Chara said. "Obviously, we made some mistakes, but so did they. It was close game."
Andrew Ference, whose ill-advised pass off the opening faceoff in overtime went past Recchi like a shot and ended up in the back of the Bruins' net a few seconds later, insisted this wasn't a case of the Bruins letting one slip through their fingers.
"They're close games. They're going to be decided by a play here, a play there. They obviously got the big goals when they needed them," said Ference, whose failed clearing pass late in the Canucks' first power play also resulted in the game's first goal. "[They are] going to be tight games through and through. Obviously, both teams are solid. They had their home ice, now it's up to us to go do the same. Expect another tight game, but [for us] to be on the right side of it. It's not about letting one get away, it's about playing tight games, and they were able to bury the big one when they needed it."
Maybe that's all it is, and maybe the Bruins truly believe that. Maybe it's just a little Stanley Cup finals denial.
But after two games in Vancouver, what it really looks like is that the end for the Bruins is near and getting closer every game.
Scott Burnside covers the NHL for ESPN.com.
Hockey writer for ESPN.com
10 years at Toronto Sun, Windsor Star and National Post
Wrote best-selling true crime book "Deadly Innocence"
2011 STANLEY CUP FINALS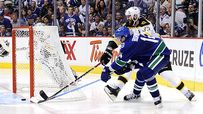 Follow the NHL on ESPN: Twitter / Facebook
Game 2: Vancouver 3, Boston 2 (OT)
EDITORS' PICKS
The Bruins play their biggest game of the season Saturday vs. New York.