Commentary
Edes still emptying Sox mailbag
Thoughts on Miguel Cabrera, Adrian Gonzalez, Roy Halladay and getting younger
Updated:
November 25, 2009, 6:38 PM ET
By
Gordon Edes
| ESPNBoston.com
Hey everyone, I received so many letters my first week, I felt it only right to offer back-to-back mailbags. So here we go.
Q. Is there any way that the Red Sox would be willing to resign Orlando Cabrera? He would be able to fill the void until Jed Lowrie gets back to form. How about getting the O-Dog?? -- Jamieson G. (Clearwater, Fl.)
A. Jamieson, that's not going to happen. Cabrera and the Red Sox did not part on good terms when the Red Sox elected not to re-sign him after the '04 season; there were issues that went beyond his on-field performance.
More on the winter meetings

Follow updates from Gordon Edes throughout the winter meetings in Indianapolis. Red Sox blog
For more, check ESPN's Winter Meetings Live. Updates
Q. Gordo, welcome! You and Gammons -- it feels like my younger days reading the Sunday Globe and Peter having an entire page to talk baseball. Mercy! Anyway, while we can say Papi's whining a bit, there's doesn't seem to be a big bopper in the pipeline for the Sox. Is this a function of being relatively low in the draft, or just the drafting style of Theo, et al. Any prospects on the horizon, or do we clone Jim Ed? -- Rich C. (Ridgefield, Conn.)
A. Rich, yes, it's pretty cool for me to share some space with Peter. No, I don't think the lack of an obvious power hitter in the Sox system is purely a function of drafting philosophy -- the Sox used a No. 1 pick in 2006 on high school slugger Jason Place, and have paid over slot for other drafted hitters who haven't panned out.
Q. What are the chances the Brewers will in fact attempt to move Prince Fielder and the chances of the Sox being in on it? Also, there has been talk of switching Lowell/Youkillis at their respective corners to make up for Mike's loss of range but ability to still hit. Anything to it? I'm thinking the Sox will sign neither Bay nor Holliday but still bring in a big name power bat (or two). Would they be more tempted to try and offload Ortiz or Lowell? -- Kevin C. (Las Vegas)
A. Fielder is entering the second year of a two-year deal in 2010, so I think that while GM Doug Melvin will listen, it's more likely he will consider moving Prince next winter, when he has one more year of arbitration eligibility left. The Sox are definitely shopping Mike Lowell, but there's a glut of free-agent third basemen on the market so they may not succeed in doing so. I think they'll go into spring training looking to see how much Lowell has recovered from his hip surgery before deciding whether to flip him and Youkilis at the infield corners, but it's plausible.
[+] Enlarge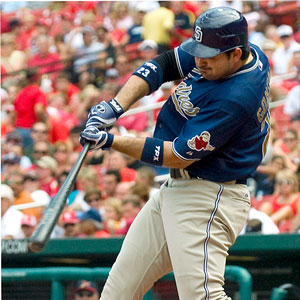 Jeff Curry/US PresswireCould a trade bring Padres first baseman Adrian Gonzalez to Boston?
Q. Gordon, do you think the Red Sox will try to trade for Miguel Cabrera? -- Stephen (Boston)
A. I know Cabrera's name is out there, but I don't believe Tigers GM Dave Dombrowski moves him unless he's absolutely blown away by an offer, and I just don't see Theo stripping the farm system for a guy whose behavior has raised red flags. Great bat, yes.
Q. Great to have you back! Quick question: Would the Sox consider a Beckett for Josh Hamilton (plus others) trade? Seems to me they are a little timid in extending Beckett; and Hamilton, when healthy, could become the new face of the franchise. He would be fabulous in Fenway. Beckett would get to go home to Texas. -- Jim F. (Cape Cod)
A. I don't see it, even if the Sox get another top-of-the-rotation pitcher. Hamilton was hurt a lot last season, and I think the Sox would prefer to keep Josh next season and try to win with him.
Q. What will it honestly take to pry Roy Halladay away from the Jays? And will the Sox part with that type of package? I really hope to see them get Halladay, since King Felix isn't going anywhere. We need to improve; he would be a fantastic start. -- Scott F. (Lowell, Ma.)
A. Scott, the conventional thinking is that it will take less to get Halladay now than it would have last July, since any team getting him now would have him for just one potential postseason under his current contract, instead of two. I think any deal would probably have to start with Clay Buchholz, and maybe one other top prospect. Just don't think it will be four or five players anymore.
Q. I keep waiting for someone to at least speculate on Casey Kotchman's future with the Sox but it is as if he doesn't even exist. Other than him being used as a trading chip, do you see him having any future role with the Sox? Isn't he in the same category as Jeremy Hermida -- i.e. a young, decent hitter, excellent fielder, unrealized potential? -- Dave D. (Marstons Mills, Ma.)
A. Dave, I don't think the Sox believe he gives them enough bat at the position to play every day, which leaves him in a supporting role, which is much the way the Sox view Hermida at this time.
Q. Why not Papelbon for Adrian Gonzalez? Straight Up! -- Mingus (Vermont)
A. Mingus, why would you do that if you're the Padres, who with Heath Bell already have a premier closer. Paps would cost them a lot more, too, than what Gonzalez will cost them the next two seasons. Gonzalez is a great bargain, which is why you have to think new GM Jed Hoyer will hang onto him.
Q. It seems that Adrian Gonzalez is the bat to get. Recent reports show the White Sox and Angels getting in on the act and I'm sure there will be others. Is the Red Sox minor league system overrated and is it folly for Sox fans to believe we will get Gonzalez if he is traded? -- TH (Milton, Ma.)
A. While I believe the Red Sox are interested and definitely have the pieces that could make a trade work, every bit as much as the White Sox and Angels, as I stated in my last response, I don't see Jed dealing Gonzalez in his first big trade as Padre GM.
Q, Does interleague play still make the financial sense it once did? I remember growing up and looking forward to that once-a-season all-star game and World Series to see the only times the leagues could play each other. The memories of seeing the stars of the American League at Fenway are always cherished, and the desire to travel to a national league ballpark would always be in my head, because that was the way it was. Different rules, different games, and hence only the best of the best would meet at the end of the season for supremacy. I never liked interleague, and each year it seems less and less meaningful because of how frequent the free agents cross the NL/AL line. Is there any chance that one day we could cherish that division of leagues like we once could? -- Allan P. (Kibbutz Yagur, Israel)
A. Allan, great to hear from the Kibbutz! I think interleague play is here to stay. The attendance for interleague games has been consistently higher than other regular-season games, and I think MLB has pretty much bought into the same operating rule that governs the other sports -- that an encounter in the regular season doesn't diminish the championship round. The Phillies played the Yankees in the regular season in '09, but I don't think that cut into the anticipation of their Series encounter.
Q. Been a Sox fan since 1943 -- seen a lot of writers come and go -- you are one of the best. Welcome back! The Sox are too old and boring with David, Lowell, Varitek, Wake, et al. Yankees had a fair blend and in spite of Swisher's glove he brought some vitality. Any BoSox farm boy suggestions or trades for this season? -- Bob G. (Westerly, R.I.)
A. Bob, Thanks for the kind words. I can tell you this: The Red Sox are very sensitive to the age issue, which is why they don't want to commit to Jason Bay beyond four years and why they're looking to see if they can move Mike Lowell. Jason Varitek is almost certainly looking at his last season in a Boston uniform, David Ortiz's guaranteed money ends next season (club has an option for 2011), and J.D. Drew's deal ends in 2011 as well. To me, the Sox have done a nice job of working youth into the lineup, with Ellsbury and Pedroia on the positional side and with Lester, Papelbon, Bard, Tazawa, Bowden, et al. on the pitching side. Jose Iglesias, the Cuban shortstop, could be here by '11, as could pitcher Casey Kelly, and bats like Ryan Kalish, Josh Reddick, Lars Anderson, Ryan Westmoreland, and Anthony Rizzo are on the horizon. Will they all make it? Of course not. But one of Theo's strengths as GM is to plan for the future as much as for next season; we saw that after they won in '04, when he was willing to lose Pedro Martinez, Johnny Damon, and Derek Lowe and reload.
Q. I do not have a question, but I just wanted to write and welcome you back. My son (Michael Jr.) and I had the pleasure of meeting you in Baltimore several years ago (in the gift shop of the Sheraton Inner Harbor) and I will always remember what a gentleman you were to take the time and speak with us. It was the highlight of my trip. I always read your columns in the Globe. I will always be a fan of yours and look forward to reading your work on ESPNBoston. Go Sox! -- Mike M. (Boston)
A. Mike, thanks for the great words. I missed the interaction with Sox fans, which is one of the reasons I'm back covering the club, with even more platforms to connect. Give my best to your son, and Happy Thanksgiving to all.
Gordon Edes is ESPNBoston.com's Red Sox reporter. He covered the Red Sox for 12 years and has reported on baseball for 25 years. Ask a question for his next mailbag here.
Red Sox reporter, ESPNBoston.com
Has covered Red Sox for 15 years
Award-winning beat reporter
Joined ESPNBoston.com in 2009
EDITORS' PICKS
Clay Buchholz is now looking and sounding like a pitcher with a new grip on his career.