Commentary
Wallace has chance to earn his keep
Updated:
June 17, 2010, 12:41 AM ET
By
Chris Forsberg
| ESPNBoston.com
LOS ANGELES -- On the final day of the 2009-10 NBA season, Boston's championship aspirations rest largely in the hands of Rasheed Wallace.
How appropriate. Only in Hollywood's backyard would this script seem plausible.
Little less than a year ago, the Celtics sent envoys to Detroit on the sort of recruiting trip that would make USC and UConn blush. The Big Three and various members of the Celtics' brass reportedly arrived at Wallace's doorstep, expressing their desire for him to sign with Boston for a chance at another world title, one to add to the championship he helped bring to Motown in 2004.
[+] Enlarge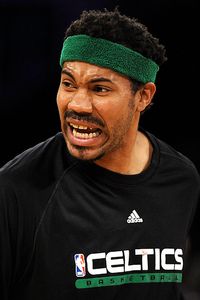 Lisa Blumenfeld/Getty ImagesRasheed Wallace's subpar season will be forgotten if he comes through in his first postseason start with the Celtics.
Ravaged by injuries, including the season-ending knee injury to Kevin Garnett, Boston had lost to eventual Eastern Conference champion Orlando in seven games during the 2009 conference quarterfinals. Wallace, the traveling salesmen pitched, would be the difference in securing banner No. 18.
Little did the Celtics know they were buying a bit of a lemon.
Oh sure, the car looked good from the outside. A couple of paint scuffs here and there from 14 years on the road, but nothing that made the high odometer look any more troubling. Yet by the time the vehicle pulled onto Causeway Street in October, the muffler was rattling and the brakes were shot.
A player who had averaged 14.6 points and 6.7 rebounds per game for his career, including 12 points and 7.4 rebounds in the 2008-09 campaign, saw those stats tumble (9 points, 4.1 rebounds) in a frustratingly inconsistent regular season that Wallace himself admitted was pedestrian.
"So-so, nothing to write home about, it was just so-so," Wallace said when asked about his season before the playoffs began. "But I'm not worried about it. It was a down season coming to a new offense, so I'm not worried about it. I'm not making no excuses on how I shot the ball or nothing. I know I had a bad year shooting, but it's part of it."
While Wallace was embraced by teammates for his attitude, fans expressed buyer's remorse based on his play, slapping their foreheads at the idea that management inked a three-year lease on the jalopy (and with high payments to boot).
This wasn't exactly the car the Celtics were looking to add to a fleet in which Garnett was already comparing himself to a weathered 1976 Pinto.
Before the Celtics tipped off against Miami in the conference quarterfinals, the 35-year-old Wallace turned a deaf ear toward the criticism hurtling his way, noting that he wasn't about to change his game because he didn't live up to fans' expectations.
GASOL, BYNUM IN POST-UP SITUATIONS THIS POSTSEASON
Kendrick Perkins has been at the heart of the Celtics' interior defense. In post-up situations, Perkins ranked first in points per play allowed (0.62) and second in FG percentage allowed (31.2) among participants in this year's postseason (min. 20 plays). With Perkins out for Game 7, the door may be open for Pau Gasol and Andrew Bynum.
vs. Perkins
vs. Others
FG
5-14
55-109
FG pct.
35.7
50.5
Pts/Play
0.90
1.03*

* Would tie for highest among playoff participants (min. 50 plays)
"I'm going to be me, no matter what," said Wallace. "Half the people like me and half the people don't. I'm not out here to please the fans or whatever, I'm here to win a title. Some of the fans are mad with me, some of the fans cheer for me. I can't worry about that. I can't play my game off that. I'm going to go out there and do what I've got to do and get the W."
The stage is yours now, Mr. Wallace.
With Kendrick Perkins sidelined by a right knee injury sustained in Boston's lopsided Game 6 loss Tuesday, Wallace is set to earn his first postseason start in a Celtics uniform.
Productive in spurts this postseason, particularly as a physical defensive presence, Wallace has done a decent job of starting to sway public opinion. But he can ensure a hero's welcome in Boston by putting together his best 48 minutes in Game 7.
On Wednesday, Wallace set up shop behind a moat of folding chairs to keep the media at bay during access at the Staples Center. While Glen Davis oozed the nervous energy and excitement of a player ready for his close-up, Wallace maintained his shrugged-shoulder charm while calmly insisting these are the moments he was brought in for.
"Just hoop, that's what I came here for," said Wallace. "I love this situation."
Celtics fans probably don't love this situation, but their hopes of seeing the local basketball team raise another banner rest on the shoulders of a man who admitted early in the playoffs that the regular season didn't matter to him.
He could have saved everyone a lot of grief by acknowledging that back in October.
Now it's the postseason and Wallace says he's ready to step up. Celtics coach Doc Rivers, for one, is glad to have him around.
"I'm very happy at this moment that we have signed him, there's no doubt about that, because we're going to need him," said Rivers. "We're going to need him big. His experience will help. We'll just see how many minutes he can go."
Wallace is battling a balky back that has limited his production since late in the conference finals. Technical foul troubles have prevented him from being as aggressive as he might like to be, as he faced a one-game suspension with one more T.
The technicals won't matter Thursday because there's no Game 8 for Wallace to miss with a suspension.
It all comes down to one game for Rasheed Wallace and the Boston Celtics. One chance to pen a storybook ending to what once seemed like a horror-show script.
Chris Forsberg covers the Celtics for ESPNBoston.com. Follow him on Twitter.
Celtics reporter, ESPNBoston.com
Covered Celtics since 2007
Emmy award-winning videographer
Joined ESPNBoston.com in 2009
The NBA Finals On ESPN.com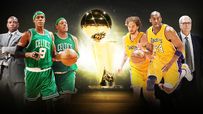 Follow ESPN's NBA coverage on Twitter
LATEST FINALS CONTENT
SERIES PREVIEWS
PLAYOFF FEATURES
FINALS PAGES
VIDEO
AUDIO
EDITORS' PICKS
Who is more responsible for the Patriots' wild run of success: Tom Brady or Bill Belichick?