Commentary
BC soccer receives another blow
Eagles struggle to hang on to a lead again as Maryland comes back to win
Updated:
October 8, 2010, 12:23 AM ET
By
Graham Hays
| ESPNBoston.com
NEWTON, Mass. -- Boston College women's soccer has shown it has the talent to be there when a national championship is decided in December. But first the Eagles need to be there at the end of 90 minutes.
Leading No. 8 Maryland by a goal with 15 minutes to play Thursday, No. 4 Boston College walked off the field in stunned disbelief after the Terrapins scored off a corner kick with 11 seconds to play to secure a 2-1 upset.
[+] Enlarge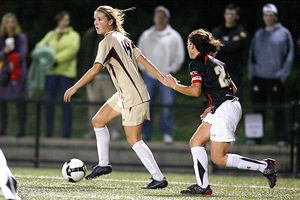 Boston College AthleticsKristie Mewis scored Boston College's lone goal in Thursday's loss to Maryland.
On the heels of a 3-2 overtime loss at Virginia on Sunday, Thursday's loss marked the second time in five days the Eagles squandered a lead in the closing minutes against a top-10 team.
Once again, Boston College had the better of play for much of the night. Yet once again, the Eagles found themselves on their heels and in positions that magnified their mistakes in the closing minutes.
"I think for us, it becomes quite uncharacteristic -- back-to-back games where we've had leads -- to not remain in the lead upon closure of the game," Boston College coach Alison Foley said. "That's really not characteristic of us. Teams are going to battle and teams are going to fight to the end, especially when they're playing us. You get some early notoriety and you've got to expect people to battle the way Maryland did, and certainly the way Virginia did, too."
Both of Maryland's goals came on plays the Eagles would love to have back. The first was a cross from the right corner that keeper Jillian Mastroianni, so often the savior this season, bobbled and lost. That allowed Maryland's Amy O'Sullivan to direct the loose ball into the back of the net in the 76th minute, tying the game at 1-1.
And with overtime looming and less than a minute to play, Boston College conceded a corner kick under moderate pressure, which led to Terrapins defender Colleen Deegan -- taller than anyone on the field for the Eagles -- driving a header over the outstretched arms of Mastroianni.
But as much as the final minutes sealed Boston College's fate, missed opportunities in the first 75 minutes -- particularly in the first half -- also gave Maryland the lifeline it needed.
The best scoring chance for the Eagles in the first half came with the game barely five minutes old. Maryland keeper Yewande Balogun deflected Victoria DiMartino's shot from just beyond the right corner of the 6-yard box -- directly into the path of Eagles forward Brooke Knowlton at the far post. Unable to control the shot while moving at full speed, Knowlton's follow sailed over the crossbar.
The Eagles continued to pile up shots, four in the first seven minutes and nine in the first half, but Knowlton and Amy Caldwell had two of the only chances to come from close range. Boston College spent much of the first half acting like the right angles of the 18-yard box were the arc of the 3-point line in basketball, as if scoring from beyond its borders might merit bonus points.
"I thought we were a little bit anxious in some of our decisions to shoot that early," Foley said. "We're encouraging our attacking center midfielder, Patrice [Vettori], to shoot. We want her to. Now she just has to find her range. She's not a perimeter finisher; she's [a finisher from] 12 to 14 yards. I thought there were a couple of times Kristie [Mewis] could have penetrated a little bit more, and Vickie [DiMartino] probably, too."
It was Mewis who broke the drought, putting Boston College ahead in the 61st minute by holding her ground against a defender in the box after Vettori fed her the ball and finishing low and hard. It was her 12th goal of the season and her 10th consecutive game with a point.
Mewis and DiMartino have scored 18 of the team's 32 goals this season, including six of seven goals in ACC play. That's a testament to their talent and to the chemistry of their partnership, but it also makes them marked women.
"We talked a lot about them; the last two days it's been about those two," Maryland coach Brian Pensky said. "They have a very good supporting cast, obviously, but we knew that we always had to have good pressure on the ball when they were on the ball, good cover in behind it and good numbers."
More On College Sports
Want all colleges all the time? Stay up-to-date on local NCAA sports with ESPN Boston's Colleges Blog.
To put away the chances that aren't falling at the moment and put away opponents before things get messy in the final minutes, the Eagles need Knowlton to emerge as the consistent threat she can be.
"She's a big body and she's a strong kid," Foley said. "And I think when she's up in a center position on the last defender, that's where she can turn. She's finding herself too deep away from goal right now."
In a final bit of deja vu after Hannah Cerrone was injured against Virginia (she returned Thursday), junior Alaina Beyar had to be carried off the field after going down early in the second half with what Foley initially described as an Achilles injury but which was later suggested to be an ankle sprain. If the speedy outside back, arguably the team's best defender this season, isn't lost for an extended period, it will prove to be at least one bit of good news on a night when several Eagles players remained on the ground for long minutes after the game, disconsolation rather than injury felling them.
A 3-2-0 record during a stretch of five games in 19 days, including four games on the road and four games against ranked opponents, is hardly a fatal blow for Boston College's season or its championship hopes. At least not in the abstract. It's just the way the past two losses came about, finding ways to lose so soon after the resiliency shown in twice overcoming deficits on the road against North Carolina, that provides pause.
So it was that Foley offered a slightly surprising label for Sunday's game against unranked but dangerous Virginia Tech, which knocked off Maryland on Sunday.
"I believe in this team," Foley said. "I think we have a very good mentality. How are you going to look at [Sunday's game]? Is it a must-win? For sure."
Sunday isn't a must-win for any reason associated with rankings, standings or seedings. It's a must-win because when Boston College plays to its potential, it really shouldn't be in position to lose games in the closing minutes or otherwise.
Graham Hays covers women's soccer, basketball and softball for ESPN.com.
espnW.com
Graham Hays covers college sports for espnW, including softball and soccer. Hays began with ESPN in 1999.
EDITORS' PICKS
Rob Gronkowski appreciates everything that's on the line at the Super Bowl.