Commentary
Celtics face day of reckoning
Game 7 result will impact team's place in franchise history
Updated:
June 17, 2010, 1:13 PM ET
By
Peter May
| Special to ESPNBoston.com
LOS ANGELES -- Twelve years ago, Phil Jackson saw his days in Chicago coming to an end and called the Bulls' final title drive "The Last Dance." Twenty-two years before that, the rock group The Band gathered for a final performance at the Winterland Ballroom in San Francisco and called it "The Last Waltz." Martin Scorsese made the concert into a terrific movie two years later.
Thursday night in Los Angeles, the Boston Celtics will try to win their 18th championship in what some are calling "The Last Roundup." The times, they are a' changin'. The head coach may be going. The top assistant is going. The starting shooting guard is one of a number of free agents.
[+] Enlarge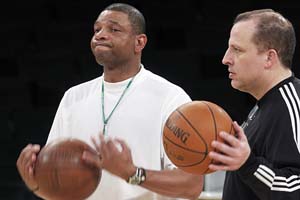 AP Photo/Reed SaxonDoc Rivers' top assistant, Tom Thibodeau (right), is headed to Chicago next season; will Rivers himself be back in Boston?
Game 7 of the NBA Finals may be the last time we see Kevin Garnett, Paul Pierce and Ray Allen together as Celtics. It may be Doc Rivers' swan song. It's a moment we all knew was coming, but coming when it does has been an added bonus for the coaches, players and fans of Celtics Nation. Most figured they'd be watching another team from the Eastern Conference against the Lakers.
No one was overly wistful or waxing nostalgic on the eve of only the third Game 7 in the NBA Finals in the past 22 years -- and the first for the Celtics since 1984. But the Celtics all know that this could, indeed, be the last roundup, much as Jackson sensed that there was an imminent breakup of his 1998 team. He was right. After the Bulls beat Utah, Michael Jordan retired (sort of), Scottie Pippen arranged a deal to Houston, Dennis Rodman departed for Los Angeles and Jackson left for his Montana ranch, turning the flotsam and jetsam that remained over to Tim Floyd.
These Celtics may not be in for such a drastic diaspora, but changes certainly will be made. The Big Three will be a year older and have more wear and tear from a season of 106 games. That's perhaps what led the injured (and frustrated) Kendrick Perkins to say Wednesday, "I'll probably never get this opportunity again to even make it back to the Finals." He could be right.
Asked Wednesday about this being a potential last-time-together occasion, Rivers said, "I think we should always view it that way. You can never take for granted a season, a game, especially a Game 7 of a Finals. You never know if and when you're going to be back in that position. And so when you get in that position, you want to take advantage of it."
What Game 7 also means is a chance for these Celtics to put themselves in the same category as other Boston title teams by winning a second championship. That would match the Cowens-Havlicek-White group that won two in the 1970s. (Hondo, of course, had already won six in the 1960s.) It would also put them one shy of the Bird-McHale-Parish group that won three in the 1980s.
And with that, the spotlight inevitably turns to Pierce, the team captain and longest-tenured Celtic on the roster. More than anyone else on the team, he has the scars to prove it. He went through the brutal 2006-07 season and a serious foot injury. He weathered the sometimes bizarre criticism of Rick Pitino, who once threatened to take him out of the starting lineup because he thought Pierce was getting a bit too big for his britches.
He survived a horrifying stabbing. He endured a scary trip to Winchester Hospital two years ago to the day of Game 7, when, after partying at his house following the 2008 title, he discovered that his infant daughter had an unusually high temperature. He ended up spending two days at the hospital with her, as doctors ruled out meningitis, and resurfaced publicly for the victory parade on the Duck Boats.
In many ways, Game 7, fairly or unfairly, will almost be a referendum on Pierce and whether there's space on the Celtics' Mount Rushmore for him. He was the unquestioned MVP of the 2008 Finals but he is on the outside of the MVP discussion in 2010. He had a puzzling and aimless performance in Game 6. (He wasn't alone, of course.)
It has been Pierce who has said that one title as a Celtic isn't enough for him if he wants to be considered in the same light as the multiple champs who preceded him. And he knows this may be the best chance he has at getting that second title he so desperately wants.
Bring it on, he said Wednesday.
"

I just love the pressure, truthfully. I love the fact that I get to play against the Los Angeles Lakers in a Game 7 on the road. I love the fact that if I don't win multiple championships, then I probably won't be mentioned among the other guys in Celtic history that have done it before. That type of stuff motivates me. That type of stuff helps me play at my best when I'm put to that type of test.

"

-- Paul Pierce
"I just love the pressure, truthfully,'' Pierce said. "I love the fact that I get to play against the Los Angeles Lakers in a Game 7 on the road. I love the fact that if I don't win multiple championships, then I probably won't be mentioned among the other guys in Celtic history that have done it before. That type of stuff motivates me. That type of stuff helps me play at my best when I'm put to that type of test.
"That's what we play for,'' he continued. "That's what motivates me each and every year, and that's what the challenge is for me every time I put on a Celtics uniform. To win one would be great and I haven't really even thought about the feeling of not being there with the other guys and winning multiple championships. Because I feel like we're going to get it done."
It will be quite a story if the Celtics can pull it off. The home team is 13-3 in the 16 previous Game 7s in the NBA Finals. But the Celtics are responsible for two of the road wins, the 1969 victory in Los Angeles and the 1974 triumph in Milwaukee. In 1974, the Celtics were coming off a devastating, double-overtime loss at home in Game 6 on a Friday night and had little turnaround time because Game 7 was played on a Sunday afternoon in Milwaukee. The coach at the time, Tommy Heinsohn, decided between Games 6 and 7 that he would do something he had not done all series: double-team Kareem Abdul-Jabbar. The ploy worked, the Celtics got out to a 17-point lead and won easily, 102-87.
"I didn't do it because I believed in the strategy,'' Heinsohn said "We never double-teamed him during the season, either. I did it to get them out of their groove. We were the underdogs in that series. They had Kareem and Oscar [Robertson]. They had the better record."
The Celtics are the underdogs in this series -- and Las Vegas has them seven-point underdogs for Game 7 -- but they are coming off a blowout loss in Game 6, which can be easier on the psyche. They've already won in the Staples Center in this series and see no reason why they can't do it again. And the Celtics are 4-0 against the Lakers in Game 7s in the NBA Finals.
Still, no team has managed to win a Game 7 on the road in the Finals since the 2-3-2 format was implemented in 1985. Two teams, the 1994 Knicks and the 1988 Pistons, took a 3-2 lead into the last two games on the road and dropped them both.
Who knows if Rivers might have something in mind for Game 7 to take the Lakers out of their groove? He hinted Wednesday that there might be a lineup that the Celtics haven't used. He already knows he won't have Perkins. He should know that Tony Allen has done the best job defensively on Kobe Bryant. And there's the knowledge that this group may be making its final push for pro basketball's ultimate honor.
In the moments after the embarrassing loss in Game 6, Rivers was anything but shaken. He's seen this before. He's seen his team bounce back. And he knew that 28 other coaches would kill to be where he was -- playing for the NBA championship with the whole hoop world watching.
"[A Game 7 is] not what we wanted, but it is here and it should be great,'' he said. "I hope we embrace it. It should be a lot of fun."
Then, we can call in the dogs and start the campfire. The Last Roundup will be over.
Longtime Celtics reporter Peter May is a contributor to ESPNBoston.com.
The NBA Finals On ESPN.com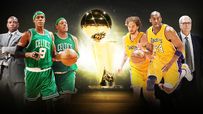 Follow ESPN's NBA coverage on Twitter
LATEST FINALS CONTENT
SERIES PREVIEWS
PLAYOFF FEATURES
FINALS PAGES
VIDEO
AUDIO
EDITORS' PICKS
Peter Chiarelli didn't make many waves at the deadline. Will it pay off?