Commentary
Patriots-Colts brings heat
History indicates Sunday's game will be worth watching
Updated:
November 11, 2009, 11:23 AM ET
By
Mike Reiss
| ESPNBoston.com
FOXBOROUGH, Mass. -- It all started with Willie McGinest's goal-line stand.
When tracing the recent history of scintillating Patriots-Colts games, McGinest's miraculous effort Nov. 30, 2003, is the natural place to begin.
On that day in the earsplitting RCA Dome, McGinest noticed Colts quarterback Peyton Manning tap his hip, which was the tip-off that Manning had audibled at the line and planned to hand off to running back Edgerrin James. The stakes were high: fourth-and-1 from the Patriots' 1, with New England clinging to a 4-point lead and less than a minute to play.
Confident that he had solved the pre-snap riddle, McGinest surged off the defensive left side unblocked, tackling James for a 1-yard loss for one of the most exciting wins in Patriots regular-season history.
[+] Enlarge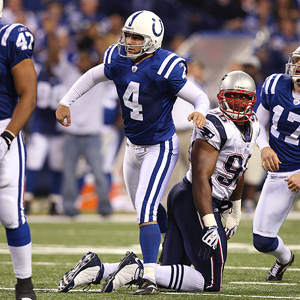 Joe Robbins/Getty ImagesAdam Vinatieri's winning 52-yard field goal for the Colts in 2008 was memorable moment Patriots fans would rather forget.
Patriots 38, Colts 34.
The heated rivalry was on.
What has since unfolded is a series of games that has produced unforgettable moments:
Two AFC Championship Games … One matchup in the divisional round … Manning's dramatic final drive in the 2006 AFC Championship Game … In 2007, the first matchup of undefeated teams with seven or more wins in the 88-year history of the NFL, the Patriots overcoming a 10-point fourth-quarter deficit to win … Adam Vinatieri's winning 52-yard field goal in November 2008, lifting the Colts … Undefeated Indianapolis intercepting Tom Brady four times in a 27-20 win in New England in 2006 … Fiery Colts general manager Bill Polian seething in the press box during a frustrating loss in New England.
Any good rivalry requires that both teams produce victories, and the Colts have evened the playing field in recent years, winning four of the last five meetings. Added spice comes in the form of frosty feelings between the teams' front offices. The star power of Brady and Manning is always a major storyline as well.
Through it all, the here-and-now importance of Sunday's game, the 10th meeting between the teams since 2003, is not lost on Patriots players.
Although it's only the halfway point of the season, the Patriots (6-2) realize that if they are to have a realistic chance at becoming the AFC's top seed, they can't fall three games behind the Colts (8-0).
A LOOK BACK
The last nine meetings between the Patriots and Colts (home team in caps; a--AFC Championship Game; b--AFC divisional playoff game):
| | |
| --- | --- |
| Nov. 2, 2008 | COLTS 18, Pats 15 |
| Nov. 4, 2007 | Pats 24, COLTS 20 |
| a-Jan. 21, 2007 | COLTS 38, Pats 34 |
| Nov. 5, 2006 | Colts 27, PATS 20 |
| Nov. 7, 2005 | Colts 40, PATS 21 |
| b-Jan. 16, 2004 | PATS 20, Colts 3 |
| Sept. 9, 2004 | PATS 27, Colts 24 |
| a-Jan. 18, 2004 | PATS 24, Colts 14 |
| Nov. 30, 2003 | Pats 38, COLTS 34 |
"Last year we went 11-5, and a lot has been said about that and us not beating AFC opponents, which pretty much kept us out of the playoffs," said defensive lineman
Ty Warren
, a first-round draft choice in 2003 who is one of the few New England players to be part of each of the last nine Patriots-Colts showdowns. "We don't want that to be the case this year, so we have to get in and prepare for those guys."
After the Miami game, it didn't take long for the Patriots to turn the page, though they got some help from a press corps that has been more focused on what is ahead than what the team had just accomplished, a 27-17 win over the Dolphins.
So bring on the Colts.
"It just gets a little more exciting when you get to play against one of the best quarterbacks to ever play the game," safety Brandon Meriweather said.
"It's going to be a challenge," added linebacker Adalius Thomas. "With Peyton Manning, their defense and special teams, that's an explosive team. It will be a 60-minute game."
Based on recent history, it figures to be 60 minutes to savor.
Patriots-Colts, one of the best rivalries the NFL has to offer.
Mike Reiss covers the Patriots for ESPN Boston. You can follow him on Twitter or leave a question for his weekly mailbag.
ESPN New England Patriots reporter
Covered Patriots since 1997
Joined ESPN in 2009
PATRIOTS-COLTS PREVIEW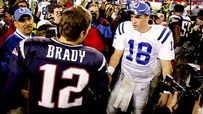 The Patriots face their biggest challenge of the season on Sunday night, squaring off against Peyton Manning and the unbeaten Colts in Indianapolis. Patriots blog »
STORIES
SPORTSNATION
VIDEO
EDITORS' PICKS
The Bruins play their biggest game of the season Saturday vs. New York.