Commentary
Mailbag: Colts the focus this week
Updated:
November 11, 2009, 11:49 AM ET
By
Mike Reiss
| ESPNBoston.com
Earlier this week, I spent time recapping some of the recent Patriots-Colts games since 2003, and it didn't take long to realize why this is such a great rivalry this decade.
It's a rivalry that has defied NFL realignment.
The Patriots and Colts were guaranteed to meet twice a year as AFC East opponents, but the Colts moved out of the division in 2002 when the league went to eight divisions of four teams each.
Patriots Blog

Mike Reiss (pictured) and Field Yates have you covered with news and analysis. Blog.
• Send mailbag question
• ESPNBoston.com
Yet after not meeting in '02, the teams have been regulars on the schedule ever since. Sunday's game between the teams is the 10th since 2003 -- the Patriots have five wins, the Colts four.
And it looks like the Patriots-Colts streak will continue again next year.
If both finish in the same spot in their division -- which seems likely -- they'll meet again in 2010. That game would be at Gillette Stadium.
Q: Mike, in your article on Pats-Colts rivalry you mentioned that it started with Willie McGinest's goal-line stop in 2003. With all due respect, I think it goes back a little further. To me, the rivalry began, and we knew the Pats were something special, with Bryan Cox's hit in 2001. That bone-crunching hit was the first real hint that these weren't your father's Patriots any more. Do you remember that hit and what were your thoughts when it occurred? -- Greg (Boca Raton, Fla.)
A: Greg, I started with the McGinest game because that was the first contest in the current seven-year run of games between the Patriots and Colts. I also liked how the 2003 game created a new non-division chapter in the rivalry. As for the Cox hit, it was on receiver Jerome Pathon on the second play of that game in 2001. The Patriots opened that year 0-2, and that Cox hit was a catalyst for turning their season around in a 44-13 win. That was the week after Drew Bledsoe was hurt, as Tom Brady was making his first career start. I think you could also make a strong case the rivalry started there.
Q: What's going to be the Patriots' defensive approach against the Colts. Try to blitz Manning or drop 7 defensive backs into coverage? -- Jarrod (Rhode Island)
A: Jarrod, we often hear that Patriots coach Bill Belichick draws up a plan to take away what an offense relies upon most, so my sense is that the Patriots are going to have a heavy emphasis on tight end Dallas Clark (60 catches, second in the NFL). I would expect Clark to be double-covered more often than not, with safety Brandon McGowan a big part of the plan. Overall, I don't think heavy blitzing of Manning is often very successful, so I'm thinking the Patriots will be in their dime (six defensive backs) for most of the game and play more of a coverage style and hope that Tully Banta-Cain, Derrick Burgess & Co. can generate some pressure out of standard four-man rushes, while picking their spots to pressure with the blitz.
[+] Enlarge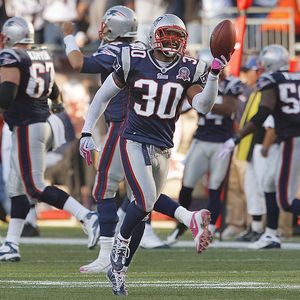 AP Photo/Stephan SavoiaBrandon McGowan leads the Patriots in tackles with 54.
Q: Can Brandon McGowan play a Rodney-like role and contain Dallas Clark? The Pats were able to contain Tony Gonzalez in the Falcons game, but Clark may be even tougher, especially with Peyton Manning constantly looking his way (14 catches against Houston). -- Cory (Lexington, Mass.)
A: I believe McGowan's presence will be huge in this game, Cory, as evidenced by two other contests in which the Patriots made eliminating pass-catching tight ends one of their top priorities. I thought McGowan did a nice job on Atlanta's Tony Gonzalez (one catch, 16 yards) in Week 3, and later followed up against Tampa Bay's Kellen Winslow (two catches, nine yards). He had some help at times, and he won't be able to do it alone, but I wouldn't be surprised if McGowan plays physical with Clark at the line of scrimmage, knowing he has help behind him.
Q: What do you see as the key to the game for the Patriots? -- Rick (Hartford, Conn.)
A: Rick, if I had to pick one key, it would be the red zone. The Patriots have struggled offensively inside the 20-yard line, and kicking field goals is not going to be good enough against the Colts. The Patriots are 26th in the NFL in touchdown percentage inside the red zone (44 percent). Defensively, the Patriots are tied for 25th in that category. (Opponents convert 58.8 percent of the time.)
Q: Injury update: How bad are Dan Koppen and Benjamin Watson hurt and when will we see Julian Edelman (needed) and Matt Light (I actually like Sebastian Vollmer better) return? -- Otis (Boston)
A: Injury questions are tough, Otis, because I don't know the full diagnosis on the players, but I thought the early signs on Koppen were promising. He walked through the locker room Monday while reporters were present and did not have crutches or any noticeable limp. It looks to me as though he dodged a bullet on that second-quarter knee injury that knocked him out of Sunday's win over the Dolphins. Meanwhile, Watson showed toughness to play through his back ailment, and I think he'll do it again this week. My estimate on Edelman is that this could be the week he returns, or shortly thereafter, but that is pure speculation. On Light, I don't have a good feel for that situation.
Q: Both Indy and New Orleans looked pretty beatable this week. While both teams are undefeated and winning, they certainly aren't making it look easy. Does Indy struggling with the Texans leave you optimistic for this week? Indy's defense isn't the same without Bob Sanders, and I see the Pats moving the ball up and down the field Sunday. -- Rick (Lowell, Mass.)
A: Rick, I have yet to see that Colts-Texans game and have only a general sense of how it unfolded. While it's a completely different matchup, I think the fact the Texans played the Colts so tough does bode well for the Patriots, assuming they can avoid critical mistakes. My big question with the Saints remains their defense, based on their Week 8 Monday night game against the Falcons, when they appeared vulnerable.
Q: Hey Mike, I understand why we play the Colts every year -- it's a great rivalry game. But can you explain how they decide where the game is played? The Pats are playing at Indy for the third straight season, and when I looked at previous schedules, the Pats played them at home for the three seasons before that. Why don't they just alternate playing at New England or Indy every other year? -- Dave (Fairfax, Va.)
A: This is one of the most common questions, Dave, and it is important to point out, as you did, that the Patriots had a long run of home-field advantage in the series just a few years ago. The location is based on the NFL's rotating scheduling formula, and here are the details:
When the NFL went to eight divisions in 2002 (when Houston entered the league), it created a rotating schedule format that was designed to ensure every team in the league played every other club -- both home and away -- within a certain time frame. The idea is to avoid a long stretch in which one team does not play another in its home stadium.
This is how the rotating formula breaks down:
• Six games against division opponents
• Four games against the teams from one other AFC division (rotates each year)
• Two games against teams from the other two AFC divisions -- against the clubs that finished in the same place the year before
• Four games against each from an NFC division (rotates each year)
As for how this relates specifically to the Patriots-Colts, the teams have consistently finished in first place in their divisions, so that explains -- first -- why they are frequent opponents, other than just playing once every three years. As for the home-away aspect of the matchup, it's basically on a cycle. Recall that the Colts visited the Patriots in the regular season in each of the 2004, 2005 and 2006 campaigns. This year will mark the third straight season the Patriots visit the Colts. As part of the rotating scheduling format, the Patriots already know that in 2010 they will be hosting the AFC South team that finishes in the same spot in the standings. If the current standings hold true to form, that would mean the Colts come to Gillette Stadium in 2010.
Q: Hi Mike, the Pats are thin at wide receiver, tight end, running back, and possibly offensive line (Matt Light and Dan Koppen injured). Is it time to consider placing a couple of players on injured reserve so they can cover some of the holes? Note: They seem to have a surplus of defensive backs unless that area starts taking some hits. -- Jim C. (Seminole, Fla.)
A: Jim, my sense is that some of these injured players are very close to returning, so I think the team will stand pat. I think Bill Belichick does a good job managing the roster in terms of thinking down the road with some players, making sure they are ready for the games that will count down the stretch. That might mean they sacrifice a bit of the here-and-now, but they set themselves up well for a later date on the calendar. With this in mind, I would say any outside addition is less likely than an in-house promotion from the practice squad if the Patriots decide they need reinforcements.
Q: Mike, do you think Fred Taylor and/or Sammy Morris will be back in time to take on the Colts? Despite Indianapolis' weakened secondary, I still think the Patriots best chances of success will be a balanced offensive attack. Laurence Maroney did well against the Dolphins, but I'd like some insurance nonetheless. -- Hoainam (Minneapolis)
A: I wouldn't count on Taylor this week, so I'd say Morris is the likelier option of the two. Whether he'll ultimately be ready for this week, I don't know. I saw him walk through the locker room Monday and he appeared in good spirits as he headed to the weight room. It looked to me like he was getting closer.
Q: Mike, I could not but notice Kevin Faulk's projected production is lower versus his 2006 and 2007 input in terms of touches. After registering 109 and 141 touches respectively for those years, he is on pace for 50 rushes and 46 receptions with 2 TDs. I know he is an exceptional change-of-pace back, blitz blocker and situational return expert, but what are your thoughts on his dip? Is this more of a reflection of his declining skills, a crowded backfield (even while down Morris and F. Taylor), or having a new play-caller? I still believe utilizing him more often presents an additional element to defend, especially with the lack of a true third receiver and his knowledge of the Patriots' system. -- Fred G. (West Chester, Pa.)
A: I don't have a great feel for this one, Fred, as I still see Faulk as an important cog in this offense in terms of playtime. He's been on for about 38 percent of the snaps this year, which is more than any of the team's other backs. As for how that compares to past years, Faulk was on for 43 percent of the snaps last year, so that might explain part of it. My overall thoughts are that Faulk is one of the team's more consistent players. He might not have the same explosiveness or ability to separate as he did a few years ago, and maybe that's what we see.
Q: Mike, Brandon Tate gave us a glimpse of his Percy Harvin like kickoff return skills, but it looked like he seriously reinjured his knee on his last return against Miami. Do you have any info on the severity of his injury? -- David (Needham, Mass.)
A: David, reporters approached Tate after the game, and he respectfully declined to comment on his condition. He remained on the sideline during the game after sustaining the injury, which I took as a positive sign. But you never really know on these things.
Q: Hey Mike, any update on Edelman's broken arm? Also, your opinion, how is it working out for the Pats only carrying 1 backup QB, Brian Hoyer, with Isaiah Stanback on the practice squad as the third option? -- Jim (Reading, Mass.)
A: Jim, when Edelman hurt his forearm against the Titans, my estimate -- based purely on speculation -- was about four weeks. We hit that point this weekend, so my thought is that I wouldn't be surprised if we see him against the Colts. As for the quarterbacks, it seems like it's working well and a big part of that is obviously Tom Brady staying healthy. I think Hoyer has gained some solid experience and looks like a promising prospect. I know the team has been happy with Stanback, who of late has been taking reps at receiver in addition to quarterback.
Q: Mike, fans love the draft and now halfway into the season I'd be interested on your review of the 2009 draft. What they did, didn't do, and whether you think setting up for the 2010 draft was the right thing to do. This was the first draft for Belichick without Scott Pioli and I thought people might like your opinion. -- John (Maryland)
A: Rewinding back to April, John, I had initially expressed some skepticism at the Patriots' approach of backing out of the first round and stockpiling second-round picks. My initial thought was that they had a chance to move up and maybe get a future star in defensive back Malcolm Jenkins, and instead, took the opposite approach. As it turns out, I was wrong. Very wrong. This draft looks like 1995 all over to me -- depth, quality, the type of draft that helps inject youth across the roster and replenishes the talent pipeline while helping maintain the all-important salary structure under the cap. In 1995, they selected Ty Law, Ted Johnson, Curtis Martin, Jimmy Hitchcock and David Wohlabaugh with their first five selections. That was a bonanza. Here is what I see from 2009: Pat Chung is a rising star, Darius Butler is already their No. 1 corner and is very good, Sebastian Vollmer looks impressive at left tackle, and Julian Edelman has potential to be another Wes Welker. Those are the top four, and that doesn't even touch on some of the other rookies, like Myron Pryor, Brandon Tate, Jake Ingram or Brian Hoyer (free agent). The Patriots had a few spotty drafts in 2006 and 2007, but it looks to me as though they rebounded in a big way in 2009.
Q: Mike, I have a question about the Patriots personnel moves this year and the impact on the 2009 draft. Typically the Patriots stock about 11 draft picks and trade some into the future for higher round picks. This year they have traded away four picks and now have seven. Does this mean this trade-up-for-the-future draft strategy is will be changed in 2009? If so, why the change? Secondly, the Patriots personnel moves this year seem to be trial and error, catch and release. Is this the adjustment of Nick Caserio, Floyd Reese or another reason? -- Bill (Wellesley, Mass.)
A: Bill, if there is one thing I've learned in my time covering Belichick's tenure it's not to put them in a box and lock them into one way of doing things. It was the 2005 draft when I said "We don't know who the Patriots will select, but one thing we do know is that it won't be a guard. The Patriots wouldn't use such a high pick on a position they could fill in otherwise." Then they select guard Logan Mankins. Then I thought they didn't spend big in unrestricted free agency and they open the vault for Adalius Thomas. From a management perspective, I think it's all about assessing the opportunities in front of you and factoring in everything, including economics. So I wouldn't say they won't be a trade-up team in the future. As for the free-agent/trade acquisition personnel moves, I think they've been more volatile than the past. They've missed badly on some (Joey Galloway, Alex Smith) and hit big on others (Brandon McGowan, Tully Banta-Cain). I don't see it as an adjustment to Caserio and Reese, just more part of the process of really trying to rebuild the team on the fly a bit more aggressively than they have in the past.
Q: Hi Mike, one thing that struck me about Sunday's game was the play of Pat Chung. On each of his big plays in the offensive backfield (the sack and the QB hit that got flagged for roughing) he started out in the deep part of the field, about 15 yards off the line of scrimmage just before the snap. His closing speed to the QB was amazing. I know rookies usually don't play too much on BB defenses, but this kid looks like he could be getting some serious playing time soon. Your thoughts? -- Glenn (Los Angeles, Calif.)
A: I noticed the same thing, Glenn, and was impressed. Here is how Chung's playing time has broken down this season: 0, 2, 0, 1, 0, 16, 36, 31. So we can see which way this is trending. Chung, who has been in for 17.6 percent of the team's defensive snaps (small margin for error), is coming on fast.
Q: Why are we not hearing more about the type of running we have seen from Laurence Maroney this season. He has really been running hard and I have not seen as much of the indecisiveness that has seemed to plague his career (almost as much as injuries). This is the runner we saw early in his career and expected to see more of, just take a look at his yards per attempt. This is not a running team, so he may not get many 100 yard games, but if he runs like this, defenses have respect the run, not just Brady and Company. -- Luke Lazure (Lewiston, Maine)
A: Fair point, Luke. From my view, Maroney is probably the one player on the roster who elicits more passionate dialogue among media members and fans than any other. After the Ravens game this season, when he had six yards on seven carries, I thought it had reached a breaking point. I have generally been patient with Maroney, but it was hard to defend him after that performance. What he's shown since then is resiliency and maturity, and for that he deserves a tip of the cap.
Q: Hi Mike, normally I think you are dead on with your "3 stars" entries on the Patriots blog. But I have to say, I thought you missed the boat a bit this time. I think Maroney definitely deserved a star against the Dolphins. The guy ran hard all game and racked up 80 hard-fought yards against a tough defense. He had a couple of runs late in the game that made me stand up and shout (the one that almost iced the game, and the other where he ran over the guy and kept running). Given all the criticism he's faced, I thought it was a really strong effort. I also would have given Gostkowski a star, along with Moss. -- Gus (Los Angeles)
A: I think that is a worthy criticism, Gus, and I probably should have broken the "3 stars" rule and added Gostkowski and Maroney. I was sort of torn on that, because part of picking three stars is creating a line of demarcation between top performances and very good performances. Here is what I was thinking: Moss was a slam dunk. I also thought the pass protection was a huge part of the game and was determined to get rookie Sebastian Vollmer on there, especially since Joey Porter and Jason Taylor -- impressive edge rushers -- were not heard from. So that left me with one spot. I was leaning toward Gostkowski, but I probably had some kicker bias there. Maroney was in the mix, too, but I ended up wanting to represent the defense, and I think Banta-Cain has been its best player and once again came up big against a very good left tackle in Jake Long. I also thought Thomas played his best game.
Q: Not trying to get ahead of myself but if Sebastian Vollmer keeps playing like he did against Jason Taylor, does that make Matt Light expendable? Don't get me wrong. I really appreciate Light's skills, but his cap number next year is going to be painful (if there is a cap)? And if there isn't a cap, won't the organization want to spend money somewhere else if Vollmer keeps improving? -- Benjamin (Grand Rapids, Mich.)
A: Benjamin, Vollmer mostly matched up against Joey Porter in the Dolphins' game, only occasionally going up against Taylor. He fared well, and has been solid overall. My thought is this: Let's see how Vollmer does Sunday against Dwight Freeney and then revisit. That should provide important context as to how far along he truly is at this point and where the situation might lead. While I think it's an interesting topic of discussion, and clearly Vollmer is the future, I think it would be too quick to make that decision after just 12 quarters of regular-season assessment.
Q: What's the deal with James Sanders? Still hurting? Doghouse? -- Phil Roberts (South Portland, Maine)
A: I don't sense it's a doghouse issue, Phil. Sanders was sidelined with the bad shoulder, and here's how his playing time has broken down: 38, 28, 30, 39, 0, 0, 12, 0. Overall, that's 30 percent of the snaps, and we can see which direction it has trended. The biggest thing I see in relation to Sanders has been the emergence of veteran Brandon McGowan, who has wrestled that starting job away from him. Then you add Chung, and the fall down the depth chart has been abrupt.
Q: Hey Mike, I thought that Ron Brace was a really talented player. Is his lack of playing time simply because he is not needed or is he struggling? -- Keith (Clemson, S.C.)
A: Keith, the absence of Brace stood out to me Sunday versus the Dolphins. He didn't play a snap on defense, not even in short yardage, which reflects to me what many had already concluded: He's been passed on the depth chart by sixth-round draft choice Myron Pryor. When the Patriots lost Jarvis Green, it created an opportunity for Brace to emerge, but instead the coaching staff went with a four-man plan (Wilfork, Warren, Wright, Pryor) that didn't include Brace. I know some teams had concerns with Brace's back in the pre-draft process and it could be that the team is playing things safe with that. If it's not health-related, I don't think it's because he isn't needed, it would be that the coaching staff doesn't think he's ready for prime time.
Q: Mike, how do you rate the work of Scott O'Brien so far? Much has been told about the offensive play calling and the new play caller, but I also noticed big changes in special team plays. They have been more ball-hawking and had a couple of trick plays in kicking formation. -- Mark J. (Japan)
A: Mark, I think the transition has been smooth from former special-teams coach Brad Seely to Scott O'Brien. The Patriots have had a few big turnovers, and while they are ranked 22nd and 21st in kickoff and punt coverage, I haven't noticed that area of the team really hurting them. Kicker Stephen Gostkowski has been excellent on kickoffs. The one area that I would target for improvement is kickoff returns. Although the Patriots rank 14th in the NFL, which is respectable, I haven't sensed that they are close to breaking a big one.
Q: How is TE Chris Baker playing? He seemed to have a good camp/preseason and everyone was excited with his play. But it seems Ben Watson has overshadowed him. Nick (Santa Cruz, Calif.)
A: Nick, my sense on Baker is that some of the work he is doing -- mainly blocking at the line of scrimmage -- is easy to overlook. Overall, I think he's been solid. In the pass-catching game, which is easier to notice, Baker has taken a secondary role compared to Watson, in part because he isn't on the two-minute offense, where Watson often shines. Baker has eight catches for 78 yards and one touchdown. Watson has 19 receptions for 271 yards and four touchdowns.
Q: Mike, now that we've had half a season to analyze, how much of an impact has Richard Seymour's departure made on the Patriots defense? To me it doesn't seem like he's really been missed. -- Andy (Brighton, Mass.)
A: Andy, my feeling is that you always miss a player like Seymour. In this case, what we've seen is that the team's depth has been solid to this point. When you can move a player like Vince Wilfork to Seymour's old position, and match him against Jake Long and be competitive, it is a strong reflection of the depth, talent and versatility of the remaining players on the line.
Q: Mike, have you heard from or talked to Richard Seymour? I read that he is happy with the Raiders and wants to be part of the rebuilding there. Is he really happy or talking the line and he is really not happy? I can't see him that happy going from the Patriots to the yearly bottom dwellers of the AFC West. -- Todd (South Riding, Va.)
A: Todd, I haven't talked to Seymour since the trade, but I have read many of the same comments about his feelings on being with the Raiders. If I recall, he said he feels he's meant to be there and he predicted the Raiders would make the playoffs. I'm skeptical that he wants to be with the Raiders long-term, though, and wouldn't be surprised if he forces the issue a bit in the offseason when he's a free agent/franchise player.
Q: Hi Mike, at this point in the season do you think Derrick Burgess is worth the money and was he a good acquisition? I know there is a lot more football to be played, but I am having my doubts about him. -- Ashley (Worcester, Mass.)
A: Ashley, I'd say at this point that Burgess isn't worth the price of third- and fifth-round draft choices, which is what the Patriots traded to acquire him. I don't think Burgess' salary ($2 million) is the issue. It's that when you give up those picks, you hope for a bit more production. Perhaps it will come.
Q: Hi Mike, it is quite obvious to many fans that the growing disparity between teams has reached a critical mass this season. For fans of the game/NFL, this is quite disturbing. It is clear this is now a systemic problem not just a QB one. Other factors have contributed to the disparity. As the salary cap is unlikely to be kept in upcoming negotiations things could go from bad to worse which could even risk the integrity of the game. How does this current situation serve the franchise, players, fans and the NFL itself? -- Jake (Vancouver)
A: Jake, I do feel there is more of a gap between the top teams and bad teams than I remember in recent years. One theory I have is that teams like the Lions, Chiefs and Rams -- three of the worst in the NFL -- hired new coaches who implemented dramatically different systems from the ones in place before. That has required a more massive overhaul which has contributed to part of the gap. Then you look at teams like Cleveland and Tampa Bay, who probably made bad head-coaching choices with Eric Mangini and Raheem Morris, which simply reflects on ownership's decision-making abilities. So I don't know if I'd go any deeper than that in terms of why the disparity between the "haves" and "have-nots" is so wide right now. I could be way off on this. I would need some more time to study some of the other issues to have a more definitive answer.
Q: Hi Mike, I was just wondering how the process surrounding Kyle Arrington would work. Would the team trying to get him contact his agent with the agent then notifying the Patriots that there was some interest, or do these types of things go through the league office almost like a waiver claim? Could Arrington simply have left or did the Patriots have a right to move him to the active roster? Do you know who the other club was? -- Adam (Burlington)
A: It's usually an open process, Adam, so you don't have a team sneaking in the back door and stealing a practice squad player from a team. In the end, it's the player's decision and sometimes staying with a practice squad is actually more appealing than going to another team's active roster. So Arrington had the choice, and in this case, he ran it by the Patriots. My thought is that he probably said "My preference is to stay here, but the chance to be on the 53-man roster with this other team is one I can't pass up. Is there anything we can do here?" The Patriots obviously didn't want to lose him so they bumped him up. I am not aware which team was interested in signing Arrington.
Q: While it's hard to argue with their home record since opening Gillette Stadium, it's no secret that the crowd noise leaves a lot to be desired. Do you agree that it's not much of a home-field advantage for that reason? Also, have Bob and Jonathan Kraft considered closing off the open areas of the stadium -- or looked at any other options -- in order to seal in the noise? -- Tom (Boston)
A: Tom, from my experience at different NFL venues, I'd put Gillette Stadium in the mid- to lower level in terms of home-field advantage from a crowd-noise perspective. I don't think closing the stadium in is a consideration. One thing that did interest me this past week was Dolphins coach Tony Sparano citing the crowd noise as a main reason that quarterback Chad Henne was penalized for delay of game after calling a timeout late in the fourth quarter when the Dolphins didn't have any. I thought that was a sign that while the crowd noise isn't earsplitting, it has been a factor at times.
Q: What are the chances we can pick up Larry Johnson? His off-field issues are obviously a problem but are the Patriots a good team for him to rejuvenate his career? -- Ahmed Al-Salem (Syracuse, N.Y.)
A: Ahmed, I don't see the Patriots heading in this direction. In his weekly appearance on WEEI, Bill Belichick said he didn't think it was a consideration for the team.
Q: Hey Mike, do you think the Patriots will have any interest in Edgerrin James with Fred Taylor and Sammy Morris injured? -- Curtis Levesque (Somerset, Mass.)
A: Curtis, I could see it if Taylor or Morris were on season-ending injured reserve, but with the possibility that both will be back, I don't see the Patriots heading in that direction right now.
Q: Mike, I was looking at the schedule and noticed that the Patriots play three night road games in the next 4 weeks. I remember back in '07 Belichick noting how all the night games really wore on the team. Have you heard anything out of the Patriots to see how they feel about all of these night road games bunched so close together? Seems very excessive to me. -- Mo (Watertown, Mass.)
A: The biggest thing on the night games, Mo, is that it breaks up the standard routine. I think most coaches and players like "Sunday at 1." So this is a challenge for the Patriots, but not a major factor.
Q: Hi Mike, it appears that both Nick Caserio and Dean Pees have been doing a weekly media session this season. Is this new in 2009, or did Scott Pioli do this in the past)? If so, do you know reason for the change? I though in the past Belichick followed the "Parcells" model of one voice for the organization. -- Chris (Franklin, Mass.)
A: Chris, I'm glad you brought this up because it somewhat smashes the perception that it's Belichick and only Belichick. I think Belichick has been unfairly labeled in that regard in some corners. Last year, for example, we had a rotation each week where we'd hear from defensive coordinator Dean Pees and then offensive coordinator Josh McDaniels. The Patriots were simply following NFL guidelines by making the coordinators available, something that commissioner Roger Goodell feels is important in terms of communicating with fans. I appreciate Goodell's stance on that. This year, with no defined offensive coordinator, the Patriots have subbed in Caserio.
Q: Mike, I'm a die hard Pats fan living in Indiana. I will be making my first trip to Foxborough for the weekend of the Jets game. I've never been to Boston (or the Northeast for that matter). Other than Sunday's game versus the Jets and a Saturday visit to "The Hall" (I can't wait to see Ben Coates display. He was my first favorite NFL player), are there any landmarks or places I should consider seeing while I'm in town from Friday through Monday morning? Clark (Muncie, Ind.)
A: Clark, this is a great city and there is something here for people of all ages. Without knowing exactly what you are interested in, I'd recommend a trip to Boston's Faneuil Hall and then a nice dinner in the North End at Al Dente, one of my favorite spots. The stadium is in the suburbs, so getting to either Boston or Providence will give you a feel for the city as well. You can't go wrong either way. Have a safe trip.
Mike Reiss covers the Patriots for ESPN Boston. You can follow him on Twitter or leave a question for his weekly mailbag.
ESPN New England Patriots reporter
Covered Patriots since 1997
Joined ESPN in 2009
PATRIOTS-COLTS PREVIEW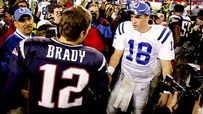 The Patriots face their biggest challenge of the season on Sunday night, squaring off against Peyton Manning and the unbeaten Colts in Indianapolis. Patriots blog »
STORIES
SPORTSNATION
VIDEO