Commentary
Ebb and flow of Yankees-Red Sox
After Boston breakthrough, balance of power has swung back to New York
Updated:
April 1, 2010, 10:26 PM ET
By
Jim Caple
| ESPN.com
Life's natural order returned last fall with Derek Jeter winning another World Series ring, the Yankees parading through the Canyon of Heroes and New York fans waving their Bronx-special "We're No. 1" foam middle fingers at Boston fans.
How lopsided has the Yankees-Red Sox rivalry been over the decades? With the two teams scheduled to kick off the season Sunday night -- to honor the anniversary of Babe Ruth's first game as a Yankee, Boston officials have chosen a 90-year-old nun to throw out the first epithet -- you can check out the ebb and flow with our exclusive rivalry rating and timeline:
1903: The Baltimore Orioles move to New York and rename themselves the Highlanders, prompting a huge increase in Boston sales of "Highlanders Suck!" T-shirts. Meanwhile, the Red Sox win the very first World Series in history, allowing millions of geriatric New Englanders to rise from their beds to shout, "I never thought I would live to see this day!" Rivalry rating: Boston 85, New York 15.
1912: New York loses 102 games and finishes in last place, 55 games behind the Red Sox, who christen Fenway Park by winning their second World Series. Nonetheless, bitter Boston fans complain about new Fenway Park being too modern and corporate, what with the luxurious indoor plumbing instead of traditional outhouses and lavishly wide 13-inch seats obviously designed for corpulent, 150-pound executives earning bloated salaries of $12,000 a year. Rivalry rating: Boston 88, New York 12.
[+] Enlarge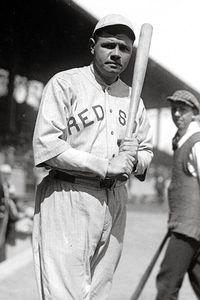 Getty ImagesBabe Ruth was 89-46 as a pitcher in six season with the Red Sox.
1914-18: The Red Sox sign 19-year-old southpaw George Herman Ruth, who pitches them to World Series championships in 1915, 1916 and 1918. He wins Game 2 in 1916 when Grady Little's grandfather leaves him in to pitch all 14 innings of the 2-1 victory. He also wins two games in the 1918 World Series, putting an end to Yankees fans' derisive chants of "1916!" Rivalry rating: Red Sox 92, Yankees 8.
1919: The Red Sox finish sixth, 20½ games behind the AL champion White Sox, and 13 games behind the third-place Yankees. All throughout New England, 1-year-old babies complain that the Sox have not won a World Series in their lifetimes. In a related development, the Red Sox sell Ruth to New York for $24 worth of buttons and shiny trinkets. Rivalry rating: Red Sox 64, Yankees 36.
1920: Ruth hits 54 home runs, more than twice as many as the entire Red Sox team combined, and the Yankees finish 22½ games ahead of fifth-place Boston. Unlicensed street vendors start selling "Who's Your Babe-y?" T-shirts. Rivalry rating: Red Sox 56, Yankees 44.
1921-22: While the Red Sox finish last for just the second time in their history, the Yankees win their first two American League pennants but lose the World Series to the New York Giants each time. After Ruth hits .118 with three strikeouts in the '22 Series, New York fans call him a choker, charge that he isn't a "true Yankee" and complain that he took off his shirt in Central Park, Times Square and St. Patrick's Cathedral. Rivalry rating: Red Sox 51, Yankees 49.
1923: Boston finishes last again while New York opens Yankee Stadium. Ruth homers three times in the World Series to lead the Yankees to the first of 27 world championships, then credits his performance to finally being fully rested after having spent the previous year working exhausting 96-hour weeks to build the House That He Built. Rivalry rating: Yankees 57, Red Sox 43.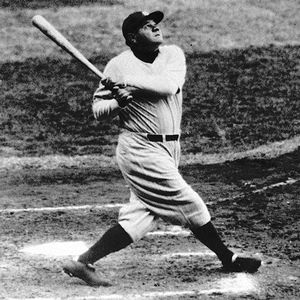 AP PhotoBabe Ruth hit 659 homers with the Yankees after he was sold to the team in 1919.
1925-38: The Yankees win 100 games five times, the American League pennant seven times and the World Series six times. Ruth becomes the best and most popular athlete in the country, the Yankees add Lou Gehrig and Joe DiMaggio to their roster and George Steinbrenner is born on the desert planet of Tatooine. Meanwhile, the Red Sox lose 100 games five times and finish in last place seven times. Boston fans respond by shutting the bedroom door, turning off the lights and crying themselves to sleep. Rivalry rating: Yankees 87, Red Sox 13.
1939: The first great era of the Yankees-Red Sox rivalry is ushered in when Ted Williams debuts for Boston. The Yankees pull away to finish in first place and win their fourth consecutive World Series, however, when Boston management makes the mistake of freezing Williams' head in September. Rivalry rating: Yankees 81, Red Sox 19.
1941: Williams hits .406, an average not approached since, while DiMaggio establishes an equally unbreakable mark when he signs 56 consecutive autographs without charging for them. After the Yankees win the World Series again, the president of Red Sox Nation declares war and mistakenly calls Oct. 6, 1941 "a date that will live in infamy." Rivalry rating: Yankees 78, Red Sox 22.
1946: Williams returns from World War II to lead the Red Sox to the American League pennant, the first time they have finished ahead of the Yankees since trading Ruth. They lose the World Series to the Cardinals, however, when Enos Slaughter scores from first base while Johnny Pesky pauses to autograph the ball during a relay throw to commemorate Boston's historic first postseason choke. Rivalry rating: Yankees 73, Red Sox 27.
1949: The Yankees beat the Red Sox on the final day of the season, then pin a big "Kick Me" sign on the back of Williams' jersey. Rivalry rating: Yankees 82, Red Sox 18.
1950-1966: The Red Sox have 10 losing seasons and never finish higher than third while the Yankees win the pennant 13 times and win the World Series eight times. This is a period of such complete and utter Yankees dominance that is immortalized in a famous Broadway musical, which, of course, ends with them beating up the Jets and the Sharks, chasing both gangs out of the neighborhood and then raising the rents all over New York's upper west side. Rivalry rating: Yankees 97, Red Sox 3.
1967: While the Yankees finish in ninth place, Carl Yastrzemski hits .326 with 44 home runs and 121 RBIs to win the Triple Crown and effectively save the franchise by leading the Red Sox to the World Series in what will be widely considered Boston's greatest sports feat until Sam "May Day" Malone sleeps with a pair of twins between games of an August doubleheader. Rivalry rating: Yankees 67, Red Sox 33.
1973: George Steinbrenner buys the Yankees, though it will take several years before the Death Star is fully operational. Rivalry rating: Yankees 75, Red Sox 25.
1975: Carlton Fisk twists and gestures and dances down the first-base line to end Game 6, the greatest game in World Series history. The Red Sox, of course, blow a three-run lead the next night and lose Game 7 for the third time in their three post-Ruth World Series. Meanwhile, with the planet Krypton disintegrating, Jor-El places his 1-year-old son in a rocket ship and sends him to Earth, where Charles and Dorothy Jeter raise him under his earthling name of Derek. Rivalry rating: Yankees 58, Red Sox 42.
1977: The Red Sox win 97 games but finish in second place, three games behind New York, which goes on to its first world championship in 15 years when Reggie Jackson hits three home runs in the final game. The accomplishment is dampened somewhat by the disturbing revelation that the Yankees have also destroyed the peaceful planet of Alderaan. Rivalry rating: Yankees 72, Red Sox 28.
[+] Enlarge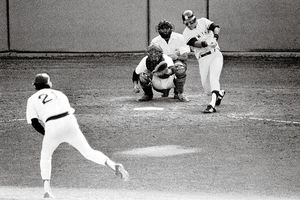 AP Photo/Ray StubblebineBucky Dent's homer off Mike Torrez helped lead the Yankees to 5-4 win over the Sox in their 1978 tie-breaker game.
1978: The Red Sox take a 14-game lead over the Yankees in July only to blow it when Bucky Dent hits a home run over the 5-mile-long line of Boston fans queued to leap off the Tobin Bridge. Rivalry rating: Yankees 86, Red Sox 14.
1986: Roger Clemens strikes out a record 20 batters in one game and wins 24 games, plus the MVP and Cy Young, to help the Red Sox beat the Yankees by five games and win the AL East. The Red Sox pull off a dramatic comeback in the ALCS and come within one strike of winning the World Series before giving up three two-out runs in Game 6 and then blowing a three-run lead in Game 7. On the other hand, they demonstrate proper fundamentals by keeping two hands around their throats at all times. Rivalry rating: Yankees 61, Red Sox 39.
1988-90: The Red Sox win two AL East titles but fail to win a game in the postseason. Meanwhile, Steinbrenner receives his second lifetime ban and suspends Don Mattingly for not getting a haircut. The Yankees finish in last place, all of which prompts sailors to kiss nurses in Times Square. Rivalry rating: Yankees 56, Red Sox 44.
1995: For the first time, both the Red Sox and Yankees reach the postseason in the same year. Neither advances past the division series but the next great era in the rivalry begins, raising passion to new heights and filling an estimated 73 percent of ESPN's programming for the ensuing 15 years. Rivalry rating: Yankees 55, Red Sox 45.
1996-2002: Derek Jeter leaves Smallville and arrives in New York, leading the Yankees to seven AL East titles and four World Series championships in this span. The Yankees start the YES Network, eventually clearing the way for the much-demanded Yankeeography of Scott Brosius. Roger Clemens joins the Yankees and begins each of his Yankee Stadium starts with New York by walking through Monument Park and rubbing his third ear for luck. Meanwhile, the Red Sox finish in second place five times, lose to New York in the ALCS in 1999, then retreat to the planet Endor to sign the Ewok free agent Manny Ramirez. Rivalry rating: Yankees 83, Red Sox 17.
2003: Grady Little inexplicably leaves an obviously tired Pedro Martinez -- exhausted by his bout with Don Zimmer in the Octagon -- in to pitch and blow a four-run lead in Game 7 of the ALCS. Aaron Boone wins the game for the Yankees with an 11th-inning home run. The Yankees go on to lose the World Series, which is not televised in New England because no TV screens are left that haven't been kicked in. Rivalry rating: Yankees 88, Red Sox 12.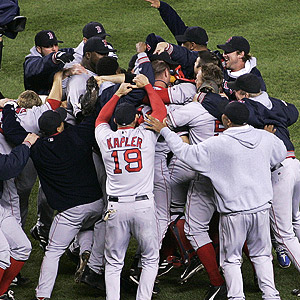 Jim Rogash/WireImageThe Red Sox rallied from a 3-0 hole to beat the Yankees in the 2004 ALCS.
2004: The Yankees trade for Alex Rodriguez, then win the AL East for the seventh consecutive season. After they rout the Red Sox 19-8 to take a 3-0 lead in the ALCS, Steinbrenner raises a "Mission Accomplished" banner over the New York dugout during practice before Game 4. The Red Sox, however, recover to pull off a stunning comeback by winning the final four games of the ALCS, including a Game 6 victory by Curt Schilling, who pitches heroically despite his Web site crashing. The Sox go on to sweep the World Series for their first world championship in 86 years, making women rejoice, old men weep and Boston fans in pink caps ruin everything by going on and on with tales of how they had suffered so much more than anyone else in the history of sport. Rivalry rating: Red Sox 65, Yankees 35.
2007: After Boston signs Daisuke Matsuzaka for $51 million then ends the Yankees' nine-year reign as AL East champions and sweeps the Colorado Rockies for its second World Series championship in four years, Red Sox Nation is added to the U.N.'s Security Council. Rivalry rating: Red Sox 70, Yankees 30.
2008: The Yankees fail to make the postseason for the first time in 14 years and the Red Sox lose the ALCS, prompting fans across the nation to tie yellow ribbons around old oak trees. Rivalry rating: Red Sox 74, Yankees 26.
2009: In addition to pricing box seats so prohibitively high only the team's own players can afford them, New York opens new Yankee Stadium the same way it opened the original -- by going to the World Series. Led by A-Rod and newly signed CC Sabathia and Mark Teixeira, the Yankees also win their first world championship since 2000 to relieve the anguish of 8-year-old fans who had wondered whether they would ever see the team win it all in their lifetimes.Rivalry rating: Yankees 54, Red Sox 46.
2010: Six months after ESPN Boston debuts, ESPN New York opens to present a fair and unbalanced account of the 27-time world champion Yankees' rivalry with that pitiful little band of players with the carmine stockings that has won a mere two world titles in the past 92 years. Rivalry rating: Yankees 55, Red Sox 45.
Jim Caple is a senior writer for ESPN.com. You can follow him on Twitter at jimcaple.
EDITORS' PICKS
David Ortiz's passion might be admirable, but clean drug tests aren't foolproof evidence in this day and age.