Commentary
Is Gonzalez destined for Red Sox?
Padres slugger, who has ties to Boston's front office, an object of desire
Updated:
March 31, 2010, 1:38 PM ET
By
Gordon Edes
| ESPNBoston.com
FORT MYERS, Fla. -- Dave Finley pulled out the 10-year-old scouting report, the one he had filed on a Mexican-American kid who grew up only a few exits down the freeway from San Diego, just a few miles short of Tijuana and the U.S. border.
A report any scout would be proud to save.
Adrian Gonzalez was a first baseman, and in the history of baseball's amateur draft, only one first baseman had been taken No. 1 overall. That was Ron Blomberg, who was remembered more for being baseball's first designated hitter than for the modest career numbers he put up in eight seasons with the New York Yankees and Chicago White Sox.
[+] Enlarge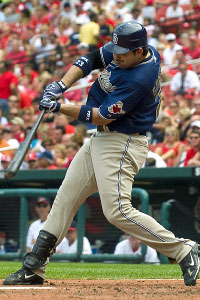 Jeff Curry/US PresswireAdrian Gonzalez's power has improved steadily, with the Padres slugger hitting a career-high 40 home runs in 2009.
The
Florida Marlins
had the No. 1 pick in the 2000 draft, by virtue of losing 98 games the year before, their first season under a new owner, John W. Henry.
"When you have the first pick," Finley said, "you don't screw it up."
Finley was the Marlins' area scout in Southern California and Arizona. He saw many of the players at the top of other teams' lists. But the player he pitched to his boss, Marlins scouting director Al Avila, was a slick-fielding high school senior from Chula Vista who idolized Tony Gwynn, down to wearing his No. 19 and swinging the bat the same way, a fluid, rhythmic left-handed stroke that tattooed pitches to left and left-center.
Every time Avila or one of the team's scouting supervisors or cross-checkers went to see Gonzalez play, Finley worked him out after the game, pitching batting practice to him. He looked at the kid's father, David, a 6-foot-2, 225-pound physical specimen who had starred for the Mexican national team and had big, strong hands, and saw a young man who would fill out like his father.
"My bottom line," Finley said, "was that he's a .300, 30-homer, 100-RBI guy. I gave him a 70 for power [on a 20-80 scale, 80 being the best]. I know I compared him to Rafael Palmeiro, which may have been a stretch since Palmeiro hit 500 home runs and had 3,000 hits, but I knew he had more power than, say, Mark Grace."
Magadan: His swing 'poetry in motion'

FORT MYERS, Fla. -- In Dave Magadan's last season as hitting coach of the San Diego Padres, Adrian Gonzalez almost didn't make the team.
Gonzalez was 23 and new to the Padres in 2006, having just been acquired from the Texas Rangers, where his progress was blocked by Mark Teixeira. He missed part of spring training while playing for Mexico, his parents' homeland, in the World Baseball Classic, and when he returned to camp, the expectation was that incumbent Ryan Klesko would be the team's first baseman.
Gonzalez, it appeared, was headed back to Triple-A for his fourth straight season in his third organization, having been drafted by Florida and traded to Texas for Ugueth Urbina, the closer who helped the Marlins win the 2003 World Series.
But then Klesko went on the disabled list with a shoulder injury that required surgery, and Gonzalez had his chance. He had two hits in the Padres' season opener and three more hits (including a home run) the next day, and was on his way to permanently altering the perception that he was a glove-first, bat-second first baseman.
"I noticed from the first day I threw batting practice to him, it didn't matter where you threw the ball, he found a way to get the barrel on it," Magadan said. "The hierarchy was a little concerned with his ability to pull the ball. I didn't think it was an issue at all. I was a big fan from the get-go. I think he was a pleasant surprise for a lot of people there."
Gonzalez has blossomed into one of the premier young hitters in the game, last season hitting a career-best 40 home runs despite playing his home games in Petco Park, a hitters' graveyard.
"I'm not surprised," Magadan said. "You see him swing the bat, it's poetry in motion, man. It's so fluid and easy, and he's got such good rhythm up there, the ball just jumps off his bat, especially the other way.
"He's got some kind of power the other way. His ball, when he hits it the other way, doesn't slice. It stays straight. He can hit those balls right down the line that, with a lot of lefties, kind of fade. His just stay straight."
Magadan was fired as Padres hitting coach that June, which has had little effect on improving the team's offense. The Padres scored 10 runs more in 2007 than they did in 2006, and in each of the past two seasons, despite the emergence of Gonzalez as a major power threat, they have finished last ('09) and next-to-last ('08) in the National League in runs scored.
But Magadan was with Gonzalez long enough for the player to have made a lasting impression.
"He's pretty impressive," Magadan said. "And he knows himself real well too. You have a conversation with him about his swing, he's right there with you. He's pretty knowledgeable about what he wants to do.
"He comes from a very good family, quality people, a high-character guy, a big family guy. He's kind of in a dream scenario, playing at home, making good money. He was a pleasure to be around, man."
The Marlins, who knew the history, swallowed hard and drafted Gonzalez, then were outraged when they were accused of taking Gonzalez for signability reasons, that he had come on the cheap.
"I told him, 'Hey, you're our No. 1 choice,"' Finley said. "But that signability talk was a slap in the face to Adrian, and I don't think he's ever forgotten it."
Gonzalez was the last player Finley would personally sign and has more than lived up to the scout's projections: a .304 average in 2006, an average of 106 RBIs in each of the past three seasons and a home run total that has increased every year, from 24 in '06 to 40 last season.
A decade later, Gonzalez is back in San Diego, this time as a big league star and a hometown favorite. Finley is with the Red Sox, promoted in January to special assistant to general manager Theo Epstein, who didn't want to see Finley follow his former assistant and new Padres GM Jed Hoyer to San Diego.
And Finley is working for the same owner, Henry, who once was willing to spend millions on Gonzalez and would be eager to do so again.
The Red Sox pushed hard before the trading deadline in July to acquire Gonzalez, right to the final day, but every time they thought they were close to a deal, former Padres GM Kevin Towers asked for more. The Sox, finally deciding Towers wasn't ready to part with Gonzalez, turned to Cleveland and traded for switch-hitting Victor Martinez instead.
The Sox made inquiries again this winter, this time to Hoyer, who last summer was on the same side of the negotiating table, trying to persuade the Padres to part with Gonzalez. With Gonzalez signed for relatively little money through 2011 and the one player worthy of marquee status after the Padres traded pitching mainstay Jake Peavy to the White Sox, San Diego insists it's in no hurry to peddle him.
"It wouldn't surprise me to see him here two more seasons," Padres CEO Jeff Moorad told the San Diego Union-Tribune last week. "We're first and foremost committed to winning here. Last year I thought we took the first significant step in that process. And, at this point, Adrian definitely is a part of that process."
Finley, born and raised in San Diego and a lifelong Padres fan, understands more than most the elements of Gonzalez's appeal there: bilingual, outgoing, real star appeal on a team lacking any.
"He's a perfect fit in San Diego, except for the fact they're not winning," Finley said.
There's the rub, and the reason the Red Sox, who see Gonzalez as the ideal, middle-of-the-order hitter to succeed David Ortiz, will make a concerted effort to acquire Gonzalez again between now and the July trading deadline. The Padres aren't presently constructed to win. Gonzalez could bring multiple pieces in a deal. Hoyer and his top aide, Jason McLeod, the former Sox scouting director, know the Red Sox system better than any other management team.
The asking price will be high. The Padres almost certainly would have asked for Ryan Westmoreland before Boston's top prospect needed brain surgery, and they undoubtedly will have Casey Kelly on their wish list. There will be other teams putting together their own packages of prospects to entice Hoyer. There might never be a better time for Hoyer to maximize his return.
But if the Padres don't trade him, he could become a free agent after the 2011 season. Would Gonzalez willingly leave?
It has been a decade since Finley signed Gonzalez, but the two have stayed in touch. "He's just a great, great kid," Finley says. "Good upper-middle class family, married his high school sweetheart. One Father's Day, he played a doubleheader in Chicago, and he called to wish me a happy Father's Day from the team bus. He's called my wife on Mother's Day.
"I don't want to speak for him, but there are two things Adrian Gonzalez wants. No.1, Adrian wants to win. No. 2, he wants to be great, he wants to be a Hall of Famer. And he knows that to be a Hall of Famer, he needs to win. He'll take winning over numbers every single time; he hates losing."
Fenway Park's Green Monster was built for a hitter with Gonzalez's opposite-field swing. And he's plenty strong enough to reach the right-field bullpens with regularity. The Sox missed out on Mark Teixeira, who spurned their offer for a bigger one from the New York Yankees. It's rare to have a chance at a similar prize. The pressure will be on not to miss again. The Sox don't need another scouting report to know what's at stake.
Gordon Edes is ESPNBoston.com's Red Sox reporter. He covered the Red Sox for 12 years and has reported on baseball for 25 years. Ask a question for his next mailbag here.
Red Sox reporter, ESPNBoston.com
Has covered Red Sox for 15 years
Award-winning beat reporter
Joined ESPNBoston.com in 2009
RED SOX SEASON PREVIEW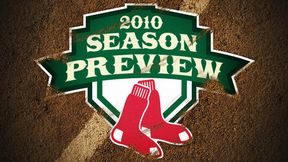 STORIES
PREDICTIONS/PROJECTIONS
INTERACTIVE
VIDEO/AUDIO
BEST OF SPRING TRAINING COVERAGE
EDITORS' PICKS
Clay Buchholz is now looking and sounding like a pitcher with a new grip on his career.