Commentary
Get ready for an AL East arms race
A pitcher-by-pitcher look at the rotations of the Red Sox and Yankees
Updated:
April 2, 2010, 1:51 AM ET
By
Gordon Edes
| ESPNBoston.com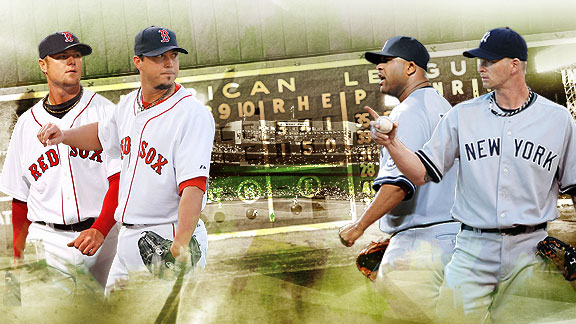 ESPN.com Illustration
FORT MYERS, Fla. -- It is the 21st-century version of the old U.S.-Soviet arms race, minus the threat of nuclear annihilation. The New York Yankees, who hadn't won a World Series since 2000, last winter spent $243.5 million to import CC Sabathia and A.J. Burnett, a staff ace and a superb No. 2, and will be passing out championship rings next week.
Yankees rotation breakdown
CC Sabathia didn't arrive in New York with the drama that Curt Schilling did in Boston seven years ago, with vows of winning a World Series for his new team. Sabathia was more concerned about persuading skeptical Yankees fans that he really wanted to be in New York, despite reports that he preferred to remain on the West Coast, and the existence of an opt-out clause in his contract that gave him the right to leave after three years.
The Yankees gave him 161 million reasons to fall in love with New York, the largest contract ever bestowed on a pitcher, and he said he chose the Bombers because he felt they gave him the best chance to win a championship.
That was borne out in his first season in pinstripes, with the Yankees winning 103 games behind a starting staff, anchored by Sabathia and A.J. Burnett, that was as deep -- and healthy -- as the Yankees have had since 2003-- not coincidentally, the last time they won the American League pennant.
Four Yankees pitchers -- Sabathia, Burnett, Andy Pettitte and Joba Chamberlain -- made 30 or more starts last season. Since 2003, when all five Yankees starters made 30 or more starts, the Yankees had had just one season, 2006, in which as many as three starters made 30 starts. The decade is riddled with rotations that tried to get by with the Sidney Ponsons, Jeff Weavers, Darrell Rasners, Jaret Wrights and Carl Pavanos of the world.
Not so now. The Yankees have added another innings-eater in Javier Vazquez, a move that allows them to move Chamberlain back to the bullpen, and tabbed homegrown Phil Hughes as their fifth starter. Andy Pettitte turns 38 in June, and the depth behind the Big Five is a bit suspect, though Chamberlain could always return to the rotation, and relievers Alfredo Aceves and Sergio Mitre have both made starts for Joe Girardi.
But this is a formidable rotation. A pitcher-by-pitcher look:

CC Sabathia: Counting the postseason, the 290-pound left-hander logged 266 1/3 innings, but did some of his best work in October, going 3-0 with an 0.40 ERA in the American League playoffs. He also was tough on the Sox, going 3-1 with a 2.22 ERA while holding Boston hitters to a .172 batting average and five extra-base hits in 99 at-bats.

A.J. Burnett: Great stuff, still wackily inconsistent. Burnett had a 1.81 ERA in games he won, a 7.01 ERA in games he lost, suggesting there wasn't much in-between. He also had a brutal August, going 0-4 with a 6.03 ERA. The Red Sox had their way with him, as he went 0-2 with an 8.85 ERA in four starts, giving up six home runs.

Andy Pettitte: The veteran left-hander validated Brian Cashman's decision to bring him back for another year, falling just short of 200 innings but providing a steady if unspectacular performance yet again. Like Sabathia, Pettitte also had a good postseason, winning all four of his decisions. He's coming to the end of a remarkable run, but continues to stand the test of time. Did not give up a home run in 90 at-bats against the Sox.

Javier Vazquez: The 33-year-old right-hander is coming off the best season of his career, one in which he struck out a career-best 238 batters while lowering his ERA almost two full percentage points (2.87 with the Braves, 4.67 in 2008 with the White Sox). He's had an excellent spring, but it remains to be seen how he handles the high-stress environment of the Bronx.

Phil Hughes: Hughes scuffled as a starter last season when Chien-Ming Wang went down, then made a surprising transformation into a shutdown setup man for Mo Rivera. The 24 -year-old right-hander beat out Chamberlain for the No. 5 spot in the rotation. The Red Sox roughed him up in his only start last season, one in which he gave up seven hits and four walks in four innings. But that was May 4, and he was much more effective out of the 'pen, limiting the Sox to three hits, two walks and two earned runs in seven innings of relief.
The Red Sox countered by lavishing an $82.5 million contract -- the exact number the Yankees gave Burnett -- on this winter's most desired free-agent pitcher, John Lackey. When he was with the Angels, Lackey was the team's ace. In Boston, as he only half-jokingly texted to his former teammates, he rates no better than No. 3.
A year ago, Red Sox general manager Theo Epstein tried to patch the back end of his rotation with damaged veterans like John Smoltz and Brad Penny and later Paul Byrd, low risks financially with a potentially high upside. None of those investments panned out, and with Daisuke Matsuzaka a washout for most of the season and Tim Wakefield breaking down in the second half, the Red Sox starting pitching was in clear need of an upgrade.
The starters' ERA of 4.63 ranked eighth in the American League last season, down from third in 2008, when the ERA was 4.02. While much of the public -- and media -- were focused on what the Red Sox intended to do with free-agent outfielder Jason Bay, Epstein and his staff quietly laid the groundwork for making a run at Lackey.
"When you look at the construction of a team that is planning to contend and play in October and compete for a World Series, it starts with the starting rotation," said pitching coach John Farrell. "It has to be durable, it has to be talented, it has to have the ability to not only put the ball on the ground, but record strikeouts.
"Without a strong starting rotation, you're going to rely an awful lot on offense every single night to produce, and when you go up against good pitching, that probably isn't always going to be the case.
"I can't speak to what the Yankees have. We all know what they have, but [it's not for me] to say what the reasons are for it. I know we felt that going into the offseason … we needed to add a starter. With the questions that surrounded Tim, with the uncertainty [caused by] Daisuke, there was no question there was a need for a starting pitcher."
And when the Red Sox determined they were not going to re-sign Bay or succeed in luring Matt Holliday away from St. Louis, Epstein set his sights on getting the best free-agent pitcher available.
"We felt that the ability to have a quality starter walk to the mound every night was our primary goal in the offseason," Farrell said. "And we felt adding John Lackey was the best way to go."
Will Lackey be the difference-maker? Farrell spent one morning this spring offering his thoughts on each of the five starters (Matsuzaka will open the season on the disabled list). Also included is a comment from a major league scout.

Beckett
Farrell on whether the source of Beckett's inability to repeat the dominance of his 20-win season in 2007 was primarily physical:
"Definitely physical. When he jarred his back on the mound in spring training before we went to Japan in '08, he was seemingly playing catch-up the entire year. He had some discomfort in his elbow, some discomfort in the rib cage. That was a year he seemingly never got on track, never was able to harness his power and continue to build it and ride it through the course of the season.
"Last year, there were two stretches of three or four starts that took away from the potential of another 20-win season. One was basically from the second through fourth starts. He came out and threw extremely well against Tampa Bay in the opener, then there was a period of four starts, from a delivery standpoint, he wasn't executing as consistently as he can. Then that same situation reared its head late in August, early September, and both were mechanically related."
On where Beckett is entering this season:
"When Josh is throwing the baseball the way he is now, the way he did in '07, and the way he did for the vast majority of '09, he's a guy who can dominate the bottom part of the strike zone. For him, it becomes very simple. When he's in the bottom of the zone, and this makes it sound simple, but when you harness the intensity, the competitiveness and power that he has, and he is able to throw the ball down in the zone, he is that 20-win-caliber pitcher.
"He's doing that right now in spring training. We feel very similar to the way we did the start of last year and the start of 2007. Now it's a matter of going out and maintaining that consistency. In these last two years, he's learned himself even more. One might think here's a big strong right-hander that can throw the ball, with very good control, low- to mid-90s, with an off-the-table curveball at times, but through those injuries and through some of the challenges from a mechanical standpoint, he's still learning himself. That can be said of Wake, Lackey, all of 'em. They all evolve."
On describing the essence of Beckett:
"There's a natural competitive streak in there. He's going to, in his mind, succeed by outworking everyone, whether it's a teammate or an opponent. That's what drives him. He's driven to succeed, and he's not going to stop until he gets it right. That's in bullpen sessions that have been thrown at game speed for four years. He's going to be sure that he walks out of that bullpen feeling good about himself and his ability to command a baseball. Otherwise we'll stay there all day. He doesn't give in, and he's going to find a way to get it done.
"Everything he does, he does at full speed. You could probably say 'full speed' is the way to describe him at everything he does. That doesn't mean he's careless off the field, but he's going to go about everything he does with a full commitment to accomplish it."
Scout's take: "Josh was fine this spring when I saw him, sailing balls intentionally, cutting 'em, the split change was good. The curveball, he throttled on and off of it. The delivery was good. He's going to be fine. Dammit."
Jon Lester: The model of a lefty

#31 SP
Boston Red Sox
2009 STATS
GM

32

W

15

L

8

BB

64

K

225

ERA

3.41
Lester on the passage of time since Lester was diagnosed with cancer (2006):
"It'll never be separated, because it's a major cornerstone of the makeup of Jon the person, and this is my perspective -- this is certainly not what Jon talks about -- but I can tell you in the last 2½ years, where he's come from and what he is now , it does seem a lot longer than 2½ years. We're now talking about one of the premier starters in all of baseball, with the type of stuff he has, the pitch mix, the assortment, the physical maturity.
'When he came into spring training, in 2007, he weighed 218 pounds. He's now 20 pounds heavier, and all of the issues that he went through are behind him. He doesn't forget, I'll tell you that. He's very respectful and cognizant of the people who have their own challenges they face, and he's very caring. But he's also totally focused on being the best starting pitcher he can be, and has become a leader within our clubhouse, and certainly a leader once he takes the ball and walks out onto the mound.
"He's one that leads by example, no question. But as his career grows, he's not afraid to speak his mind. He's very respectful to his teammates, but I know there's a person in there who, if he senses something isn't going right, he's not going to be afraid to speak his mind with a teammate, or to voice his opinion."
Rank the Sox and Yanks starters


The Red Sox and Yankees have two of the deepest starting rotations in baseball, but which starting pitching staff is better? Rank the teams' starters below from best to worst and check out how other readers ordered them. Rank 'Em
So, would you take his repertoire and match it up against anyone?
"Yes, there are three plus pitches [fastball, curve, cut fastball] and his fourth, a changeup, is a solid average major league pitch, with the ability to become above average. What he's showing in spring training, he's striking people out with it. He's throwing it in counts of 2-and-0. He's gained confidence in it, but when you're left-handed and can throw a fastball mid-90s and above, and you can cut it and sink it and throw a curveball with the kind of depth and rotation that he's got, he's got to feel pretty good about himself every time he walks onto the mound, regardless of who is stepping in the box.
"If you were to draw up a left-handed pitcher, he would be the profile -- from physical size, a commitment and work ethic standpoint, to his competitive nature and individual pitches he has. When he needs a strikeout, he has the ability to do that in a key spot, and I think that's what separates very good starting pitchers at the major league level from that very small select group. When the game is on the line, seventh inning, 'I need a strikeout to get out of it,' he can get it."
Scout's take: "Lester passed Beckett last year, to where he is one of the top 10 starting pitchers in the American League. Lester or Sabathia? Lester is younger and cheaper. If you're a GM and have a choice, you probably take Lester."
John Lackey: Loose but fearless

#40 SP
Boston Red Sox
2009 STATS
GM

27

W

11

L

8

BB

47

K

139

ERA

3.83
Farrell on how the new man approaches the job:
"He has a low-maintenance delivery for a big guy. He repeats his delivery very well. He's a good athlete, coordinated. His checkpoints are very simple. His ability to make an adjustment occurs on one pitch. He's got a very good pace of the game. He works quick, he's got the ability to throw a curveball at any time and any point in the count, so his defense is always going to be on their toes. He's going to get above average plays made for him. You hear it in the dugout, our players love to play behind him.
"He's fearless. He doesn't fear consequences when seeking to attempt to make a pitch. He pitches to contact. So all those things involved make him a guy who works quick, changes speeds and throws strikes. Yes, we break this game down so many different ways, but that is an adage about pitching that has stood the test of time, and he exemplifies it."
On Lackey's personality:
"He's a tremendous competitor. We've seen it across the field, we've started to see it every five days here, but I will tell you from a personality standpoint, those days in between, he is loose. That doesn't mean he's carefree. Loose, in fact, there's a guy who likes to have fun. He's been a great blend with Clay, Josh, Jon, Wake; a different personality that makes that group much more well-rounded.
"Josh and Jon can be very businesslike in their own right, but so intense it might not allow them to be completely relaxed all the time. John is an offset to that. It's a great blend. They're going to be able to see a guy who every five days employs that type of approach -- and it's a successful one -- and at some point guys will start to see how that plays.
"From a competitor's standpoint, from a personality standpoint, he's been a great fit here. In this game, you have to have the ability to bet on people, not just the player, and be confident that person is going to have his priorities in order, so the decisions that he makes on the field are consistent with the decisions he makes off the field. There's never any hesitation abut that with John Lackey."
Scout's take: Solid cutter, just like he always used to be, to both sides. He can firm and soften a breaking ball when he wants and throw it for a strike. He has a two-seamer he doesn't use much and a changeup he doesn't use much. Same guy. He's a pro. He's a solid innings-eater who is finally healthy in spring for the first time in three years.
Tim Wakefield: Challenge met

#49 SP
Boston Red Sox
2009 STATS
GM

21

W

11

L

5

BB

50

K

72

ERA

4.58
Farrell on Wakefield's recovery from offseason back surgery:
"Any time you end a season with a player going in for offseason surgery, there's always those natural questions that surround the player, compounded by a healing rate that might be a little bit slower for a 43-year-old rather than a 22-year-old. But the work he did in spring training, right from his first bullpen session through batting practice, where there was no need for recovery time, we now look upon Wake as this is just another year for him. It's not like, 'OK, we have to be conscious of building in an extra day here, two days there.' He never requested it. He never needed it.
"That's a testament to the rehab he did in the offseason. Obviously, he's very committed to his profession, this organization, his teammates, and he never was going to leave anything unturned. He knew there was a challenge ahead of him and he had to come in and solidify his spot, and he has done that."
Scout's take: "Wakefield's knuckleball is now good, not great. He's lost some stuff. You don't talk about velocity with a knuckleballer, but velocity is still a factor for him. He used to be 67-68 with the knuckleball; now it's more 66-65. His knuckleball is still good, but if you rated it an 80 before [on a 20-80 scale], you might give it a 70 now."

#11 SP
Boston Red Sox
2009 STATS
GM

16

W

7

L

4

BB

36

K

68

ERA

4.21
Farrell on the opportunity for Buchholz:
"This is a young pitcher we're totally committed to. He earned the ability to begin the season with us. You look around the game of baseball, and the fifth starter spot can be a challenge. Unfortunately injury caused that to be a hole for us last year, but it also created an opportunity for Clay Buchholz.
"We were able to fill that void with an outstanding young pitcher. A disappointment or challenge creates opportunities for others, and that's where Clay was able to step in and know he was going to get a start every five days. He didn't have to look over his shoulder wondering, 'How many starts am I going to get?' and I think that can have a very calming effect on a young pitcher. In his case, he made the most of those opportunities."
Scout's take: "I know he has an option, but if he pitches well, he ain't going anywhere. He has great stuff, some of the best stuff I've seen all spring. But sometimes it looks like he gets preoccupied."
Daisuke Matsuzaka: Waiting game

#18 SP
Boston Red Sox
2009 STATS
GM

12

W

4

L

6

BB

30

K

54

ERA

5.76
Matsuzaka will open the season on the disabled list. Here is a
detailed look at his situation
.
Gordon Edes is ESPNBoston.com's Red Sox reporter. He covered the Red Sox for 12 years and has reported on baseball for 25 years. Ask a question for his next mailbag here. Follow him on Twitter.
Red Sox reporter, ESPNBoston.com
Has covered Red Sox for 15 years
Award-winning beat reporter
Joined ESPNBoston.com in 2009
RED SOX SEASON PREVIEW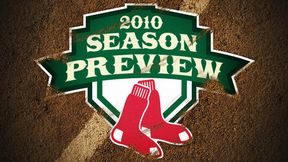 STORIES
PREDICTIONS/PROJECTIONS
INTERACTIVE
VIDEO/AUDIO
BEST OF SPRING TRAINING COVERAGE
EDITORS' PICKS
The Bruins acquired young forward Brett Connolly from the Lightning but likely aren't done.