Commentary
Table has turned for Papelbon
Closer blows his sixth save, but he won't be replaced anytime soon
Updated:
August 13, 2010, 1:25 AM ET
By
Gordon Edes
| ESPNBoston.com
TORONTO -- You know it's a bad day when the best thing you can say about your closer is that he wasn't arrested.
Like the rest of his Red Sox teammates, Jonathan Papelbon walked out of the visitors' clubhouse in the Rogers Centre on Thursday afternoon a free man, unburdened by the kind of trouble Mets closer Francisco Rodriguez found himself in after an alleged altercation with a man Wednesday night in New York.
[+] Enlarge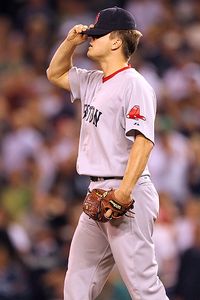 Otto Greule Jr/Getty ImagesDoes a sixth blown save mean Jonathan Papelbon is out? Unlikely.
No allegations of crimes and misdemeanors here, unless you want to charge the Toronto Blue Jays with committing larceny after scoring four runs in the bottom of the ninth to steal what looked like a certain win for the Red Sox, 6-5. The onus for that defeat fell upon Papelbon, who entered after starter John Lackey gave up a home run to Jose Bautista to start the ninth and proceeded to blow his sixth save of the season. That matches the most he has blown in his career, with seven weeks still to be played.
"I didn't have much power or energy in my delivery today,'' said Papelbon, who said the Jays took advantage of the numerous pitches he left up in the zone. "Most of the day was kind of a groggy day for me.''
It turned into a ghastly one for the Red Sox. Instead of drawing to within three games of idle Tampa Bay in the wild-card race, the Sox fell to four back. They also were in danger of losing more ground to first-place New York, which was playing in Kansas City on Thursday night.
That made for a long plane ride to Texas, the place where manager Terry Francona made the decisive move in 2006 to replace his closer, Keith Foulke, with a promising kid named Papelbon.
The alarmists, whose faith in Papelbon may have been forever shattered by his Game 3 meltdown against the Los Angeles Angels in the playoffs last October, are grumbling that Francona should contemplate a similar move now, with Papelbon playing the fall guy giving way to Daniel Bard.
That scenario actually played out Thursday afternoon: Bard replacing Papelbon for the first time ever in the ninth inning of a game in which the Sox either held the lead or the score was tied. Bard entered with the bases loaded and one out. Two pitches later, it was over -- Fred Lewis able to lift a ball in the air to center, allowing pinch-runner DeWayne Wise to score the winning run.
Papelbon, who gave up a double and two singles to the first three batters he faced with Aaron Hill lining a ball off the bottom of the pitcher's left foot, was already starting off the mound before Terry Francona reached him, handing over the ball with his head down heading to the dugout. "Obviously, you know, you want to finish games,'' Papelbon said how difficult it was to be lifted with the outcome of the game still in doubt. "That's my job. I want to finish games. I think the fact of the matter is if I don't execute my job, you pass it on to somebody else.''
A half-dozen blown saves is not justification for passing it on permanently. Brad Lidge blew 11 saves in 2009 and the Phillies went to the World Series. In 2009, 20 relievers had six or more blown saves. That number was 29 in 2008, 24 in 2007 and 26 in 2006, including the kid who replaced Foulke, Jonathan Papelbon.
Francona is not going to replace Papelbon with Bard, not now. To do so would ignore the 29 saves Papelbon has posted this season, and would risk losing Papelbon mentally for the rest of the season. One more save and he will become the first reliever ever with 30 or more saves in each of his first five seasons. He was 24-of-24 against the Blue Jays in his career before Thursday.
These are torturous losses, but Bard may have more value to the Sox in his current role than by saving him for last call. It becomes a mindless exercise, every time Papelbon blows a save, to ponder whether his job should be taken away.
The problem is the Sox are trying to catch two teams on pace to win 100 games: the defending World Series champion New York Yankees, and the Tampa Rays, who have the best won-loss record of any second-place team since 1984.
More On The Red Sox

Gordon Edes, Joe McDonald and the rest of the ESPNBoston.com team have you covered on the Red Sox. Blog
The Yankees' closer, Mariano Rivera, gave up a leadoff triple in the bottom of the ninth against the Rangers on Wednesday night, then set down Michael Young, Josh Hamilton and Vladimir Guerrero in order to strand the tying run. Rivera has blown just two saves all season. So has Tampa Bay closer Rafael Soriano, an ingredient the Rays didn't have last season. The Yankees are 60-0 in games in which they've led after eight innings. The Rays are 58-1. The Sox are now 60-3. Not much difference among the teams, but it could make a world of difference in a close race.
How difficult did Francona find it to pull his closer Thursday afternoon?
"Well, sometimes the game dictates it,'' Francona said. "It's not an ego thing. Just trying to win the game. At that point, you're trying to keep the ball out of the air. Papelbon was up [in the strike zone]. Just trying to keep that game going.''
Bard had managed to do so Monday in New York, entering with the bases loaded and striking out Derek Jeter and Nick Swisher.
"It's almost impossible,'' Bard said, "but I got out of it the other day. It wasn't the ninth inning. The difference is there is no room for error there at all.''
Bard said he wasn't going for the strikeout against Lewis.
"I was trying to get the double play,'' he said. "My best shot to get out of the inning. If I try to go punch-out, it increases my chances of walking him, throwing the ball out of the zone. I've got to put my best stuff in the zone in that situation and induce a groundball or infield popup, something soft. "[Lewis] was able to get enough of the barrel to get it out there.''
So how do the Sox rebound from this one?
"Sweep Texas,'' Bard said. "That would be nice.''
David Ortiz, who had placed a hand on Papelbon's shoulder while walking wordlessly by, said the Sox know the drill: Forget this one, look to the next.
"You have to,'' Ortiz said. "What else are you going to do? Come back out with a clean mind tomorrow.''
Gordon Edes is ESPNBoston.com's Red Sox reporter. He has covered the Red Sox for 12 years and has reported on baseball for 25 years. Ask a question for his next mailbag here.
Red Sox reporter, ESPNBoston.com
Has covered Red Sox for 15 years
Award-winning beat reporter
Joined ESPNBoston.com in 2009
EDITORS' PICKS
Mookie Betts is poised to become Boston's starting CF with Rusney Castillo hurt.