Commentary
Will Adrian Beltre be back in Boston?
His inflated value and Red Sox's potential pursuit of Adrian Gonzalez will be factors
Updated:
October 5, 2010, 11:41 PM ET
By
Gordon Edes
| ESPNBoston.com
Editor's note: Our Six Questions That Will Shape the Red Sox Offseason series kicks off with a look at the dilemma facing the Red Sox with Adrian Beltre.
BOSTON -- There was news out of San Diego on Monday that could impact whether third baseman Adrian Beltre returns to the Red Sox in 2011.
[+] Enlarge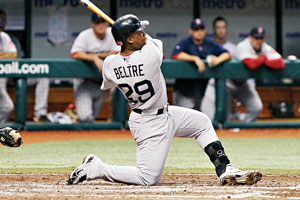 Kim Klement/US PresswireIf this indeed was Adrian Beltre's first and only season in Boston, fans will surely miss the home runs from one knee.
Padres general manager Jed Hoyer said the club intends to pick up its 2011 contract option on first baseman Adrian Gonzalez, still a bargain at a tick over $6 million. But after comments by Padres CEO Jeff Moorad earlier this season that suggested Gonzalez was going nowhere in the foreseeable future, Hoyer left the door open a crack.
He told San Diego-area reporters that he intends to meet in the next two or three weeks with Gonzalez's agent, John Boggs, about signing Gonzalez to an extension, but reiterated that the club could not afford to sign him for the $20 million per annum deals signed by other elite first basemen, such as Mark Teixeira or Ryan Howard.
If not, trading Gonzalez now while he still has value makes more sense than waiting until he walks. A trade probably was made more feasible after the Padres' late-season stumble cost them a playoff spot, and Hoyer is promising significant changes, which could impact both Gonzalez and closer Heath Bell.
Our predictions on Beltre
Will the Red Sox end up bringing back Beltre? Our experts chime in with what the Red Sox should do, then what they predict they will do. Make your predictions here.
CURT SCHILLING

What the Red Sox should do: Make a legitimate run at Adrian Gonzalez and move Kevin Youkilis to third base.
What the Red Sox will do: Find an interim solution to the third-base problem that doesn't involve spending $12 million-$15 million per season. If they can get Beltre at 1-2 years I would go that route. My bet is there is no way his agent, Scott Boras, lets that happen.
---
GORDON EDES

What the Red Sox should do: Focus on going after Gonzalez and free agent Jayson Werth instead of Beltre.
What the Red Sox will do: The guess here is Beltre will be elsewhere in 2011.
---
JOE MCDONALD

What the Red Sox should do: The Red Sox should absolutely bring back Beltre.
What the Red Sox will do: Even though Beltre is looking for a major payday and long-term contract, he also wants to win a World Series and that could be Boston's opportunity to meet in the middle during negotiations.
---

What the Red Sox should do: Beltre and his aversion to having his head touched along with a proclivity for one-knee-on-the-ground home runs belongs in Boston. Even though his .321 batting average is way over a career .275 line, getting the career-line Beltre and his defense makes him one of the better players on the market. While Youkilis is able to shift to third, freeing up one of catcher or first base for Victor Martinez or another import, what replacement could possibly outperform Beltre? In fact, one could contend Beltre is more valuable than Werth, meaning the only way Beltre's absence is acceptable is if Carl Crawford joins the squad.
What the Red Sox will do: The Red Sox will have to pick between Beltre and Crawford, and Crawford is the better long-term bet even if it takes a seven-year deal.
"I haven't made any definitive decisions, but we are a better team with those guys than without them," Hoyer told reporters. "I'm sort of in the never-say-never category. In this business, the job is to make the team and the organization as good as it can be."
What does all of this have to do with Beltre, who this past season "was everything we could have hoped for and more,'' in the words of Red Sox GM Theo Epstein?
The Red Sox have long coveted Gonzalez, precisely the type of middle-of-the-order, impact left-handed hitter they need, both now and as the ultimate successor to David Ortiz. That's why they made such a push for Teixeira, and that's why they are likely to employ a full-court press on Hoyer and the Padres to make a deal for Gonzalez.
The safe course would be for Hoyer to hold on to Gonzalez, but the Padres, whose offense ranked 12th in the National League in runs and 13th in on-base percentage, need help at several positions. Hoyer and his assistant, Jason McLeod, the former Sox scouting director, know Boston's system better than any other. Given the Padres' financial constraints -- they had a $37.9 million payroll on opening day, and their attendance still ranked just 11th in the National League despite their contender status -- the Red Sox might be able to entice Hoyer with a package of young talent that potentially could include first baseman Anthony Rizzo.
At 28, Gonzalez is three years younger than Beltre and projects as a better long-term investment. The Red Sox, should they acquire Gonzalez, could move Kevin Youkilis back to third base, a move Youkilis has said he is willing to make.
But the Gonzalez scenario is just one component that could impact the Beltre decision. Beltre may be gone whether or not the Red Sox succeed in acquiring Gonzalez.
Epstein's signing of Beltre to a one-year, $9 million deal last season was a master stroke. The club included a $10 million player option for 2011, but it kicked in only if Beltre had 640 plate appearances, which wasn't going to happen unless Beltre (a) stayed healthy and (b) was productive. Beltre was that and more, putting up MVP-caliber numbers offensively, playing his usual stellar defense (don't be fooled by the 19 errors) and bringing a degree of toughness that won him the admiration of teammates and the front office alike.
Beltre played so well, in fact, that the player option quickly became obsolete -- he has positioned himself for a big score on the free-agent market. It doesn't help him that both New York teams, the Yankees and Mets, are set at third base with Alex Rodriguez and David Wright, respectively. But there are a host of other teams with money to spend this winter, and some, like the Angels, who have money and a need for a third baseman.
"I think it will be an active market,'' Epstein said Sunday of the potential interest in Beltre.
Beltre resurrected his career by getting out of Seattle's Safeco Field, where his numbers took a real hit, but no one can say he is a Fenway Park creation. As well as he hit at home (.314 average/.359 on-base percentage/.521 slugging/.880 OPS/13 HRs), Beltre hit even better on the road (.327/.370/.583/.953/15 HRs).
As catcher Jason Varitek said Sunday, there are a "billion scenarios" in play this offseason for the Red Sox. Last year, remember, they made a four-year, $60 million offer to Jason Bay, who was the same age as Beltre is now. Presumably, they could make a similar offer to Beltre.
But they have a ready-made option at third in Youkilis, they have a need in the outfield they are likely to address by pursuing free agent Jayson Werth, whose right-handed power could replace Beltre's, and even if they fail to land Gonzalez, could find a stopgap solution at first until Rizzo (or possibly Lars Anderson) is ready.
But it's not out of the question that with teams like the Angels, Blue Jays, Orioles, Tigers, White Sox, Braves and Giants, among others, all having cash to spend this winter, Beltre may find a suitor willing to give him five years, which would almost certainly eliminate the Red Sox. Ultimately, even the dollars could get too high for the Sox, who also are faced with a timing issue: Beltre, represented by Scott Boras, is likely not to make a decision until late in the process (Werth is in the same category). Epstein has shown a willingness to wait in the past, as he did with Teixeira, but with so many moving pieces this winter, that might not be the case this go-round.
The guess here: Beltre will not be playing for the Sox in 2011.
Gordon Edes covers the Red Sox for ESPNBoston.com. Follow him on Twitter.
Red Sox reporter, ESPNBoston.com
Has covered Red Sox for 15 years
Award-winning beat reporter
Joined ESPNBoston.com in 2009
6 QUESTIONS THAT WILL SHAPE THE SOX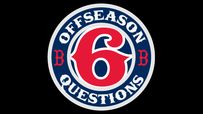 Our "Six Questions That Will Shape the Red Sox Offseason" is Gordon Edes' look at the biggest dilemmas Theo Epstein and Co. must solve this winter. He'll pose a new question each weekday.
SIX QUESTIONS
WRAPPING UP THE SEASON
EDITORS' PICKS
The Celtics blew a 26-point lead, dropping a tough one to the Warriors.