Commentary
Who plays shortstop next season?
While Scutaro had a solid season, a Lowrie with some pop can't be overlooked
Updated:
October 14, 2010, 11:58 AM ET
By
Gordon Edes
| ESPNBoston.com
BOSTON -- So, after seven Opening Day shortstops for the Red Sox since the start of 2003, who's next? Derek Jeter?
Our predictions on the bullpen
Who plays shortstop next season: Marco Scutaro, Jed Lowrie, Jose Iglesias or Player X? Make your predictions here.
CURT SCHILLING

What the Red Sox should do: Scutaro should play shortstop again next season.
What the Red Sox will do: Scutaro will play shortstop again next season.
---
GORDON EDES

What the Red Sox should do: Give Lowrie a chance to beat out Scutaro, while grooming Iglesias.
What the Red Sox will do: Go into the season with Scutaro as their shortstop, but be open to a challenge from Lowrie. Iglesias starts the season in Pawtucket.
---
JOE McDONALD

What the Red Sox should do: Platoon Scutaro and Lowrie until one of them proves to be the everyday shortstop, while prospect Jose Iglesias continues to develop at the Double-A level next season.
What the Red Sox will do:If completely healthy, Marco Scutaro will be the club's everyday shortstop.
---

What the Red Sox should do: Marco Scutaro showed he can occupy the position, only needing relief once the season appeared lost. He's not great, but compared with the other shortstop options, Scoot is more than capable. Lowrie is best served as a backup thanks to his strong defense, while Iglesias needs to play in the minors through at least the first half of the season. There is no reason to move past Scutaro until the decision is obvious.
What the Red Sox will do: Scutaro did not lose his job and Lowrie is better utilized as a backup or trade bait while Iglesias still needs additional time -- Boston signed Scoot to play two years at short and that's what will happen.
No, the Yankees captain isn't going anywhere. That was just a cheap grab for attention. Of all the issues the Red Sox are faced with this winter, shortstop isn't one of them. Next season's shortstop is currently on the roster, and the shortstop of the future is spending his autumn in Arizona, fielding ground balls and refining his swing as part of his apprenticeship for 2012.
Yet, the position does come with some intrigue. Jed Lowrie's recovery from the mononucleosis that sidelined him for three months and his strong performance in the second half create a scenario in which he could push incumbent Marco Scutaro for the starting job this spring. At worst, Lowrie has played himself into the infield rotation, his versatility allowing manager Terry Francona to play him at second, short or third. Or Lowrie could become a trade chip to a team looking for a middle infielder still young, cheap and with untapped offensive potential (hello, San Diego?).
At best, Lowrie wins the shortstop job outright from Scutaro, who spent the majority of his career in a utility role before becoming an everyday shortstop, first for Toronto in 2009, then for the Sox. Scutaro turns 35 this month, and you can count on two hands the number of everyday shortstops over the past 20 years who were as old or older: Jeter, Miguel Tejada, Orlando Cabrera, Omar Vizquel, Royce Clayton, Barry Larkin, Greg Gagne, Cal Ripken Jr. and Ozzie Smith.
There were just two shortstops age 35 or older this past season, Cabrera and Jeter. While both of their teams advanced to the postseason, with the Yankees now in the American League Championship Series, Jeter had his worst offensive season and Cabrera might be out of a job with the Reds.
Scutaro was one of the rare Sox players to avoid the disabled list in 2010, but he was never healthy, a pinched nerve in his neck robbing him of considerable strength for much of the season and a damaged rotator cuff in his throwing shoulder ultimately forcing Francona to play him at times at second base. Both his hitting and fielding were affected. His on-base percentage of .333 was a drop of 46 percentage points from the .379 he posted in 2009 for the Jays, and he made 18 errors (10 of them throwing) after recording just 10 total in '09. His UZR150 rating dropped from minus-0.9 in '09 to minus-3.3 in '10.
An offseason of rest should allow Scutaro to recover, although he sent up red flags this past season when he mentioned the neck condition has been bothering him for a "long time" and might ultimately require surgery. Doctors have recommended against surgery, he said, because an operation could cost him up to 20 percent of the range of motion in his neck. "They said that maybe after I stop playing I could have the surgery," he said earlier this season. "For now, treatment and a lot of massage."
His range, which never was more than average, is only going to become more limited as he gets older. Still, the Sox have him under contract for $5 million for 2011, and there is a mutual option for 2012, which suggests it will be his job to lose next season. The Sox never envisioned having to use him as leadoff man in 2010; his .721 OPS last season would have been the highest in the AL among all No. 9 hitters, which is the spot in the order he had been expected to fill.
Lowrie hit nine home runs in just 171 at-bats last season after returning for 55 games, an impressive display of power that was unexpected given his debilitating condition earlier in the year.
"It was impressive what he was able to do, the numbers he was able to put up,'' GM Theo Epstein said. "But beyond the numbers, he looked like a really good hitter. He commanded the strike zone well, he swung with authority, especially from the right side, and lately from the left side as well.
"He sees the ball extremely well. He probably sees the ball out of the hand as well as the guys like [Kevin] Youkilis and [Dustin] Pedroia who make their living that way. Especially for a guy that can play the middle infield, those are some rare offensive skills to find. He's a guy who can carve a real career for himself as an above-average offensive player in the infield.''
[+] Enlarge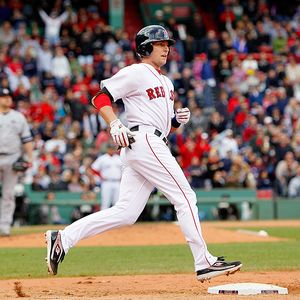 Jim Rogash/Getty ImagesAfter missing three months with debilitating mono, Jed Lowrie hit 9 home runs in just 171 at-bats last season.
Lowrie, remember, is just 26, an age at which he is unlikely to concede that the shortstop of the future is Jose Iglesias, the Cuban defector who might have been in the 2011 mix except for a broken finger that sidelined him for a couple of months. Scouts raved about Iglesias' performance at Double-A Portland, where he not only demonstrated his skills as an exceptional defender but showed he could hit.
Iglesias, who turns 21 on Jan. 5 and was the youngest player in the Eastern League for much of the season, batted .285 in 57 games for the Sea Dogs, although he drew only eight walks in 236 plate appearances, which is not the Red Sox way. He is playing for the Peoria Javelinas in the Arizona Fall League and probably will require another year of seasoning before he competes for the big league job.
Still, he was one of the most exciting players in big league camp last spring, drawing the praise of David Ortiz, among others, and figures to create a stir again next spring. His development could impact whether the Sox, still leery about Lowrie's surgically repaired wrist, include Lowrie in a deal.
Gordon Edes is ESPNBoston.com's Red Sox reporter. He has covered the Red Sox for 12 years and has reported on baseball for 25 years. Ask a question for his next mailbag here.
Red Sox reporter, ESPNBoston.com
Has covered Red Sox for 15 years
Award-winning beat reporter
Joined ESPNBoston.com in 2009
6 QUESTIONS THAT WILL SHAPE THE SOX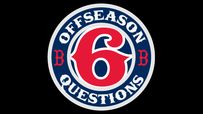 Our "Six Questions That Will Shape the Red Sox Offseason" is Gordon Edes' look at the biggest dilemmas Theo Epstein and Co. must solve this winter. He'll pose a new question each weekday.
SIX QUESTIONS
WRAPPING UP THE SEASON
EDITORS' PICKS
Members of the Red Sox rotation are working and playing together.