Commentary
Meet the 2011 Boston Red Sox
Stats, projections and a scouting report for each player on the 25-man roster
Updated:
March 31, 2011, 9:56 AM ET
By
Gordon Edes
| ESPNBoston.com
HOUSTON, Texas -- A player-by-player look at the 25-man Red Sox roster, complete with 2010 statistics, 2011 projections (courtesy of the ESPN.com fantasy baseball folks) and my outlook for each player:
POSITION PLAYERS
JACOBY ELLSBURY, CF

YEAR
AB
R
HR
RBI
BB
K
SB
AVG
OBP
SLG
OPS
2010
78
10
0
5
4
9
7
.192
.241
.244
.485
'11 Proj.
546
87
6
48
44
69
49
.282
.341
.396
.736
2011 Outlook: Five fractured ribs and a strained lat muscle cost Ellsbury his coming-of-age season in 2010, but at 27, he is poised to resume across-the-board improvement, as he did from first full season to next, when BA/OBP/SGP all rose by around 20 percentage points and he led majors with 70 SBs. Stung by controversy last season, Ellsbury came to camp in peak shape and enjoyed a terrific spring. Baseball Prospectus lists his comparables as Kenny Lofton, Johnny Damon, and Tony Gwynn. That's great company to be keeping. CF should be his for years to come.
DUSTIN PEDROIA, 2B

YEAR
AB
R
HR
RBI
BB
K
SB
AVG
OBP
SLG
OPS
2010
302
53
12
41
37
38
9
.288
.367
.493
.860
'11 Proj.
599
107
18
71
72
56
16
.301
.378
.471
.848
2011 Outlook: Another Sox player entering his prime at age 27, this one with an MVP already on his resume. Any thought that Pedroia might be slowed by screw in broken foot vanished this spring, which he attacked with his usual max-effort approach, whether it was taking infield or needling the manager. Sox might give him an extra day off or two because of the foot, but that only means bench will be worn out by his nonstop mouth, a sign that all is well in Pedey World. Pedroia and Carl Crawford may mix and match in 2-3 holes in the order.
CARL CRAWFORD, LF

YEAR
AB
R
HR
RBI
BB
K
SB
AVG
OBP
SLG
OPS
2010
600
110
19
90
46
104
47
.307
.356
.495
.851
'11 Proj.
601
113
17
88
43
100
49
.313
.359
.488
.847
2011 Outlook: The double standard of spring training: While folks fretted over pitchers Josh Beckett and Daisuke Matsuzaka, hardly a word was uttered about Crawford's slow spring, one in which he had just one extra-base hit in his first 16 games and batted just .217. Not exactly a preview of coming attractions. But Crawford had a lousy spring in his last year with Tampa Bay, then turned it on in spectacular fashion, adding power (career-high 19 home runs) to a devastating speed game. He may cringe at times at all the attention he'll get in Boston, but he chose to come here, so clearly he believes he can handle it.
KEVIN YOUKILIS, 3B

YEAR
AB
R
HR
RBI
BB
K
SB
AVG
OBP
SLG
OPS
2010
362
77
19
62
58
67
4
.307
.411
.564
.975
'11 Proj.
528
102
30
102
81
106
6
.311
.413
.564
.977
2011 Outlook: Youkilis tried to play through a muscle tear in his right thumb for a couple of weeks before being forced to shut down at the start of August and undergo surgery. His reluctance was understandable: The Sox casualty list was long, and he was hot at the plate (.373/.442/.522 after the All-Star break) until the pain was too excruciating when he lined out in his first AB Aug. 2. Now Youkilis, who set the MLB record for errorless chances at 1B, is back to 3B. There will be an adjustment, but he should drive in a boatload of runs in this lineup.
ADRIAN GONZALEZ, 1B

YEAR
AB
R
HR
RBI
BB
K
SB
AVG
OBP
SLG
OPS
2010
591
87
31
101
93
114
0
.298
.393
.511
.904
'11 Proj.
599
109
40
126
96
119
0
.314
.410
.596
1.006
2011 Outlook: New York City used to debate about who was the best center fielder in town -- Mays, Mantle, or Snider. Gonzalez's relocation to Boston from San Diego should provide fodder for another great discussion: Have the Sox, who lost out on Mark Teixeira to the Yankees two years ago, turned defeat into victory by landing Gonzalez, who is two years younger than Teix, wields a comparable glove, and has never had a setting -- or a lineup -- so conducive to his swing. Shoulder surgery delayed Gonzalez's spring, but his left-of-center preference was in full evidence, which should mean many new dents in the Wall. Occupants of the Monster Seats are advised to wear hard hats.
DAVID ORTIZ, DH

YEAR
AB
R
HR
RBI
BB
K
SB
AVG
OBP
SLG
OPS
2010
518
86
32
102
82
145
0
.270
.370
.529
.899
'11 Proj.
501
80
29
95
77
141
0
.259
.358
.503
.861
2011 Outlook: Ortiz has roughly 6,000 plate appearances divided among the 3-4-5 spots in the batting order, 422 plate appearances in the 6-hole. It is a measure of the strength of the Sox lineup that a hitter capable of Ortiz's production (32 HRs, .899 OPS) is hitting sixth in 2011. Big Papi, who did not get the contract extension he sought, is entering the lion-in-winter stage of his career. he had a career-high 145 whiffs last season, has been bedeviled by brutal starts the last two seasons and has struggled mightily against lefties. But let no one doubt he is still capable of emitting a few more roars.
J.D. DREW, RF

YEAR
AB
R
HR
RBI
BB
K
SB
AVG
OBP
SLG
OPS
2010
478
69
22
68
60
105
3
.255
.341
.452
.793
'11 Proj.
441
70
19
64
67
99
3
.263
.363
.451
.814
2011 Outlook: Hard to believe, but Trot Nixon, J.D. Drew's predecessor in right field for the Red Sox who last played as many as 100 games in 2006 and retired in 2008, turns just 37 in April. That makes him only two years older than Drew, who is in the final season of a five-year, $70 million contract that has universally been panned as excessive by just about everyone but the Boston front office. Here's Nixon's career line with Boston: .278/.366/.478/.844. Drew in Boston has put up uncannily similar numbers: .270/.376/.476/.853. The fiery Nixon was a fan favorite, the outwardly passive Drew won't be missed. Go figure.
JARROD SALTALAMACCHIA, C

YEAR
AB
R
HR
RBI
BB
K
SB
AVG
OBP
SLG
OPS
2010
24
2
0
2
6
5
0
.167
.333
.292
.625
'11 Proj.
279
32
8
32
27
78
0
.254
.323
.412
.735
2011 Outlook: The most popular topic of scouting gossip in Fort Myers this spring was Saltalamacchia, and whether he will prove to be Boston's weak link. Skeptics abound. Saltalamacchia, in part due to injury, has not lived up to the raves he received when he was ranked Atlanta's No. 1 prospect and considered the centerpiece of Texas' trade of Mark Teixeira to the Braves in '07. Saltalamacchia is 25, the same age that Jason Varitek was when he came to Boston, and Varitek says Saltalamacchia is far more advanced than he was, technique-wise, behind the plate. The power potential remains, the pitching staff has expressed its confidence in him, Gary Tuck put him through catching boot camp this winter, and Varitek is his safety net.
MARCO SCUTARO, SS

YEAR
AB
R
HR
RBI
BB
K
SB
AVG
OBP
SLG
OPS
2010
632
92
11
56
53
71
5
.275
.333
.388
.721
'11 Proj.
448
69
8
48
49
55
4
.279
.350
.393
.743
2011 Outlook: Scutaro earned the admiration of manager Terry Francona and teammates for his willingness to grind through last season despite a pinched nerve and a strained rotator cuff in his shoulder, even switching to second when he could no longer make the throw from short. Somehow, he played in a career-high 150 games, and while his errors doubled, from 10 to 20 (18 at short), from his last season in Toronto, proved a reliable defender. He's 35, will likely lose some playing time to Jed Lowrie, and accepts that Cuban prospect Jose Iglesias is on deck, but if healthy, will be a dependable piece.
JASON VARITEK, C

YEAR
AB
R
HR
RBI
BB
K
SB
AVG
OBP
SLG
OPS
2010
112
18
7
16
10
35
0
.232
.293
.473
.766
'11 Proj.
302
33
13
37
37
87
0
.232
.319
.414
.733
2011 Outlook: Now, we understand why there were no farewell ceremonies for the captain last October, although the prospects of his return seemed so dim on the last day of the season. Varitek, who turns 39 on April 11, came to camp looking like he spent his winter in a Zumba workout class. Manager Terry Francona said he expects Varitek will catch more than the typical backup -- much of that will depend on how Saltalamacchia fares. Varitek got off to a great start last April (.323/.364/.774) and hit 4 home runs in 10 games before fading quickly. Age has taken its toll on his bat, but as a backup his defense is invaluable.
MIKE CAMERON, OF

YEAR
AB
R
HR
RBI
BB
K
SB
AVG
OBP
SLG
OPS
2010
162
24
4
15
14
44
0
.259
.328
.401
.729
'11 Proj.
225
33
7
29
27
65
3
.258
.344
.413
.757
2011 Outlook: The Red Sox never got to execute their original plan with Cameron, which was to install him in center field and shift Jacoby Ellsbury, as both outfielders were hurt from the outset of 2010. Now Cameron, who tried to play with a sports hernia before finally shutting it down, returns as a fourth outfielder, who is likely to get most of his time playing against lefties in a semi-platoon with J.D. Drew and spelling Ellsbury occasionally in center. Cameron is 38 and likely to draw trade interest from teams needing an outfielder at the deadline, but Sox willing to pay $7 million-plus for him to come off the bench.
JED LOWRIE, IF

YEAR
AB
R
HR
RBI
BB
K
SB
AVG
OBP
SLG
OPS
2010
171
31
9
24
25
25
1
.287
.381
.526
.907
'11 Proj.
236
385
6
34
29
45
1
.280
.356
.436
.792
2011 Outlook: A debilitating bout of mononucleosis after two seasons essentially lost because of a wrist injury has kept Lowrie from becoming the team's everyday shortstop, which was the track he was on before the wrist issue. Now he has been recast as a utilityman, a role that doesn't enchant him but one he accepts as his only option to play here this season. Lowrie hit 9 home runs in just 171 at-bats, has added a first baseman's mitt to his repertoire and probably will play third when Kevin Youkilis DHs against some lefties, but barring an injury, it will be a challenge for Terry Francona to find him playing time.
DARNELL MCDONALD, OF

YEAR
AB
R
HR
RBI
BB
K
SB
AVG
OBP
SLG
OPS
2010
319
40
9
34
30
85
9
.270
.336
.429
.766
'11 Proj.
79
11
3
9
7
21
2
.253
.314
.418
.732
2011 Outlook: The best survivor's tale on the club, McDonald has gone from being designated for assignment last May to a valued role player for the Sox, the former No. 1 draft pick finally finding a place after having appeared in just 68 big-league games in the six seasons prior to 2010, when he played in 117. McDonald, 32, will give Crawford the occasional day off in left field and is adequate at the other two outfield positions. He was the only AL player to start at least 10 games at all three OF spots last season. McDonald posted a .294/.357/.464/.821 line against lefties, and batted an AL-leading .429 as a pinch-hitter.
---
STARTING PITCHERS
JON LESTER, LHP

YEAR
G
GS
IP
BB
K
W
SV
HD
ERA
WHIP
K/9
2010
32
32
208.0
83
225
19
0
0
3.25
1.20
9.74
'11 Proj.
32
32
206.0
76
218
18
0
0
3.01
1.18
9.52
2011 Outlook: Note to Buck Showalter: Theo Epstein, who had the bankroll to do so, resisted the temptation to trade Lester for Johan Santana before the 2008 season, due in part to some passionate table-pounding by then-pitching coach John Farrell. With three years and nearly $80 million left on his six-year deal, Santana is out until mid-summer after shoulder surgery, while Lester, at 27, has become one of the best lefthanders in baseball. By giving him the Opening Day start, the Sox made official what is apparent to all: Lester is the unquestioned ace of the staff. No need to mention that Epstein was prepared to trade Lester to Texas after the '03 season for A-Rod. Lester makes Theo look smarter every time he takes the hill.
JOHN LACKEY, RHP

YEAR
G
GS
IP
BB
K
W
SV
HD
ERA
WHIP
K/9
2010
33
33
215.0
72
156
14
0
0
4.40
1.42
6.53
'11 Proj.
30
30
195.0
56
155
13
0
0
4.06
1.31
7.15
2011 Outlook: Lackey is from Abilene, Texas, which was also home to Randall "Tex" Cobb, the boxer-turned-actor who after losing a particularly bloody fight to heavyweight champ Larry Holmes was asked if he'd consider a rematch. Cobb said he didn't think Holmes would agree to one. "I don't think his hands could take it,'' Cobb is said to have replied. Lackey last season took a Cobb-like beating in his first go-round in the American League East; against teams with a winning percentage above .500, Lackey went 7-9 with a 5.15 ERA, compared to 7-2, 3.21 ERA against teams with losing records. But like Cobb, Lackey showed he could take a punch, and Sox are hoping he builds off better second half (3.97 ERA in 15 starts).
CLAY BUCHHOLZ, RHP

YEAR
G
GS
IP
BB
K
W
SV
HD
ERA
WHIP
K/9
2010
28
28
173.2
67
120
17
0
0
2.33
1.20
6.22
'11 Proj.
31
31
188.0
73
141
16
0
0
3.35
1.27
6.75
2011 Outlook: Buchholz's performance last season -- he finished second to King Felix in ERA and ranked first when you adjusted ERA to ballpark -- made a hash of the neat theories that the best predictors of a pitcher's success are his strikeouts and walks per nine. Buchholz's K's per 9 dropped to 6.2 and his K's to walk ratio was just 1.79, both figures down from the year before. But Buchholz had this going for him -- not many hitters were able to square up his power fastball, curveball, cutter and changeup, all plus pitches. The chances of duplicating a 2.34 ERA may be low, but Buchholz's added strength and maturity translate into good odds of continued success.
JOSH BECKETT, RHP

YEAR
G
GS
IP
BB
K
W
SV
HD
ERA
WHIP
K/9
2010
21
21
127.2
45
116
6
0
0
5.78
1.54
8.18
'11 Proj.
28
28
177.0
50
166
14
0
0
4.02
1.28
8.44
2011 Outlook: If Beckett was a rookie, his spring performance (0-4, 6.64 ERA) might have gotten him sent out among the camp's first cuts. But at 31, he has been around for over a decade now, and the Sox count it a "W" that he made it through the spring healthy. Catcher Jason Varitek insists Beckett has his "strength and power" back. The next step may be a restoration of confidence for Beckett, who has acknowledged that last season ranked as the toughest of his career. Terry Francona claimed that one of the reasons he slotted Beckett No. 4 in the rotation was to improve his chances of getting off to a good start. There may be a simpler explanation -- Beckett now rates as the team's fourth-best starter.
DAISUKE MATSUZAKA, RHP

YEAR
G
GS
IP
BB
K
W
SV
HD
ERA
WHIP
K/9
2010
25
25
153.2
74
133
9
0
0
4.69
1.37
7.79
'11 Proj.
26
26
154.0
75
135
11
0
0
4.56
1.44
7.89
2011 Outlook: When they signed him to great hoohah on both sides of the Pacific, the Red Sox were hardly projecting Matsuzaka to be their No. 5 starter five years into the deal. Instead of generating Pedro-like excitement, Matsuzaka's high pitch counts and snail-like pace tended to induce the same reaction Terry Francona said he gets while listening to Sox broadcaster Don Orsillo -- sleepiness (the manager was joking). There were signs at the end of spring that new pitching coach Curt Young was succeeding in efforts to get Matsuzaka to be more aggressive in attacking the strike zone; a change in his between-game preparation also may have added renewed life to his fastball. If there was ever a time for some face-saving hurling, this is it.
---
BULLPEN
JONATHAN PAPELBON, RHP

YEAR
G
GS
IP
BB
K
W
SV
HD
ERA
WHIP
K/9
2010
65
0
67.0
28
76
5
37
0
3.90
1.27
10.21
'11 Proj.
66
0
68.0
26
76
4
40
0
3.18
1.27
6.75
2011 Outlook: Papelbon was still searching in spring training for his comfort level; wait till he gets back to Boston, where his first blown save is likely to cause a full-scale discussion among a fickle (but usually discerning) fandom that the Sox would be better served by having a new closer, like Daniel Bard or newcomer Bobby Jenks. Papelbon is in the walk year of his service with the Sox, and there will be no hometown discount, not when a guy has gone year to year in arbitration. Papelbon says he needs to throw more splitters and sliders, but new pitching coach Curt Young says that command of his fastball will mean the difference between shipping up to Boston or shipping out.
DANIEL BARD, RHP

YEAR
G
GS
IP
BB
K
W
SV
HD
ERA
WHIP
K/9
2010
73
0
74.2
30
76
1
3
32
1.93
1.00
9.16
'11 Proj.
65
0
71.0
30
80
2
4
30
2.28
1.10
10.14
2011 Outlook: Adding Bobby Jenks and Dan Wheeler should ease the load on Bard, who tied for fourth in the league in relief innings with 74 2/3 and still averaged the highest fastball velocity of any reliever, 97.9 m.p,h. Bard was virtually unhittable in Fenway Park (0.81 ERA, .131 batting average against). The home ERA was lowest of any pitcher in the league (30 IP or more). New pitching coach Curt Young said Bard has the best arm he has seen in a long time; the added bullpen depth now gives manager Terry Francona the luxury of using Bard in the highest-leverage situations, be it the seventh or eighth inning.
BOBBY JENKS, RHP

YEAR
G
GS
IP
BB
K
W
SV
HD
ERA
WHIP
K/9
2010
55
0
52.2
18
61
1
27
0
4.44
1.37
10.42
'11 Proj.
59
0
60.0
18
60
2
2
20
3.90
1.22
9.00
2011 Outlook: Have yet to hear a better description of Jenks' appearance than "tattooed Amish farmer," which is how a couple of media types pegged him early in camp. Whatever might have been Jenks' issues with Ozzie Guillen and the White Sox, he has come across as a low-maintenance happy camper here, content to pitch in any role asked of him as long as he can go fishing afterward. A notoriously slow starter, Jenks was having a scoreless spring until the Twins lit him up in a ninth-inning meltdown. The days of near-100 m.p.h. velocity are gone, but funny how much better a man can look with a change of Sox.
DAN WHEELER, RHP

YEAR
G
GS
IP
BB
K
W
SV
HD
ERA
WHIP
K/9
2010
64
0
48.1
16
46
2
3
9
3.35
1.08
8.57
'11 Proj.
74
0
60.0
19
52
4
0
10
3.75
1.15
7.80
2011 Outlook: This is the kind of story that belongs on the back of a player's baseball card. Wheeler and his wife, Stephanie, had their first child, Gabriel, in 2004, and his team, the Houston Astros, went to the World Series the next season. They had their second child, Zachary, in 2007, and his team, the Tampa Bay Rays, went to the World Series the next season. You guessed it. Dan and Stephanie have a new daughter, Evie. "A daughter,'' Wheeler said, "is going to mean that this time, my team wins the Series.'' Wheeler was used primarily as a right-handed specialist last season, though lefties hit just .154 against him.
TIM WAKEFIELD, RHP

YEAR
G
GS
IP
BB
K
W
SV
HD
ERA
WHIP
K/9
2010
32
19
140.1
36
84
4
0
0
5.32
1.35
5.39
'11 Proj.
36
11
136.0
46
85
7
0
0
4.90
1.40
5.63
2011 Outlook: Wakefield now appears unlikely to achieve what had become his Holy Grail, passing Roger Clemens and Cy Young as the winningest pitcher in Sox history. He's 13 wins short, 44 years old, and in a role, long reliever, that will generate few chances for a "W." But in his 17th season in a Sox uniform, three more than any pitcher and fourth all-time among all Sox players, Wakefield has achieved something far greater: a place in the fabric of a community that has grown to admire and respect him for his professionalism and unblemished personal reputation. The finish line is within sight, and manager Terry Francona is searching for ways to use him, but the decision has already been rendered: Wakefield is a winner.
DENNYS REYES, LHP

YEAR
G
GS
IP
BB
K
W
SV
HD
ERA
WHIP
K/9
2010
59
0
38.0
21
25
3
1
6
3.55
1.45
5.92
'11 Proj.
53
0
32.0
15
23
2
1
9
3.09
1.38
6.47
2011 Outlook: Reyes could open a souvenir store selling just the jerseys of the teams he has pitched for in the big leagues -- Boston is No. 11 -- but the Mexican lefthander, originally signed by the Dodgers by the same scout who signed Fernando Valenzuela (Mike Brito), is determined to keep pitching. The Sox like his track record and his sinkerball when he keeps it down, but last season with the Cardinals, lefties hit the lefty specialist at a .307/.409/.453.
MATT ALBERS, RHP

YEAR
G
GS
IP
BB
K
W
SV
HD
ERA
WHIP
K/9
2010
62
0
75.2
34
49
5
0
7
4.52
1.48
5.83
'11 Proj.
--
--
--
--
--
--
--
--
--
--
--
2011 Outlook: Albers became available when the Orioles nontendered him after another season of erratic performances out of the pen. Albers keeps the ball down -- hitters hit the ball on the ground 58 percent of the time -- but he walked too many batters (34 in 75 2/3 innings) and was very streaky. One impressive stat -- in 36 appearances after June 8, Albers did not give up a home run, over a span of 203 batters faced. That's a useful talent.
Red Sox reporter, ESPNBoston.com
Has covered Red Sox for 15 years
Award-winning beat reporter
Joined ESPNBoston.com in 2009
RED SOX SEASON PREVIEW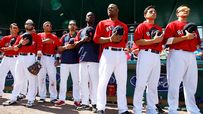 PREVIEW STORIES/SCHEDULE
RED SOX PREDICTIONS
VIDEO/AUDIO
BEST OF SPRING TRAINING COVERAGE
EDITORS' PICKS
Mookie Betts is poised to become Boston's starting CF with Rusney Castillo hurt.