Lowell's plight entered Beltre's thinking
Updated:
January 10, 2010, 1:12 PM ET
By
Gordon Edes
| ESPNBoston.com
BOSTON -- New Boston Red Sox third baseman Adrian Beltre has played against Mike Lowell since they were in the minor leagues, and said Lowell has the best hands of any third baseman in the game. "I know Mike Lowell,'' he said after his introductory press conference in Fenway Park on Friday. "I'm a huge fan of Mike Lowell. Mike is a great guy.''
[+] Enlarge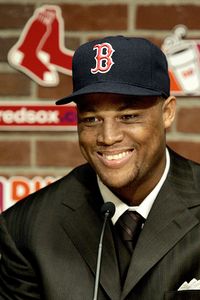 AP Photo/Adam HungerAdrian Beltre's introduction at Fenway Park completes Boston's offseason defensive upgrade.
Beltre's empathy for Lowell's predicament goes beyond the fact that he will be replacing Lowell at third base for the Red Sox, which he said would have troubled him even more if Red Sox general manager Theo Epstein hadn't told him that Lowell wasn't going to be the Red Sox's third baseman under any circumstances.
Beltre said he also understands what Lowell is going through physically as he recovers from surgery to repair a torn ligament in his right thumb.
"I went through the same thing he's going through now,'' Beltre said. "I had the same surgery he had.''
Just as in Lowell's case, the injury was not immediately diagnosed. Beltre hurt his left thumb diving for a ball on June 1, 2007 against Texas, and the injury was originally thought to be a sprained wrist. Beltre played the rest of that season, missing just eight of 107 remaining games, and it wasn't until he underwent an MRI in December that the ligament tear was discovered. He elected not to have surgery then, he said, because enough scar tissue had developed over the tear that he felt he could play with it.
But the thumb continued to bother him in the 2008 season and that September, when he needed surgery to remove bone spurs from his left shoulder, he also underwent surgery to repair the thumb ligament. It took eight weeks, he said, to recover from the thumb injury, the same timetable projected for Lowell.
It took a couple of weeks at the beginning of the 2009 season, Beltre said, before he stopped thinking about the thumb. "There's a little thought in the back of your mind,'' he said, "but then you get used to it.''
Beltre's shoulder continued to be a problem, however, progressively worsening until he was forced to undergo a second procedure to remove bone spurs late last June. Dr. Lewis Yocum, who performed the procedure said at the time that Beltre's bursa sac was inflamed but there was no rotator cuff damage.
More offense from Beltre at Fenway?
Seattle's expansive Safeco Field has never been kind to right-handed power hitters, and Beltre was no exception. He hit 27 percent more homers on the road than home from 2007-09, drove in 35 percent more runs and had an OPS that was .116 higher (.819 vs. .703).
"We think Fenway is a fit for Adrian," Epstein said. "It's hard to emphasize just how much Safeco deflates offensive performance for right-handed power hitters. It's really a tough place to hit. ... left-field, left-center field, center field, even if you hit the ball well to the opposite field it's hard to get rewarded as a right-handed hitter there.
"Obviously Fenway is a nice place to hit if you can elevate the ball to the pull side. It also doesn't take away from a nice opposite-field stroke. Adrian's natural swing sometimes is to the opposite field, which is fine. He'll be rewarded here in the gaps. ... we think it'll be a nice fit."
Beltre has a .179 career average at Fenway Park, albeit in just 56 at bats.
"A big part of it is I had to face [Josh] Beckett and [Jon] Lester and Tim Wakefield, especially Wakefield, who I had no chance against," Beltre said. "I'm glad I won't have to be facing him again. A lot of it depends on the pitchers you face. But I think a lot of balls that were outs at Safeco will be off the wall in Fenway."
Beltre underwent a physical from the Red Sox Thursday before signing a one-year deal for $9 million. The contract, according to sources, also includes a $5 million player option for 2011 or a $1 million buyout if he has 575 plate appearances in 2010. The player option is doubled to $10 million if he has 640 plate appearances, a number he has reached three times in his 12-season big-league career. The deal was structured to keep the average annual value low to help the Red Sox avoid the luxury tax. Epstein said Beltre's signing was made possible by the trade of Casey Kotchman to Seattle for Bill Hall, a prospect and enough cash to pay for the "vast majority" of Beltre's contract.
"It wasn't that difficult,'' he said of his decision to take a one-year deal from the Red Sox -- what agent Scott Boras calls a "pillow deal" -- instead of the multi-year deals proposed by other clubs that would have been for less money annually. The Athletics, Mariners, and Orioles all made offers, according to one industry source, and there were discussions with the Angels as well.
"I have a chance to come here and prove that I'm healthy," Beltre said. "And the chance to go to the World Series makes everything else secondary. I have a chance here for a ring on my finger. Nothing is as tough as that.''
Beltre insists he has no issues physically.
"I'm healthy, I'm happy,'' he said. "Anything can happen, you can get hurt on the first day, but I'm healthy now and hopefully I will stay that way.''
But Lowell entered his thinking, he said, as he contemplated his decision.
"I was talking to my wife [Sandra] about this because I felt bad,'' he said. "I knew this was the best thing to do, but I really thought about it hard. When Theo told me that even though Mike didn't get traded, he wasn't going to play third base, that [Kevin] Youkilis was going to play third, that made my decision easier.
"But I thought about it hard because I have great respect for Mike.''
The Red Sox almost certainly will attempt to trade Lowell again this spring, but potential trading partners will want to see Lowell play first. Epstein addressed Lowell's role Friday, indicating the team and player were "on the same page."
"I think this is a situation that will take care of itself, because if Mike gets out on the field and shows that he is 100 percent healthy as we expect him to be a couple weeks into spring training and starts playing well, there will be an opportunity for him," Epstein said. "If it's here, if other players don't show up in good health, or elsewhere, he's going to be a sought-after player and we'll probably be able to put Mike in a situation here or elsewhere where he can really make an impact on a team.
"If he is a little bit slower rehabbing, or hasn't quite gotten back to a position where he can play regularly, then I think Mike feels that if he's going to have a complementary-type role he'd rather have it here, better in Boston than anywhere else, the way he feels about the Red Sox and the way we feel about him.
"It might look awkward from the outside, but it's a situation that will probably take care of itself, as long as we stay on the same page and we certainly are right now."
Beltre, who won Gold Gloves in 2007 and 2008 and said the Red Sox were "built to win", represents the final piece of Boston's offseason makeover, which featured a defensive upgrade around the diamond.
Red Sox blog

Gordon Edes and the rest of the ESPNBoston.com team have you covered on the Red Sox. Blog


"Adrian's reputation as one of the best defenders in the game period, let alone one of the best defensive third basemen, is well known," Epstein said. "He's got all of the attributes that you look for in a third baseman. He's got quickness, great hands, his feet are tremendous, great arm and a very quick release. [His] signature play coming in on balls he probably does better than anybody maybe in the history of the game. He attacks the baseball and is really a weapon defensively. [We are] looking forward to having him help our run prevention."
The Red Sox project to have different starters at five of the eight spots on the diamond (not counting the pitcher), an overhaul Epstein hopes will deliver an improvement in the run prevention department.
"We've always taken the approach that a run prevented is as valuable as a run scored," Epstein said. "The players that we're looking for, the best players, are ones that help you score a lot of runs and help you prevent runs at the same time ... and I think Adrian fits that bill for us.
"Looking forward to our club next year, I hope we have a better all-around club than we had this year, where our defense was really our Achilles heel last year. If everything goes according to plan, we can put out one of the best defensive units in baseball next year, it should help our pitching staff. The challenge will be to score more than enough runs to make that count and I think we'll be able to do that."
Gordon Edes covers the Red Sox for ESPNBoston.com. Follow him on Twitter. Information from The Associated Press was used in this report.
Red Sox reporter, ESPNBoston.com
Has covered Red Sox for 15 years
Award-winning beat reporter
Joined ESPNBoston.com in 2009
EDITORS' PICKS
As the Pats approach another title, there's an NBA braintrust in San Antonio tuning in with a knowing nod.