Commentary
Energy savers for Celtics, Cavs
Boston's Davis, Cleveland's Varejao could hold key to series
BOSTON -- Boston's Glen Davis and Cleveland's Anderson Varejao combined to start 28 playoff games last season. This year, they've both been relegated to reserve roles, yet the pairing might ultimately be the most important head-to-head matchup when the Celtics and Cavaliers tip off their Eastern Conference semifinal series Saturday night at Quicken Loans Arena.
In a series featuring rosters that overflow with talent, it's clear both teams have reloaded for the 2009-10 playoff run. Boston pieced its Big Three back together with a healthy Kevin Garnett, while Cleveland surrounded two-time MVP LeBron James with weapons such as Shaquille O'Neal and Antawn Jamison.
Those additions pushed Davis and Varejao out of the starting roles they enjoyed last postseason, but the duo remains in the spotlight in a series that could ultimately be decided by the play of the benches.
[+] Enlarge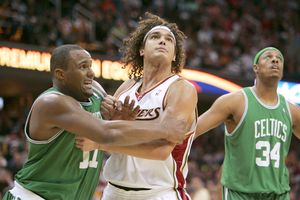 AP Photo/Mark DuncanBench players Glen Davis of Boston and Anderson Varejao of Cleveland do a lot of the little things to help their teams win.
Forget LeBron vs. Pierce. Don't even worry about KG vs. Jamison. Look past Rondo vs. Mo.
This series will be decided by "Big Baby" vs. "Wild Thing."
The two players are more similar than immediately meets the eye. Both are capable of providing a spark off the bench, both can be overly dramatic and flamboyant and, most importantly, both do all the little things that hardly show up in the box score, such as keeping rebounds alive, chasing loose balls and taking charges.
"He's the biggest threat on the floor," Davis said of Varejao. "At the end of the day, that's what's going to win the series, is the energy guys.
"He's everywhere. He's a pest. He's showing off screens, he's getting his hand on balls. He's getting rebounds. He's getting easy putbacks, getting free throw rebounds. His energy is a big key for that team. What he brings is hard to find. He's the type of player that can determine a game."
Celtics coach Doc Rivers was hard-pressed to argue. He dubbed Varejao the MVP of the Cavaliers in the two games in which Cleveland beat the Celtics during the regular season (he missed the final meeting in Boston with an injury).
"We need somebody to match Varejao's energy," said Rivers. "The two games they won, he was the best player in those two games. He dominated those games with his energy and effort. We need somebody to shut him down."
Could Baby be that guy?
"He has to be as consistent as [Varejao] because the other guy does it every night," said Rivers. "We can't pick and choose."
It's the latest challenge handed down from Rivers to Davis, who seems to rise when his coach demands more from him -- particularly in the postseason.
Filling in for Garnett last year, Davis started 14 games and averaged 15.8 points, 5.6 rebounds and 1.8 assists in 36.4 minutes, more than doubling his regular-season production.
The addition of Rasheed Wallace and a head-shaking, off-the-court thumb injury at the start of the 2009-10 season sapped any momentum Davis had built (though he did receive a two-year, $6.3 million contract extension).
Despite inconsistencies, he seemed to find his role as an energy player late in the season.
More on the Celtics

Keep on top of the Green throughout the offseason with ESPNBoston.com's Chris Forsberg. Blog
• Send Chris a question
Now Rivers lumps him in a category with guys like Varejao and Chicago's Joakim Noah, players who exceed their talent because they play so hard and so smart. Rivers went so far as to compare them to Dennis Rodman, who never let his height prevent him from dominating on the glass.
Davis shined twice in the first round against the Heat.
Making a spot start for the suspended Garnett in Game 2 against Miami, Davis posted 23 points and eight rebounds in a lopsided win. When Rivers needled him before Game 5, asking if he planned to be a Milli Vanilli-like one-hit wonder this postseason, Davis responded with another brilliant effort in which he did a little bit of everything, including taking a pivotal Dwyane Wade charge and converting a monster three-point play, both in the fourth quarter of what proved to be the Heat's elimination game.
Davis wants to show he's capable of bringing that effort every night. He's going to have to for Boston to get past the Cavaliers.
"I've already got a chip on my shoulder because it's the playoffs and everybody is surprised when I play well," said Davis. "Well, everyone is going to be surprised by what you see out of me this series."
Chris Forsberg covers the Celtics for ESPNBoston.com. Follow him on Twitter.
Celtics reporter, ESPNBoston.com
Covered Celtics since 2007
Emmy award-winning videographer
Joined ESPNBoston.com in 2009
CONFERENCE SEMIFINALS: CELTICS-CAVALIERS
GAME 6: C'S 94, CAVS 85
GAME 5: C'S 120, CAVS 88

GAME 4: C'S 97, CAVS 87

GAME 3: CAVS 124, C'S 95

GAME 2: C'S 104, CAVS 86

GAME 1: CAVS 101, C'S 93

PREVIEW STORIES

CELTICS-CAVS RESULTS
EDITORS' PICKS
The annual Super Bowl circus known as media day has arrived. Think anyone will be asked about deflated footballs?