Commentary
Poor rebounding tells story for Green
Sluggish Celtics at a loss to explain Lakers' dominance on the glass in Game 1
LOS ANGELES -- On the dry erase board at the front of the visitor's locker room, the first-half stats were still on display, the Los Angeles Lakers' 23-15 rebounding advantage over the Boston Celtics circled and starred for emphasis.
In one corner of the room, Kendrick Perkins, still in uniform, reclined all the way into his locker and shut his eyes as if trying to process what had just occurred.
[+] Enlarge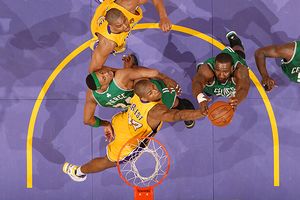 Andrew D. Bernstein/NBAE via Getty ImagesDoc Rivers predicted that rebounding would be key in the NBA Finals, and it proved correct in Game 1. The Lakers outrebounded the Celtics, 42-31.
From the back of the locker room, in the shower area, the voice of one of Boston's big men bellowed a four-letter expletive that concisely summed up the frustration of a Celtics team that ultimately got outrebounded, 42-31, for the game.
Boston's inability to compete on the glass -- something Celtics coach Doc Rivers pointed to as potentially the key aspect of the NBA Finals in the days leading up to the series -- spelled its demise in a 102-89 loss to the Lakers in Game 1 on Thursday night at the Staples Center.
"You definitely can't win a game, especially on the road, being outrebounded like that," sighed Kevin Garnett, who finished with a mere four rebounds -- only two of which were defensive -- over 34 minutes, 47 seconds of action.
"I gotta initiate that. I'm better than what I was tonight. I played like horse s--- tonight."
He might as well have been referring to the entire Celtics team. After all the talk about the Lakers being soft, it was Los Angeles that came out and punched Boston in the face, outmuscling and outhustling their way to every available rebound at both ends of the floor.
The offensive rebounding numbers tell the story: The Lakers finished with a 12-8 advantage on offensive caroms, which led to a 16-0 advantage in second-chance points.
Zero second-chance points? Boston might not be a team that puts much emphasis on the offensive glass, but not generating a single second-chance point is downright embarrassing. It was only the third time it happened this season.
"Offensive rebounding is just will," said Glen Davis, Boston's resident offensive rebounding expert. "You gotta have the will to get the offensive rebounds, to go get the rebound. Point blank, it's that simple. We didn't do that. [The Lakers] dictated the game with [a 48-30 advantage in] points in the paint. ... We gotta stop that. Our bigs, we're capable, we just didn't do it tonight."
Nowhere was the discrepancy more glaring than in the third quarter, when -- aided by some red-hot shooting -- the Lakers had an 11-2 rebounding advantage for the frame. Despite tossing up 14 shots, half of which missed their mark, Boston didn't generate a single offensive board that quarter, while the Lakers chased down four of their nine misses.
When the Celtics outhustled the Orlando Magic in Game 3 of the Eastern Conference finals, it was noted how Boston dominated the "WIM" category -- short for, "wants it more."
The rebounding numbers Thursday confirmed the Lakers dominated the "WIM" category, and the Celtics couldn't deny it.
"I just think they wanted it more, and they came out and showed it," said Perkins, who finished with a mere three rebounds over 24:25.
More on Celtics-Lakers


For more on the Celtics' near miss against the Lakers in the NBA Finals, read ESPNBoston.com's Chris Forsberg. Celtics blog

• Full C's-Lakers coverage
• Celtics-Lakers rivalry central

"I'm pretty sure [Celtics players] aren't going to get any sleep tonight. I'm pretty sure guys are going to watch film in their rooms and get back to what we need to do. ... Doc said win the rebounding war and we'd be all right today. But I thought that was the game today."
Told the Lakers had a 34-17 advantage on rebounds through three quarters, Rivers was asked if he remembered a game with such a lopsided differential.
"I don't know if I recall one, but I know if there was one, we lost that game, too," he said. "I can guarantee you that. They killed us on the glass."
Rivers saw this coming. Before the team departed for Los Angeles on Monday, he noted, "They're long and they've been dominating teams on the offensive glass. Talking to a couple players from Phoenix, that's the first thing they said: Rebounding. [Los Angeles] shot until they made it [against the Suns]. They've won two games on offensive rebounds already in the playoffs. We have to be even better than what we've been if we want a chance to win this series."
The Celtics weren't better Thursday.
Pau Gasol -- highlighted as one of the primary "soft" players after Boston defeated the Lakers in the 2008 Finals -- finished with eight offensive rebounds, the same number as the entire Celtics team's total.
He made his statement with a game-high 14 rebounds, the only player in double digits in that category.
"For me, it was important just to play hard, be aggressive and help as much as possible out there," Gasol said. "That was my mindset tonight. There was no statements to be made."
Intentional or not, the Lakers made a statement with their rebounding dominance. And now Boston must find a way to correct it before Game 2.
"We just gotta bring it," Davis said. "It's that simple in the Finals. They were the instigators today. From the jump ball with Ron Artest and Paul Pierce [mixing it up 27 seconds in, leading to a double technical]. We knew it was going to be physical from the jump ball. We gotta match their intensity. We gotta look at what we've done wrong and just fix it."
For a Boston team that struggled with rebounding at times during the regular-season, it seems like a correctable issue.
"We've done a lot of things wrong this season, but we fixed it at the right time," Davis said. "We gotta get ready for Game 2."
Chris Forsberg covers the Celtics for ESPNBoston.com. Follow him on Twitter.
Celtics reporter, ESPNBoston.com
Covered Celtics since 2007
Emmy award-winning videographer
Joined ESPNBoston.com in 2009
The NBA Finals On ESPN.com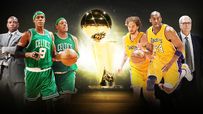 Follow ESPN's NBA coverage on Twitter
LATEST FINALS CONTENT
SERIES PREVIEWS
PLAYOFF FEATURES
FINALS PAGES
VIDEO
AUDIO
EDITORS' PICKS
Bill Belichick addressed the media Saturday and was adamant that the Patriots did nothing wrong preparing footballs.