Commentary
Kobe's best shot doesn't KO Celtics
Green on the brink of another title after answering Bryant's run with one of their own
BOSTON -- Even Dwyane Wade, seated courtside for Game 5 of the NBA Finals on Sunday night at the TD Garden, couldn't believe what he was seeing from Kobe Bryant. And this was the same guy who once got so hot from the floor against the Celtics during the opening round of the 2010 playoffs that he started cursing his shooting hand.
[+] Enlarge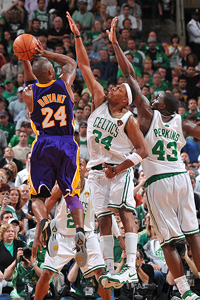 Brian Babineau/NBAE/Getty ImagesWhat's the best way to combat a Kobe Bryant scoring spree? Go on one of your own, which is exactly what the Celtics did to start the second half.
Poor Bryant could only curse the scoreboard.
Even as he scored 23 consecutive points for the Lakers -- including a 19-point barrage over the first six minutes of the third quarter -- Bryant watched as incredulously as Wade as Boston turned a one-point deficit in the second quarter into a double-digit lead in the third quarter.
The Celtics quietly weathered the Bryant storm, leaning on a balanced attack that the Lakers desperately lacked en route to a 92-86 triumph. Boston now leads the series 3-2 and heads to Los Angeles needing one more victory for a second title in three years.
For a team fueled by its defense, the Celtics sure didn't seem flustered by what Bryant was doing on the court Sunday. Every time he made a leaning jumper or a ridiculous 28-foot 3-pointer, the C's simply answered with a bucket of their own, often driving right at the rim.
Over a six-minute span in which he connected on seven straight baskets to open the third quarter, Bryant never generated consecutive buckets without Boston scoring in between.
"It would have been one thing if he had been scoring and we had not been scoring; then it would have been an issue," Celtics coach Doc Rivers said. "But we were scoring and we had great rhythm -- we had great offensive rhythm -- and you could see that. That's what made me tell them to just keep playing. I was very concerned when Kobe did that, that we were going to stop playing offense because we were so concerned defensively."
In the regular season, that's exactly what would have happened. A Boston team that relies on defensive stops to fuel its offense would have grown disgruntled by Bryant's makes and let the Lakers run away.
Instead, the Celtics traded haymakers, realizing this was a five-on-one streetfight and there was no way Bryant could win that battle alone.
Sure enough, when the dust cleared from Bryant's offensive explosion, the Celtics had a 13-point lead.
"He was shooting fadeaway 3s, fadeaway jumpers off the double team," said Celtics captain Paul Pierce, who couldn't even slow Bryant when he switched onto him. "You knew he was going to come out and be aggressive and try to carry his team. He's a heck of a player. You've got to expect that from him. You've got to expect he's going to come out and play his best game. I thought we did a good job with the other guys containing them.
"It's going to happen. Kobe is the one guy that you probably can't stop in this league, but we feel like with these other guys, we can slow them down and almost shut them down, and we'll give ourselves a great chance at winning."
That's Boston's superstar defense in a nutshell. Do what you can against the superstar and erase the supporting cast. It's why Wade was sitting in the crowd rather than still playing basketball.
The Lakers led 36-35 after a Ron Artest 3-pointer from the left wing with 4:22 to play in the second quarter. No one with a last name other than Bryant would score for the Lakers over the next 14:07.
Boston had a mere six-point cushion coming out of halftime, but buckets from Rajon Rondo and Pierce quickly pushed that lead to double digits early in the second half. That's when Bryant got hot, but he couldn't dent L.A.'s deficit, as Boston had an answer for everything.
What's more, Boston had multiple answers.
While Bryant's teammates were 0-for-7 shooting during his streak, Boston watched all five of its starters alternate scoring at the start of the third frame. Then the Big Three took turns shouldering the load as Pierce, Ray Allen and Kevin Garnett each scored in bunches to preserve the lead. Combined, the Big Three were 10-of-15 for 24 points in the quarter.
Kobe Bryant in Game 5
Doc Rivers was more than happy to let Kobe Bryant be the one-man-show and let the rest of the Lakers be no-shows. Take a look at the first eight minutes of the third quarter, when he scored all 19 of the Lakers' points. They were outscored 22-19 by the Celtics. Over the final eight minutes of the fourth quarter, when his teammates were able to generate offense and he missed all three shots he took, the Lakers outscored the Celtics 17-13.
First 8 Min of 3rd Qtr
Final 8 Minutes of 4th Qtr
Points
19
5
FGM-FGA
7-8
0-3
Teammate points
0
12
Team +/-
-3
+4
>>4 points in between spans
Right before Pau Gasol made a driving layup with 2:15 to go in the third quarter, Allen connected on a 7-foot bunny for a 71-58 Boston advantage.
"From the standpoint that he's providing points for his team and he's in a rhythm, it's a bit dangerous," Garnett said. "But for the rhythm of his team, then it works in our favor. I can't even come up with any kind of words because his flow is just deliberate. He was very keen on what he wanted to do; he got the shots that he wanted. I thought the second half he was really keen and hitting 3s. He was in a nice rhythm.
"I thought for the most part we pretty much controlled everybody else, but in that scenario you put your hand up and play the best [defense] that you can. Strategically, all our defensive schemes and stuff that we have, you just hope that he misses."
He hardly did, connecting on seven of nine shots overall in the frame for half of his game-high 38 points. But it didn't matter. The supporting cast was 3-of-10 for seven points with only two other players generating buckets.
Meanwhile, Boston combined for 12-of-19 shooting for 28 points with five contributors.
"They played with more tenacity than we did in that stretch," Bryant said. "And we have to do a much better job Game 6."
It's clear Los Angeles can't win if it's five against one. It's simply not a fair battle. Even if it's the best shooter in the world.
"There's probably better athletes and all that, but there's no better shot maker than Kobe Bryant," Rivers said. "In that stretch, I kept turning to [associate head coach Tom Thibodeau] and [assistant coach] Armond [Hill] and saying, 'Those are tough shots.' He was making tough shots.
"You've just got to live with it and play through it."
The Celtics didn't just play through it; they thrived through it. Two months ago, they would have crumbled in that same situation. Sunday night, it pushed them to the brink of another NBA title.
Chris Forsberg covers the Celtics for ESPNBoston.com. Follow him on Twitter.
Celtics reporter, ESPNBoston.com
Covered Celtics since 2007
Emmy award-winning videographer
Joined ESPNBoston.com in 2009
The NBA Finals On ESPN.com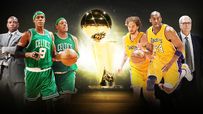 Follow ESPN's NBA coverage on Twitter
LATEST FINALS CONTENT
SERIES PREVIEWS
PLAYOFF FEATURES
FINALS PAGES
VIDEO
AUDIO
EDITORS' PICKS
Members of the Red Sox rotation are working and playing together.