Commentary
Shaquille O'Neal, Celtics a good match
Updated:
August 4, 2010, 10:49 PM ET
By
Chris Forsberg
| ESPNBoston.com
Happy now, Paul Pierce?
Shortly after opting out of the final year of a bloated contract to sign a team-friendly, four-year, $61 million deal last month, Pierce expressed disappointment in the lack of impact moves being made by Boston Celtics president of basketball operations Danny Ainge this offseason.
[+] Enlarge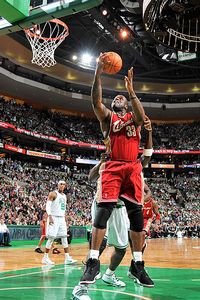 Brian Babineau/NBAE/Getty ImagesShaquille O'Neal could give the Celtics a much-needed presence in the paint, particularly while Kendrick Perkins is out.
Boston quietly retained Pierce, Ray Allen, Marquis Daniels and Nate Robinson -- a fine offseason haul to most -- but the lack of big-name additions as much of the Eastern Conference loaded up left Pierce leery of his team's chances to get back to the NBA Finals.
Sure, the Green inked Jermaine O'Neal, utilizing their midlevel exception, but that was considered a move of necessity given that starting center Kendrick Perkins will miss as much as the first four months of the regular season after having offseason knee surgery. Even when Perkins returns, O'Neal could fill the role vacated by Rasheed Wallace, who the team insists still intends to retire.
Little more than a month after free agency began, amid a picked-clean free-agent crop, the Celtics made their big-splash move Tuesday, signing Shaquille O'Neal to what sources say is a two-year deal worth about $3 million.
Yes, O'Neal is 38. Yes, his game has diminished. But the Celtics appear set to add a four-time NBA champion and a 15-time All-Star to a roster that came six minutes shy of winning a world title this past season.
If there were any doubts before, this move would show the Celtics don't plan to simply lie down and cede the East to the likes of the Miami Heat and Chicago Bulls.
Maybe the only real surprise is the fact that it took this long for the sides to come together. Ainge expressed a desire for another big body throughout the summer, and O'Neal suggested he wanted to play for a contender.
Whispers trickled out about mutual interest in late July, but the Celtics quietly noted there would be no relationship unless O'Neal agreed to a low-money deal and a reserve role (leaving the potential for an annulment should the union go sour).
In the end, it seems both sides need each other more than they originally were willing to admit.
With the addition of Shaq, the Celtics would have the sort of height Ainge only dreamed about during flirtations with Robert Swift. Suddenly, Boston would boast a 7-foot-1 body it could mix and match with Jermaine O'Neal (6-11), Glen Davis (6-9), Kevin Garnett (6-11), Semih Erden (7-0) and (when healthy) Perkins (6-10). Heck, Boston might even have the most intimidating frontcourt in the East if Wallace (6-11) decides to come back for one more rodeo.
Regardless, the team no longer would have to lean on the Shelden Williamses of the world. For a Boston squad whose rebounding struggles were exposed in the final games of its 2009-10 campaign -- on the league's biggest stage, no less -- Shaq's addition would significantly beef up the frontcourt.
Meanwhile, with suitors dwindling, O'Neal was starting to get questions about whether he'd be forced to play overseas to net that one final payday. Besides developing an international audience for "Shaq Vs.," what good would a tour with Olympiakos do for O'Neal, who has earned $291 million in basketball contracts in his 18-year career? He needs a place where he could win a championship before riding off into the sunset.
But there's reason to worry this could backfire against Boston. After all, O'Neal didn't exactly integrate seamlessly last season with Cleveland -- a team that won 61 games and earned the top spot in the East (before being bounced in the second round of the playoffs by the Celtics). Isn't winning supposed to cure all that ails?
However, the leadership on the Celtics, most notably coach Doc Rivers, won't allow one player to disrupt the chemistry that's been forged over the past three seasons. O'Neal's role would be well defined entering the season, and expect him to utter the same company line that Jermaine O'Neal did when he was introduced, noting that Perkins is the starter when he returns and he wants to do whatever he can to help the team.
So can Shaq truly be happy with reserve minutes? It might work better in Boston than anywhere else, considering that both Garnett (29.9 minutes per game last season) and Perkins (27.6) don't average heavy minutes. As we pointed out in last week's Celtics mailbag, that leaves roughly 38.5 minutes per game for frontcourt reserves. Last season, Wallace (22.5) and Davis (17.3) split those, but with Perkins out to start the season, that leaves a total of nearly 66 minutes for the O'Neals, Davis and Erden (who should be eased into NBA competition in his rookie season).
Yes, the pie will be harder to divide once Perkins returns, but given the advanced age and injury history of the Celtics, an abundance of minute-hungry big men is a phenomenal problem to have.
You'll hear how Shaq is a defensive liability, particularly in the pick-and-roll. This is pretty much indisputable, but remember this: Shaq's defensive rating (points allowed per 100 possessions) actually dipped to a respectable 102 this past season in Cleveland, which is exactly what it was when he won a title in Miami in 2005-06 and just a point more than his rating when the Lakers won a title in 2000-01. Put quality defenders like Rajon Rondo, Garnett and Pierce in the same lineup, and it's unlikely O'Neal will be exposed.
The stats suggest Cleveland was a more productive offensive team without O'Neal on the court, and there's concern he could bog down the Celtics' running offense by being unable to get up and down the floor. On the flip side, the attention he commands around the basket could loosen the defense in a half-court set (where Boston really struggled), and his ability to score around the basket is a bonus for a Celtics team that lacks around-the-cylinder finishers (Perkins regressed late last season, while Garnett now favors a perimeter game).
That's not to suggest that O'Neal's addition would be all sunshine and rainbows. Adding another ego to an already-combustible locker room would challenge Rivers' ability to control the circus, while there's genuine concern about the productivity and reliability of any 38-year-old.
More on the Celtics

Keep on top of the Green throughout the offseason with ESPNBoston.com's Chris Forsberg. Blog
• Send Chris a question
But Pierce wanted impact bodies. The Josh Boones and Kwame Browns don't bring the ability and mystique O'Neal does. Boston needs a player who will make the rest of the East stand up and take notice. That's exactly what the buzz of a potential deal did Tuesday.
It's fitting that word spread just hours before the NBA unveiled its season-opening and holiday schedules for the 2010-11 campaign. The new season tips off Oct. 26 as Boston's Big Three host the Miami Thrice of LeBron James, Dwyane Wade and Chris Bosh on national television. It presumably will also be O'Neal's debut in green, and even Miami's Super Friends will have to share the spotlight with the "Diesel."
What's more, O'Neal's history with the Heat is reason enough to bring him in. He teamed with Wade to help bring Miami a title in 2006, then spent a disappointing year in Cleveland with James last season. There surely will be motivation when he sees the Heat line up across the court.
Then there's his history with Orlando and Los Angeles, two other teams the Celtics likely would have to go through in search of Banner 18.
Which is the only thing the 2010-11 Celtics will settle for this season. And that's exactly the reason Pierce wants a player like O'Neal.
Chris Forsberg is the Celtics reporter for ESPNBoston.com and is checking in from Patriots training camp this week. Follow him on Twitter.
Celtics reporter, ESPNBoston.com
Covered Celtics since 2007
Emmy award-winning videographer
Joined ESPNBoston.com in 2009
EDITORS' PICKS
Super Bowl XLIX is just hours away and we're in Pats-Seahawks overdrive.