Commentary
Shaq keeps Celtics' plans in the air
Boston can't count on veteran to be ready Sunday, but can't count him out
Originally Published:
April 15, 2011
By
Chris Forsberg
| ESPNBoston.com
WALTHAM, Mass. -- Listening to Boston Celtics coach Doc Rivers describe the lingering uncertainty surrounding injured center Shaquille O'Neal, you can't help but envision two hulking manila folders sitting on top of his desk, one labeled "Plan A," the other "Plan B" (maybe with Shaq's familiar Superman logo etched on one).
Rivers surely wishes it was simpler. On a day when Boston nearly had full participation from its 15-man roster for the first time at any point during the 2010-11 season (heck, you'd have to go back to Game 5 of last year's NBA Finals to get even close to that), O'Neal broke up the perfect game by being unable to get on the floor due to a calf strain that has put his availability in question for Sunday's Game 1 of an Eastern Conference quarterfinal series against the New York Knicks.
Even after the Celtics stumbled to the regular-season finish line, dropping 11 of their final 21 games and dipping to the third seed in the Eastern Conference, players and coaches swear that this extended break before the postseason has allowed them to mentally and physically refresh, purging much of what ailed them down the stretch.
[+] Enlarge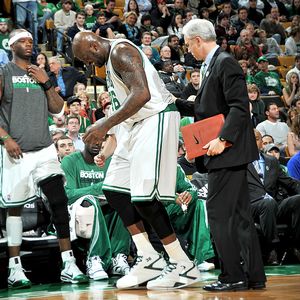 Brian Babineau/Getty ImagesShaquille O'Neal suffered yet another injury in his return to action on April 3.
But the one 7-foot-1, 325-pound question mark remains: whether the Celtics will have the services of O'Neal at the start of the postseason. And, if nothing else, it's causing extra work for Rivers and his staff.
"I'm anxious, but listen, if he can't go, we've got other guys," Rivers said Friday after his team engaged in a rigorous two-hour-plus session, all of which O'Neal simply observed from the periphery after previously hoping to test out the right calf he sprained earlier this month in his first and only game appearance since Feb. 1.
"If [Shaq] can go, it helps us. I literally have two plans. That's why our staff, I told them to prepare two plans, and that's what we're doing."
It's not as if Shaq's uncertainty doubles the workload, as Boston isn't building its offensive or defensive game plan around what an ailing 39-year-old center can contribute after sitting out the better part of 2 1/2 months.
But it's a nuisance, nevertheless. Rivers and his players have been bombarded daily with questions about when O'Neal will return. It's been a full-fledged 24-hour Shaq Watch in recent weeks, with each updated timeline becoming headline news.
But why such fervor over a player who would the fifth-best option on the floor to start the game? Why the commotion for a player who might log one-third the time starting point guard Rajon Rondo will?
"

If [Shaq] can go, it helps us. I literally have two plans. That's why our staff, I told them to prepare two plans, and that's what we're doing.

"

-- Celtics coach Doc Rivers,
on team's playoff plans
Well, part of it is that it's Shaq, and everything is magnified by his larger-than-life persona. Jermaine O'Neal didn't draw nearly as much fuss when he returned to the lineup in late March and has quietly ascended to the team's starting center, a role he'd maintain if "The Diesel" can't get out of the garage by Sunday.
Another part of it is that Shaq was billed, in part, as someone who could prevent a recurrence of last season, when Boston came within six minutes of a world title. When a bow-tie-sporting Shaq plopped himself in front of a wall of cameras for an introductory news conference here in mid-August, Rivers gushed about how the veteran center would prevent the sort of rebounding woes that plagued Boston in Games 6 and 7 of the NBA Finals last June.
But it ultimately comes down to the belief of many that the Celtics essentially rolled the dice on Shaq's health when they made the brazen move to ship out Kendrick Perkins at the NBA trade deadline in late February.
Celtics brass will tell you they were banking on a collaborative effort from Shaq, Jermaine O'Neal, Nenad Krstic and Glen Davis to fill the minutes at the center spot. But the success Boston enjoyed with Shaq as the team's starting center has only heightened the interest around his potential return, particularly when that was broached as key evidence of why Boston could afford to trade away a core member of its starting five.
The numbers indeed show just how good Shaq was. Not only did Boston boast a 27-9 record (.750 winning percentage) with him as a starter alongside the "big four," but the Celtics produced glossy ratings on both sides of the ball.
According to BasketballValue.com, that unit boasted a 117.8 offensive rating (by comparison, the Denver Nuggets were the top-rated offensive team in the league this season at 112.3, according to Basketball-Reference.com).
What's more, Boston produced a 99 defensive rating with the big four and Shaq (by comparison, the Bulls and Celtics finished in a tie atop the league with matching 100.3 defensive ratings, according to Basketball-Reference.com).
Those numbers were even better than what Boston's big four produced alongside Perkins, although it's hard to sneeze at his ratings (114.5 offensive; 101 defensive) considering Perkins was still working his way back from offseason ACL surgery.
But Shaq's performance in essentially replicating Perkins as he rehabbed might have been enough for Celtics president of basketball operations Danny Ainge to pull the trigger at the deadline. Boston thinks it improved its depth by adding Jeff Green and Krstic, but it also might have put a little more pressure on Shaq to get back on the court now.
More on the Celtics

Keep on top of the Green throughout the season with ESPNBoston.com's Chris Forsberg. Blog
His teammates firmly believe Shaq will be there when it matters most.
Asked whether he thinks Shaq will be a playoff contributor, Kevin Garnett said simply, "I'm very confident."
Captain Paul Pierce and others have echoed that sentiment. But if the Celtics are to accomplish their ultimate goal, the playoffs will be a two-month grind. That's a daunting proposition, considering that Shaq did not make it through any single month of the regular season without enduring some sort of injury.
After bumping legs with -- ironically -- New York's Amare Stoudemire in late October, Shaq sat five games with a bruised right knee. The effects soon caused his calf to flare, and he sat four more games in December. By January, it was a balky right hip forcing him to sit out three more games. Then the right foot became troublesome, and, due mainly to an inflamed right Achilles tendon, O'Neal sat out 26 games from Feb. 1 to April 3 before returning to action against the Detroit Pistons.
That lasted six minutes before he sprained the calf and hobbled off the court with a wheelchair being brought out for him as a hush fell over the Garden crowd. Celtics Nation has been tantalized by a glimpse of O'Neal, who ultimately sat out the final six games of the regular season, missing a total of 45 games overall.
The Celtics need Shaq to find a way through as many as 28 more games. While it's unlikely their playoff fate hinges on him, it certainly wouldn't hurt their quest for Banner 18 to have him on the floor for the journey.
If Shaq is Plan A, you can't help but think Rivers & Co. might have to resort to Plan B to start the postseason. Given the sort of effort Jermaine O'Neal showed Monday night in Washington, logging season highs in minutes (37), points (15), rebounds (13) and blocks (5), it might not be a bad thing to lean on Plan B at the start.
No one was counting on Jermaine O'Neal to be the savior at center at the start of the season, and not even when he returned in late March. So maybe it's time to lower the expectations on Shaq to a similar level and just take what he can give.
Maybe he'll find a way to come back and exceed expectations. After all, nothing's gone to plan for Rivers this season.
Chris Forsberg covers the Celtics for ESPNBoston.com.
Celtics reporter, ESPNBoston.com
Covered Celtics since 2007
Emmy award-winning videographer
Joined ESPNBoston.com in 2009
EDITORS' PICKS
The C's didn't look ready for the postseason in getting crushed by the Cavs.