Commentary
Return of the bitter rivalry
Bad blood between Celts and Cavs? It's just like the NBA's good old days
Updated:
April 5, 2010, 9:32 AM ET
By
Peter May
| Special to ESPNBoston.com
It was a woof-a-thon that lasted almost three hours. It featured six technical fouls, constant jabbering, the ejection of a coach and the sight of LeBron James in the Celtics' huddle of all places. Yes, there was basketball as well on this Easter Sunday, and for now, Doc Rivers does not need to visit Craigslist to inquire about car starters, ham carvers or personal tasters.
The Celtics avoided what would have been a monumental disaster in taking a 117-113 decision from the Cavaliers, snapping their three-game home skid. They blew a 22-point lead in the second half. They blew a 17-point lead after three quarters in the first 9:02 of the fourth. But they somehow found a way to win, with Rivers offering that, "Easter is about resurrection, right?"
Ah, the nuns would be proud of old Glenn.
But what lingered long after the final horn (which mercifully ended a fourth quarter that took 47 minutes to play) was the pretty obvious antipathy between the teams. James didn't hesitate when asked about the relationship between the Celtics and Cavs, which seems to be on a par with Sandra-Jesse.
[+] Enlarge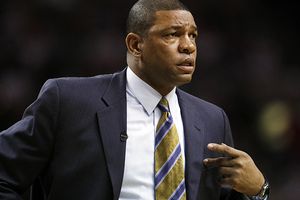 David Butler II/US Presswire"Both teams have competitive guys. Things can get a little chippy out there, but that's OK," Doc Rivers said about the Celtics-Cavaliers rivalry.
"We don't like them. And they don't like us,'' James said.
Sort of makes you hope these guys meet again in the postseason, something that could happen if the seeds and fates allow. It might not be all that competitive because the Cavs clearly have the better team and, obviously, the best player. But a Celtics-Cavaliers series might spawn enough enmity to make the warehouse scene from "Reservoir Dogs" look like an outtake from "Sesame Street."
James was asked where the bad blood all came from.
"It comes from a tough, seven-game series,'' James said, referring to the Celtics' outlasting the Cavs in the 2008 conference semifinals, with neither team losing at home. "It comes from them wanting to be really great, them winning a championship, us wanting to win a championship. It comes from us knowing that we have to go through them and them knowing that they have to go through us.
"[It comes from] the regular-season battles we have had between me and Paul. [It comes from] the competition and that's what's good about this game. I think the game has lost a little bit of that over the years, the talking, teams not liking each other. That's the same thing I figured out last year when I walked off the court in Orlando [after losing Game 6 and the conference finals to the Magic]. People were mad I didn't shake hands. Why should I be happy? I'm not happy. I'm disgusted that we lost. I move onto the next season. That's what this game has lost. It's lost what it had in the '80s and '90s, when teams just didn't like each other."
And that is where the Cavs and Celtics find themselves these days.
"I guess it comes from us beating them in Game 7," Rivers said, referencing the same series as James. "Both teams are talkers. Cleveland does a lot of stuff."
Rivers' counterpart, the normally mild-mannered Mike Brown, got ejected midway through the third quarter Sunday. He acknowledged that the game was "a little chippy."
"They're a good team. We feel like we're a good team. Both teams have competitive guys. Things can get a little chippy out there, but that's OK," he said.
OK? You bet it is. LeBron is right. We need more of that.
Ever since Magic Johnson and Isiah Thomas planted smooches on each other's cheek -- I'm guessing that might not happen now -- we've witnessed the slow deterioration of the hated rivalry. The Celtics and Sixers hated each other in the 1960s, 1970s and 1980s. The Celtics and the Knicks (back when both were good) hated each other. The Celtics and Pistons really hated each other in the 1980s. ML Carr used to call the Lakers "the Fakers" and the Boston-L.A. rivalry has roots dating back to the 1960s. Most of the time, there was undeniable animosity in the air.
More on the Celtics

Keep on top of the Green throughout the offseason with ESPNBoston.com's Chris Forsberg. Blog
• Send Chris a question
It hasn't been that way for some time. And sure, maybe LeBron is guilty of some wistful thinking by yearning for the good old (bad) days. But it was more fun when you really didn't like your opponent. Now, with free agency, shared agents and assorted other things, it just feels different.
What we got out of Sunday's X-rated affair ("a lot of swearing and sinning on Easter,'' Rivers said) is the hope that it wasn't the last game between the teams. You saw James and Tony Allen (Tony Allen!) going at it, verbally, late in the game. Allen was on the bench. James was in the game. Didn't matter. Then, you saw them continue to jaw even as the Celtics formed their huddle during a timeout. James wasn't going anywhere and matched Allen, expletive for expletive.
"I thought that was a tech,'' Rivers said, referring to James being in earshot of his huddle.
You saw Rasheed Wallace revert to Bad Boy form and pick up a stupid technical. Then, he jawed with his own coach -- who promptly and wisely sat Wallace's butt for the rest of the afternoon. (Rivers downplayed the exchange, which is what you'd expect him to do.) James made what looked like a "menacing gesture" before leaving the floor. Well, it certainly was as menacing as the one Pierce made in Atlanta in 2008 and got him fined. This was a little flip by the side of the head in the direction of, who knows? The Celtics? The crowd? The refs?
As for the playoffs, they are just around the corner. The Celtics and Cavs could be headed for another second-round matchup, two years after their seven-game epic in 2008. James expressed no particular desire to see Boston in the playoffs, but he sounded ready to take on all comers.
"The regular season is great, but I think we all know the playoffs is where it's at," James said. "That's where you guys will all wear your best suits, or your best dress, and it's where I wear my best suit and where I'm ready to play. We all know the playoffs are where it's at."
The Celtics can only hope they see the Cavs again, bad blood and all. One way or another, they are going to have to deal with LeBron and the fellas if they want to do anything noteworthy in 2010. The Celtics can talk with the best of them. But the Cavs talk back -- and unlike the Celtics, have been able to walk the walk as well this season.
Longtime Celtics reporter Peter May is a contributor to ESPNBoston.com.
EDITORS' PICKS
Peter Chiarelli didn't make many waves at the deadline. Will it pay off?