Commentary
LeBron wants a turn at Rondo
Reigning MVP offers to try his hand at stopping Celtics' dynamo
Updated:
May 10, 2010, 11:49 AM ET
By
Peter May
| Special to ESPNBoston.com
BOSTON -- You know the cliché. Playoff series are all about adjustments. Most times, the adjustments are subtle, such as the Celtics' decision to pressure the ball more often in Game 4, which coach Doc Rivers credited with being a huge difference-maker in Boston's series-evening 97-87 victory over Cleveland on Sunday.
But how about this for an adjustment? LeBron James, first-team All-NBA defense, starts Game 5 on Tuesday night guarding the player who he says is "dominating" this Eastern Conference semifinal: Rajon Rondo.
If LeBron has any say in the matter, it could well happen. In fact, according to one courtside observer, James and Cleveland coach Mike Brown got into a heated discussion about whether James should cover Rondo at the critical moments of the fourth quarter. Brown ultimately decided against it, but that could change moving forward.
"I would love to,'' James said after Rondo had eviscerated the Cavs with 29 points, 18 rebounds and 13 assists. "It's something we maybe should explore because Rondo is definitely dominating this series at the point guard position. For me, I don't have a problem taking Rondo or guarding Rondo throughout the course of the game. If the coaching staff or the guys want me to do it, I will."
He may have to. The Cavaliers have had no answer for Rondo, who is averaging 21.8 points, 13 assists and 8.3 rebounds in the 2-2 series. (Take away Game 3 and the numbers are 23, 14.7 and 9.3.) James takes pride in his defense and, he noted after Game 4, he had moved to guard Derrick Rose in the first-round series with the Bulls. There also was a memorable mano-a-mano switch-over to Miami's Dwyane Wade during the regular season.
"When the opportunity does present itself, or if it does present itself, I would take the challenge,'' James said of guarding Rondo.
It wouldn't be the first time such a move has happened. Kobe Bryant has been known to guard Rondo on occasion, and in the Lakers' first-round series against Oklahoma City, he switched to cover Thunder point guard Russell Westbrook after their series was tied 2-2. The Lakers won the next two games.
[+] Enlarge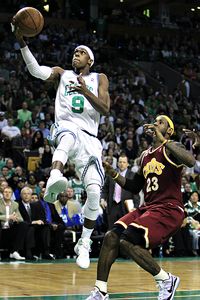 AP Photo/Charles KrupaRajon Rondo, who torched Cleveland for 29 points, 18 rebounds and 13 assists Sunday, may be seeing more of LeBron James in the future.
Old-time Celtics fans may recall the 1984 NBA Finals, when Magic Johnson had done what Rondo is doing over the first three games while the Celtics' best defensive player, Dennis Johnson, was guarding someone else. Coach KC Jones finally saw the light and moved DJ over to guard Magic and not only did the Celtics win three of the next four games -- and the title -- but the unflappable DJ had at least 20 points in each of those four games.
So it wouldn't be unprecedented. But it would be a concession on the part of the Cavs that the Anthony Parker experiment needs to be, er, modified. The 6-foot-6 Parker has been Rondo's primary defender over the last three games. He has the size to bother Rondo, but he doesn't have nearly the quickness or anticipation. James would present a more sizable problem for Rondo; the reigning MVP is 6-8 to Rondo's 6-1 and also has about 70 pounds on Rondo.
The problem the Cavs would face with such a switch is the possible awakening of Paul Pierce, who had his fourth straight subpar game. James usually guards him. A switch would likely mean Parker would have to guard Pierce, something that might serve to resuscitate Pierce, who is averaging 11.8 points on 32 percent shooting. Just not having to peer into James' grill all night might seem like an utter emancipation for the beleaguered Celtics captain, who has almost as many fouls (13) as baskets (16) in the four games.
Regardless of what the Cavs decide to do with Rondo, they returned to Cleveland not only having regained the home-court advantage, but also with the knowledge that, despite Rondo's heroics, they were right there Sunday until the final two minutes. This despite getting manhandled on the glass 47-33, registering no second-chance points (they had only three offensive rebounds even though they shot 40.3 percent) and getting outscored on the break 23-7. Oh, and they allowed 97 points, missed 10 free throws, got only 22 points from James (10 fewer than he had averaged in the first three games) and turned it over 17 times.
CELTICS DEFENSE IN HALF-COURT, LAST 2 GAMES
After the Celtics' normally stingy half-court defense was torched for 114 points on just 89 plays in Friday's Game 3 loss, Boston was able to get back to form on Sunday. In Game 4, the Celtics allowed just 74 points on 91 plays in the half-court.
| | Game 3 | Game 4 |
| --- | --- | --- |
| Opp FG pct | 60.0 | 39.1 |
| Opp pts per play | 1.28 | 0.81 |
| Opp TO/100 plays | 7.9 | 16.5 |
| Result | Lost | Won |
Let's just say who is going to guard Rondo isn't going to be the only thing on Brown's lesson plan for Game 5. It may be the first thing. But it won't be the only thing.
"There is no explanation for it. But we are not doing it,'' Brown said. The "it" in question was the Cavs' inability to keep the proverbial pedal to the metal for the full 48. "We have to do a better job. We talk about it. We preach it. Our guys talk about it and preach it. Now we just have to go out and do it. It's a 48-minute game. We can't afford to play one half on the road against a team like this."
James said he didn't think the Cavs lacked urgency, intensity or aggression, pointing to the 39 free throws the team attempted. "I think we played well,'' he said.
But after rallying from a double-digit hole in the third quarter to briefly take the lead late in the period, the Cavs opened the fourth quarter by going 0-of-5 from the field and adding four turnovers in the first 4:45, a stretch in which they were outscored 10-0. It was at the beginning of that run when Shaquille O'Neal picked up his fifth foul and went to the bench. He never returned. The Cavs never got the lead back.
"I was kind of surprised not to see him back on the floor,'' James said. "But they definitely turned it around at that point. They used their speed, they countered our aggression and they turned the game around."
They did indeed. They had to if this series was going to have any drama. Now, it's a best-of-three. And if James has anything to say about it, and one thinks his voice does carry some weight, the fun may just be beginning.
Longtime Celtics reporter Peter May is a contributor to ESPNBoston.com.
CONFERENCE SEMIFINALS: CELTICS-CAVALIERS
GAME 6: C'S 94, CAVS 85
GAME 5: C'S 120, CAVS 88

GAME 4: C'S 97, CAVS 87

GAME 3: CAVS 124, C'S 95

GAME 2: C'S 104, CAVS 86

GAME 1: CAVS 101, C'S 93

PREVIEW STORIES

CELTICS-CAVS RESULTS
EDITORS' PICKS
New England and Seattle aren't perfect. What do their losses tell us about their weaknesses?