Commentary
5-on-5: Boston's strategy for NBA draft?
Updated:
June 23, 2011, 8:09 AM ET
By
ESPNBoston.com
In advance of Thursday's NBA draft, ESPN Boston assembled its own starting five to tackle five questions while offering best-guess thoughts on what the Boston Celtics might do with the picks they currently hold (Nos. 25 and 55).
Joining me in the starting lineup for this edition of 5-on-5 are ESPN Boston student intern Greg Payne, longtime Celtics scribe Peter May and a pair of writers from True Hoop affiliate CelticsHub.com, Brian Robb and Brendan Jackson. Let's tip things off:
1) What is the Celtics' biggest need in this year's draft?
Forsberg: You can't teach size, but you can draft it and cross your fingers. The Celtics find themselves dangerously thin with Kevin Garnett and Jermaine O'Neal the only big men under contract for next season. The retirement of Shaquille O'Neal and the departure of Nenad Krstic leaves Boston scrambling to add depth, particularly at the center spot, where it's uncertain whether Jermaine O'Neal can endure the grind of an 82-game season. Other lesser needs: backup point guard, backup wing.
[+] Enlarge
AP Photo/Kathy WillensWith Kevin Garnett and Jermaine O'Neal as the only big men under contract for next season, it's clear what the Celtics need most.
Greg Payne: The Celtics need to add size, plain and simple. Garnett and Jermaine O'Neal are the only big men guaranteed to return next season, Glen Davis' future in green is completely up in the air and no matter what happens with the new labor agreement, the C's most likely won't have much (if any) cap space to pursue free-agent power forwards or centers. There are a handful of athletic big men that should be available at No. 25 and the Celtics need to pick one up, if merely for insurance purposes up front.
May: I think most would agree that the Celtics need to get a big man for 2011 -- either in the draft or via free agency. But given that the free-agency approach didn't work out all that well last year (see: O'Neals), it behooves them to try and pry a big man out of this draft. It doesn't necessarily have to be a center, although that would be the best option. A power forward who could double as a center (like Davis) would also be a good pick. But here's the rub. Drafting for need at No. 25 is a lot like going to a swanky restaurant in Paris without any knowledge of French. You might think you're ordering the chicken, but you'll end up with the duck.
Robb: Can bodies count as a need? With only six players currently signed for next season it's tempting to go that route, but I'll stick with offense for now. While the need for size and athleticism may be just as glaring, the C's dropped to a dismal 18th in offensive efficiency during the 2010-11 regular season. They are in desperate need of a spark plug off the bench who can get some easy buckets and take some of the onus off the starting five.
Jackson: An impact player. Not necessarily a star, but definitely not a project. With the uncertainty of the collective bargaining agreement, the draft is currently the only guaranteed method of team-building. If the Celtics plan on contending, they need a player (or players) with at least one discernible NBA skill. Whether that's shooting, rebounding, shot-blocking -- well -- we'll find out on Thursday.
---
2) True or false: The Celtics will find an impact player at No. 25.
Forsberg: True, but only by default. Although rookies have found themselves superglued to the end of Boston's bench in recent seasons (see also: J.R. Giddens, Bill Walker, Avery Bradley), we saw last season how Semih Erden got thrust right into the fire due to Boston's lack of (sustained) depth up front. Well right now, Boston is even thinner up front, so at least one young big man is likely going to get quality NBA minutes in his rookie season.
[+] Enlarge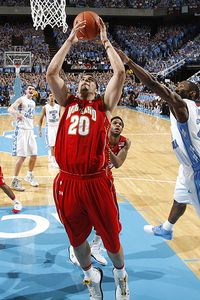 Bob Donnan/US PresswireMaryland's Jordan Williams, an excellent rebounder, could be an impact player for Boston.
Payne: True, as long as we're not confusing impact player with future All-Star. One player that has a very specific skill set is Maryland's Jordan Williams. He's an excellent rebounder -- something the Celtics could use -- and while he still might be developing offensively, he could fill a Leon Powe-type role as a guy who enters a game and creates an immediate spark by gobbling up a handful of rebounds, drawing a charge or two and converting cleanup baskets around the rim.
May: Uh, false. For 2011 anyway, and probably 2012 and 2013. Impact players do not get picked at No. 25 these days. It used to be you could draft a foreigner (like Toni Kukoc) and stash him away. Not anymore. The good Euros are going to get gobbled up early. Having said that, Kendrick Perkins was the 29th pick of the 2003 draft. And Rajon Rondo was the 21st pick in 2006. So, yeah, there's a chance. But don't count on it.
Robb: False. Despite Danny Ainge's track record of finding gems late in the first round (Rondo, Perkins, Delonte West, Tony Allen), this year's weak draft class isn't a prime candidate to continue that trend. With that said, there are plenty of experienced players fully capable of challenging for minutes who should be available at No. 25, and I fully expect Boston to pluck one of those guys.
Jackson: True... or, at least, that will be their mindset. If the Celtics draft a project, they might as well blow up the Big Three. Danny Ainge and Co. will be crossing their fingers that at least one of the players on their board is still available at No. 25. I see that player being NBA-ready in one capacity -- rebounding, scoring -- or another.
---
3) Who do you think the Celtics will choose at No. 25?
Forsberg: The cautionary tale is that you never draft for need, you always take the best available player. But assuming no player slips like Avery Bradley did last year, Boston has to go big. Tokyo Apache's Jeremy Tyler has the NBA-ready body and, at age 19, he has potential to blossom (though he hasn't done so yet since his ill-advised decision to leave high school as a junior and turn pro overseas). If Boston isn't bowled over by the bodies remaining at No. 25, don't be surprised if it moves down because there's not a tremendous difference in talent into the second round.
Payne: If Morehead State's Kenneth Faried isn't available, the Celtics will hone in on Williams. I'm not ruling out Keith Benson or JaJuan Johnson at No. 25, either.
May: Another dart contest. Chad Ford has them taking Tyler, the high-schooler-gone-Israeli-gone-bust-gone Japan. That would satisfy a need and be a bold pick. Two other names to watch: Johnson, who would fill the Big Baby role (Davis is a free agent), and Nikola Vucevic, a center from USC. Having traded Perkins and Erden, the focus has to be on a big man, even one that likely won't be ready in 2011 (which is what happens when you draft a big man at No. 25). Me? I'm hoping for Bismack Biyombo just for the name alone. What would Johnny Most have done with this kid?
Robb: Jimmy Butler. The Celtics have brought back the hybrid forward for a second workout, according to ESPN.com's Andy Katz. Butler could clearly fill a number of needs (smooth scorer, solid rebounder and defender) while his Marquette affiliation probably earns respect, if not playing time right away, from Doc Rivers.
Jackson: The best forward available. Whether that be Johnson, Butler, Trey Thompkins, Jon Leuer, Justin Harper or -- fingers crossed -- Faried will depend on the first 24 picks. I'd be shocked if the C's draft a guard, a project or an international player that is a few years from American soil.
---
4) True of false: The Celtics will make a draft-night trade.
Forsberg: True. The value in this draft seems to be early second round, where you might get lucky on a Johnson or a Butler. If Boston had its druthers, I think it would rather have two picks in the 30s or 40s than Nos. 25 and 55. Making that a reality is easier said than done, but it wouldn't surprise me in the least to see the Celtics operate in a very Belichickian way in this year's draft.
[+] Enlarge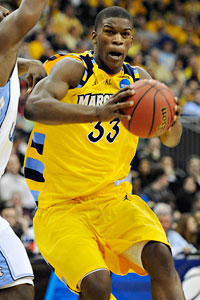 Richard Mackson/US PresswireHybrid forward Jimmy Butler out of Marquette could fill a number of holes for the Celtics.
Payne: False. Given how weak this draft is, Danny Ainge will most likely make several phone calls just to see if any enticing players are available, but ultimately he'll keep things simple by drafting as much size as he can before hurtling into a summer full of uncertainty.
May: False. They won't trade anyone on their roster because that would be a non-starter. And they won't trade anyone that another team might actually want (unless there's a market for Jermaine O'Neal, at which point Danny Ainge should jump at it). The final option, trading the pick, is something they'd actually consider, but so is everyone else at the bottom of the first round. A lot of teams want out. No one is particularly keen on getting in.
Robb: True. It won't be a blockbuster by any means, but the C's have had the tendency to pick up a mid-second-round pick during Ainge's tenure. With the team hurting for bodies and an unsettled CBA, I expect Danny and company to move up or obtain an extra pick in the second round, in order to increase the talent level and competition for training camp next year.
Jackson: False. The Celtics do not have the assets outside the Big Three to make a significant draft-day deal. The most plausible trade idea involves shipping Bradley for another first-round pick provided that the Celtics are able to snag Reggie Jackson and another NBA-ready player. Odds are the Celtics stay put.
---
5) Give us a potential player who could help the Celtics that might still be on the board at No. 55.
Forsberg: Let's remember that Ainge and the Celtics plucked Erden at No. 60, so rolling the dice on a raw big man here has limited success rate. To that end, if Fresno State's Greg Smith or Benson are still around, Boston could add the size they covet.
Payne: Smith. At 6-foot-10 and 250 pounds, Smith has the physical gifts to play hard in the paint, but has a feathery touch around the basket once he gets where he wants to go. At just 20 years old, he'd be a solid low-risk, high-reward pick for Boston at No. 55.
May: Ainge has had at a lot of luck with second-round picks (Davis, Ryan Gomes, even Luke Harangody). But No. 55? That might be stretching it a bit. At that point you're looking at guys overseas whose name you can't pronounce or backup point guards from the mid-majors. Shelvin Mack of Butler might be there and he has a history of playing in big games. (We'll forget the result of the biggest ones.) Florida's Chandler Parsons might be there as well. But I hope they take Mindaugas Kuzminskas from Hogwarts, er, Lithuania. Can't get enough shooters.
Robb: Rick Jackson, a power forward out of Syracuse, looks to be a potential candidate simply because of his size and rebounding ability. With Nenad Krstic off to Russia, and uncertainty surrounding the future of Glen Davis, Boston will need to stockpile all the size they can get.
Jackson: How about two: Matt Howard and Mack. The former Butler Bulldogs have their noticeable limitations -- size, athleticism -- that puts them squarely in the second round. That being said, both Mack and Howard are gritty, tough and can score. Howard's energetic glass-cleaning is also a plus. Hard to go wrong if either of these players is available at No. 55.
EDITORS' PICKS
The Patriots are expected to cut Darrelle Revis before free agency kicks off Tuesday. After that, the chess game begins.