Commentary
Who has the edge?
A positional look at the Patriots-Ravens first-round playoff clash
Tedy Bruschi and Mike Reiss go position by position to see who has the edge in Sunday's Patriots-Ravens game.
Quarterbacks
Patriots:
Tom Brady
,
Brian Hoyer
Ravens:
Joe Flacco
,
Troy Smith
,
John Beck
Mike's pick: Patriots.
Flacco showed great poise through last year's playoff run and a lot of toughness in the first meeting between the Patriots and Ravens this season, but it's hard to bet against Brady.
Tedy's pick: Patriots.
Brady's the best in the business and once you get Flacco out of the pocket he's less effective throwing on the run.
---
Running backs
Patriots:
Sammy Morris
,
Fred Taylor
,
Kevin Faulk
,
Laurence Maroney
,
BenJarvus Green-Ellis
Ravens:
Ray Rice
,
Willis McGahee
,
Jalen Parmele
,
Le'Ron McClain
Mike's pick: Ravens.
Not many teams have a back who leads the team in rushing and receiving like Rice does for Baltimore.
Tedy's pick: Ravens.
Rice and McClain (fullback) were most deserving of their Pro Bowl selections. McGahee still has plenty left in the tank -- did you see that stiff-arm last week? The Patriots are solid at this position, but the ball security issues of Maroney are a concern.
---
Wide receiver
Patriots:
Randy Moss
,
Julian Edelman
,
Sam Aiken
,
Isaiah Stanback
, Matthew Slater
Ravens:
Derrick Mason
,
Mark Clayton
,
Kelley Washington
,
Demetrius Williams
,
David Tyree
,
Justin Harper
Mike's pick: Patriots.
This one is closer when Wes Welker isn't in the picture, but Clayton's fourth-down drop against New England is still vivid in the mind.
Tedy's pick: Patriots.
Mason is a warrior, but give me Randy Moss and I will find a way to win this game.
---
Tight end
Patriots:
Benjamin Watson
,
Chris Baker
Ravens:
Todd Heap
,
L.J. Smith
,
Edgar Jones
Mike's pick: Ravens.
Heap's 53 catches almost doubled his production from the previous two seasons combined, while the Patriots' tight ends aren't big targets in the passing game.
Tedy's pick: Ravens.
Heap doesn't get the hype of other AFC tight ends like Antonio Gates and Dallas Clark, but he's sneaky good. You look at him and don't think he's a threat and then he's outjumping DBs for the ball.
---
Offensive line
Patriots:
Matt Light
,
Logan Mankins
,
Dan Koppen
,
Stephen Neal
,
Nick Kaczur
,
Mark LeVoir
,
Sebastian Vollmer
,
Dan Connolly
,
Ryan Wendell
,
Rich Ohrnberger
Ravens:
Jared Gaither
,
Ben Grubbs
,
Matt Birk
,
Marshal Yanda
,
Michael Oher
,
Chris Chester
,
Oniel Cousins
,
David Hale
,
Tony Moll
Mike's pick: Patriots.
Two different styles as the Ravens are bigger and excel in run blocking, but struggle when forced to pass block. The Patriots have been more consistent and well rounded.
Tedy's pick: Patriots.
Vollmer tips the scales to the Patriots' advantage. His ability to provide quality depth at both tackles is of vital importance to this unit. Mankins beasts on guys every week.
---
Defensive line
Patriots:
Vince Wilfork
,
Ty Warren
,
Jarvis Green
,
Mike Wright
,
Myron Pryor
,
Ron Brace
Ravens:
Haloti Ngata
,
Kelly Gregg
,
Dwan Edwards
,
Trevor Pryce
,
Kelly Talavou
,
Justin Bannan
Mike's pick: Patriots.
Two powerful lines. Ngata and Wilfork are two of the best in the NFL, so it comes down to the annually underrated Warren tilting the needle in the favor of the Patriots. He played five snaps in his last performance against the Jaguars, but it wasn't hard to notice his impact on the game.
Tedy's pick: Ravens.
The nagging injuries of Wilfork and Warren could limit their effectiveness. The Pro Bowler Ngata is powerful and nasty. Pryce has a history of beating Patriots offensive linemen with his patented inside pass-rushing moves.
---
Linebackers
Patriots:
Adalius Thomas
,
Jerod Mayo
,
Gary Guyton
,
Tully Banta-Cain
,
Derrick Burgess
(nickel rusher),
Junior Seau
,
Pierre Woods
,
Eric Alexander
,
Rob Ninkovich
,
Thomas Williams
Ravens:
Terrell Suggs
,
Ray Lewis
,
Jarret Johnson
,
Tavares Gooden
,
Dannell Ellerbe
,
Paul Kruger
,
Jameel McClain
,
Antwan Barnes
,
Prescott Burgess
Mike's pick: Ravens.
The toughness, high production and consistency of Suggs and Lewis make this an easy pick.
Tedy's pick: Ravens.
I said this week on "NFL Live" that Ray Lewis is my defensive player of the decade. He may not be what he once was, but he still gets it done in a violent way. Suggs has the potential to ruin a game in one play. The young Patriots linebackers have the potential to be the best in the business, but not yet.
---
Cornerbacks
Patriots:
Shawn Springs
,
Leigh Bodden
,
Darius Butler
,
Jonathan Wilhite
,
Terrence Wheatley
,
Kyle Arrington
Ravens:
Domonique Foxworth
,
Chris Carr
,
Frank Walker
,
Corey Ivy
,
Cary Williams
Mike's pick: Patriots.
The Springs/Bodden combo has solidified things for the Patriots, while the Ravens are hurting in this spot.
Tedy's pick: Patriots.
This unit has gotten better over the course of the year. Springs and Bodden bring veteran experience to a group dominated by youth.
---
Safeties
Patriots:
Brandon Meriweather
,
James Sanders
,
Brandon McGowan
,
Pat Chung
Ravens:
Ed Reed
,
Dawan Landry
,
Tom Zbikowski
,
Marcus Paschal
,
Keith Fitzhugh
Mike's pick: Ravens.
Can't pick against a group that includes Reed -- injured or not -- whose remarkable range often gives the defense more flexibility in other areas.
Tedy's pick: Patriots.
Belichick said it himself, "Ed Reed is in a class of his own," but with a struggling supporting cast and Reed having injury issues, I like the trio of Meriweather, McGowan and Sanders. All three are solid.
---
Specialists
Patriots:
Stephen Gostkowski
(K),
Chris Hanson
(P),
Jake Ingram
(LS)
Ravens:
Billy Cundiff
(K),
Sam Koch
(P),
Matt Katula
(LS)
Mike's pick: Patriots.
In a game that could come down to a field goal, the Patriots should feel happy they have Gostkowski.
Tedy's pick: Patriots.
Gostkowski is money. This is the first time the rookie Ingram has snapped in a playoff game. That's something to watch.
---
Coaches
Patriots:
Bill Belichick
Ravens:
John Harbaugh
Mike's pick: Patriots.
Although not all the big decisions have unfolded as he hoped this season, Belichick remains one of the best in the business and one of the greatest of all time.
Tedy's pick: Patriots.
Belichick saves his best for the postseason.
---
The winner
Mike's pick: Patriots.
Patriots 20-17.
Tedy's pick: Patriots. Patriots 24-17.
ESPN New England Patriots reporter
Covered Patriots since 1997
Joined ESPN in 2009
Columnist, ESPN.com
Tedy Bruschi spent his entire 13-year career with the New England Patriots after being drafted in the third round out of Arizona. He played in five Super Bowls, winning three. He retired prior to the 2009 season.
PATRIOTS-RAVENS, SUNDAY, 1 ET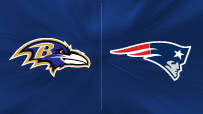 In a rematch from Week 4 of the regular season, the Patriots host the Ravens on Sunday in a wild-card playoff matchup. The Patriots will have to overcome the loss of wide receiver Wes Welker to a knee injury. Blog: Latest Patriots news and notes
MATCHUP ANALYSIS, PREDICTIONS
REPLACING WELKER
NEWS AND NOTES
EDITORS' PICKS
Seattle's read option? The run game? Mailbaggers tackle the real issues for the Pats.