Commentary
Ryan Hall: Boston a special marathon
Updated:
April 15, 2011, 3:40 PM ET
By
Tom Lakin
| Special to ESPNBoston.com
Ryan Hall set the Boston Marathon course record for Americans last year, finishing in 2 hours, 8 minutes, 41 seconds, good for fourth place overall. But as any golfer worth his divots will tell you, course records are just for show -- it's the victories that really matter.
In 2010, Hall was 2:49 short of winning Boston. In 2009, when he finished third, he fell just 58 seconds shy. This year the 28-year-old Stanford alum has his sights set squarely on the laurel wreath.
[+] Enlarge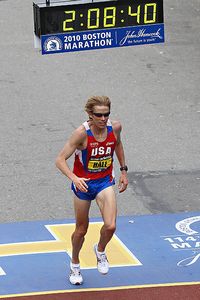 Jim Rogash/Getty ImagesRyan Hall crossed the line at last year's Boston Marathon in fourth place after finishing third in 2009.
Hall checked in from Palo Alto, Calif., to talk about his chances of becoming the first American man to win Boston since 1983.
What does it mean to you to run the Boston Marathon?
Ryan Hall: For me, it's like putting myself in a history book I read in grade school growing up. I've studied this race and been inspired by all the different videos I've seen over the years and I just feel like it's such an historic race. So when I'm out there on the starting line, I feel like I'm participating in history. And as an American, there are very few things as American as the Boston Marathon on Patriots Day. So I just see it as a huge opportunity to shine on one of the biggest stages we get to perform on as professional marathoners.
What have you been doing to prepare over the last couple of months?
RH: I've been doing some big workouts, but I'm also trying to balance an appropriate amount of hard work with a lot of rest and recovery. When you're putting yourself through tough workouts, you have to be really careful to allow your body to absorb the work and recover from it; otherwise there's no point in doing it. So I've been training hard, but also resting a lot. That's been the big theme of my preparations over the last six months getting ready for this race.
Do you have a specific race strategy?
RH: My strategy is to get to the finish line as fast as I possibly can. That sounds kind of funny, but it's actually not everyone's strategy. A lot of people base their strategy on what other runners are doing or on trying to beat other people. My strategy is always to try to get as much out of my body as I possibly can. I'm going to be running hard the entire way, whereas you might see some people looking around during the first half of the race or jogging those opening miles. But I'm not interested in running a half-marathon or putting in a 20-mile hard effort. I want to run a hard, full marathon.
Did finishing 21st at the New York City Half-Marathon (held on March 20) cause you to change your approach for Boston?
RH: No, it really didn't. If anything it showed me that I'm training specifically for the marathon, so my half-marathon fitness isn't great, though it is a lot better than what I showed in New York. There were a lot of factors that played into that race that had me run not as quick as I would have hoped to. I was playing around with when to come down from my training altitude (Hall trains in Flagstaff, Ariz.) and I had success previously coming down and racing right away, so that's what I tried in New York. But it didn't really play out very well. So for Boston I decided to come down to Palo Alto two weeks early to make sure that I get adjusted to sea level before the race.
Five Americans To Watch
1. Ryan Hall, personal best -- 2:06:17 (London, 2008)
If an American man is going to win this year's Boston Marathon, it'll probably be Hall. He placed third in 2009 and fourth last year, and with a personal best just 25 seconds short of favorite Robert Kiprono Cheruiyot's 2:05:52 (set in Boston last year), Hall has a legitimate chance to become the first U.S. male runner to win Boston in nearly three decades.
2. Brett Gotcher, 2:10:36 (Houston, 2010)
Coming off the fourth-fastest American marathon debut in history (2:10:36, Houston, 2010), Gotcher, 26, brings some serious momentum into this year's race. A former teammate of Hall's at Stanford, Gotcher gives Cardinal fans -- and fans of American running -- a lot to cheer for.
3. Kara Goucher, 2:25:52 (New York, 2008)
You remember Goucher -- she led the 2009 Boston Marathon with one mile to go before breaking Hub hearts and finishing third. Goucher, 32, missed 2010 but now she's back, and many -- including her 6-month-old son, Colt -- will be rooting her on come Monday.
4. Desiree Davila, 2:26:20 (Chicago, 2010)
Davila's fourth-place finish in the 2010 Chicago Marathon (2:26:20) was the year's fastest time by an American woman. The 27-year-old Southern California native isn't the biggest name in the field, but her times speak for themselves.
5. Blake Russell, 2:29:10 (Chicago, 2005)
Russell, 36, has an impressive runner's resume: the UNC grad is a former national cross-country champion (2006 USA Cross-Country Championships) and Olympic marathoner (2008, Beijing). This will be Russell's first shot at her former home course -- Russell used to live in Boston with her husband, Jon.
This will be your third Boston Marathon. In 2009, you finished third; last year, fourth. What are you going to do differently this year?
RH: Every race is unique and ends up playing out a little bit differently. Like I said, my strategy is to get to the finish as quickly as I can, and the best way to do that is to pay attention to your body and how it's feeling and try to get the most out of all the fuel that you have. So I don't know exactly how my strategy will play out. I like to be very flexible because I can't tell you exactly how I'm going to feel once I get out there. When my body tells me it's time to go, I'll go, and when it tells me, you know, this is not the right time or it's too early or whatever, I'll listen to it. Sometimes when you go into a race with a real strict strategy, it kind of limits how open you are and how well you are able to pay attention to your body and the cues that it's giving you. So I won't have a whole lot of strategy in mind until I get out there.
Do you have your own pace or is it based off the other top contenders?
RH: For me, it's a little bit of both. A marathon is a delicate balance between listening to your own body and also reacting to what the other runners around you are doing. I want to use the other guys to help me run faster than I could run if I was out there by myself, and in the same way, I hope to pull the other runners along and help them run quicker than they could otherwise run. So I'll obviously pay attention to my body and run the right pace for myself, but I'll also allow the other guys to push me along a little bit at certain points in the race. I'll use them as a motivator to get me going and to help me through some of those rough spots that inevitably come up during a marathon.
For a lot of people, the Boston Marathon has very little to do with running. Do you get caught up in the pageantry of the event or is it all business for you?
RH: Oh, I get totally caught up in the energy of the city and the buzz and the excitement of the people. There is that kind of festival-style atmosphere out there, which I really enjoy, and I try to tap into that energy on the course, whether it's in Wellesley with the girls going crazy or running past BC with all the students cheering. I try to enjoy each aspect of the course and I try to allow the people on the side of the roads to participate in the race with me by tapping into their energy, because I think you can really use that to your benefit. I try to just enjoy every step out there because there are very few marathons in the world like the Boston Marathon, and I think you get the most out of yourself by using all the elements on the course, including the spectators.
As an American, do you feel any added pressure to win?
RH: I've always just been excited by the opportunity to possibly come away with a win, and I think representing my country just makes it that much more fun and that much more special, and makes the opportunity even greater. And that's why I keep coming back year after year. I've run a lot of different marathons, but I don't think I've ever run a marathon where people are pulling for me as an individual as much as at Boston. With that USA across my chest, it's a pretty special opportunity.
What motivates you going into this race?
RH: For me, running has always been a spiritual journey as much as anything. So for me it's all about trying to use every ounce of energy that God puts into me out on that course, and to do my very best while also enjoying the process. I really came to a point where I was able to enjoy last year's race. Even though I finished fourth, I was able to enjoy it as if I would have won. And that's really the legacy I hope to leave in running. I hope to continue to experience that same type of joy in each moment, whether or not I'm hitting a perfect day and floating along on a cloud or whether I'm struggling and going through a rough patch.
What will you do after the race to blow off some steam?
RH: Well, I'm already planning a fishing trip with my dad and grandfather to Cabo San Lucas down in Mexico. We're going to do some tuna fishing down there. I also have my road bike waiting for me, so I'm going to ride to the beach and back probably, and mix some good climbing in there. And the biggest thing I'll be doing is following my wife, Sara [Bei], around -- she's also a professional track athlete and she'll be racing everywhere from Brazil to Stanford and everywhere in between. I'll also be in Des Moines doing some different appearances with Nissan and Asics and some of my other sponsors, as well. It will be a busy time but I'm going to make sure to incorporate some fun stuff too.
EDITORS' PICKS
The Bruins play their biggest game of the season Saturday vs. New York.