Commentary
Ex-QB known to shine in spotlight
Out of Welker's shadow, rookie WR Edelman will get to show his stuff
Updated:
January 8, 2010, 10:15 PM ET
By
Chris Forsberg
| ESPNBoston.com
FOXBOROUGH, Mass. -- After his dazzling professional debut in a preseason win over the Philadelphia Eagles in August, reporters circled Julian Edelman's makeshift locker -- one he shared with fellow first-year receiver Terrence Nunn next to Tom Brady's full-sized stall in the bowels of Lincoln Financial Field -- for his postgame thoughts.
Seeing the wall of cameras and microphones, the veterans nearby started to give Edelman so much grief that even after an electrifying 75-yard punt return for a touchdown and a team-high five receptions, the team's media relations staff had to pull him out a side door for a brief chat with reporters.
Four months and one debilitating injury to a teammate later, Edelman is once again a man in high demand.
Can Edelman impersonate Welker?

According the Elias Sports Bureau, the last time the NFL's receptions leader missed a playoff game was Mac Speedie of the 1952 Browns. Before him, it was Red Badgro of the 1934 Giants. Sadly, neither is known as the Wally Pipp of the NFL, so history may not work in the Patriots' favor here.
If you had to pick one guy to fill in for a record-setting receiver, a rookie seventh-round pick might not be your first choice. Throw in the fact that he was a college quarterback, and the prospect seems even more alarming. A year ago, Julian Edelman wasn't even among the 330 college players invited to the NFL combine.
Yet, Edelman is the Patriots' best hope for doing an imitation of Welker, who went undrafted. In the three games Welker missed, Edelman averaged seven receptions per game. That would put him on pace for 112 catches over a 16-game season. Only Welker had more than that this season.
Edelman hauled in 68.5 percent of the passes thrown his way, an impressive rate if not quite on Welker's level. That percentage -- like Welker's -- is helped by the frequency with which he is the target of short passes. However, while Welker dropped only five of the 162 passes thrown his way, Edelman has just one fewer drop despite 108 fewer targets. His drop rate is more than double Welker's.
Even if Edelman replicates Welker's statistics, past games indicate that the Patriots' offense will still miss Welker's presence. Tom Brady had a 102.9 passer rating and 68.0 completion percentage with Welker healthy. Without him, Brady's rating plummets to 68.9, and his completion percentage slips to 56.3. Not surprisingly, Brady targeted Randy Moss more without Welker in the lineup, and even less surprisingly, defenses keyed on Moss. Of his 30 targets with Welker injured, Moss caught only 12. That 40.0 catch percentage is down from 59.6 percent with Welker in the lineup.
So all Edelman has to do is replace one the most prolific pass-catchers in NFL history, keep opposing defenses honest enough to free up Moss and overcome the pressures of playing his first playoff game.
Reporters have held a three-day stakeout by Edelman's locker inside Gillette Stadium waiting for his first public comments this week after being thrust into a national spotlight by Wes Welker's season-ending knee injury.
On Friday, the Patriots are expected to once again whisk Edelman out a side door, this time into the media workroom, a location typically reserved for Bill Belichick's daily briefings or Brady's weekly confabs, to accommodate the heightened interest as New England prepares to host the Baltimore Ravens in an AFC wild-card matchup Sunday at Gillette Stadium.
What's more, a memo on his locker room chair Thursday from CBS, which will broadcast Sunday's game, requested his presence at a production meeting to film a segment about his postseason role after Welker was placed on season-ending injured reserve Wednesday.
To put things in perspective: Rookie safety Pat Chung, the Patriots' first selection in the 2009 draft (34th overall), didn't have a CBS production memo on his chair, and he was selected nearly 200 spots before Edelman.
Despite missing five games after breaking his right arm in a win over the Tennessee Titans on Oct. 18, Edelman finished tied for third on the team with 37 receptions for 359 yards and a touchdown.
After Welker went down against the Texans on Sunday, he set career highs with 10 catches for 103 yards. Now, because of his Welker-like stature and the monster-sized role he's expected to inherit Sunday, Edelman is drawing national attention.
But one thing hasn't changed for this quarterback turned wide receiver wunderkind: He's still catching grief from the veterans.
"It's pretty remarkable what he's done as a former quarterback, which I don't know how he was a former quarterback because he can't throw at all," Brady joked. "He tries to tell me, 'Yeah, I threw for 2,000 yards.' I'm like, 'Man, you can't hit that wall over there.' And somehow he was playing [at Kent State]. I'm glad he plays receiver and not quarterback anymore, for his sake and our sake."
Edelman passed for 1,820 yards in his senior season at Kent State and added 1,551 rushing yards to break the school's single-season record for total offense set in 2003 by Joshua Cribbs (who's now in high demand with the Cleveland Browns).
Edelman, who passed for nearly 5,000 yards at Kent State after transferring from the College of San Mateo, wasn't invited to the 2009 NFL draft combine but made enough of an impression on the Patriots during private workouts before the draft that they did what the other 31 teams seemed hesitant to do -- rolled the dice on him in the seventh round (232nd overall).
"We scouted him, and what we felt was that he was a good kid, a smart kid, competitive. You could see he had the athletic ability to play another position," said a scout from a team that had Edelman on its radar. "Kids like that, with the production he had in college, you usually give them a chance. The Patriots did a nice job with him."
Blitzed with questions about the scouting process with Edelman, Patriots director of player personnel Nick Caserio spent much of his Monday conference call detailing the process by which the Patriots identified Edelman as a potential wide receiver.
"The thing about Julian, when you saw him play at Kent State, he was really good with the ball in his hands. I guess you would call him the dual threat. He ran the ball, they threw the ball with him as well, but he ran the ball. He was good with the ball in his hands, and he was good in space. He was a good runner, he had good quickness and he was a strong runner.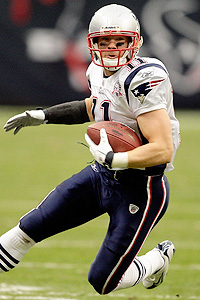 Bob Levey/Getty Images"He was a running quarterback, so that helps him with running routes," Tom Brady said of rookie wide receiver Julian Edelman.
"He actually caught the ball well when we did work him out, so you're basing that information saying, 'OK, this is where we feel that he fits best for us.' There was a little bit of a leap of faith, but we did our homework and we felt comfortable. So that is why we made the decision that we did to draft him and play him at receiver."
Talk to those who know Edelman best, and they're not surprised by his ability to elevate to an NFL starter so quickly. Appearing on ESPN's "First Take" Thursday morning, Doug Martin, Edelman's coach at Kent State, detailed how Edelman arrived on campus with the expectation of becoming the team's starting quarterback.
"He made that clear to everyone on the football team, and he did that," Martin said. "I've never seen a player change the mentality of a whole football team like he did ours.
"It's not a cockiness with him, but it's a confidence. It's an expectation; it's a standard of performance. It doesn't matter if you're in practice, you're in winter conditioning or you're in a game; you're going to get the same effort from Julian Edelman every time out."
Even Brady, all joking aside, likes what he sees from the rookie.
"He was a running quarterback, so that helps him with running routes. But he plants really well and plants off one foot, and he's obviously got great hand-eye coordination. He's a smart kid. He loves football. I think all those things that, maybe, as a quarterback he saw, he uses those as a receiver -- things that I'm looking for, spots that he needs to be in. For him to play college quarterback and then now be pretty much a starting receiver in the NFL less than a year later, it's really a credit to him and his hard work."
Ravens linebacker Ray Lewis didn't identify Edelman by name -- you never want to give a rookie too much confidence -- but singled him out when talking about how the Patriots will fill the void left by Welker's absence.
"They have another young guy, No. 11, who comes in and does a great job," Lewis said. "I don't think he has to be Wes Welker. Wes Welker is his own personality, his own man who does a lot of things. Tom Brady and Wes Welker have great chemistry together. At the same time, you see this young kid, he comes in and he has kind of the same chemistry [with Brady] as Wes Welker has, so we just have to understand to come and play the New England Patriots in totality. Yeah, they did lose a big key to their offense, but at the same time Belichick and those guys do a great job of letting people fill in."
Martin thinks the bank of cameras that will greet Edelman during Friday's news conference will inspire, not intimidate, him. He's always enjoyed a stage.
"The bigger the stage, the bigger the game, the better he's going to play," Martin said. "He really embraces that role. He embraces being in the moment. ... I've never seen anyone that loves to play the game more than this young man."
Chris Forsberg is a roving reporter for ESPNBoston.com. Follow him on Twitter.
Celtics reporter, ESPNBoston.com
Covered Celtics since 2007
Emmy award-winning videographer
Joined ESPNBoston.com in 2009
PATRIOTS-RAVENS, SUNDAY, 1 ET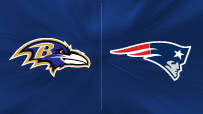 In a rematch from Week 4 of the regular season, the Patriots host the Ravens on Sunday in a wild-card playoff matchup. The Patriots will have to overcome the loss of wide receiver Wes Welker to a knee injury. Blog: Latest Patriots news and notes
MATCHUP ANALYSIS, PREDICTIONS
REPLACING WELKER
NEWS AND NOTES
EDITORS' PICKS
Celtics top Hornets