Commentary
Pats' defense left run-down
Ravens, Rice got off to rolling start and never stopped
Updated:
January 11, 2010, 7:28 AM ET
By
Chris Forsberg
| ESPNBoston.com
FOXBOROUGH, Mass. -- In the aftermath of Sunday's 33-14 loss to the Baltimore Ravens, New England Patriots defensive end Ty Warren stood at his locker and slipped on a Red Sox baseball cap. Two stalls down, defensive tackle Vince Wilfork pulled a personalized Bruins jersey over his head.
Somehow both actions seemed appropriate since those are two teams, along with the Celtics, Boston sports fans will be turning their attention to after the Patriots got steamrolled by the Ravens' rushing attack in an AFC wild-card matchup at Gillette Stadium.
Ravens on the Run

Ray Rice and the Baltimore Ravens were able to crush the Patriots with their ground game. The Ravens had the third-most rushing attempts in a playoff game since 1980.
| | | | |
| --- | --- | --- | --- |
| Team | Carries | Opponent | Result |
| 1985 Patriots | 56 | vs. Dolphins | Won |
| 1982 Dolphins | 56 | vs. Chargers | Won |
| 2009 Ravens | 52 | at Patriots | Won |
| 1995 Bills | 52 | vs. Dolphins | Won |
| 1982 Redskins | 52 | vs. Dolphins | Won |
Warren and Wilfork, limited at times this season because of injuries, were supposed to be the key to stopping Baltimore's vaunted rushing attack, particularly in light of the struggles New England endured without them.
Instead, Ray Rice broke free on an 83-yard run on the first play from scrimmage, and Baltimore piled up 234 yards rushing on 52 carries (4.5 yards per carry) and scored four touchdowns on the ground.
Neither Wilfork nor Warren made any excuses for the way the run defense was gashed, but neither had any answer for why the Patriots fared so poorly.
"We got beat up pretty bad today," said Wilfork. "Baltimore could have been playing against a JV football team and got a better effort than we gave.
"We didn't come to play, point blank. We never had a chance from the first play until the last play. They came in and they wanted it more than us, and it showed.
"What can you do about it? Move on, there's no film watching now. Everything's over. You take it in stride. They played a hell of a ballgame. Clearly they showed what they wanted to do is run the ball, and they did. And did it very well. No excuses, we didn't come to play."
The Patriots were the fifth-best defense in the league in points allowed (17.8 per game) and ranked 13th against the run, allowing 110.5 rushing yards per contest.
The Ravens topped both of those marks before the end of the first quarter Sunday.
After the Patriots talked all week about the importance of containing Rice, the slippery second-year back out of Rutgers set the tone with his career-long run 17 seconds into the game. It was the second-longest running play in postseason history, next to a 90-yard trek by Fred Taylor, then with Jacksonville, against Miami in 1999.
[+] Enlarge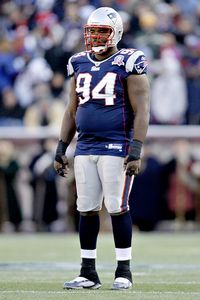 AP Photo/Charles KrupaTy Warren and the Patriots weren't making excuses after being run over by the Ravens: "Our job was to go out there and stop them. And we didn't do that."
"It was very disappointing to start the game off with that kind of run and to give them that much momentum," said safety James Sanders. "We can't play that way in the playoffs and expect to go anywhere.
"I don't know exactly what happened, but it couldn't have been right because he came through untouched and went the distance. He's a good running back, but to give him a lane like that, you can't say anything about it."
Said Wilfork of Rice's run: "He found a crease and he hit it. He hit it hard. The first play of the game, you don't want to start out like that. He's already small. He found a crease where only he could see through it. Trust me. We looked at the film on the sideline and we couldn't believe he got through it. But he did."
New England never recovered. Three plays later, Brady got strip-sacked by Terrell Suggs and, five players after that, fullback Le'Ron McClain plowed into the end zone from 1 yard out. Rice added a 1-yard touchdown of his own with 3:55 to play in the first quarter to put Baltimore on top 21-0.
Warren said the Ravens' success was not a matter of trickery. In fact, he said Baltimore did exactly what the Patriots had planned for. But New England couldn't do anything to stop it.
"When you jump out the way they did, you pretty much stick with what you're doing," said Warren. "The cushion on the scoreboard allows you to do that. On the flip side, that's what we've done around here in years prior. They definitely did a good job of [running the ball]. Why would they change?"
The Ravens passed for only 34 yards with second-year quarterback Joe Flacco completing a mere four passes. After tossing the ball 47 times in the teams' Week 4 meeting, Baltimore simply ran it down the Patriots' throats Sunday.
Ravens Rushing vs. Patriots
During the regular season, the Ravens cruised to an .833 winning percentage (5-1) when calling more rushing plays than passing. In contrast, they struggled to a 4-6 record when they threw the ball more often, as they did in their regular-season game against the Patriots.
| Category | Week 4 | Sunday |
| --- | --- | --- |
| Rushes | 17 | 49 |
| Passes | 49 | 10 |
| Rush TD | 0 | 4 |
| Result | L, 27-21 | W, 33-14 |
The Patriots' offense, which had its own troubles, including four turnovers, didn't do the defense any favors. And after Rice's game-opening trek, the Ravens averaged fewer than 3 yards per run (151 yards on 51 carries). But after the first quarter, it didn't matter. The damage had been done.
"How can you be frustrated with anyone but yourself?" asked Warren. "Their job was to go out there and score points. Our job was to go out there and stop them. And we didn't do that."
Wilfork noted that there was no sense in analyzing the mistakes any further. The Patriots got beat and their season is over. But he couldn't remember a time when a New England team got handled as easily as it did Sunday, particularly this time of year.
"We got beat up, that's what happened," said Wilfork. "No excuses. You see [the Ravens], they came in and played like this was a playoff game. And you see another team that came in and just laid [down], [we] just went through the motions."
Chris Forsberg is a roving reporter for ESPNBoston.com. Follow him on Twitter.
Celtics reporter, ESPNBoston.com
Covered Celtics since 2007
Emmy award-winning videographer
Joined ESPNBoston.com in 2009
The Patriots' season ended in stunning fashion Sunday. The Ravens jumped out to a 24-0 lead and the Pats never recovered. Game recap »
STORIES
VIDEO
EDITORS' PICKS
The C's didn't look ready for the postseason in getting crushed by the Cavs.