Commentary
Breaking down the Patriots' road woes
Pass defense, Brady's fourth-quarter struggles are primary culprits for New England
Updated:
September 30, 2010, 11:13 AM ET
By
Jeremy Lundblad
| ESPNBoston.com
It's a pretty good time to be a New England Patriots season-ticket holder who doesn't own a television.
Who are the 2010 Patriots?

Tom Brady knows Monday night's showdown in Miami could help define the Pats' season. Mike Reiss
Sure, there was the postseason meltdown against the Ravens in January. But the Patriots have won 22 straight regular-season home games started by Tom Brady. In those games, Brady has a 107.3 passer rating, courtesy of 47 touchdowns and 10 interceptions.
It still feels like 2007 if you don't watch the road games.
The Patriots are 2-7 on the road since the start of last season, including their Week 2 loss to the New York Jets in the Meadowlands. Only the Browns claim a worse road record in the AFC over that span -- and at 2-8, that could be just because they've played one more game.
Yet, somehow, a 2-7 record understates how much the Patriots have struggled on the road.
One of those "road" wins came in London -- a 35-7 drubbing of the then 0-6 Tampa Bay Buccaneers, who were designated the home team for what was effectively a neutral-site game.
That makes the Patriots 1-7 in their past eight true road games.
Even that one win was, well, unspectacular. Rather than a 17-10 Patriots victory, it would best be described as a Bills loss. Buffalo was whistled for 11 penalties totaling 124 yards, culminating in an offside call on an otherwise-successful onside kick with 3 minutes to go.
The Patriots' dynasty -- once penetrating all geographic boundaries -- now reigns over only the 02035 zip code. Oh, and London.
Things haven't been this bad on the road since 10 losses in 11 road games from 1999 to 2000. That stretch straddled the end of Pete Carroll's tenure and the start of Bill Belichick's.
So, as the Patriots travel to Miami for "Monday Night Football," what better time to examine their road struggles?
Part of the problem -- as detailed last week -- is an inability to hold a lead. In five of those seven road losses, the Patriots led at the half.
Clearly, there's significant overlap between the Patriots' road woes and their failure to close out games. However, the struggles away from home go even deeper.
Again, it starts with Brady. In 2007, among all the other history he made, his 127.0 passer rating and 29 touchdowns on the road were single-season records.
Highest Single-Season Passer Rating in Road Games
| Quarterback | Passer Rating | Year |
| --- | --- | --- |
| Tom Brady | 127.0 | 2007 |
| Steve Young | 122.6 | 1994 |
| Peyton Manning | 120.7 | 2004 |
| Dan Marino | 116.6 | 1984 |
| Ken Stabler | 116.4 | 1976 |
It's a bit unfair to compare anyone -- including Brady -- to his 2007 season. But he certainly has a longer track record than that. In 2006, he went 7-1 with a 99.6 passer rating on the road. His past success makes his recent numbers so alarming.
Tom Brady In True Road Games
| | 2007 | 2009-10 |
| --- | --- | --- |
| Team W-L | 8-0 | 1-7 |
| Comp. pct. | 71.3 | 58.5 |
| TD-INT | 29-4 | 10-10 |
| Yards per attempt | 8.90 | 7.14 |
| Passer rating | 127.0 | 77.5 |
>>Does not include game in London
In his past eight true road games, Brady has a 77.5 passer rating with as many interceptions (10) as touchdowns. During that same span, he has a 112.9 rating at home, second only to Drew Brees.
As the blown leads attest, it's the second half in which Brady's road woes appear. But even when the Patriots beat the Bills or were blown out by the Saints, Brady was decidedly less productive in the second half.
In his past eight true road games, he has a 50.8 passer rating in the second half compared to a 101.6 passer rating in the first half.
Tom Brady In Past 8 True Road Games
| | 1st Half | 2nd Half |
| --- | --- | --- |
| Comp. pct. | 64.3 | 51.9 |
| TD-INT | 8-3 | 2-7 |
| Yds per attempt | 8.64 | 5.49 |
| Passer rating | 101.6 | 50.8 |
The numbers get downright ugly in the fourth quarter, when Brady has a 29.3 passer rating courtesy of one touchdown and five interceptions.
Quite simply, that makes Brady the worst quarterback in the NFL on the road in the fourth quarter since 2009.
Not rookies Mark Sanchez (29.7) or Matthew Stafford (33.4). Not even quarterbacks who lost their jobs, such as Derek Anderson (33.4) and Kerry Collins (42.2). No one has been worse than Brady.
Lowest Passer Rating in 4th Quarter Of True Road Games Since 2009 (min. 25 attempts)
| Quarterback | Passer rating |
| --- | --- |
| Tom Brady | 29.3 |
| Mark Sanchez | 29.7 |
| Derek Anderson | 33.4 |
| Matthew Stafford | 36.0 |
| Kerry Collins | 42.2 |
Still not convinced? In his past five road games, Brady has a fourth-quarter passer rating of 10.5, with almost as many completions to his opponents (5) as to his teammates (12).
As he is the visible leader, it's easy to blame Brady. However, the fact remains that the Patriots are blowing leads he gives them. His first halves have been as good as his second halves have been bad.
The New England defense has been just plain bad on the road. In three of those seven true road losses, the Patriots allowed 21 points in a single quarter. Overall, they are allowing 25.4 points per game on the road since 2009, the seventh-worst average in the NFL. By contrast, the Brady-led offense is putting up a middle-of-the-pack 19.5 points.
Here again, the contrast with home performance is stark, particularly with regard to the much-maligned pass defense. While holding opponents to 10 fewer points on average, the Patriots have twice as many interceptions at home.
Patriots' Opponents Since 2009
| | In Foxborough | At home |
| --- | --- | --- |
| PPG | 15.7 | 25.4 |
| Comp. pct. | 58.0 | 65.6 |
| Pass YPG | 199.8 | 278.3 |
| TD-INT | 11-12 | 20-6 |
| Passer rating | 73.4 | 103.9 |
In fact, when in Foxborough, the Patriots have had arguably one of the best defenses in the NFL. Opposing quarterbacks have a 73.4 rating there since 2009, which is the ninth-lowest of any stadium.
In true road games, it's quite the opposite. Opposing quarterbacks are averaging 278.3 yards and a 103.9 rating, the third-highest in the NFL, putting the Patriots behind both the Oakland Raiders and Detroit Lions.
Performance on first down is a clear basis for the difference. In Foxborough, opposing quarterbacks have had a 58.4 rating on first down, second-lowest in the NFL. In true road games, the rating skyrockets to 114.0 on first down, second-highest in the NFL. If you can't stop them on first down, it makes it much tougher to do so on subsequent downs.
Yet even with a porous pass defense and an uncharacteristically struggling Brady, there is perhaps a far more basic reason for New England's road woes. Quite simply, the Patriots have been playing tougher teams.
Both Super Bowl participants welcomed the Pats last season, as did the Denver Broncos and Houston Texans, both of whom narrowly missed the playoffs. Meanwhile, the 9-7 Ravens were the top non-AFC East team to visit Foxborough last season.
More From ESPNBoston.com

Analysis, video, grades ... everything you need to know about the Patriots' matchup with the Colts can be found right here. Patriots Center
Since 2009, the Patriots have had the 18th-hardest home schedule compared to the second-most difficult schedule in true road games. For a secondary, facing David Garrard and Matt Moore in Foxborough is a far cry from Peyton Manning and Brees on their home turf.
The same holds true for Brady. Last season, the Jets, Bills and Broncos had the top three pass defenses in the NFL. Brady faced all three on the road, not to mention the New Orleans Saints and Indianapolis Colts.
But as significant as it is, the schedule doesn't explain Brady's two fourth-quarter interceptions in Miami, or why the defense makes Mark Sanchez look like a Pro Bowler when he's at home.
The numbers show dramatic struggles on the road that are deeper than whom the Patriots line up against.
During his weekly news conference Wednesday, Brady made it clear his focus was not on the road failures of 2009.
"We're 0-1 this year," Brady said. "Really, this is a totally different team than last year."
The Patriots have a chance to prove that Monday.
Jeremy Lundblad is a researcher with ESPN Stats & Information. He provides statistical analysis for ESPNBoston.com.
ESPN Stats and Information
Senior researcher
Provides statistical analysis for ESPNBoston.com
WEEK 6: PATRIOTS VS. RAVENS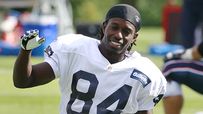 Follow Mike Reiss' coverage

of the New England Patriots on Twitter
PATRIOTS CENTER
Check out ESPN Boston's home for complete New England Patriots coverage before and after each week's game, including analysis, commentary, videos, predictions, report cards, leaders, photos and more.
Patriots Center »
MORE PATRIOTS COVERAGE
NFL BLOG NETWORK
EDITORS' PICKS
With the Panthers trying to catch the B's in a tight playoff race, tonight's matchup is a biggie.