Commentary
Tom Terrific? Not recently in playoffs
With 12 picks in last eight playoff games, Brady just might have something to prove
No one can question Tom Brady's playoff credentials, but he nevertheless has something to prove on Sunday against the New York Jets.
Only Terry Bradshaw and Joe Montana have won more Super Bowl titles at quarterback. Brady set the NFL record for consecutive postseason wins with 10 -- and that was to start his career. Sunday, he could break a tie with Bradshaw and John Elway for the second-most playoff wins in NFL history, and he's just two wins shy of Montana's record.
So what could he possibly have left to prove?
Quite simply that he still has that playoff magic.
In the glow of another MVP season, it's hard to remember that Brady has been just average in the postseason since the New England Patriots' last Super Bowl title six years ago. In that span, Brady has the same number of playoff wins (five) as Matt Hasselbeck.
It's not just a reflection of the team surrounding him.
Tom Brady, Postseason Career
| | 1st 10 Games | Last 8 Games |
| --- | --- | --- |
| W-L | 10-0 | 4-4 |
| TD-Int | 14-3 | 14-12 |
| Int pct | 0.9 | 3.9 |
| Passer rating | 91.1 | 79.4 |
Before he started breaking passing records, Brady found success through mistake-free football. In winning his first 10 playoff starts, he tossed 14 touchdowns to only three interceptions. But in the last eight postseason games, Brady has thrown 12 picks and the Patriots are 4-4.
There's no clearer example than last year's playoff game against the Baltimore Ravens. Recall how the first four Patriots possessions ended: Brady fumble, 3-and-out, interception, interception.
It's the only time Brady has ever thrown two first-quarter picks in his NFL career. The Patriots had zero net passing yards in the quarter.
In the end, Brady threw three interceptions -- one fewer than he had in 16 games this season. He finished the game with a 49.1 passer rating, his lowest ever in a postseason game and lowest in any game since 2006. His 3.67 yards per attempt were his fourth-fewest in 161 career starts.
Plenty of other things went wrong that day -- namely a run defense that allowed 111 yards in the first quarter and 234 in total. However, Brady's sloppy game stands out as almost unfathomable, given his play in 2010.
One poor playoff performance could be written off, but that was just the latest rough outing.
[+] Enlarge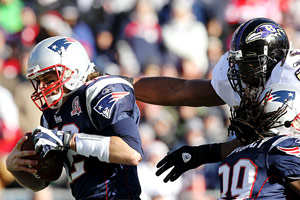 Jim Rogash/Getty ImagesThe only time in his career that Tom Brady has thrown two first-quarter interceptions was in last year's playoff loss to the Ravens.
In Super Bowl XLII, Brady only had one turnover (a lost fumble) but struggled to find any rhythm. He had just 23 passing yards through the first quarter and only 82 at halftime. In a 16-0 season in which 13 of his touchdown passes were thrown more than 20 yards, Brady finished that Super Bowl 0-for-8 on long balls -- all against a Giants defense he torched for 356 yards less than six weeks before.
To get to that game, Brady had to get bailed out by his defense after throwing three interceptions in the AFC Championship Game against the San Diego Chargers, who were essentially without LaDainian Tomlinson.
Put together, Brady has eight turnovers (six interceptions, two lost fumbles) in his past three postseason games. That's the same number of turnovers he has in his last 20 regular-season games. The same quarterback who hasn't been picked off in 335 attempts has six in his last 118 postseason passes.
Brady has gone 57 straight regular-season games without throwing three or more interceptions. Yet, he's thrown three in two of his last three (and three of his last six) playoff games.
This isn't to say Brady has been all bad. He's sprinkled in brilliance amid mediocrity. Three years ago against Jacksonville, Brady set records by completing his first 16 passes and connecting on 92.9 percent of his total attempts. However, looking at his performances as a whole, Brady hasn't approached the level he set before turning 28 years old.
The 2010 Patriots are built on protecting the football, setting a modern NFL record with only 10 turnovers. But their recent postseason history calls into question whether that will continue.
Patriots in Postseason Games Under Bill Belichick
| | Gms | Turnovers | W-L |
| --- | --- | --- | --- |
| '00-04 | 9 | 6 | 9-0 |
| '05-Now | 9 | 18 | 5-4 |
Can New England return to mistake-free postseason football? It's the same formula that brought home three titles courtesy of only six turnovers in nine playoff games. Since 2005, the Patriots have 18 turnovers in nine games, including 11 in their four playoff losses.
If turnovers don't get to the Patriots, sluggish starts might.
New England is scoreless in the first quarter in each of its last three playoff games. Over the last eight postseason games combined, the Patriots have scored a total of 24 first-quarter points.
Here again, Brady deserves some of the blame.
Tom Brady in First Quarter, Postseason Career
| | 1st 10 Games | Last 8 Games |
| --- | --- | --- |
| Comp pct | 62.2 | 52.9 |
| Pass yds | 534 | 314 |
| TD-Int | 3-0 | 1-3 |
| Passer rating | 93.2 | 52.0 |
He's thrown one first-quarter touchdown pass in his last eight postseason games. Add to that three interceptions and a 52.9 completion percentage, and Brady has a 52.0 passer rating in the first quarter during this stretch, according to STATS LLC.
That includes his perfect 7 for 7 performance against Jacksonville three years ago. Take out that game, and Brady's completion percentage in the first quarter drops to 47.5. His passer rating plummets to 37.1.
Of course, a strong start is indirectly tied to playing mistake free. The offense inevitably takes more gambles when playing from behind. Consider that Brady has thrown only five interceptions in 431 postseason passes while tied or with the lead. But when trailing, Brady has 10 picks in 206 attempts. That's more than four times as frequently.
The Patriots only trailed in four of Brady's first 10 postseason games, but they've played from behind at some point in each of their last eight.
This is another area New England's recent postseason struggles differ starkly from its 2010 season.
Patriots Blog

Mike Reiss (pictured) and Field Yates have you covered with news and analysis. Blog.
• Send mailbag question
• ESPNBoston.com
During their current eight-game win streak, the Patriots have scored 72 points in the first quarter. That's 10 more than any other team and three times as many as they've scored in the first quarter of their last eight playoff games.
In this regard, the Patriots have the advantage of facing the Jets, a team that last scored an offensive touchdown in the first quarter in Week 4. Including last week against the Colts, the Jets have scored 19 first-quarter points in their last 13 games.
While Mark Sanchez threw one first-quarter touchdown pass in 2010, Brady was masterful early in games. He finished second in the NFL with eight first-quarter touchdowns, while not throwing a single interception.
With historically low turnovers and strong first quarters during the regular season, Brady found success where he's recently failed in the postseason. Will it carry over to Sunday?
Brady will undoubtedly go down as one of the greatest postseason quarterbacks in NFL history.
Now, he can begin proving there's still history to be written.
Jeremy Lundblad is a researcher with ESPN Stats & Information. He provides statistical analysis for ESPNBoston.com.
ESPN Stats and Information
Senior researcher
Provides statistical analysis for ESPNBoston.com
EDITORS' PICKS
Ty Law said he wished he had stuck with the Patriots. Is Darrelle Revis listening?