Commentary
Special-teams ace catching on at WR
With 16 receptions for 229 yards, Sam Aiken's becoming a key Brady target
Updated:
December 3, 2009, 2:39 PM ET
By
Chris Forsberg
| ESPNBoston.com
FOXBOROUGH, Mass. -- In his 85th NFL game and on his 53rd career catch, Patriots wide receiver Sam Aiken finally found the end zone with a 54-yard touchdown reception in New England's Week 7 win over the Tampa Bay Buccaneers.
Maybe it was appropriate that the touchdown, which was highlighted by Aiken's ability to run away from defenders after a short grab, came on foreign soil inside London's Wembley Stadium. After all, it's been a long journey to the end zone for Aiken.
So long, in fact, that it took him a moment to remember to spike the ball.
"I've never seen the end zone," Aiken said with a smile Wednesday inside the Patriots' locker room. "I didn't know what to do with the ball."
[+] Enlarge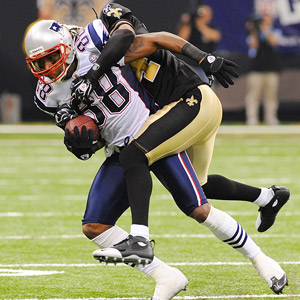 Al Messerschmidt/Getty ImagesSpecial-teams captain Sam Aiken might have cemented himself as the third receiver in New England's offense.
Aiken is listed as a wide receiver on the roster, but for seven NFL seasons he's been regarded as a special-teams ace -- a double-edged sword in the world of professional football.
Special-teams aces are generally held in high esteem by coaches, but rarely get public attention for their on-field contributions. It's even rarer that they see action at their true position.
Take Larry Izzo, for example. A linebacker by trade, Izzo spent eight seasons in New England as a special-teams ace, earning two of his three career Pro Bowl nods with the Patriots. But he saw the field as linebacker only at mop-up time.
Aiken, who registered eight catches during his first season in New England last year, wasn't projected near the top of the wide receiver depth chart this season. But Joey Galloway turned out to be a bust, rookies Julian Edelman and Brandon Tate endured injuries, and Isaiah Stanback is still getting comfortable as a full-time receiver.
Which has opened the door for Aiken to be the team's third receiver. He's started five games there this year and posted career bests with 16 catches for 229 yards.
Belichick on Aiken

Patriots coach Bill Belichick was asked Wednesday if Sam Aiken's role as special-teams captain is any more consuming than other captains because he's dealing with a number of different units. Belichick went into great detail on Aiken's responsibilities.

"I think in some respects it probably is [more consuming]," Belichick said. "I think the special teams -- [when] you talk about special teams -- you're really talking about 66 different positions, not including the hands team and some other specialized situations, but just your basic kickoff, kickoff return, punt, punt return, field goal [and] field goal rush. There're 66 spots, so a number of guys naturally hold down a number of those spots. So you have one guy that might play on five teams or four teams or whatever it is. So when the special-teams group gets together, those core guys, which is more than 11 players, certainly, when you include the specialists and some of the guys that are on just a couple teams and not on all of them.

"I think Sam [Aiken] has done a real good job with that. They get together and they watch film, they go through the game plan and the communication stuff themselves without [special-teams coach] Scott [O'Brien], although Scott spends plenty of time with them, don't get me wrong. But they do that separately, and I think that is a little tougher for the special-teams captain, for Sam, to pull all those guys together because the offensive and defensive units have more time to just meet as a unit. And we meet with each of the special-teams units individually -- the punt team, the kickoff team and so forth. But then the players come together and they do some things on their own just to combine all the special teams -- just to watch game film, for example -- and that's something that the captain organizes and leads those meetings and all of that. So it is -- I would say it's a little different than offense and defense. They're all important, but it is a little bit different."
-- CHRIS FORSBERG
One of the few bright spots in Monday's lopsided loss to New Orleans, Aiken registered team- and career-highs with seven catches for 90 yards.
What's more, he might have cemented himself as the third receiver in New England's offense.
"Injuries are a part of it and Sam is really stepping up and taking that role," said quarterback Tom Brady. "A guy who, coming into the year, was primarily a special-teams player for us and a backup receiver is now more of a receiver for us, while still being a key part of our special-teams unit -- captain of our special-teams unit. You need good players out there and, like I said, when [opponents] really focus their attention on Randy [Moss] and Wes [Welker], to be able to throw the ball to a guy like Sam, that was extremely important for our offense this last week."
Added Welker: "Sam has been a great player, and [he's] really making sure that he's making plays out there and doing the jobs that he needs to do. His role is going to be expanded, and he realizes that and he has to step up."
Aiken caught 146 passes for 2,205 yards and 15 touchdowns at the University of North Carolina. In his senior season with the Tar Heels, he set school records with 68 catches for 990 yards.
Chosen by the Bills in the fourth round (127th overall) of the 2003 NFL draft, Aiken stayed on the 53-man roster because of special teams, hauling in just 19 catches for 250 yards over five seasons in Buffalo.
Overall, Aiken has 78 special-teams tackles in 88 career games. But as Aiken's role expands on offense, Patriots coach Bill Belichick admits they might have to scale back his role on special teams -- a daunting proposition given his under-the-radar play in the kicking games.
"When [Aiken has] had his opportunity, he's stepped up, caught the ball and also run with it well after the catch," said Belichick. "He's a big, physical player -- definitely different than Wes and different than Randy. He has a different playing style, different set of skills. I think they all complement each other pretty well, and he's a physical player, which we see in the kicking game, but that shows up on offense, too.
"Sam works hard. He doesn't say much; he's a quiet guy, but he works hard, he's always prepared and he's tough. He's obviously earned everybody's respect around here and when he's had an opportunity to play he's stepped in and done a good job for us."
Aiken said the key for him as a receiver is developing trust with Brady.
"It comes down to trust -- if Tom can trust me to get open, or be at a certain depth," Aiken said. "I feel good. They believe in me and if I continue to do what I need to do, the rest will take care of itself."
One short-term goal for Aiken is catching a touchdown pass at Gillette Stadium. It'd be nice to get one inside of the United States, and Aiken promises he'll know what to do with the ball this time.
Chris Forsberg is a roving reporter for ESPNBoston.com. Follow him on Twitter.
Celtics reporter, ESPNBoston.com
Covered Celtics since 2007
Emmy award-winning videographer
Joined ESPNBoston.com in 2009
EDITORS' PICKS
Rob Gronkowski appreciates everything that's on the line at the Super Bowl.