Tom Brady unanimous as NFL MVP
Updated:
February 7, 2011, 1:16 AM ET
Associated Press
DALLAS -- Here's a Brady Bunch for NFL fans: Tom Brady got all 50 votes for MVP.
Reiss: MVP Bittersweet for Brady

Tom Brady became the first player to be voted unanimously as NFL MVP, but that wasn't the hardware he was hoping for, ESPNBoston.com's Mike Reiss writes. Blog
The New England Patriots quarterback on Sunday became the first unanimous choice for The Associated Press NFL Most Valuable Player Award since the AP began using a nationwide panel of media members who cover the league.
He surpassed himself, too: In 2007, when Brady won his first MVP, he got 49 votes; one voter went for Brett Favre.
"It is always flattering to be chosen for such a prestigious award," Brady said. "But I also look at it as a team award, as nothing in football gets accomplished without the mental toughness and determination of every player and coach associated with that team.
"I am very humbled to be a part of an organization where winning comes first, and our goals are based around the success of the team."
Those successes, including three Super Bowl titles in the last 10 years, are in great part due to Brady's excellence.
Associated Press NFL Awards

MVP: Tom Brady
Defensive Player of the Year: Troy Polamalu
Offensive Player of the Year: Tom Brady
Coach of the Year: Bill Belichick
Comeback Player of the Year: Michael Vick
Offensive Rookie of the Year: Sam Bradford
Defensive Rookie of the Year: Ndamukong Suh
• AP All-Pro Team: Brady unanimous
Although he didn't set nearly as many passing marks as in '07, Brady by far was the league's top performer in leading New England to a 14-2 record, best in the NFL. He had a record streak of 335 throws without being intercepted, and passed for 36 touchdowns with only four picks.
Not that the 33-year-old Brady would compare this season's Patriots to any others.
"Every team every year is different," he said, "and over the course of 100 practices and many games a team establishes its identity. Players change, schemes change, opponents change, which is why the game is so exciting year in and year out.
"The fact that 32 teams start out each year with the same goal is why the popularity of the sport is at an all-time high. The great part about our sport is that nothing comes easy, and wherever you stand at the end of the year is the exact place that you deserve to be."
Individually, Brady stands above all others. The only Patriot to win the award, he and Peyton Manning, his rival for the NFL's best quarterback, have split the last four MVPs.
Brady followed his previous MVP trophy with a lost season, tearing left knee ligaments in the first half of the 2008 opener. His return in 2009 was solid, although hand and rib injuries slowed him.
This year, even with a sore right foot that required postseason surgery, Brady was simply dynamic. He twice threw for four touchdowns in a game and four times had three. Twelve times, he had a passer rating of at least 100.
Down Pat

Tom Brady had 36 passing TDs and four INTs this season. That's the highest ratio (9.0) in NFL history -- surpassing his own record from 2007.
Highest TD:INT Ratio in Season
Min. 20 TDs, NFL History
Player
Ratio
TD-Int
Season
Tom Brady
9.0
36-4
2010
Tom Brady
6.3
50-8
2007
Steve DeBerg
5.8
23-4
1990
Peyton Manning
4.9
49-10
2004
Brett Favre
4.7
33-7
2009
• Blog: AFC East | Pats blog | Stats & Info
powered by

And he guided a young team in transition to 14 victories.
"Brady is so special because he's such a great leader and all the players can relate to him," team owner Robert Kraft said. "These kids [rookies] who come in live in awe of him, but the nice thing is he treats them well.
"He works very hard, he studies very hard," Kraft added. "Being a great quarterback isn't just being very skilled. It's being able to process information quickly, to make the adjustments, and I think he's fabulous at that."
As fabulous as he might have been, Brady, not surprisingly, has some regrets about 2010.
"When the season is over, 31 teams are disappointed about the outcome," he said. "There is only one champion, and nobody plays this game for second place. The desire and hunger is about winning, which to me never gets old. The motivation to get up and work every day for that goal is something that challenges us all.
"Our team has very high expectations, and our team will come back this year with the same purpose," he said. "Whether or not that leads to a championship season will be determined by the commitment each player makes to do their job as best as they possibly can."
The way Brady does.

Copyright 2011 by The Associated Press
PACKERS WIN SUPER BOWL XLV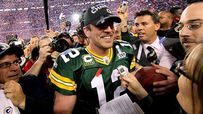 The Packers defeated the Steelers 31-25 in Arlington, Texas, to win their fourth Super Bowl.
SB Central
|
SB blog | Clayton's Last Call
NEWS
COMMENTARY/BLOG POSTS
PAGE 2
SPORTSNATION
NFL BLOG NETWORK
FOLLOW US ON TWITTER
ESPN PASSPORT