Commentary
Don't underestimate the Dolphins
Patriots' opponent defined not by Wildcat but by toughness
Join the conversation every week as former Patriots linebacker Tedy Bruschi and ESPNBoston.com's Mike Reiss break down New England's upcoming game. This week, it's the Patriots hosting the Dolphins on Sunday (1 p.m.).
Mike: Let's kick it off with a quick statistic. The Patriots are 7-2 after the bye under coach Bill Belichick with six straight wins -- one over Dallas, four over Buffalo, one over San Francisco. From your time with the team, is there anything you can put your finger on as to why the team has been so successful after the bye?
Tedy: The timing of this bye is very good for the Patriots, right at the midpoint. They could self-scout, look at what they do well, what they do poorly, and spend their week on solving those problems. In the past, when I was with the team, fundamentals were always a priority. In training camp, you spend a lot of time working on blocking and tackling techniques, footwork, turning your hips in coverage and things like that. But as the season comes along, you sort of get away from that, and instead you're looking at schemes of the opposing offense and defense. In the bye week, it's "Let's get back to those fundamentals." I also remember that it was the time when coaches would have meetings with players individually. Not necessarily to give them a midseason grade, but I remember conversations like, "Tedy, this is where we feel your game is right now -- this is what you're doing well, these are some areas we feel you are struggling, and this is where you need to improve." That leads a player to think about it over the week, take the information and maybe correlate it to what you see on film so you can get better as a player.
Patriots Blog

Mike Reiss (pictured), Mike Rodak and Field Yates have you covered throughout the season. Blog.
• Send mailbag question
• ESPNBoston.com
• AFC East blog
Mike: I know you said there were no grades, but it almost sounds like a midterm exam.
Tedy: Even when you are in your eighth, ninth, 10th year, they still give you that feedback. Coach Belichick is never shy of saying, "You're not doing too well right now. You need to focus a little more." He does that with 10-year vets, so you can imagine how much it is accentuated with the younger players.
Mike: In going back over the team's performances after byes, the 2003 game against Dallas came to mind. It was a 12-0 victory, and one of the things I remember about that was all the Bill Belichick-Bill Parcells hoopla leading up to kickoff, because Parcells was coaching the Cowboys at the time. I don't think the two coaches had completely buried the hatchet that year. They since have, sitting together at the Senior Bowl for example, and on Wednesday, Belichick was extremely complimentary of Parcells' ability to rebuild the Dolphins. What are some of your top Parcells memories?
Tedy: I think when you look at the New England Patriots right now, the name that always comes first is Coach Belichick, but there is plenty of Bill Parcells in his background. The Coach Parcells effect can last years down the line, with players and coaches and concepts. The formula he's brought in Miami is somewhat similar to what Mr. Kraft has done here -- he hired a head coach, let him have control of the team, and he's been a behind-the-scenes type of person. You don't see Coach Parcells behind a microphone every week, giving his ideas. He lets coach Tony Sparano do his job, and that's an important aspect of being a behind-the-scenes leader. For me personally, as a player, I was very fortunate that the groundwork on my mentality and the way I played football was laid by Bill Parcells. He was my head coach my rookie year, and all the lessons I learned from him, about being a champion and achieving success, I kept those core values all throughout my career.
Mike: I know how strongly you feel about Belichick and what he meant to your career. What else comes to mind with Parcells' influence and other memories?
Tedy: Stories with Coach Parcells are more humorous. Bill [Belichick] would make statements like, "Do your job, get better, put the team first," and Parcells might say the same thing but deliver it in a different way. I remember a game my rookie year against the Baltimore Ravens. I had the first two sacks of my career, against Vinny Testaverde, and also scored a touchdown on special teams on a Larry Whigham blocked punt. The next week I'm in a great mood, and during stretching at practice, I'm joking around with Chris Slade and Willie McGinest. Coach Parcells walked up to me and said to everybody, "Look at this guy. He makes a few plays, and now he thinks he's got all the answers." Everyone was laughing, giving me a hard time, but that was his humorous way of reminding me that I was still a rookie, sort of saying, "Who do you think you are? You've done nothing yet, kid. Focus on what's next and do your job." But it was just a different way of sending a message.
[+] Enlarge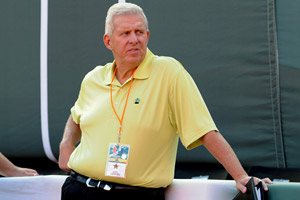 Al Messerschmidt/Getty ImagesThis Dolphins team has the trademark toughness that all Bill Parcells teams possess.
Mike: Belichick mentioned it Wednesday -- the Dolphins are built in Parcells' image. That's one of the things he told the players at their morning team meeting. They are big and physical.
Tedy: When you start to look at the Dolphins, the focus goes away from who is up in the luxury suite -- Parcells -- to the players on the field. People that I've spoken to have given me a hard time for saying the Miami Dolphins are such a viable threat to the Patriots. But being a former player, and knowing how the players feel in the locker room, they respect that team and how they play. The Dolphins are now 3-0 in the AFC East, which is a big stat when it comes to tiebreakers later in the year. Since the start of the 2001 season, Belichick's Patriots teams are 40-12 against the AFC East, and six of those losses have come against Miami. That's why I always view the game against the Dolphins as one of the toughest of the year. They play smashmouth football offensively. They're looking to run the ball. Defensively, they always give the Patriots problems, and they do it by getting pressure on Tom Brady.
Patriots' offense versus Dolphins' defense
Mike: When you mention the Dolphins' ability to create pressure, it naturally starts with Jason Taylor and Joey Porter bringing the heat.
Tedy: The defining moments in the losses the Patriots have had against the Dolphins have come with Taylor rushing off the edge and sacking Tom Brady, forcing a fumble that teammates recover, or help them score on defense somehow. Taylor has always been a thorn in the side of the Patriots' offense. Combine him with Joey Porter, and that can be a problem.
Mike: The Patriots were interested in signing Taylor this offseason, but family considerations were a big factor in him returning to Miami. How closely were you following that when you were with the team, and what were your thoughts on that?
[+] Enlarge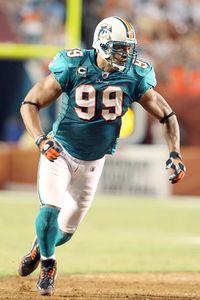 Douglas Jones/US PresswireJason Taylor has given the Patriots problems in the past.
Tedy: I thought he would be a great addition. With the loss of [Mike] Vrabel initially, my question was, "Who would step in for him? Does the organization think we need another veteran presence?" But I figured it would be tough to get Taylor up here to the Northeast. Guys who play the bulk of their career in Florida, it's a big adjustment to come up here.
Mike: If Matt Light (right knee) remains out, that puts the pressure on rookie Sebastian Vollmer at left tackle. Belichick made the point that the Dolphins move Taylor around to different sides, but you have to figure Vollmer will see a lot of him.
Tedy: Vollmer showed that he made positive strides in the Tennessee game, but sort of stepped back in the Tampa game with the offensive penalties he was committing. This game is going to be different for him -- a divisional game against a player who feels very comfortable playing against the Patriots, who has confidence playing against the Patriots, and who we've seen over the course of his career be a Patriots nemesis.
Mike: The Dolphins look tough in the front seven, but you've pointed out the secondary has to be an area that concerns them.
Tedy: Their secondary is filled with rookies. Vontae Davis, Sean Smith and Chris Clemons all get significant playing time, and like I said in the week the Patriots were playing the Titans, when you have an inexperienced secondary against the Patriots' passing attack, that can spell trouble for the defense. This pass defense has also had trouble defending the tight end in the middle of the field, so look for Ben Watson or Chris Baker to possibly have a big game.
Mike: With top cornerback Will Allen out for the season, the Dolphins started Davis and Smith last week, marking the first time in their 43-year history that they opened a game with two rookie cornerbacks. Clemons also started. So my thought is that this looks like the game within the game: Can the Dolphins possess the ball and protect their secondary from a time-of-possession standpoint? Another storyline to follow is Patriots rookie receiver Brandon Tate. I sense there is a lot of interest in him among those who follow the team.
Tedy: They gave him a nice introduction, a chance to get his feet wet, by handing the ball off to him on a reverse for his first NFL action. The question now is whether he takes another step up from here; can he start to develop into that third receiver role? We'll get a better feel how the coaches feel about him watching the game. Do they call plays for him to give him more confidence -- a bubble screen, maybe an option route underneath defenders? If he gets those opportunities, it means the coaches are taking a long hard look at how he can contribute.
Mike: Before moving on to the other side of the ball, anything else stand out to you with this part of the matchup?
Tedy: I think the Patriots still have to stay balanced. That's who they are and that's who they have to try to continue to be. You can't look at the last two games -- Tennessee and Tampa -- and think you are the 2007 offense again. They're not. You have to give the running game a chance. If it works, stay with it. If it doesn't, then adjust from there, but the run game must be given a chance.
Patriots' defense versus Dolphins' offense
Mike: Let's start in the obvious spot, Tedy. When you think about the Dolphins' identity on offense, it starts with the Wildcat.
[+] Enlarge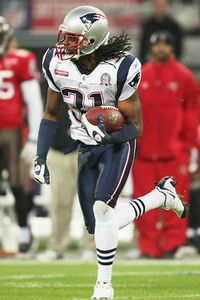 Elsa/Getty ImagesBrandon Meriweather could play a big role in stopping the Dolphins' Wildcat attack.
Tedy: Everybody wants to talk about the Wildcat, everybody wants to bring up what the Wildcat did to the Patriots last year, and it's a viable topic. They gashed the Patriots' defense last year, and I was the middle linebacker, shaking my head on the sideline wondering, "What is going on? What is this new formation that they're bringing out?" Unfortunately, I was part of the defense that was used as the experiment to try it out, and they scored on us four times. The defense already has multiple checks for gadget formations and empty backfield, and the Wildcat created a whole new set of adjustments. Unfortunately we didn't have a plan for that. After the game, I learned that the Dolphins' quarterbacks coach, David Lee, was at Arkansas when they ran something similar with Felix Jones and Darren McFadden. I wondered how we didn't catch that as a coaching staff. Now the secret is out and there is plenty of film to watch, plenty of time to make adjustments.
Mike: It's easy to forget, the Patriots made the adjustments in the second game last year. The Wildcat did not hurt them.
Tedy: I also like what the Jets did last week. When they saw the Wildcat formation, they blitzed Calvin Pace off the edge and also sent Darrelle Revis off the edge and got the Dolphins out of the concept. The Dolphins have had some difficulty with it this year -- against the Jets and Saints, they ran it 21 times for only 36 yards. Teams are starting to show they can stop the concept.
Mike: I heard Rodney Harrison mention that the Patriots will be ready for it because of the play of the safeties, Brandon Meriweather and Brandon McGowan. Why are the safeties so important?
Tedy: It depends on what a defense does with the safety, but remember the Denver game when Coach Belichick called timeout on the first drive after seeing the Wild Horses formation? That was one of the first times I've seen him do that, and it was basically him saying, "You got us, and I have an adjustment." Instead of waiting between series, he was more proactive and did it in the middle of the drive. After that timeout, you saw him have Meriweather attack the Wild Horses off the defensive left side. That was an example of the importance of the safety. Expect to see more of that this week.
Mike: One other aspect that should be mentioned is the physicality of this offense. The two Jakes -- Jake Long at left tackle and Jake Grove at center -- set a tone up front. Right tackle Vernon Carey is also a former first-round pick.
Tedy: The Dolphins are one of the toughest teams in the NFL, and I say that in terms of being physically tough. Based on what coaches often look for, I keep a toughness meter, and it combines a team's ability to run the ball, stop the run, and cover kicks. So you take four categories -- most rushing yards, fewest rushing yards allowed, fewest kickoff return yards allowed and fewest punt return yards -- and that gives you a feel for how tough a team is. The Dolphins are currently third in the NFL.
Mike: Where are the Patriots?
Tedy: If you take those four stats and apply them to the Patriots, they are 18th.
Mike: A few other issues to cover are injuries and any other wild cards that could be in play.
Tedy: Dan Henning is the Dolphins' offensive coordinator, and with that I think there is a high possibility the Patriots will be seeing a new wrinkle. The Patriots were the team initially caught off guard, and this year I think the new wrinkle could be Pat White. He can run the Wildcat and also be an accurate thrower as he showed in college at West Virginia. So that will be interesting to watch. On the injuries, with Jarvis Green out, the depth of the defensive line comes into question. Mike Wright now steps in. When you had Richard Seymour go down, it would be Green stepping in. It's great that the Patriots have depth but now you're at the point where you could consider them thin at one spot that has traditionally been a strength -- defensive line. That's something to watch.
Mike: That could mean rookie Ron Brace, one of the team's second-round draft choices, is active for the first time since Week 2. In a physical game, he could be the type of physical presence they need to call on from time to time. He's 6-foot-3, 330 pounds.
Tedy: One of the final things to mention is Ted Ginn and his explosive returns. The Patriots may have an equalizer in Stephen Gostkowski, who has one of the strongest legs in the league. The best and easiest way to negate a kickoff return threat is to kick the ball 10 yards deep into the end zone. Gostkowski has that power. So if it's a good-weather day, that could help.
Mike: The initial forecast looks promising, in the 50s with no precipitation. Gostkowski is second in the NFL with 13 touchbacks, so that could be a big weapon.
Tedy: Wrapping it up, the Patriots are coming off two decisive victories and the bye week. Brady looks great, and everybody seems happy. I'd just stress the fact this is a serious game, a divisional game. The Patriots have had great success against the NFC, like last year, but as we saw last year, the NFC games don't mean much when you're talking about the AFC playoff picture and tiebreakers. Division wins are very important, and the Dolphins are a very tough team. People might look at them as a gimmick team, but they should be taken seriously. Very seriously.
Tedy Bruschi played 13 seasons for the New England Patriots and is a member of the franchise's 50th anniversary team. Mike Reiss is the Patriots blogger for ESPNBoston.com. You can reach Mike by leaving a message in his mailbag.
Patriots reporter, ESPNBoston.com
Covered Patriots since 1997
Blogging on Pats since 2004
Joined ESPNBoston.com in 2009
Columnist, ESPN.com
Tedy Bruschi spent his entire 13-year career with the New England Patriots after being drafted in the third round out of Arizona. He played in five Super Bowls, winning three. He retired prior to the 2009 season.