Commentary
How about a little help here, guys?
Red-hot rookie goaltender Rask can carry the Bruins for only so long
Updated:
May 11, 2010, 11:00 AM ET
By
Matt Kalman
| ESPNBoston.com
BOSTON -- Did Tuukka Rask eat the last PowerBar after practice? Or are the Bruins just trying to see if the rookie goaltender can carry them past the Philadelphia Flyers by himself?
It certainly seems like the Bruins have a grudge against their star puck-stopper that dates to Friday night's Game 4 and continued into Monday's Game 5 -- a 4-0 loss that featured some of the Bruins' weakest, most emotionless defensive play in front of Rask since the team lost 10 in a row in the middle of winter.
Rask kept the Bruins in the game as long as he could, while his teammates sleepwalked through a potential elimination game (their second). He finished with 27 saves, including many from point-blank range. Never has a goaltender allowed nine goals over a two-game span and looked so outstanding doing so.
[+] Enlarge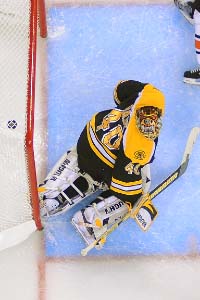 Brian Babineau/NHLI/Getty ImagesSimon Gagne scores against Tuukka Rask in Game 5 of the Eastern Conference semifinals Monday night.
"Tough to say," said Rask after the Game 5 loss when asked if he's playing his best despite the struggles of his teammates. "You let in four, obviously you'd like to have something back. But they made some good plays and scored some goals, so it is what it is."
What it is Rask can't say, lest the Bruins completely relent to the Flyers in front of him. It wouldn't be wise for a rookie goaltender, never mind one who's been through the NHL wars for decades, to ridicule a club in front of him for hitting the ice more than the opposition and deciding to throw the puck to center ice and play "catch it if you can" rather than making purposeful passes out of the defensive zone.
"He's playing well. He made a big save for us in the first period there," said winger Milan Lucic. "I mean, we're just losing our guys in the defensive zone. So we've just got to tighten up and play more as a five-man unit down there."
It took two Flyers goaltenders to outduel Rask. First journeyman Brian Boucher kept his Cinderella postseason going with nine saves through the first 24:31 of the game. When he left with an injury (suspected to be a knee problem), Michael Leighton came out of mothballs for the first time in nearly two months to stop all 14 shots he saw. From the time Leighton entered until the end of the second period, Boston had only five shots on goal. That's not exactly the way to test a rusty netkeeper or provide offensive support for your lights-out goaltender.
"We have a great goalie back there," said center Marc Savard. "When they're getting three whacks in a row at it, I mean ... not too many guys would stop them. He's doing his best for us, and we're letting him down up front. So we've got to regroup as a whole."
The forwards and the defensemen have to take responsibility for the lack of enthusiasm in both the offensive and defensive zones. Boston's defensemen managed only two shots on goal. And the wingers and centers did little to aid the breakout. To his credit, Rask not only didn't disparage the players in front of him, he admitted he could help out when his guys are trying to elude the forecheck.
Stanley Cup Playoffs


The underdogs face off as the Bruins host the Flyers in an old-school showdown. After knocking off the Nos. 3 and 2 seeds, respectively, only one will earn a spot in the conference finals. Follow the matchup from Day 1 on ESPN.com. Series page
• 2010 Stanley Cup playoffs
• ESPNBoston.com: Bruins blog
"Sometimes. I should probably talk more and let them know what's happening," he said. "We just got to be more aware of what's going on and be a little more sharp."
Heading to Philly for Wednesday's Game 6, this Boston team is in a familiar position. The only differences between this series and the first-round matchup with Buffalo are the venue for Game 6 (on the road) and the fact Boston has dropped consecutive games for the first time in the postseason. Oh, and then there's the little matter of their competitive fire, which has seemingly burned out suddenly.
"We just got to take the next step," said Rask. "We played really good [earlier in the series] and today was like back when we played and had that [10-]game losing streak. We were not creating anything. We are really disappointed for our effort and we just got to get back to the things we've been doing [in the playoffs]."
Rask hasn't stopped doing what got him to this hard-to-fathom point of the season. Now the Bruins have to show the Finn some love and match his work ethic, determination and intelligent play to close out this series.
Matt Kalman covers the Bruins for ESPNBoston.com.
Bruins reporter, ESPNBoston.com
Matt Kalman covers the Bruins for ESPNBoston.com. He has been on the Bruins beat since the lockout for numerous publications and has been covering the Boston sports scene for a decade.
CONFERENCE SEMIFINALS: BRUINS-FLYERS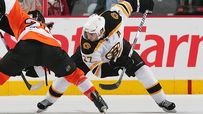 GAME 7: FLYERS 4, BRUINS 3
GAME 6: FLYERS 2, BRUINS 1
GAME 5: FLYERS 4, BRUINS 0

GAME 4: FLYERS 5, BRUINS 4 (OT)

GAME 3: BRUINS 4, FLYERS 1

GAME 2: BRUINS 3, FLYERS 2

GAME 1: BRUINS 5, FLYERS 4
EDITORS' PICKS
Is Shane Victorino healthy enough to be the everyday right fielder, or will a late surge get Rusney Castillo the nod? The Sox must decide.