Commentary
Rask, Miller hold key to Bruins-Sabres
Updated:
April 14, 2010, 2:38 AM ET
By
Joe McDonald
| ESPNBoston.com
This first-round series between the Boston Bruins and Buffalo Sabres could elicit memories of a pair of old barns -- the Boston Garden and the former Buffalo Memorial Auditorium (a.k.a. the Aud).
With Buffalo the No. 3 seed in the East and the Bruins sitting in the No. 6 spot, it figures to be an evenly matched and entertaining series. Game 1 is Thursday (7 p.m.) at Buffalo's HSBC Arena.
Bruins coach Claude Julien didn't want to hear the term "underdog" used to describe his team; he says he feels confident with a 4-2 regular-season record against the Sabres. The teams spilt the final two matchups in the last couple of weeks of the season.
There's such a familiarity between the teams, Julien said, that there wouldn't be a need for in-depth advance scouting.
"I know a lot of teams like to use that [underdog status] as a motivational factor," said Julien. "We've had success against them this year but that doesn't mean we're the favorites. I'm telling you right now, it's going to be a good series and that's where I'll leave it."
Here's a breakdown of the key components of the series:
GOALTENDING: The series won't be the Boston Bruins against Ryan Miller. It will be the Bruins against the Buffalo Sabres. It will, however, come down to goaltending.
The Sabres' Miller (41-18-8/2.22/.929) had a terrific season and was the MVP of the Olympics for the silver-medal U.S. team. Boston is going with rookie netminder Tuukka Rask (22-12-5/1.97/.931) over veteran Tim Thomas. Rask may just be young enough and confident enough to pull this off for the Bruins.
The Sabres' official Web site features a graphic with Miller and Rask facing each other with the conference quarterfinal logo between them. Goalies will say time and again that they don't play against their opposing netminder, but the masked men certainly will be the focus in this series.
"Of course everybody talks about goalies trying to battle against each other and outplay each other, but there are six guys on the ice for each team and I know the little things will make a big impact," Rask said. "I don't really see it as a goalie-against-goalie battle."
OFFENSE: Because the goaltending is reliable on both teams, expect this series to feature low-scoring games. Buffalo attacks, attacks and attacks. The Sabres will use a four-man rush, and sometimes five, in order gain the zone and create quality-scoring opportunities. Buffalo has the confidence in Miller to have such an offensive-minded approach and will bring a relentless forecheck too.
"They are very aggressive on the offensive side of it and rightfully so because they are so confident with the guy between the pipes," said Julien. "If there is a little glitch, they really feel comfortable he can bail them out. That's been their bread and butter this year."
[+] Enlarge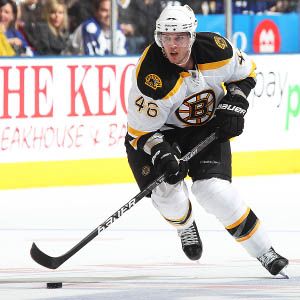 Claus Andersen/Getty ImagesDavid Krejci will need to improve his production against Buffalo (two points in five games) for the Bruins to have a chance.
With the Bruins lacking goal-scoring punch, they need Marco Sturm and Michael Ryder to find their scoring touch. The most difficult aspect of playing the Sabres isn't Miller; it's getting to Miller. The Bruins will need to penetrate Buffalo's back end with an aggressive forecheck of their own and go for the ugly goals -- screens, tip-ins and rebounds.
"I don't think we'll have a problem scoring if we get those Grade-A scoring opportunities, but we have to get those opportunities," Thomas said.
If both teams are effective on the forecheck, then those scoring opportunities will likely come from mistakes and the team that capitalizes on the other's mistakes will have a big advantage.
"I feel like if we get those mistakes, we're going to take advantage of it," said Thomas.
Bruins forward David Krejci produced only two points (1 goal, 1 assist in five games) this season against the Sabres. His line with Miroslav Satan and Sturm will need to be effective offensively for Boston to have a chance.
"We can't pass up on any shots and we have to make big traffic and get in [Miller's] face," said Krejci. "There will be some rebounds you have to fight for and I don't think we're going to score any pretty goals -- there'll be lots of dirty ones. If you want to score the dirty ones, we have to pay the price in front of the net, get slashed or whatever."
DEFENSE: Both clubs are solid defensively. The problem for Boston is its blue line is riddled with injuries to key defensemen, including Dennis Seidenberg (lacerated forearm), Andrew Ference (hernia/groin) and Mark Stuart (hand infection). Ference is probable for Game 1, but how long he'll last is a concern. With Zdeno Chara, Dennis Wideman, Matt Hunwick and Johnny Boychuk as Boston's top four, the Bruins' younger defensemen -- Jeff Penner, Andrew Bodnarchuk and Adam McQuaid -- could play a supporting role.
"It's one of the reasons we're in the playoffs right now," Julien said when asked about his team defense. "Our offense certainly didn't carry our team through the year and with the amount of goals that we scored, if you don't have a good defense you're not sitting here right now talking about this."
Buffalo's defensemen are offensive-minded, and Steve Montador and Tyler Myers can be dangerous. Those two, along with Toni Lydman and Henrik Tallinder, will garner most of the ice time. Then there's the veteran presence of Craig Rivet. The Sabres captain knows what it takes to win this time of year.
Stanley Cup Playoffs


The Sabres are the higher seed, but the Bruins won the regular-season series 4-2. Who will advance from this Northeast Division showdown? Follow the matchup from Day 1 on ESPN.com. Series page
• 2010 Stanley Cup playoffs • SportsNation: Who will win? • ESPNBoston.com: Bruins blog
SPECIAL TEAMS: With the Sabres and Bruins extremely successful on the penalty kill during the regular season -- second and third respectively -- don't expect too much scoring on the power play. The Bruins ended the season with only one goal on the PP in the final eight games (1-for-25) and finished 23rd in the league. Buffalo's power play was 17th.
INTANGIBLES: Because Miller led Team USA to the silver medal during the highly competitive Winter Olympics in February and didn't get a rest during the break, he may be a bit fatigued. Once the intensity level rises in the playoffs, though, it probably won't matter. … Conventional wisdom is that if you can steal a playoff game in your opponent's building, then you'll give yourself a pretty good chance. That could be the case for Boston since it's been better on the road (21-13-7) this season than at home (18-17-6). The Bruins won two of three at HSBC Arena. … Sturm and Ryder could be key components for Boston. Entering Sunday's regular-season finale in Washington, Ryder hadn't scored since Feb. 13. Sturm had been held scoreless since March 13. Both netted goals against the Capitals, which could serve as a springboard during the playoffs.
KEY INJURIES: Buffalo forward Tim Connolly missed the last nine games of the regular season with a foot injury, but returned to practice on Tuesday. He recorded 65 points (17 goals, 48 assists) in 73 games this season. Sabres forward Drew Stafford has a concussion but returned to the ice Tuesday. Jochen Hecht, dealing with an upper-body injury, also practiced.
Boston will be without Seidenberg and Stuart for this series, while Ference is probable for Game 1. Marc Savard, who suffered a Grade 2 concussion on a hit by the Penguins' Matt Cooke on March 7 in Pittsburgh, won't play against Buffalo, though team general manager Peter Chiarelli said there's a slight chance he could return if the Bruins advance.
Joe McDonald covers the Bruins for ESPNBoston.com.
Reporter, ESPNBoston.com
Red Sox and Bruins beat reporter
Covered Boston teams since 1992
Joined ESPNBoston.com in 2010
EDITORS' PICKS
The uncertainty of the NHL trade market was center stage Saturday, with Boston facing target Antoine Vermette before he was dealt to Chicago.