Commentary
Bruins-Flyers scouting report
All signs point to a hard-hitting series between longtime rivals
Updated:
May 1, 2010, 7:28 AM ET
By
Joe McDonald
| ESPNBoston.com
BOSTON -- The second-round playoff series between the Boston Bruins and the Philadelphia Flyers is being touted as an old-school battle of the Big, Bad Bruins and the Broad Street Bullies.
That era has long since passed, but this generation isn't too far off from the days gone by. This Eastern Conference semifinal series is being hyped as a physical battle between two evenly matched teams.
The sixth-seeded Bruins dismissed the No. 3 Buffalo Sabres in six games in the first round, while the No. 7 Flyers beat the No. 2 New Jersey Devils in five games.
"We're all excited," Bruins coach Claude Julien said. "Anybody who gets an opportunity to move on has to be excited. I think our guys are, and we are as a coaching staff. We're looking forward to it."
Here's a breakdown of the key components of the series:
Goaltending
Bruins rookie netminder Tuukka Rask was outstanding in the first round, outplaying the Sabres' Ryan Miller. Rask is calm and content and proved he can handle the pressure of the Stanley Cup playoffs.
"It's the playoffs, but you try to think it's not a big deal," Rask said. "You don't want to get too excited because you'll lose your focus. You just try to focus on the games just like you did during the regular season and not make any changes."
At the other end of the ice, the Flyers' Brian Boucher has had a trying season. He was Philadelphia's No. 3 goalie, but finished the regular season as the starter because of injuries. He played well down the stretch and helped the Flyers earn a postseason berth. Boucher, who helped the Flyers reach the conference finals during his first stint with the team in 2000, outplayed the Devils' Martin Brodeur in the quarterfinals this year.
Boucher led all playoff goalies with a 1.59 goals-against average in Round 1. Rask was fourth at 2.18.
"[Boucher] is hot right now and goalies get streaky like that, so we're going to have to do our best to get a couple by him," Bruins forward Marc Savard said.
Offense
Boston will get a major addition to its resurgent offense with the return of top playmaker Marc Savard to the lineup. His ice time will be limited until he proves he can compete at the playoff level, since he hasn't played a game since suffering a Grade 2 concussion on March 7.
The Bruins did just enough to find a way to beat Miller in the first round. Forwards David Krejci and Mark Recchi led the team in scoring against the Sabres, with three goals and two assists each. Patrice Bergeron and Miroslav Satan also chipped in five points each, as both tallied two goals and added three assists. While the offense came to life in the first round, there's still room for improvement. Marco Sturm was held scoreless against the Sabres, but it's not like he didn't have his chances. He just couldn't pump one in. He played physical and was very good on the penalty kill for Boston, but he'll need to contribute offensively against the Flyers.
"I don't know if you want to use the word 'comfortable.' We would certainly like him to produce," Julien said. "Having said that, I'm not disappointed with him, either. He's been doing a lot of good things. He's been skating. He's been creating things. Just because he hasn't been on the score sheet doesn't mean he's been playing bad. Now, a guy like that, if he starts producing it makes us that much better and it makes him that much better. There's no doubt if he's heading in that direction, we're certainly going to be happy."
The Flyers will be without forwards Simon Gagne and Jeff Carter in this series, so the likes of Mike Richards, Claude Giroux and Danny Briere will need to continue their scoring touch from the first round. Richards had two goals and six assists, Giroux posted four goals and two assists, while Briere added two goals and three assists for the Flyers in the quarterfinals.
Defense
The Bruins' defensive unit actually chipped in offensively in the first round and scored some big goals. For Boston to be successful in this round, that trend will need to continue. The pairing of Zdeno Chara and Johnny Boychuk has been key for the Bruins. Despite injuries to Mark Stuart (hand infection) and Dennis Seidenberg (lacerated forearm tendon), Boston's blue-line play has been solid. Dennis Wideman, Matt Hunwick, Andrew Ference and Adam McQuaid have been sound defensively.
Chris Pronger, who scored two goals and added three assists in the first round, leads the back end for Philadelphia. He's proven in the past to play well in big games and that should continue against the Bruins. He's a big, physical presence. Fellow Flyers defenseman Kimmo Timonen will also pose a danger for Boston's forwards.
Special teams
Boston's special teams are firing on all cylinders at the right time, with both the power play and penalty kill performing well. The Bruins' PK has been a strong point all season and was a perfect 19-for-19 during the quarterfinal series. The Bruins are the only team in the Stanley Cup playoffs not to allow a power-play goal. Boston's PP scored six times on 22 chances against the Sabres and that unit will only get stronger with the addition of Savard.
Philadelphia wasn't perfect on the PK against the Devils, but the Flyers only allowed four power-play goals on 32 man-advantage opportunities in that series. The team's power-play unit capitalized eight times on 29 chances against the Sabres.
Intangibles
The Bruins have three veteran players that have won Stanley Cup titles. Recchi, Satan and Shawn Thornton all know what it takes to win this time of year. … The return of Savard is not only a boost on the ice, it's also a factor in the locker room. … The Bruins are a much healthier team than the Flyers entering this series. … During his career, Julien has never advanced past the second round. Flyers bench boss Peter Laviolette won a Stanley Cup in 2006 with the Carolina Hurricanes. A product of Franklin, Mass., and a former assistant coach with the Bruins, Laviolette knows how to win in the postseason.
Key injuries
Unlike a year ago, when the Bruins reached the second round and were hampered by injuries, they're healthy for Round 2. With the addition of Savard, Boston is in very good shape health-wise. Mark Stuart is expected to miss the entire series.
The Flyers are dealing with injuries to some of their key players. Philadelphia forward Ian Laperriere suffered a brain contusion and a mild concussion after he was hit above his right eye with a slap shot in the Flyers' 3-0 victory over the Devils in Game 5 of the quarterfinals and his season is likely over. Also, forwards Simon Gagne and Jeff Carter both suffered right-foot injuries in Game 4 of the quarterfinals and needed surgery to repair the damage late last week. According to a statement released by Flyers GM Paul Holmgren, Carter is out "indefinitely" and Gagne could return to action in "three weeks" but it might be too late for the Flyers by then.
Prediction
It will be a physical series, but the Bruins will exploit the injuries to the Flyers en route to victory in five games. Rask will once again win the battle of the goaltenders and the addition of Savard to the Bruins' lineup will be a key factor.
Joe McDonald covers the Bruins for ESPNBoston.com. Follow him on Twitter.
CONFERENCE SEMIFINALS: BRUINS-FLYERS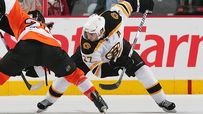 GAME 7: FLYERS 4, BRUINS 3
GAME 6: FLYERS 2, BRUINS 1
GAME 5: FLYERS 4, BRUINS 0

GAME 4: FLYERS 5, BRUINS 4 (OT)

GAME 3: BRUINS 4, FLYERS 1

GAME 2: BRUINS 3, FLYERS 2

GAME 1: BRUINS 5, FLYERS 4
EDITORS' PICKS
Peter Chiarelli didn't make many waves at the deadline. Will it pay off?