Commentary
Bruins need to tune out tough talk
Updated:
May 5, 2010, 5:27 PM ET
By
Joe McDonald
| ESPNBoston.com
WILMINGTON, Mass. -- A new chapter has begun.
Before this Eastern Conference semifinal matchup between the Boston Bruins and the Philadelphia Flyers, the talk centered around the history of the organizations. It was the story of the Big, Bad Bruins and the Broad Street Bullies.
While the current players on both teams say they respect the rich history, shades of the 1970s really don't have any bearing on this series.
Or do they?
After Boston's Game 1 overtime win, players from both sides said the action was what they expected -- a physical, up-tempo pace.
After the Bruins' 3-2 victory in Game 2, the shenanigans started.
[+] Enlarge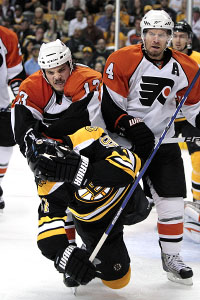 AP Photo/Elise AmendolaDaniel Carcillo and the Flyers figure to continue their efforts to knock Bruins like Marc Savard off their game.
"He bit me," claimed the Flyers' Dan Carcillo.
"He embellishes everything," said the Bruins' Marc Savard. "We were in the scrum and he was scrapping at my face and he pulled on my teeth. I guess that's biting when a guy tries to pull your front teeth out."
At the start of the second period, Carcillo and Savard got into a scrum after Savard was called for slashing Flyers goalie Brian Boucher. As you can see, their accounts of what happened in that scrum vary wildly.
It's playoff hockey at its best.
Since the Bruins hold a 2-0 lead in the series, the Flyers and Carcillo are doing everything they can to throw the Bruins off their game. Bruins coach Claude Julien said it best Tuesday morning after the team's practice at Ristuccia Arena.
"We're up 2-0 in the series. We won two big home games. We have to stay focused here and stay focused on our game and not be distracted by what's being said," Julien said. "To me it pretty obvious. Their guy, when you watch replays, everybody's seen how he embellishes. It's hard to believe a guy when you see the stuff that he does. We really don't pay attention to that. We're focused on staying the course here, doing our job, and that's the main thing."
Julien also wanted to set the tone early in Game 2 when he started his fourth line of Blake Wheeler, Steve Begin and Shawn Thornton. The home fans and the players responded to Julien's game plan, but the Flyers wanted no part of it. Thornton, the Bruins' pugilist, attempted to goad the Flyers' Darroll Powe into dropping the gloves off the opening faceoff, but he wouldn't take the bait.
For Thornton, it felt good to get the starting nod, especially since he was a healthy scratch in Game 1. After all, it's his job to keep the peace for the Bruins, even though Julien believes his club is team-tough.
"Awesome," Thornton said of being back in the lineup. "Obviously you don't like sitting out, but it was best for the team and that's fine. When you have a chance to get back in there, you want to make the most of it. The fact that we started, and the way the crowd responded when it was announced we were starting, was pretty special. We just tried to have a high-energy start to the game, and I think we did that."
As Game 2 progressed, the physical aspect increased, until it boiled over in the second period when Carcillo and Savard got into a scrum.
Suddenly it became a he-said, he-said situation, with both denying culpability in what happened. Either way, it's the Stanley Cup playoffs, and tactics like these are bound to happen.
"Both teams are trying to win a hockey game, so if someone wants to do something and put their team in jeopardy, that's the selfish thing," Savard said. "I'm just going out there to win a hockey game."
The Bruins realize once the puck drops in Game 3 on Wednesday in Philadelphia, things could get very interesting on the ice. The Flyers will play desperate hockey and will no doubt try to provoke the Bruins into stupid penalties. Julien has preached the importance of discipline and patience moving forward, so don't expect the Bruins to deviate from their game plan.
Stanley Cup Playoffs


The underdogs face off as the Bruins host the Flyers in an old-school showdown. After knocking off the Nos. 3 and 2 seeds, respectively, only one will earn a spot in the conference finals. Follow the matchup from Day 1 on ESPN.com. Series page
• 2010 Stanley Cup playoffs
• ESPNBoston.com: Bruins blog
"You want to stay out of the box, but I'm not going to shy away from that stuff," Savard said.
That's exactly the response the Flyers want to hear from a Bruins player. But Boston has been able to keep its cool so far.
The one way Philadelphia will be able to get Boston off its game plan is to get to its goaltender.
The Flyers have attempted to get traffic in front of Bruins rookie Tuukka Rask, but Boston's defensemen have done a solid job clearing out the pressure. That will only intensify with the series shifting to Philly. Like Boston, the Flyers have not lost on home ice in the playoffs, and they'll look to continue that trend Wednesday.
"I'm not concerned with the way we're going to respond," said Flyers coach Peter Laviolette. "We're going back to our building, and it's been a place we've played well for a while now. Our fans have been great, and the players have had a lot of energy and the building has had energy. It's similar [to Boston]. We've been able to harness [playing at home]. We have a resilient group. We've been through a lot of ups and downs. We had to scrap our way into the playoffs, and I have no doubt we'll respond with a good effort."
No matter how many games it takes to win this series, it's only going to get more physical the rest of the way. The team that is able to keep its emotions in check and stay out of the penalty box will come away the winner.
Even though it's not the 1970s, playing with an even keel will no doubt be tough for both sides, given the stakes and the Game 2 incident.
There's a famous picture of former Flyers legend Bobby Clarke with a broad smile and no front teeth, so it's unlikely there were any accusations of biting going on back then. Still, this go-round just adds to the lore.
Joe McDonald covers the Bruins and Red Sox for ESPNBoston.com.
Reporter, ESPNBoston.com
Red Sox and Bruins beat reporter
Covered Boston teams since 1992
Joined ESPNBoston.com in 2010
CONFERENCE SEMIFINALS: BRUINS-FLYERS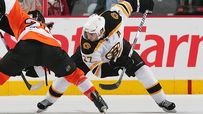 GAME 7: FLYERS 4, BRUINS 3
GAME 6: FLYERS 2, BRUINS 1
GAME 5: FLYERS 4, BRUINS 0

GAME 4: FLYERS 5, BRUINS 4 (OT)

GAME 3: BRUINS 4, FLYERS 1

GAME 2: BRUINS 3, FLYERS 2

GAME 1: BRUINS 5, FLYERS 4
EDITORS' PICKS
The uncertainty of the NHL trade market was center stage Saturday, with Boston facing target Antoine Vermette before he was dealt to Chicago.