Commentary
Bruins figured it out just in time
All season they searched for an identity; a month ago, they found it
Updated:
May 6, 2010, 9:46 PM ET
By
Joe McDonald
| ESPNBoston.com
PHILADELPHIA -- Apologies to U2, but the Boston Bruins have finally found what they've been looking for.
Actually, the Bruins have had it for more than a month now and it's been very evident during the Stanley Cup playoffs, especially in the first three games of the Eastern Conference semifinals against the Philadelphia Flyers.
The Bruins have made believers out of a lot of cynics with a 3-0 lead over the Flyers in the second round. If Boston can win Game 4 on Friday night at Wachovia Center, the Bruins will advance to the Eastern Conference finals for the first time since 1992.
The way the Bruins have reached this point has been a little unconventional. They battled injuries to key players all season. They needed a strong finish to the regular season just to earn a postseason berth and now it has all come together at the perfect time.
"

At the end of the year, last month, we really somehow found a way to build ourselves, or find our identity that we had been looking for, and now it seems like it's getting stronger and stronger all the time. You just hope it keeps going that way.

"

-- Bruins coach Claude Julien
"The biggest thing is, and we've talked about it a lot, about finding your identity as a team," Bruins coach Claude Julien said. "I thought we struggled with that this year and for whatever reason, whether the injuries played a part of it, whether it was guys underachieving and when you don't have momentum, you don't have that excitement.
"It was a struggle and we didn't have the identity we were looking for. At the end of the [season], last month, we really somehow found a way to build ourselves, or find our identity that we had been looking for, and now it seems like it's getting stronger and stronger all the time. You just hope it keeps going that way."
What's more impressive about the way the Bruins are winning is the fact they're doing it without key players in the lineup. Defensemen Mark Stuart (hand infection) and Dennis Seidenberg (lacerated forearm) have been out, but it appears Stuart could return for Game 4. Seidenberg could return if the Bruins make it to the ... let's just say doctors are telling him another four weeks.
Boston lost Marco Sturm for the remainder of the season in Game 1 of this series with a torn MCL and ACL. Then, of course, David Krejci suffered a dislocated right wrist in Game 3 and is also done for the season. Defenseman Adam McQuaid also suffered a "lower-body" injury on Wednesday and will not play in Game 4.
As devastating as these injuries have been, the Bruins have been, and will continue to be, extremely focused on their task at hand.
"All of our focus has to go into tomorrow," forward Milan Lucic said. "We can't look past it. The last thing we should be thinking about is the Eastern Conference finals. Looking back at the Buffalo series, maybe we took Game 5 a little too lightly and we got spanked for it. We have to have the same mentality we've had the last four games and bring that into tomorrow night."
Stanley Cup Playoffs


The underdogs face off as the Bruins host the Flyers in an old-school showdown. After knocking off the Nos. 3 and 2 seeds, respectively, only one will earn a spot in the conference finals. Follow the matchup from Day 1 on ESPN.com. Series page
• 2010 Stanley Cup playoffs
• ESPNBoston.com: Bruins blog
Not only have the Bruins found their identity, they are applying it on and off the ice. When a team has that kind of synergy, it's noticeable in its play and in the way the players talk about the game. The Bruins have it.
Boston just needs one more victory to advance to the next round. If they are able to sweep (when someone asked Bruins pugilist Shawn Thornton about a sweep, he quickly knocked on the wood frame around his locker), it will give the Bruins even more momentum against their next opponent. But before they can even think about the next round, the Black and Gold need to keep their focus on the Flyers. "The fourth one is the toughest one, and everyone knows that," Thornton said. "They're going to come out very desperate and we're going to have to weather that storm from the start and try to capitalize on our chances. They're a tough hockey team. There's a lot of character over there and it's not going to be an easy one. It'll be the toughest one yet."
The talk after the team's optional skate on Thursday afternoon was the importance of staying focused and composed.
"We have to take it again like it's the biggest game, just like we've been doing all series," Bruins forward Marc Savard said. "We have to try to win another hockey game."
Joe McDonald covers the Bruins and Red Sox for ESPNBoston.com.
Reporter, ESPNBoston.com
Red Sox and Bruins beat reporter
Covered Boston teams since 1992
Joined ESPNBoston.com in 2010
CONFERENCE SEMIFINALS: BRUINS-FLYERS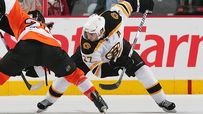 GAME 7: FLYERS 4, BRUINS 3
GAME 6: FLYERS 2, BRUINS 1
GAME 5: FLYERS 4, BRUINS 0

GAME 4: FLYERS 5, BRUINS 4 (OT)

GAME 3: BRUINS 4, FLYERS 1

GAME 2: BRUINS 3, FLYERS 2

GAME 1: BRUINS 5, FLYERS 4
EDITORS' PICKS
The time for debating deflated footballs is over and it's (finally) time for Super Bowl XLIX. Game on.