Commentary
Bruins blow a golden opportunity
Stage was set for victory, but determined Flyers wouldn't play dead
Updated:
May 11, 2010, 10:52 AM ET
By
Joe McDonald
| ESPNBoston.com
BOSTON -- The day started with an optional skate for the Boston Bruins. As morning turned to afternoon, there was a buzz outside TD Garden, where the Bruins were celebrating the 40th anniversary of their 1970 Stanley Cup championship with the unveiling of a bronze statue of Bobby Orr flying through the air after scoring the winning goal in overtime.
It was supposed to be a special day in Boston.
It was supposed to be a day that would end with the Bruins returning to the Eastern Conference finals for the first time in 18 years. The current Bruins players wanted to recognize the past and reward it with a clinching victory in Game 5 of the Eastern Conference semifinals over the Philadelphia Flyers.
It didn't happen. Nothing happened for the Bruins. Absolutely nothing.
"

They came in and slapped us in the face. Now we have to go there and realize that this is a series now.

"

-- Bruins veteran Mark Recchi
The Flyers were desperate. The Bruins were pathetic. In the end, Philadelphia skated away with a 4-0 victory to force Game 6 at 8 p.m. on Wednesday in Philadelphia.
"They came in and slapped us in the face," said Bruins veteran Mark Recchi, who was sporting a No. 4 Bobby Orr cap. "Now we have to go there and realize that this is a series now."
It shouldn't have come to this. Boston had a 3-0 series lead before losing the past two games. Even after dropping Game 4 in overtime, the Bruins should have been energized coming back to the Garden. They should have played with more purpose and certainly more passion.
Instead, the Bruins were lifeless. Boston's play lacked energy. "We lost battles from start to finish," Bruins coach Claude Julien said. "They were the hungrier team tonight, and when that happens, you get those kinds of results."
Even though the Flyers had a 1-0 lead after one period, the Bruins had a golden opportunity in the second when Philadelphia's starting goaltender, Brian Boucher, suffered what appeared to be a knee injury and had to leave the game. Backup goalie Michael Leighton entered at the 4:35 mark of the second period. It was his first game action since suffering a high-ankle sprain on March 16.
Facing a very cold goaltender, Boston needed to get plenty of shots on Leighton, but the Bruins never capitalized on their opportunity and did not test him the way they should have. It's hard to get shots when you don't have the puck, and it showed on the score sheet: Boston had only six shots on goal in the second period and eight in the third.
The Bruins weren't able to create chances and were simply outworked. They became frustrated, then took undisciplined penalties.
"We just weren't playing well, so it doesn't matter who's in net," Recchi said. "If you're not getting shots, then you're not executing and you're not playing the right way, and that's the frustrating part when you have the chance to close a series. We have to learn from it, forget about it, and we have to bounce back and play with the same desperation that they came in and played with tonight."
Boston's consecutive losses came without the offensive prowess of David Krejci, who suffered a dislocated right wrist in Game 3 and is lost for the remainder of the season. The Bruins were already without Marco Sturm, who suffered a season-ending knee injury in Game 1. Those injuries have proved crucial these past two games.
Still, it's no excuse for the way the Bruins played Monday night.
More On The Red Sox

Gordon Edes and the rest of the ESPNBoston.com team have the Red Sox covered for you. Blog

"Of course we miss him. He's a great player," Bruins defenseman Andrew Ference said about Krejci. "It's tough luck. That's the way it works, and some other guys have to step up. The good teams that have won in the past, that's always the storyline. Guys step into increased ice time and increased roles and make the most of it."
The Bruins' game plan, which was so successful against the Buffalo Sabres in the first round and was working in the first three games against the Flyers, has gone kaput in the past two games. The Bruins are, and should be, disappointed and embarrassed by their lack of urgency Monday night. Philadelphia has clearly put the pressure on Boston as the series shifts back to the Wachovia Center. "For sure it's disappointing," Bruins captain Zdeno Chara said. "We didn't play our best game. Nowhere near our average game, so it's very disappointing. We have to regroup and get ready for another one."
There's no reason the Bruins should even be talking about another game against the Flyers. They already should be focused on the next round. Instead, they have allowed Philadelphia back in this series, and it has the momentum even though Boston still holds a 3-2 advantage.
"We didn't play with that killer instinct at all," Bruins forward Milan Lucic said. "The thing we can't do right now is start pointing fingers and start blaming one another. We need to regain our confidence and regain that edge we had when we were winning games. In order to do that, it needs to start in every one of us."
Although the Bruins' alumni and the 17,565 TD Garden fans (many of them booing as the clock ticked down) must have been disappointed by the day's result, it was a slap in the face for the current players.
"We weren't sharp tonight, and we paid for it -- dearly," Julien said.
Joe McDonald covers the Bruins and Red Sox for ESPNBoston.com.
Reporter, ESPNBoston.com
Red Sox and Bruins beat reporter
Covered Boston teams since 1992
Joined ESPNBoston.com in 2010
CONFERENCE SEMIFINALS: BRUINS-FLYERS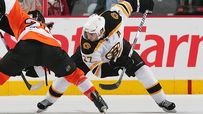 GAME 7: FLYERS 4, BRUINS 3
GAME 6: FLYERS 2, BRUINS 1
GAME 5: FLYERS 4, BRUINS 0

GAME 4: FLYERS 5, BRUINS 4 (OT)

GAME 3: BRUINS 4, FLYERS 1

GAME 2: BRUINS 3, FLYERS 2

GAME 1: BRUINS 5, FLYERS 4
EDITORS' PICKS
The Bruins play their biggest game of the season Saturday vs. New York.