Commentary
Facing their Philly demons
A win against the Flyers would do wonders for the struggling Bruins
Updated:
December 1, 2010, 12:15 AM ET
By
Joe McDonald
| ESPNBoston.com
WILMINGTON, Mass. -- After experiencing ultimate devastation, despair and humiliation on Causeway Street last spring at the hands of the Philadelphia Flyers, the Bruins will face Philly on Wednesday night for the first time since the Eastern Conference semifinals.
Boston had a 3-0 lead in the best-of-seven series last May before imploding, as the Flyers produced one of the greatest come-from-behind upsets in NHL history.
To make matters worse, Boston actually had a 3-0 lead in Game 7 at the Garden, but eventually lost 4-3. The Flyers then dismissed the Montreal Canadiens in the conference finals before losing to the Chicago Blackhawks in the Stanley Cup.
Of course, it didn't help that the Bruins lost forwards David Krejci (wrist) and Marco Sturm (knee) early in the series due to season-ending injuries.
[+] Enlarge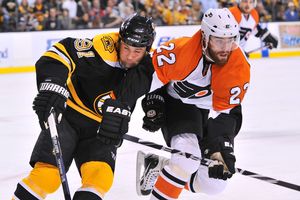 Brian Babineau/NHLI/Getty ImagesFacing the Flyers on Wednesday could stir up some bad memories for the Bruins, who haven't faced Philly since their Eastern Conference semifinals meltdown last spring.
After that Game 7 loss, every player sat at his stall in the locker room, still fully dressed in uniform, trying to figure out what had just occurred. The Bruins spent the entire summer thinking about that nightmare.
The one image that stood out was Bruins assistant captain and future Hall of Famer Mark Recchi sitting there with his head down, in total disbelief.
There never came a point during the offseason when Recchi was able to forget what happened last May.
"I never did," he said. "You have to think about it because you have to learn from it. At the same time, last year was last year, and this year is a totally new year. When training camp starts, [the season] is fresh and let's move forward and get ready."
At the start of training camp this season, coach Claude Julien and general manager Peter Chiarelli made it a point to address the playoff debacle during the club's first team meeting.
"You kind of want to get it out of the way and not keep repeating it throughout the whole year," Julien explained following Tuesday's practice at Ristuccia Arena. "It's been said. It's been done, and what you need to do is store it in the back of your mind and don't forget those things.
"Talking about it every day doesn't make it better, or help. If anything, it would be a hindrance more than anything else. It's about saying, 'This is what happened, and we need to live with it and remember it.' At some point, there's no doubt, it'll come back and be some sort of motivational thing, something we've learned from and we'll make sure never happens again."
The players accepted what they were told by management during that meeting and took it to heart.
"It was good," Recchi said. "Obviously, they want us to learn from it and want the organization to get better. We keep making strides and we're that close to being an elite team. We're right there, and if we keep building and learning from the hard knocks like last year, we're going to get over that hump."
Wednesday's contest presents a huge challenge for the Bruins, and a victory would come at the perfect time. Boston has lost four of its past five, and it's obvious the team is struggling in all aspects of its game. Meanwhile, the Flyers have won three of their past five games, and they're currently one of the top teams in the Eastern Conference.
"It's obvious Philly is a great team," said Bruins assistant captain Patrice Bergeron. "They're playing well and it's tough to play [at Wells Fargo Center]. And, the playoffs last year, it was tough to swallow. There are a lot of things that should motivate us, and make sure we have a good game."
A win against the Flyers in Philadelphia on Wednesday could be exactly what the Bruins need right now.
More On The Bruins

Looking for more from the ice? Joe McDonald and ESPNBoston.com have you covered. Blog
"It'll help. It could be a turnaround, playing against Philadelphia," said Bruins defenseman Johnny Boychuk. "They're a good team, a strong team, and they can score. With what happened last year, we need to come out and make sure to show them we're here to play. If we come out and play good against Philly and get two points, it'll help our confidence.
"Obviously there's a little burn in our hearts because of what happened last year, but we've just got to go out there, play hard for 60 minutes and come out with the win."
Despite Boston's recent skid, Bergeron is quick to point out the good, instead of the bad and the ugly. He said he believes the team's work ethic and intensity is there. It's only a matter of starting better, something the Bruins have had a major issue with of late.
"We're fine," Bergeron said. "I don't think it's time to panic at all. We just need to go out there and play our game, and get back to basics."
It's a long and arduous season, so it's only natural for a team to go through stretches of playing well and not so well. The Bruins don't seem worried about possibly playing themselves into a black hole. This game is all about momentum, and the Bruins haven't been able to gain any of that in the past handful of games.
"I've been disappointed," Chiarelli said. "We have to figure out what is going on, and whether it's from a personnel perspective, or otherwise, and we're going to continue to do that.
"When we play the way we're capable of playing, it's actually a very good game. It's the type of game we've envisioned for this team," he said.
The Bruins had been so good earlier in the season at dictating the game, but lately they've been playing more reactive hockey, and the results haven't been good.
"It seems like we come out and we're down a couple of goals, and then we get up and try to come back," Boychuk explained. "We can't always do that, you're going to shoot yourself in the foot. It's not helping our cause when we don't score the first goal."
"It's about making sure we get out of the gate fine," the assistant captain said. "Once we're in the game, after 20 minutes we start playing and we're all over [the opponent]. We just can't wait for them to see what they got, and then show them what we've got. We have to make sure we're playing our game."
Not only is this game against the Flyers a big deal, this entire week for Boston is key. When the Bruins return from Philly, they'll host the Tampa Bay Lightning on Thursday. Then, Boston will travel to Toronto on Saturday to face the Maple Leafs.
"This is a big week for us, period," Recchi said.
And, it starts on Broad Street.
Joe McDonald covers the Red Sox and Bruins for ESPNBoston.com.
Reporter, ESPNBoston.com
Red Sox and Bruins beat reporter
Covered Boston teams since 1992
Joined ESPNBoston.com in 2010
EDITORS' PICKS
Bill Belichick's ability to turn adversity into an advantage faces its ultimate test with Deflategate.