Commentary
A call for Krejci, Bergeron to step up
With their clutch scorer Horton out, Bruins must rely on other weapons
Updated:
June 12, 2011, 12:16 PM ET
By
Joe McDonald
| ESPNBoston.com
BOSTON -- Enough of the chirping, trash talk, shenanigans and theatrics. Enough of the clichés, too.
It's the Stanley Cup finals. Play like it. Act like it.
Puck drop on Game 6 between the Boston Bruins and Vancouver Canucks happens Monday night at TD Garden. The Cup will be in the building since the Canucks hold a 3-2 series lead, but the Bruins want to keep it snug and secure in its case.
Every time during the 2010-11 season when the Bruins were in dire straits, they always found a way to win, especially during the playoffs. Boston has faced elimination twice during the postseason and both games were on home ice. Both times the Bruins posted dramatic Game 7 wins -- over the Montreal Canadiens in the quarterfinals and the Tampa Bay Lightning in the conference finals.
Stanley Cup finals


Read all of the news and analysis of the Boston Bruins' victory over the Vancouver Canucks to claim the Stanley Cup. Complete coverage »
• ESPN Boston: Bruins blog | Index
For all the proverbial must-wins this spring, Monday night actually is a desperate situation for the Bruins.
In the previous two elimination games, it was Bruins forward Nathan Horton who provided the heroics, posting the game-winning goal against the Canadiens and also against the Lightning. In his first year in Boston, he's quickly become a cult hero because of his accomplishments.
Unfortunately, he's also served as a source of motivation due to the horrific season-ending concussion he suffered in Game 3 when he was on the receiving end of a late hit by the Canucks' Aaron Rome, who was given a four-game suspension for the hit.
Without Horton, Boston is 2-1 in the Cup finals, but with the season on the line, the Bruins will need more from other players in order to force a Game 7 and possibly win the Cup on enemy ice.
"I believe in this group of guys," said Bruins coach Claude Julien. "We've been through a lot. We lost Nathan at the beginning of the third game and we did extremely well getting ourselves back into the series. He's a big part of our hockey club and we miss him. We can't overlook that fact.
"They have injuries as well and we can't look for excuses. We feel right now we have a team that can compete right till the end and the only thing we have left to do is go out there and show it."
It's obvious that Bruins goaltender Tim Thomas has been spectacular during the playoffs, especially in the final series, and there's no reason to think he'll suddenly have a meltdown. But the Bruins do need significant contributions from Patrice Bergeron and David Krejci in order to stave off elimination.
[+] Enlarge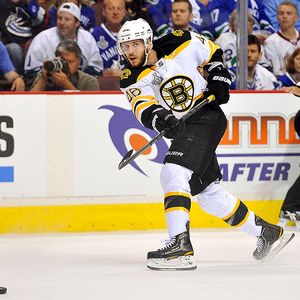 Brian Babineau/NHLI via Getty ImagesDavid Krejci is one player the Bruins can usually rely on in clutch situations.
"Obviously Horty's a huge part of this team and scored some huge goals for us," said Bruins forward Chris Kelly. "But I think it gives someone another opportunity to step up and play a great game."
Cue Bergeron. Cue Krejci.
Both players need to be major factors moving forward for the Bruins. When Boston wins, Bergeron and Krejci usually play significant roles.
Fortunately for the Bruins, being back on home ice has its advantages. During Games 3 and 4 at the Garden, the Bruins absolutely fed off the home crowd and completely dominated the Canucks in both games. That must continue for Boston in Game 6 or the season is kaput.
"We know we're fighting for our lives," said Bruins forward Brad Marchand. "We have to be very determined and make sure we're ready, because obviously we're in a very tough spot. We just need to make sure we're ready."
The Bruins want to make sure Lord Stanley's Cup remains under lock and key because it would be an embarrassment if the Canucks were to lift the sacred chalice in victory on Garden ice.
"We want to be the ones to lift the Cup," Marchand said. "We want to fight as hard as we possibly can to make sure that happens. We know that if that's going to happen, we have to win the next game. So we just have to make sure that we do our best to make that possible."
The Canucks have become scrutinized due to their Vaudeville act this series, and the on-ice officials finally kept the whistles in their pockets in Game 5. It's a safe bet that trend will continue for the remainder of the series because at this point it's about hockey. All the Canucks need is one win for the pleasure to drink from the Cup. Boston needs two.
Despite all the biting, chirping and diving, Canucks coach Alain Vigneault has completely backed his players.
"We've got a mature group, a group that set out at the beginning of training camp to win the Stanley Cup," Vigneault said. "We weren't shy about talking about what our goals were. Now we've got an opportunity on Monday to achieve that goal. Until that's done, everybody's real focused on the task at hand."
It will be difficult for the Canucks to achieve that on Garden ice. Either way, the remaining game(s) should be Stanley Cup worthy.
Joe McDonald covers the Bruins and the Red Sox for ESPNBoston.com.
Reporter, ESPNBoston.com
Red Sox and Bruins beat reporter
Covered Boston teams since 1992
Joined ESPNBoston.com in 2010
CUP IS OURS: BRUINS BEAT CANUCKS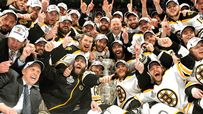 Full coverage of the Bruins' Stanley Cup victory
Stanley Cup finals | Bruins blog
VICTORY PARADE
THE AFTERMATH
GAME 7: BRUINS 4, CANUCKS 0
GAME 6: BRUINS 5, CANUCKS 2
GAME 5: CANUCKS 1, BRUINS 0
GAME 4: BRUINS 4, CANUCKS 0
GAME 3: BRUINS 8, CANUCKS 1
GAME 2: CANUCKS 3, BRUINS 2 (OT)
GAME 1: CANUCKS 1, BRUINS 0
RESULTS, SCHEDULE
EDITORS' PICKS
Super Bowl XLIX is just hours away and we're in Pats-Seahawks overdrive.