Savard doesn't expect repercussions
Updated:
May 5, 2010, 8:16 AM ET
By
Joe McDonald
| ESPNBoston.com
WILMINGTON, Mass. -- As far as Marc Savard is concerned, Fingergate is a "non-issue."
The Flyers' Daniel Carcillo accused Savard of biting his finger during a scrum in the second period of Game 2 of the Eastern Conference semifinals on Monday night at TD Garden. Savard denied biting Carcillo, saying the Flyers' forward stuck his fingers in his mouth. Savard had slashed at goalie Brian Boucher's glove, drawing a penalty and the ire of several Flyers who descended upon him, including Carcillo.
After Bruins practice Tuesday morning at Ristuccia Arena, Savard said he didn't think there would be any repercussions from the league or the Flyers in Game 3.
[+] Enlarge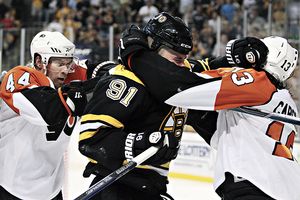 AP Photo/Elise AmendolaMarc Savard, who denied accusations that he bit Daniel Carcillo, doesn't expect the Flyers to come after him in Game 3.
"Both teams are trying to win a hockey game, so if someone wants to do something and put their team in jeopardy, that's the selfish thing," Savard said. "I'm just going out there to win a hockey game."
Flyers coach Peter Laviolette said after Game 2 on Monday that these types of situations have a way of working themselves out. He believed the league would look into the incident, but Savard has not heard anything from the NHL.
"No. It's a non-issue. It's nothing," Savard said.
According to one report, the Flyers' Mike Richards was overheard yelling to Savard while he was in the penalty box that Philadelphia planned on putting him out another six weeks, referring to Savard's six-week hiatus due to a Grade 2 concussion.
"He never said that to me," Savard said Tuesday. "I don't know where that came from."
After Monday's game, Carcillo called Savard "pretty cowardly."
"Last time I have been bit was in grade school. It's not a good feeling. ... Guys don't bite. Men don't bite," Carcillo said.
Savard, who was suspended one game in 2003 for biting Darcy Tucker, denied the accusation and asked what Carcillo's finger was doing in his mouth anyway.
"I think he tried to pull my teeth out," Savard said. "If that's biting, I don't know what to say."
Bruins enforcer Shawn Thornton, for one, seems to have had enough of the issue.
"I wasn't in there and it's none of my business," Thornton said. "I'll let [Savard and Carcillo] sort it out, I could care less to tell you the truth."
Bruins coach Claude Julien put the episode into perspective Tuesday.
"We're up 2-0 in the series. We won two big home games. We have to stay focused here and stay focused on our game and not be distracted by what's being said," explained Julien. "To me it pretty obvious. Their guy, when you watch replays, everybody's seen how he embellishes. It's hard to believe a guy when you see the stuff that he does. We really don't pay attention to that. We're focused on staying the course here, doing our job and that's the main thing."
Joe McDonald covers the Bruins for ESPNBoston.com. Follow him on Twitter. Material from The Associated Press was used in this report.
Reporter, ESPNBoston.com
Red Sox and Bruins beat reporter
Covered Boston teams since 1992
Joined ESPNBoston.com in 2010
CONFERENCE SEMIFINALS: BRUINS-FLYERS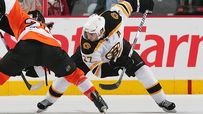 GAME 7: FLYERS 4, BRUINS 3
GAME 6: FLYERS 2, BRUINS 1
GAME 5: FLYERS 4, BRUINS 0

GAME 4: FLYERS 5, BRUINS 4 (OT)

GAME 3: BRUINS 4, FLYERS 1

GAME 2: BRUINS 3, FLYERS 2

GAME 1: BRUINS 5, FLYERS 4
EDITORS' PICKS
As the Pats approach another title, there's an NBA braintrust in San Antonio tuning in with a knowing nod.