Aaron Rome suspended 4 games
Updated:
June 7, 2011, 9:51 PM ET
ESPN.com news services
BOSTON -- Nathan Horton will miss the rest of the Stanley Cup finals with a severe concussion, and Vancouver Canucks defenseman Aaron Rome is also finished for the playoffs after the NHL suspended him for four games Tuesday for his blindside hit on the Boston Bruins forward during Game 3.
"

I will be speaking with both general managers and coaches before the day's over about the crap that we're seeing, the garbage that is going on, some of the issues.

"

-- NHL vice president of hockey operations Mike Murphy
Horton had just passed the puck early in the first period Monday night when Rome lowered his shoulder and left his skates to flatten him, delivering what the Bruins saw as the kind of hit the league has tried to eliminate after several players sustained severe concussions.
The NHL wasted no time stepping in, quickly announcing Rome would not return to the series.
"Two factors were considered in reaching this decision," Mike Murphy, the league's senior vice president of hockey operations, said in a statement. "The hit by Rome was clearly beyond what is acceptable in terms of how late it was delivered after Horton had released the puck, and it caused a significant injury."
Rome and his agent are considering appealing the suspension, a source confirmed to ESPN.com Tuesday.
The 26-year-old Horton, the right wing on Boston's top line, was knocked unconscious, hitting his head on the ice and staying down for several minutes while medical personnel attended to him.
Cup Finals Suspensions

Before Aaron Rome's suspension, only three players in NHL history had been suspended during the Stanley Cup finals.
| Player | Date | Action | Ban |
| --- | --- | --- | --- |
| Jiri Fischer, Wings | June 10, 2002 | Cross check on Carolina's Tommy Westlund | One game |
| Ville Nieminen, Flames | May 31, 2004 | Hit from behind on Tampa's Vincent Lecavalier | One game |
| Chris Pronger, Ducks | June 4, 2007 | Blow to the head on Ottawa's Dean McAmmond | One game |
He left Boston's 8-1 victory on a stretcher and was taken to Massachusetts General Hospital. Coach Claude Julien said Horton stayed overnight for observation and was released from the hospital Tuesday morning.
"Obviously glad to know that it's not as bad as you always suspect," Julien said. "For him to be out ... obviously (there's) a long road to recovery, but hopefully he gets better soon."
Murphy would not divulge specifically what he and Rome discussed, but during the hearing, "(Rome) felt it was a hockey play, a hockey play that went bad. They're my words, not his, but that's basically what he said. It was a one-on-one play. The puck was released, and he followed through with the hit."
The series was already emotionally charged after the first two games in Vancouver, especially with Canucks forward Alex Burrows' bite of Patrice Bergeron's left forefinger in Game 1, which the NHL ruled was not intentional and did not penalize.
The teams accrued a combined 145 minutes in Game 3, second-most in a Stanley Cup finals game since 1986, when the Montreal Canadiens and Calgary Flames had 176.
"We've addressed it with the teams as early as this morning." Murphy said. "I will be speaking with both general managers and coaches before the day's over about the crap that we're seeing, the garbage that is going on, some of the issues."
Milan Lucic, Horton's fellow winger on that line, said he had communicated with Horton by text message.
"He's feeling good, feeling a lot better," said Lucic, who turned 23 on Tuesday. "He sent me a birthday wish, so it's good he remembered my birthday after a concussion."
If the Stanley Cup is awarded before Game 7, the NHL said Rome's suspension will carry over to the start of next season.
"I want to express my concern for Nathan's well-being and wish him a quick and full recovery. I try to play this game honestly and with integrity," Rome said in a statement. "As someone who has experienced this type of injury I am well aware of its serious nature and have no desire for another player to experience it.
[+] Enlarge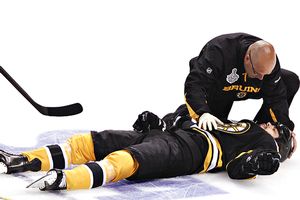 AP Photo/Winslow TownsonBruins right wing Nathan Horton is tended to by a trainer after a blindside hit by Vancouver's Aaron Rome in the first period Monday.
"I will not take away my teammates' focus on the task at hand and intend to speak at an appropriate time in future," he said.
Canucks coach Alain Vigneault, who said Monday night that he didn't believe Rome's hit was dirty, maintained that position Tuesday after the suspension was announced.
"In my opinion it's not the right call," he said. "At the end of the day, we hope the young man regains his health ... At the end of the day, also, it was a north/south play on the hit on Horton where he made a pass to Lucic and he was looking at his pass. Aaron was a tad late. Aaron is not a dirty player, never has been, never will be. It was a hit, unfortunately, that turned bad ...
"I don't know how the league can come up with this decision," he said.
The Canucks players vocally rushed to Rome's defense after practice Tuesday at Boston University, criticizing the severity of the suspension.
"We disagree with the decision, and it was a clean hit," Vancouver captain Henrik Sedin said. "Talking to Aaron was extremely emotional. When you get to this point in the playoffs, you want to be a part of it on the ice, and Romer didn't deserve what he got."
Horton is a key offensive player for the Bruins, but the 27-year-old Rome is merely a depth defenseman for the Canucks, usually playing in their third pairing. He has one goal and 37 penalty minutes in the postseason.
"Obviously, it's not even-up when you look at those players' impact on the game, but it's our job to deal with it," Boston defenseman Andrew Ference said. "It's not the same, but that's the way those things usually work."
More Canucks-Bruins Coverage

ESPN.com
Monday's win was truly a team effort for the Bruins. But it'll be up to Boston to produce another all-hands-on-deck effort in Game 4, writes Scott Burnside. Story

Hey Canucks, you want to be champions? Pierre LeBrun says it's time for Vancouver to show they can rebound again. Story
• Melrose: Coach's Call for Game 3
• Canucks-Bruins page | NHL index
---

ESPNBoston.com
The Bruins hit back after Aaron Rome leveled Nathan Horton and finally got on the board in this series, writes Jackie MacMullan. Story

It didn't take long for Shawn Thornton to make his presence felt in his return on Monday, writes Joe McDonald. Story

• Forsberg: Marchand has play of game
• Murphy: Bruins will rely on depth
• Blog: Luongo left high and dry
• Bruins blog | ESPNBoston.com
Horton has eight goals and nine assists in the playoffs for Boston, which trails 2-1 heading into Game 4 on Wednesday night. He's second in the NHL postseason with a plus-11 rating, and he already became the first player in NHL history to score a game-winning goal in a Game 7 twice in the same postseason run.
"Losing a player like Horty is a big loss. He's been unbelievable during the playoffs," Bruins winger Shawn Thornton said. "He has scored a lot of unbelievable goals and he's a great teammate."
Horton skates alongside center David Krejci and Lucic on the Bruins' top line. Julien said rookie Tyler Seguin, a healthy scratch Monday night, is a candidate to replace Horton for Game 4.
Horton has been a hero in the postseason for Boston, which is in the Stanley Cup finals for the first time in 21 years. Horton scored the winning goal in overtime in Game 7 of the first round against the Montreal Canadiens -- and again in the Eastern Conference finals, in Boston's 1-0 victory over the Tampa Bay Lightning late in the third period.
"It's the league's decision. They have a hard job definitely with these kind of things," Lucic said. "Regardless, it doesn't bring Nathan back."
Horton is in his first career postseason after spending his first six seasons with the woeful Florida Panthers. The former No. 3 overall draft pick has 168 goals and 180 assists in 502 games.
Horton was Boston's second-leading goal-scorer this season with 26, finishing fourth on the team with 53 points.
Bergeron, whose bitten finger didn't result in punishment for Burrows, said of Rome's suspension: "I was expecting something, to be honest with you. I knew the league would take care of it, and they did."
Vancouver already lost defenseman Dan Hamhuis to an undisclosed injury in Game 1 of the Stanley Cup finals, but the Canucks are deep on defense, with veteran Keith Ballard sitting out the first three games as a healthy scratch.
Information from ESPNBoston.com's Joe McDonald, ESPN.com's Pierre LeBrun and The Associated Press was used in this report.
CUP IS OURS: BRUINS BEAT CANUCKS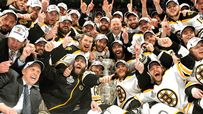 Full coverage of the Bruins' Stanley Cup victory
Stanley Cup finals | Bruins blog
VICTORY PARADE
THE AFTERMATH
GAME 7: BRUINS 4, CANUCKS 0
GAME 6: BRUINS 5, CANUCKS 2
GAME 5: CANUCKS 1, BRUINS 0
GAME 4: BRUINS 4, CANUCKS 0
GAME 3: BRUINS 8, CANUCKS 1
GAME 2: CANUCKS 3, BRUINS 2 (OT)
GAME 1: CANUCKS 1, BRUINS 0
RESULTS, SCHEDULE
EDITORS' PICKS
Seattle's read option? The run game? Mailbaggers tackle the real issues for the Pats.