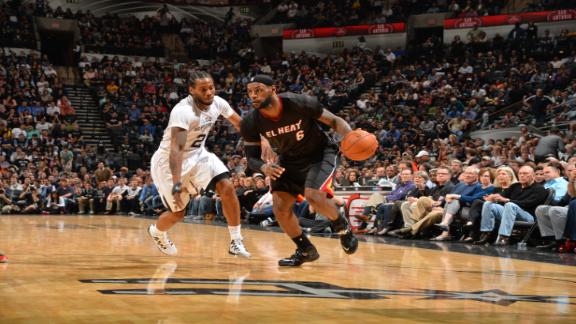 The NBA's sleeved jerseys have a ways to go before being accepted by the league's most famous player. LeBron James partially blamed the new jerseys for his awful 6-of-18 shooting night in the Heat's 111-87 loss to the Spurs.
"Every time I shoot it feels like it's just pulling right up underneath my arm," said James. "I already don't have much room for error on my jump shot. It's definitely not a good thing."
It's not the first time LeBron has had a bad game while wearing sleeves: he was 0-for-4 from 3-point range against the Lakers on Christmas and 0-for-7 from the same range during the All-Star Game. We're pretty sure he'd be able to adjust if they were a full-time thing, but for now, LeBron seems to be a different player when his shoulders are covered.
Below is a sampling of the Facebook conversation on this story. Be sure and join in!
David Tran: "Whenever someone starts a sentence with "I'm not making excuses, but..." they're gonna make an excuse."


Paul Rogers: "Tight shirts, especially when wet, grab the skin and constrain arm movement to an appreciable degree. Raise your hand above your head with a tank top compared with a wet, tight UnderArmour T-shirt. You don't think there's a difference?"


Nima Soleimani: "I wear sleeveless shirts at the gym for this exact reason actually. sleeves restrict range of motion, it's a fact. if you don't agree, you're not physically active in any form of sport or exercise."


Steve Iman II: "It effects range of motion, theoretically, but not enough to actually effect performance other than from a mental standpoint. "


Mo Jenkins: "The sleeves??? This guy is one of the most physically gifted players in NBA history and his nemesis is a piece of cloth? No matter how uncomfortable it is, he's paid millions for a reason. It's his job to adjust."


Korey Southwell: "If you can't shoot with a sleeved jersey you shouldn't have to wear one. Tight shirts make it hard to shoot, and I'm sure they fit him tighter than most. Plus the things are hideous anyway."
ESPN
MLS gaining on MLB?
A poll released by ESPN has indicated that MLS has gained significant popularity among fans 12 to 17 years old -- so much so that it's actually about as popular as MLB among said fans. The quality of play has dramatically increased in MLS over the past 18 years, and it's become capable of attracting big names seeking one final team before their retirements. It's got to be a worrying trend for MLB -- any league that starts losing young fans is looking at smaller crowds and emptier stadiums a few years down the line.
Tough choice for Texans at No. 1?

Much like the last time the Houston Texans had the No. 1 overall pick, it seems this year's selection will be a difficult one. Long it has been considered a choice between the top NFL draft talent (Jadeveon Clowney) and a home-state quarterback (Johnny Manziel), but in his latest mock (Insider) Todd McShay has Houston going with another signal caller: UCF's Blake Bortles (Manziel ended up No. 4 to the Cleveland Browns, one after Teddy Bridgewater to the Jacksonville Jaguars). Is this a good pick for the Texans? How will Manziel, a new Nike athlete, fare in the NFL?

LeBron mentoring Paul George?

In an interview this week with BasketballInsiders.com, rising Indiana Pacers star Paul George said he'd like to get some advice from LeBron James. The four-time MVP's answer Thursday? "I have an open-door policy." So we know the two-time defending NBA Finals MVP is up for it, but are you OK with top players giving each other advice? Or do you subscribe to the "old school" theory that they should be enemies?

Bears, Hester part ways

Devin Hester has been the Bears' trump card since 2006, returning a record-tying 19 kicks and punts for touchdowns over the course of his career. They won't be bringing him back next season, however: Hester said on Wednesday that the team has decided to ''go a different route'' with him. Hester will be one of the more intriguing free agents on the market, as he offers the potential of a game-changing play every time he handles a return. His value has been downgraded, however, by the rule change shortening kickoffs. It's difficult to return a ball that lands 10 yards out of bounds.