Select another state:
Select One
Index page
Alabama
Alaska
Arizona
Arkansas
California
Colorado
Connecticut
Delaware
District of Columbia
Florida
Georgia
Hawaii
Idaho
Illinois
Indiana
Iowa
Kansas
Kentucky
Louisiana
Maine
Maryland
Massachusetts
Michigan
Minnesota
Mississippi
Missouri
Montana
Nebraska
Nevada
New Hampshire
New Jersey
New Mexico
New York
North Carolina
North Dakota
Ohio
Oklahoma
Oregon
Pennsylvania
Rhode Island
South Carolina
South Dakota
Tennessee
Texas
Utah
Vermont
Virginia
Washington
West Virginia
Wisconsin
Wyoming
Alabama: No. 23 pro | No. 10 college | No. 9 high school
TRACKING THE TIGERS
By Andrea Lynn

When my family moved from Arizona in the middle of the school year, I arrived in Alabama as a shy 7-year-old. The first question asked in my second-grade class wasn't "What is your name?" or "Where are you from?" It was, "Are you an Alabama or Auburn fan?"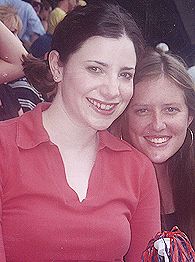 Courtesy of Andrea LynnNote the navy blue and burnt orange pompom.
I researched my options carefully. Auburn was looked down upon by some for its agriculture program and lack of national titles. Alabama was more established, both in money and football championships, and its fans never missed the opportunity for Bear Bryant name-dropping. In the end, I chose Auburn because my mom had sent samples to the college to have our soil assessed. And a great Auburn fan took root.
According to the book "Rammer Jammer Yellow Hammer," 90 percent of the state's citizens responding to a Mobile Register poll describe themselves as college football fans with 86 percent cheering for either the Tide or the Tigers. High school football is pretty big, too, as long as the team is good. My high school team lost more games than it won, so it was all Auburn for me.
The fans can be harsh. We'll always think the SEC is the most difficult, and no one can dissuade us. As far as Auburn goes, a Top 25 ranking is not commendable -- the team had better be Top 10, at least. And losses had better not be to conference teams. Coaches who lose the Iron Bowl positively fear for their well-being, and fans of the losing team have to put up with a year of rivals' taunting.
In Alabama, football filters into everything, from casual work wear on Fridays to brownie choices in the school cafeteria (orange and blue sprinkles for Auburn fans; red and white ones for Bama fans). Flags and decals are posted on cars, countdowns are set up for the start of the season and football schedules are consulted before wedding dates are set. Babies from mixed marriages (one parent being Auburn obsessed and the other parent from Bama blood) are overwhelmed with Alabama and Auburn blankets, bibs, baby shirts and onesies as their parents attempt to sway children's football choices in later life.
If you're hungry for more, writer Andrea Lynn blogs about food at Madison & Mayberry.
ROLLING WITH THE TIDE
By Annaleigh Christie
I was raised an Alabama fan. That means I learned "Yeah Alabama" before the national anthem and looked at a picture of The Bear above my TV for 20 years.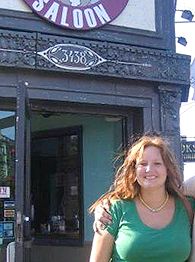 Courtesy of Annaleigh ChristieIn Chicago, Annaleigh stops at the Houndstooth Saloon, named in tribute to Bear Bryant's trademark hat.
I lived through the glory days of Gene Stallings and saw the Tide struggle through the next few coaches and NCAA violations. I am not allowed by family code to cheer for Texas A&M as long as traitor Dennis Franchione's coaching there, and I will always know that the Saturday before Thanksgiving is a sacred day in which no wedding or funeral can exist.
I refer to the Tide as "us" or "we" because, like so many others, I consider myself part of the legacy, even though I did not attend the University of Alabama. So at the beginning of every season, since 1992, we have told ourselves this is the year that Alabama will return to its deserved grandeur.
For the past four years we believed that the Mike Shula would bring the program back. In 2005, phenom quarterback Brodie Croyle had led us to 9-0. "On to the Rose Bowl," was dancing in our heads. Yet, like so many years before, we stumbled. I blame myself -- we were leading LSU 10-0 at halftime, but I watched the second half on my cell phone because of travel. Our dreams of a 12-0 season ended with a 16-13 loss.
This season, quarterback John Parker Wilson started well. He seemed like a great leader and had the potential to steer us back in the right direction. We won three games that should have been easy, but ended up as a struggle. The Vandy game is a good example. The offense generated 341 total yards but also had three turnovers. Wilson threw for 207 yards. A team that was expected to dominate scraped past instead.
On Sept. 23, the falter began with a loss to Arkansas. My knee-jerk reaction is to blame kicker Leigh Tiffin because he had been unreliable all year, and in overtime he missed the kick that would have won the game. In overtime, down by one, you have to make the kick. However, why was he in that position to tie it up in overtime?
The Tide outpassed Arkansas by almost 150 yards. The defense intercepted three Razorback passes and shut down their passing game. When it came down to it, the Tide couldn't get the points on the board. This was a problem all season. Where were the points? Our defense held back aggressive offenses while our offense only moved the ball down the field, not scoring enough. There have to be plays that will help second-and-goal turn into Eli Gold and Kenny Stabler yelling "Touchdown Bama!"
The 6-6 season has ended with only an Independence Bowl bid and yet another undecided future now that Shula is no longer the coach. All season I heard rumors of this decision and chose not to believe them. Shula came into a messy program and was in the process of turning it around. He brought class and legacy to the team, unlike some of his predecessors.
But Alabama expects a coach reminiscent of "The Bear," one who can come in and have a national championship in three years. It takes some coaches time to build a tradition like that, and I just wish Shula had been given the chance. I would have liked one more year with Mike, but the fear among fans was a sixth straight loss to Auburn.
We say goodbye to Mike, and hello to the unknown. However, as always, the Bama Nation will be behind our new coach, ready to yell Ramma Jamma Yellow Hamma Give Em' Hell Alabama!!
Your Turn
ESPN.com wants your opinion about where Alabama ranks as a pro, college or high school football state. Submit your thoughts