Select another state:
Select One
Index page
Alabama
Alaska
Arizona
Arkansas
California
Colorado
Connecticut
Delaware
District of Columbia
Florida
Georgia
Hawaii
Idaho
Illinois
Indiana
Iowa
Kansas
Kentucky
Louisiana
Maine
Maryland
Massachusetts
Michigan
Minnesota
Mississippi
Missouri
Montana
Nebraska
Nevada
New Hampshire
New Jersey
New Mexico
New York
North Carolina
North Dakota
Ohio
Oklahoma
Oregon
Pennsylvania
Rhode Island
South Carolina
South Dakota
Tennessee
Texas
Utah
Vermont
Virginia
Washington
West Virginia
Wisconsin
Wyoming
New York: No. 6 pro | No. 35 college | No. 16 high school
NEW YORK, NEW YORK
By Bob Graziano
When it comes to football, New York is No. 1. More footballs get tossed, caught, spiked and fumbled in New York than all the other states combined. More NFL-licensed jerseys, coffee mugs, linens and baby rattles are stashed in New York closets than in all the closets west of the Mississippi.
In New York football -- dare I say Football? -- is king.
The NFL is the capo di tuti capi of Football. It is the gold standard for Football excellence. In New York we have not one, not two, but three professional Football teams playing on any given Sunday. In New York more people enjoy pro Football than in the rest of the world. It takes a whole region to support the Patriots. The Denver Broncos are the only team for 600 miles. Here, you can't get on the subway without meeting a Jets fan.
New York built the National Football League. "The Greatest Game Ever Played" went down in Yankee Stadium, New York City, New York. That 1958 championship game between the Giants and Colts made the NFL.
Need more? Mark Gastineau invented the sack dance as a Jet (and would glide past Emmitt Smith on "Dancing with the Stars"). Former Bills coach Marv Levy seemingly goes to every Super Bowl (they must give him tickets). Giant Frank Gifford invented the forward pass (and that landed him Kathy Lee). Va Va Voom.
Even college football is all about New York. Rutgers plays underneath the Empire State Building. Just ask ESPN. Ever hear of the Army-Navy game? The Army half of this pillar of college football originates in West Point, New York. Without the Army-Navy there is no America.
And where do they hand out the Heisman? New York. 'Nuff said.
The Empire State also plays as much high school Football as any place else in the grand old U.S. of A. It is just not the only thing going on Friday night, but hey, when was the last time Billy Joel played the Texarkana Garden?
No one can beat New York in football -- unless they face the Bills in the Super Bowl. Then they have a pretty good shot.
Read more by Bob Graziano on his blog or at Fantasy Football Insiders.
AWAKE TO THE ECHOES
By Jesse Schwartz

On a Sunday night when I'm trying to fall asleep, the only thing going through my head is "J-E-T-S, JETS, JETS, JETS!" the war cry of Giants Stadium. Although they struggle week in and week out, the New York Jets remain No. 1 in my head.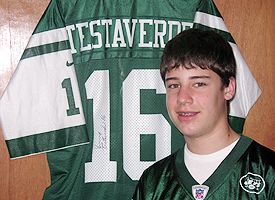 Courtesy of Jesse SchwartzWe'd like to see Jesse wearing a Joe Namath throwback jersey.
The burning passion of Jets fans is just as unavoidable. Whether it's on the escalator, at the concession stand or in fifty-yard-line seats, there's a feeling that is found in no place other than at the game. Passion and loyalty truly separate this sports organization from others.
Since 1999, the Jets have had little success, as problems with starting quarterbacks, defense and offensive coordinators have cut to the heart of the team and everyone who follows it. At times, the stadium has erupted with boos, but those fade away when a star players trots into the end zone, knowing exactly how to make that tough New York crowd happy.
In 2006, we are doing okay, but there is certainly a future for this young Jets football team. Eric Mangini's "out with the old, in with the new" philosophy and solid coaching could make the Jets a potential playoff contender in years to come.
1986 AND 20 YEARS LATER
By Jaime Marcus

The wind swirls, blowing the flags attached to the goalpost in a summersault. The lawyers in front of me sip their blackberry brandy; I swish my lukewarm hot chocolate. Art Monk, the native New Yorker -- and Syracuse alumnus -- snags a touchdown pass to tie the game at twenty whilst blue-and-red clad inebriates throttle the audacious who chant, "Let's go Redskins!"

Marcus
Minutes later the Giants take the lead for good. The Redskins muster a first down or two, and with the deafening crowd's support, the Giants' dogged defense stamps yet another victory. With each third-and-long stop, the graying fans -- who had last seen a championship the year Don Larsen pitched a perfect game in the World Series -- chant, in their weary, baritone voices, reminiscent of the Ricola commercials, "Gooooo GI-ants."
On the euphoric walk back to my dad's car, I see burgundy and yellow polyester scraps strewn about the Meadowlands' tunnels. The Redskins fans, their Monk and Theismann jerseys torn, wear black bloody noses and shades of purple under their eyes. Giants fans laugh.
Rain pelts every inch of my exposed skin. Two kielbasas and one hamburger spread heartburn through my body. While on queue for the port-a-potty, a swaying twenty-something wearing an Ulracher jersey is patting the back of another twenty-something sporting a blue-and-red Barber jersey. The scene irks me.
An hour later, with a commanding first quarter lead eroding with every Giants' mistake, Bears fans grow louder and more obnoxious. There are no rebuttals from Giants fans, no trash talking, and no bloody noses. No hunger.
Twenty years after their first Super Bowl victory, Giants fans seemed to have softened -- or maybe those true graying fans from '86 have died or sold their tickets. The hunger seems to have been transferred to the green-and-white team that hasn't won since 1969. At 31, fights in the stands don't excite me anymore, but I would not shed a tear over a Bears fan's bloody nose, either.
Jamie Marcus teaches middle school English in Westchester County, N.Y.
Your Turn
ESPN.com wants your opinion about where New York ranks as a pro, college or high school football state. Submit your thoughts