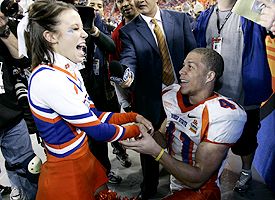 AP Photo/Ted S. WarrenRunning back Ian Johnson proposed to girlfriend and Broncos cheerleader Chrissy Popadics after Boise State's 43-42 Fiesta Bowl win.
How do sports play a part in your relationship?
Did you meet in college when you camped out for tickets? Did you propose at a game? Did you march down the aisle to your Alma Mater and name your kids named after a player or coach? Do you plan vacations around your team's schedule?
Or do you think sports and love DON'T mix. We also want to hear about that.
Have bitter memories of Valentine's past? Are the games you sacrificed for love, the devastating losses your teams put you through still haunting you? Did you lose your game buddy to a relationship?
We want your stories - the good, the bad and the sporty.
Please include your name, e-mail and phone number . And we'd love to see pictures.
First Name:
Last Name:
City:
State:
Country:
E-mail Address:
Phone Number:
Comment: